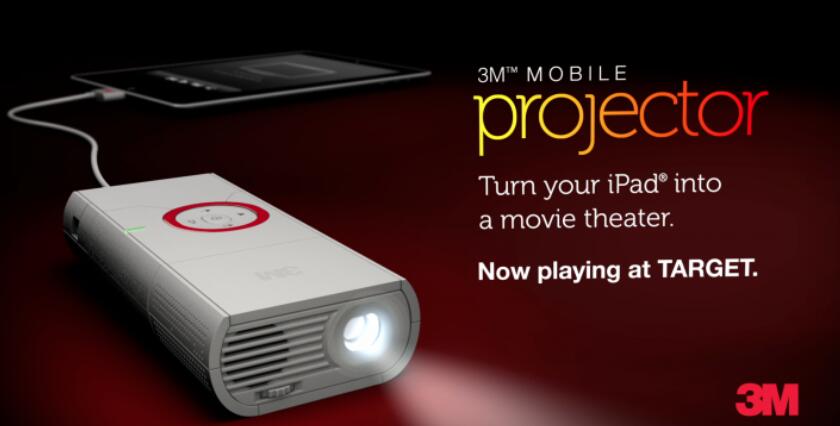 3M is the leading manufacturer of pocket projectors – a technology that makes it possible to project an 80in image from a small digital device like your video camera, laptop, iphone or any smart phone.
3M espouse to be the authority of pocket projector technology, producing models that are 4 generations ahead of the competition. These handheld projectors are advanced and very practical featuring video, music, and data file storage, wireless WiFi and Bluetooth technology for internet access. The tiny office projectors include 2GB memory making it convenient for portable use and presentations.
3M projectors are great for personal use. You can surf the web, store movies and photos, and share your experience with a group by projecting a larger quality picture.
What's a pocket projector?
The pocket projectors category includes the latest technology in ultra-portable projectors, micro projectors, and pico projectors for laptops and device integration. See below for a list of pocket projector reviews and information pages.
Pocket projectors earn their name from being small enough to fit in your pants pocket, and weigh above 0.75 lbs. (but rarely over a pound). These projectors are extremely convenient and are ideal for portable use.
However, when compared with the smallest size class, pico projectors, bulk is the real difference as opposed to weight. Though a bit larger in size than their tiny competition, pocket projectors pack more punch.
Pocket Projectors weigh in under 2 lbs. and are able to project large images upwards of 65 inches.
Today's pocket projectors typically offer between 200 and 800 lumens, most have resolutions of WXGA or lower but in 2014 we saw the first of the 1080p resolution pocket projectors.
Broadly speaking, pocket projectors are under 2 lbs., use a solid state light source (LED or laser), and have a small physical footprint. Most use DLP technology, a few have laser rather than LED light engines.
How do I choose a pocket projector?
There are a few things you should look for when choosing a mini projector. The resolution is essential for ensuring picture quality. While no projector will have quite the crispness of a television, a higher resolution is important for ensuring clarity. Look for something that is at least 480 by 640p. Preferably, a projector capable of supporting up to 1080p streaming is a flexible choice.
Many projectors use LED lights for minimal power drainage on the battery, but battery capacity is an important factor. If you plan to use the projector in the car, for instance, you'll need enough battery to last. It's best to have at least 2.5 hours t so that you can watch a movie. The good news is that most can use a power supply as well, even if the battery life is drained.
Connectivity is also crucial for this type of projector. The best choices will have multiple connection choices, including HDMI or USB. Wireless projection is excellent for easy setup, so look for either Wi-Fi or Bluetooth capability.
Lumens and contrast ratio are also important for picture quality. Brighter lumens ensure maximum operating brightness, but you'll have to balance it with battery life; it's more draining. Contrast ratio needs to be at least 1000:1 to ensure a good quality picture.
Best 3M Pocket Projectors 2021: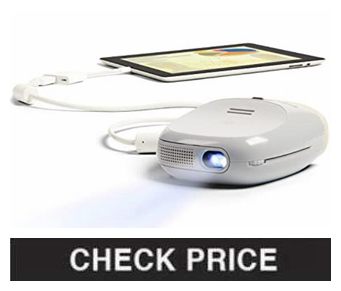 The 3M Mobile Projector MP300 is my new poster child for products that just miss getting everything right. It's small, lightweight, bright, physically attractive, and easy to set up. But it's limited to a single connector—an MHL-enabled HDMI port—which makes it a great choice if you can take advantage of the connector, and completely useless if you can't.
The single-port design isn't quite as limiting as it might seem. In addition to letting you connect to image sources with HDMI, Mini-HDMI, and Micro-HDMI connectors, it also lets you connect, using appropriate adaptors, to sources with an Apple Lightning port, a DisplayPort, a DVI-I or DVI-D port, or an MHL-enabled micro USB port, which includes any number of smartphones and tablets. You can even plug in the Roku Stick that we reviewed late last year. In fact, 3M sells the identical projector with the Roku Stick included, as the 3M Streaming Projector.
A major catch, of course, is that the choices don't include either a VGA connector, which is still the ubiquitous choice for Windows computers, or support for USB direct display, which would be a good alternative. Also notable for its absence is a USB A connector that would let you plug in a USB memory key as an image source. That said, however, if you have an image source with a connector you can use, the projector can do an impressive job.
Compact
Light
Easy to focus
Same brightness whether running on AC power or on its rechargeable battery
Only input connector is an MHL-equipped HDMI port
Only included cable is HDMI to HDMI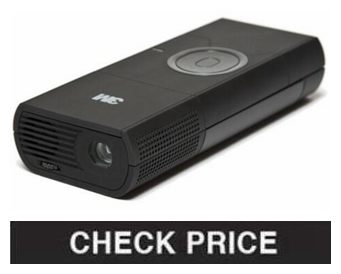 By most pico projector standards, the 3M Pocket Projector MP160 is too big. It measures more than an inch thick, weighs 10.6 ounces, and won't fit in a shirt pocket. On the other hand, it feels surprisingly comfortable to hold. It's about the same size as, if a little heavier than, the small LED flashlight that I keep in my car glove compartment. More important, it's unusually bright for a pico projector, with a 32 lumen rating paired with a two hour battery life, a combination that easily makes up for the large size.
Built around an 800 by 600 LCoS chip paired with a set of red, green, and blue LEDs, the MP160 is the next step up in 3M's line beyond the MPro150. Unlike the MPro150, however, it doesn't offer such niceties as built-in memory for storing files to read, or the ability to read files from a memory card. Instead, it focuses on the basics, delivering a bright image and the ability to connect to a computer or any video source with a composite video connection, including cameras and camera phones.
Unusually bright for a pico projector
Can connect to computer or any composite video source
Relatively big and heavy for a pico projector
No internal memory and no slots for memory cards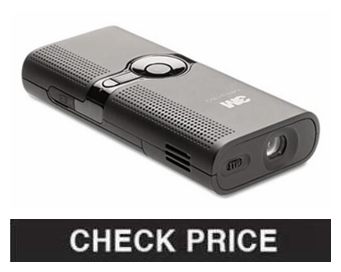 While early pico projectors were very rudimentary, some of the latest products like the 3M MPro150 are changing people's expectations of what a pocket-sized projector can do. The MPro150 is truly pocket-sized, but produces a 15-lumen picture with good color saturation and contrast that's perfect for a mobile presenter who wants to travel light. A gigabyte of internal storage and a MicroSD card slot make it easy to present without wires. But the MPro150 can show more than just pictures – it features support for Microsoft Office documents as well as Adobe PDFs and several common video formats.
The 3M MPro150 is a presenter's pocket projector, no question. Its onboard storage and document support make it a great choice for wireless projection, allowing you to travel light. In these days of airlines charging for checked baggage, this can be a great benefit.
The MPro150 is a total package, not just a projector. With stereo speakers and great connectivity, the MPro150 can project any material, from any source, at any time. If you need a pocket projector for serious business use, this one comes highly recommended.
Wireless presentation
Storage
Portability
Stereo speakers
4. 3M MP410 Pocket Projector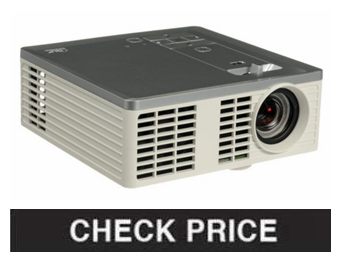 Against all odds, pocket projectors are finally turning into products we might actually want to buy, rather than just being a great idea routinely let down by shoddy execution. And nobody is doing more to change our minds about this sector of the AV world than 3M.
The brand's recent ultra-slim pocket projector rocket, the 3M MP220, found favour with us thanks to the way it managed to combine its tininess with a decent feature count and some surprisingly bright pictures. But if anything the 3M MP410 we're looking at today is even more impressive.
Ever since we saw our first pocket projector we've been seduced by the idea of tiny light boxes capable of producing big images but have routinely been let down by the reality of the dull, soft pictures pocket projectors so often produce.
Finally, though, in the 3M MP410 we truly have a product that delivers our dream combination of a pocket-sized form factor and pictures bright and contrast-rich enough to not only be purely functional but also actually enjoyable. Well done, 3M. Very well done indeed.
Excellent picture quality by pocket PJ standards
Gorgeous and genuinely pocket-sized design
Superior connectivity
No integrated .xls, .ppt or .doc file parsing
Some scaling noise, esp. evident with data feeds
No remote included as standard
5. 3M MP180 Pocket Projector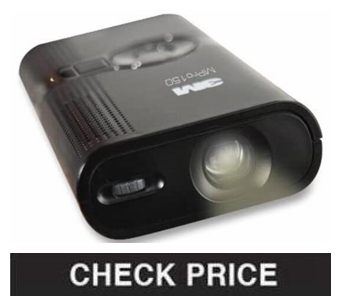 All of that size does allow 3M to pack the MP180 with more features than the competition; something that you might expect, given the AU$565 price point. It's rated at 32 ANSI Lumens, which isn't bright for a full projector, but is quite bright for a pocket projector. Resolution is natively 800 x 600, and with scaling this allows it to support VGA, SVGA, XGA and WXGA. This is clearly pitched as a business projector, and it's worth noting that there's no inbuilt HDMI compatibility. Battery life is rated at two hours, and our tests bear that out.
Where the MP180 stands out is in all of the extras that 3M packs into it. These include both Bluetooth and Wi-Fi compatibility, both for transferring files to the unit's inbuilt 4GB of memory and for giving the unit its own internet access via the inbuilt browser. Document types that you can transfer and natively see on the MP180 include DOC, PPT, XLS, TXT, PDF, BMP, JPG, MP4, MP3, PAL, NTSC, H.264, AMR and AAC.
The folks at 3M must have cleaned up back in the late '90s when MC Hammer was selling off his collection of overly baggy pants. That's the only conclusion we can reach about 3M's so-called "pocket" projector, an entry to the pico projector space that eschews the usual packet-of-playing-cards motif for a unit that's much larger. At 1.3×5.9×2.5-inches and 338g, it's more like the size of a decent-sized portable torch. That's not exactly pocket-friendly, unless you've got pants of extreme capacity.
The MP180 presents excellent images, but a sub-par touchscreen makes many of its advanced features less useful than they could be.
Bluetooth
Wi-Fi
Inbuilt web browser
Lacks HDMI input
Touchscreen is terrible
FAQs
What is a contrast ratio?
Contrast ratio helps you determine how clear a picture will be from your projector. It's the ratio of brightness from an all-white image to an all-black image. If your chosen projector has a contrast ratio of 1,000:1, the white image is 1,000 times brighter than the black image.
This contrast is critical because if you want to watch your projector in less than total darkness, the contrast will allow you to distinguish the images with some light interference. It allows us to see more subtle images, even in less ideal conditions.
What's the difference between short-throw and long-throw projectors?
Long-throw projectors are typically more affordable than short-throw projectors, but for apartments or travel, they're inconvenient. So what is throw? Throw is how much distance you need to be able to project a clear picture on the wall.
Long-throw projectors typically require a distance of at least six feet to handle projection. Short-throw projectors give you more flexibility for set up, allowing you to project from your bed or even in the car.
Do I need other accessories for my projector?
The ones on our list offer a self-contained experience, but you can always upgrade a few of your accessories to improve the quality and experience. A projector screen can help make the picture crisper by reducing flaws and shadows, for example.
People often get external sound accessories, as well. Onboard speakers don't always have the greatest reach if you aren't right next to the projector, so additional speakers could improve the experience if you plan to use the projector for more people than just yourself.