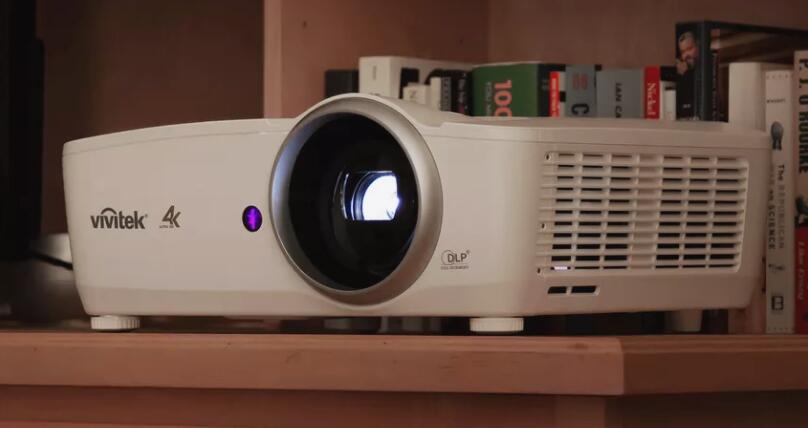 Vivitek, a brand of Delta, is a leading manufacturer of visual display and presentation products. The company's extensive lineup of award-winning digital projectors, collaboration and Digital Signage devices incorporate the latest innovations and technologies to deliver superior products.
Vivitek has global sales and marketing operations in the Americas, Europe, Middle East and Asia and are renowned for providing the industries best warranties and innovative solutions. Delta, founded in 1971, is a global leader in power and thermal management solutions and a major player in several product segments such as industrial automation, displays, and networking. Its mission statement, "To provide innovative, clean and energy-efficient solutions for a better tomorrow." Delta has 114 sales offices, 56 R&D centers and 30 manufacturing facilities worldwide.
The biggest advantage of Vivitek is the variety of the model range. From Qumi ultraportable projectors that easily fit in your pocket, heavy large venue devices that can work in the most difficult conditions, to inexpensive and productivity-enhancing models for offices and educational institutions … Vivitek's solutions have had a huge impact on the evolution of the Russian projector market. Each year, Vivitek's products became more popular in the world, and the quantity of projects realized with the help of Vivitek's projectors is increasing.
Why Choose Vivitek Projector
Vivitek brings business, education and life of institutions to a new level. Because Vivitek brings solutions beyond visual communication. Vivitek allows you to visualize your meeting and information in the easiest way possible. Simple. Guaranteed.
Goal
A commitment to deliver high-quality products to the market that meet customer demand, as well as provide a high-level of satisfaction, value, and enjoyment.
Manufacturing
Vivitek, a brand of Delta, is a leading OEM/ODM manufacturing company headquartered in Taiwan. With more than 15 years of design and engineering experience, Delta and Vivitek manufacture a variety of display technologies including lamp-based, laser, and LED projectors as well as interactive and collaboration appliances. The company is ranked as a top three manufacturer in terms of volume projectors produced and sold on a worldwide basis. Vivitek complies with ISO-9001, ISO-14001, and OHSAS-18001 standards.
Core Beliefs
From our eco-conscious design to our strong commitment to manufacturing green projection products, Vivitek believes in the active responsibility in both its manufacturing and business processes and programs. Opened in 2015, Delta and Vivitek's new Fremont Americas headquarters is designed as a LEED Platinum green building and is also a net-zero facility.
Projector Solutions
With the diverse application requirements of our customers in mind, Vivitek strives to address these unique needs with a broad range of display technologies and projectors.
Collaboration

: Wireless, easy-to-use, and compatible with any HDMI input-equipped display device, Vivitek collaboration solutions facilitate productive exchange of ideas.

Consumer

: Reliable, affordable, and feature-rich, Vivitek multimedia projectors seamlessly integrate into your home, providing years of unrivaled entertainment and value.

Education

: Designed to facilitate spontaneous collaboration and capture the imagination, our education-in-mind projectors provide clarity for knowledge comprehension and retention.

Corporate

: Whether your business presentations take place in meeting rooms or expansive auditoriums, Vivitek offers the ideal large screen solution.

Digital Signage

: With set-and-forget automation, intuitive content creation tools, and network-wide management options, Vivitek makes digital signage accessible to everyone.

Home Theater/CEDIA

: Developing customized home theater configurations requires careful consideration and calculations for the ultimate and immersive theater experience.
Vivitek Projectors Technology
DLP Chip Technology
DLP chipset-based projectors produce vivid images with digital clarity and precision. The DLP chip uses millions of tiny mirrors to reflect all the colors of visible light to project a digital image onto a screen. DLP technology delivers high contrast ratios and minimizes the gaps between pixels for bright, sharp pictures. Since the light is reflected off of the mirrors, DLP projectors retain color accuracy and deliver stunning images onto the screen. Most DLP projectors are designed to be filter-free, which means lower maintenance and operating costs over time.
BrilliantColor Technology
BrilliantColor from Texas Instruments is a multi-color processing technology that produces vibrant images. BrilliantColor technology uses up to six colors, instead of just the three primary colors, red, green and blue, to improve color accuracy and brightens secondary colors. This results in a new level of color performance that increases the brightness of the colors by up to 50% over DLP projectors without BrilliantColor for accurate, true-to-life images.All Vivitek projectors feature BrilliantColor technology.
Projector Stacking
By stacking projectors dramatic brightness increases can be realized. Another benefit is redundancy in critical projection applications. Projector stacking is a technique used by custom installers, that positions two or more projectors to share a single display. Vivitek's stackable projectors utilize built-in lens shift and geometry correction technology to perfectly overlay individual images for maximized brightness increases. Single chip DLP technology allows for more precise alignment as there is less overall convergence which in turn, allows for greater brightness gains and optimal clarity. Vivitek offers a variety of projectors with stacking capability.
LED Light Technology
LED (Light-Emitting Diode) is a semiconductor-based light source. It is small diode capable of producing a great amount of light. An LED light source is more dynamic than traditional lamps resulting in stunning life-like images with a wider range of color. Vivitek projectors with DynamicBlack and LED technologies have a higher contrast ratio and better black levels due to the ability to adjust brightness levels in bright scenes to almost zero in dark scenes.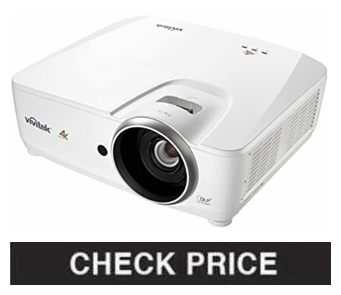 It feels a little harsh to mark down a good product simply because it's in competition with something even better. It's similar to the way that in sport, we tend to remember only a few losing finalists, and mainly only by virtue of the way in which they were beaten.
So we shall kick off this review by praising the Vivitek HK2288. You wouldn't get anywhere near a 4K HDR picture from a projector costing less than $1500 a few years ago, and still you won't find anything able to put this one to shame.
Build & Feature
In terms of the basics, the HK2288 is a long-throw projector offering a picture from 26 up to 325 inches from a distance of between 120cm and 10m; its 310W lamp, meanwhile, will shine for up to 5,000 hours, at up to 2000 ANSI Lumens brightness.
At 43cm wide and weighing 9kg, it's not the slightest or most lightweight of projectors. That may concern those with little room to spare, given the space the HK2288 will need around it so as not to overheat, but it does mean there is room for a healthy spread of connections.
Those run to three HDMI ports, one RS-232, a 3.5mm jack for audio out, a power-only USB A and a mini USB, all of which Vivitek has located on the back of the projector along with an array of buttons for power and menu and source navigation.
Having positioned the HK2288, focus and zoom adjustments can be made easily via a ring at the front of the projector and one on the top of the lens. But for perhaps having to flip the image once you've turned it on (the projector can be mounted to the ceiling, so depending on how it's positioned, you may find everything upside-down) it's testament to the Vivitek's native performance that you can get a quality image with a set-up as simple as that.
Picture Quality
We spend a couple of days playing a range of content, from DVDs to 4K Blu-ray, black-and-white to HDR, and the word we keep coming back to when describing the HK2288's presentation is 'natural'.
In terms of aspects such as detail, depth and motion processing, this looks like a projector above the HK2288's essentially entry-level pricing. It would be a stretch to say that Vivitek has altered the landscape of sub-£2000 projectors, but it hits all the right notes that enable us to sit back and enjoy a film, rather than pick at any obvious flaws.
There is certainly an upgrade in terms of colour palate with HDR switched on, with more vivid hues and greater contrast, but the Vivitek's ability to paint its picture with realistic, natural tones isn't altered with a change in the source material. While it doesn't particularly wow us with deep blacks or vibrant bright lights, there's never any sense of the HK2288 being washed out or playing it overly safe with muted colouring.
But the reason Vivitek loses out on a fifth star is due to its rivals, in this case Optoma's Award-winning UHD40. That's mainly because the latter does have that ability to wow with a more vibrant palate.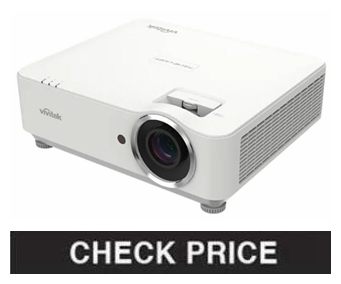 With the power of an installation projector but small and light enough to be moved from room to room, Vivitek's laser-driven DH3660Z can fulfill several roles for schools and businesses without busting the budget.
Long known for small solid-state projectors, Vivitek thinks big with its DH3660Z device that is aimed primarily at business conference rooms and the education and worship markets. Its laser illumination engine with sealed optics and DLP imager combine for pinpoint focus and close to 4,500 lumens that can help get a teacher's message across to the class or deliver solid impact for business presentations.
Vivitek DH3660Z Key Features
Under its white skin, the DH3660Z is a state-of-the art projector that can work in a variety of settings, from a small house of worship to a mid-sized classroom, lecture hall, small auditorium, or board room. Light from the 100-watt blue laser light source is divided into red, green, blue and yellow segments by a phosphor wheel, whose output is sent to a 0.67-inch Digital Light Processing (DLP) Dark Chip3 imaging target.
The DH3660Z's Full HD resolution (1920 by 1080, 16:9 aspect ratio) should be more than sharp enough for classroom lessons or business graphics, or movie/video clips, even for those sitting close to the screen. This is particularly the case for those upgrading from WXGA or older projectors. The DH3660Z is also Full 3D compatible; just add your own DLP-Link glasses.
Vivitek rates the DH3660Z at 4,500 ANSI lumens with 20,000:1 contrast ratio. The company puts the life of its laser light source at 20,000 hours of use, the equivalent of six or seven conventional lamp changes. In fact, it should be able to run for more than a dozen years of use at 8 hours a day.
Performance
The DH3660Z's laser engine took about 16 seconds to start up and display an image, and the projector needs only about 4 seconds to fully shut down both its light source and fan. This avoids the long warm-up and and extended cooling time required by lamp-based projectors, and allows full-shut down between between back-to-back classes in a school setting.
Behind the scenes, the DH3660Z has six color modes including Bright (no surprise, the brightest), Presentation, Game, Movie, sRGB and DICOM Sim for accurately projecting medical scans. In addition, you can dig into the settings to adjust color, gain, hue and other attributes to calibrate the color, creating your own settings to match the environment where the projector will be used.
FAQs
Can Qumi project television content from cable or satellite?
Watching television content can be done by connecting a cable box, digital set-top box or satellite receiver directly to Qumi. For example, if a cable box is used, it can be connected by an HDMI cable to Qumi.
What type of video formats does Qumi support?
AVI/RM/RMVB/TS/VOB/MLV/MOV/ISO/WMV/ASF/FLV/DAT/MPG/MPEG
How long will the LED light source in Qumi last and can it be replaced?
Qumi does not use a typical light source. It uses a set of Light Emitting Diodes (LED) to illuminate and project images. LED's have a greater lifespan than conventional lamps. Qumi LED's are estimated to last for approximately 30,000 hours. The lifespan of the LED depends on factors such as brightness, usage, environmental conditions. LED brightness can decrease over time. The LED module is not replaceable.
How often should I change the filters in my DLP?
The majority of Vivitek projectors, due to sealed DLP optics, do not require filters. This eases maintenance requirements.The filters can be cleaned with running water. Please make sure to let them dry completely before installing them back. The filters should be changed if they are torn or worn.