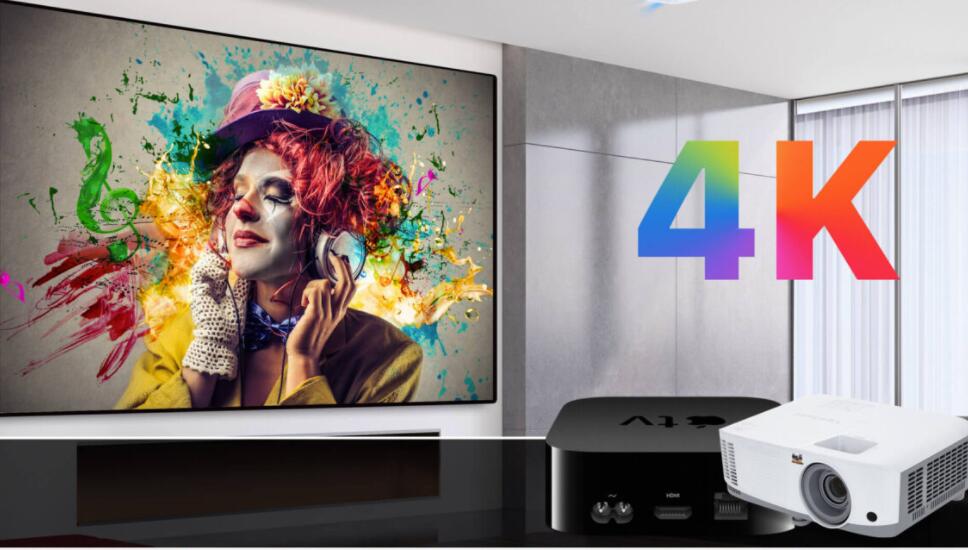 There's no better way to play a video game or watch a movie than on an enormous screen. And now that 4K is becoming more widely available, you'll need an incredible 4K projector in order to get the biggest screen possible.
Though prices have fallen in recent years to more affordable levels, Ultra HD 4K projectors still cost more than their 1080p counterparts. That said, the low end of the 4K projector range is now only slightly more than the high end of the 1080p range, so 4K content is at your fingertips.
Who should get this
If you want to transform a basement or spare room into your own personal 4K cinema, you need a dedicated home theater projector. These projectors are specifically meant for a room that offers complete light control. One of the major improvements in these projectors over lower-priced models is the ability to produce much darker blacks, giving you a better contrast ratio—the difference between the darkest and brightest parts of an image. Ambient light in your room (windows without curtains, for example) washes out the blacks.
You can still use a home theater projector during the day, provided that you have blackout curtains or shades in the room, but if you can't control the light, you lose most of the advantage that these projectors offer over cheaper models, and one of our less expensive recommendations is probably a better choice.
Is It True 4K?
An important clarification to make is that almost all "affordable" 4K projectors, which fall under $2,000, aren't exactly producing the same picture quality as 4K TVs. Most of these projectors use a different kind of processing chip to create a lower resolution. "The chips that make the image aren't actually 4K," writes CNET's Geoffrey Morrison. "Or to be more specific, the chips don't have 3,840×2,160 discrete pixels. Instead, they use lower-resolution imaging chips and some additional method — basically, a trick — to create 4K onscreen."
This upscaling trick is called 4K Enhancement Technology (4Ke), and it diagonally shifts each pixel in an HD image to double the resolution. Most projectors that cost between $1,000 and $1,500 are going to take advantage of 4Ke technology. So does it matter? Yes and no. As Morrison goes on to explain in his article, the image successfully tricks your brain so that the picture looks more detailed than 1080p. It likely won't look quite as pristine as the 4K picture you get on a nice 4K TV by Samsung, LG or Sony. But in the right conditions with the proper setup, affordable 4K projectors can hold their own.
What Are the Best 4K Projectors?
There are many factors to think about when choosing the best 4K projector for you; below are the most important ones, which we considered while we were researching this list.
Image Quality: As the name suggests, the best 4K projectors display 4K content with better clarity, contrasts and detail than HD projectors. Images are sharper and more vivid, with the projectors capable of reproducing more shades and tones along the color gamut. The best 4K projectors also feature powerful processors that faithfully reproduce the source material the way it was created, letting you see a show or film the way the creator intended, with more accurate and life-like images.
Brightness: Designed for indoor and outdoor use, these projectors also offer adjustable brightness settings and enhanced tone mapping in the dark, so you always get a clear picture no matter the time of day — or where you're sitting in the room. Whites are bright without being blurry, and darks are crisp and clean, without blending into the background.
Versatility: The best 4K projectors are great for gaming too, especially where players need to see and discern every last detail. By casting a larger screen, a projector provides a larger, more immersive viewing area for gamers to make their moves. Keep in mind, a 4K projector will only display content in 4K if that's how the source material was created. Still, everything from the Super Bowl to The Simpsons airs in 4K these days, so this is a home entertainment component worth picking up.
Screen Size: We've found 4K projectors that can throw a screen size up to 300 inches. You'll want to start by casting a smaller screen (around 100 inches), as the picture quality may change the more you extend the projection.
Our Top Picks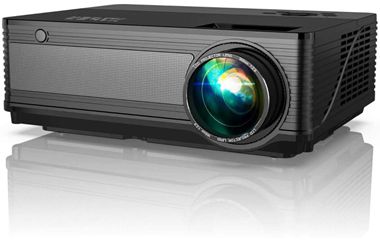 Yaber boasts an impressive line of projectors and the Yaber Y21 native is a sure reflection of its top-notch products. It is a home theatre projector with a 1080P resolution and a brightness of 7000 lumens. Therefore, it produces sharp, detailed high definition images even without scaling. Its minimum projection size is 50inches, and maximum 300inches while the projection distance is between 5 and 30ft, but the recommended is 10ft.
Beyond the resolution, the Yaber Y21 Native projector also brings you an advanced 4D keystone zoom function and an auto vertical correct function. In a layman language, this means the image projected by the Yaber Y21 is always a perfect rectangle. The availability of the keystone zoom function also means you can adjust the projection size by using a remote control.
Why is this a big deal? Well, with most projectors, changing the projection size often means adjusting the distance as well. This is hectic and tends to interrupt your viewing experience. The Yaber Y21 native projector also ships with a HIFI speaker system. It's pretty functional and saves you the stress of having to look for an external sound system.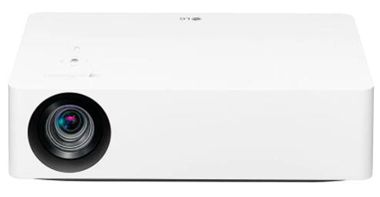 This LG model is another affordable 4K projector that doesn't compromise on quality. It has most of the features you would find on a smart TV and more. In fact, the company incorporates the LG TV user interface, which makes it easy to operate using LG's Magic Remote. It also comes with built-in streaming apps like Amazon and Netflix, a digital TV tuner, and supports voice control features like Google Assistant and Amazon Alexa.
Setting it up is pretty straightforward. Simply place it on table 8-10 feet from the wall, turn it on, and adjust the zoom feature to your liking. The LG WebOS makes it easy to operate and supports most streaming services (Amazon Prime Video, YouTube, Google Play Movies &TV).
Since the projector supports voice controls, switching apps and adjusting the volume using the microphone is easy. What's more, with the Google Assistant feature built-in, it's easy to control any smart device at home.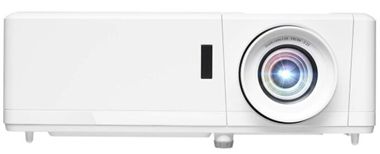 If you're an avid gamer or a movie buff, the Optoma HZ39HDR projector is a good buy. It is one of the latest entrants to the laser projector segment available and it is accessible at a relatively affordable price. With a lumen output of 4000, the projector delivers bright images both indoors and outdoors regardless of the level of ambient light. Moreover, it touts an impressive lamp life of 30,000 hours which is more than enough for ordinary use.
Setting up the projector is pretty straightforward thanks to its Signal Power On, feature. It minimizes the number of cables you need to connect to the device as you simply need to turn it on and you're good to go.
The projector uses DLP technology to project imagery known for its ability to deliver a cinematic home experience. DLP, unlike LCD, uses micro-mirrors to project images from the monitor to a large screen. This means thousands of tiny mirrors are coordinated using a light source to reflect a digital image to any surface. What's more, with a native resolution of 1080p you can use the projector in the brightest rooms without any problems.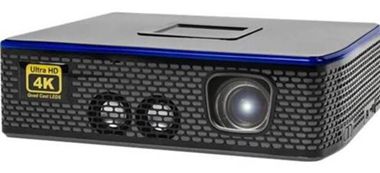 Everyone loves a good home theater experience, but why should that strictly stay in your home? Portable projectors have been around for a long time, but they rarely pack the same quality as a dedicated home theater projector. That's what makes something like the AAXA 4K1 so interesting. AAXA has always packed a lot of features into portable projectors, and the 4K1 is no different.
For one thing, it's native resolution is 4K, which is nearly unheard of in this size and price range. It can also cast an image of 200 inches, which means you can get a full cinema experience from anywhere. It sports two HDMI 2.0 ports, so you can connect multiple 4K media devices. Its dual watt speakers won't blow you away, but they are serviceable for this tiny little projector.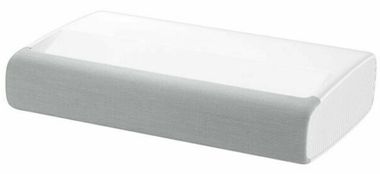 After more than a decade since its last home cinema projector, Samsung has exploded back on the scene with The Premiere LSP9T projector.
This ultra short-throw beamer makes use of 4K HDR laser projection, with a three-color laser removing the need for a color filter and therefore allowing The Premiere's 2,800 lumens brightness to really shine across a max 130-inch image. Pictures are punchy and colorful, and Samsung's world-first introduction of the HDR10+ format, which adds in scene-by-scene picture calibration in compatible films and TV shows.
This projector also benefits from full implementation of Samsung's smart TV operating system, which – if a bit sluggish at times – is incredible to have on a projector over the basic and poorly-organized interfaces we're used to.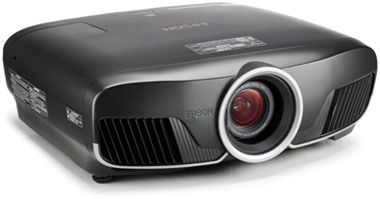 We gave this beamer five stars for its impressive color reproduction, HDR support, and 2,600 lumens brightness, making for bright and impactful images. While this isn't a native 4K projector (something you just don't get at this price), even upscaled images are detailed and come across well, with highly natural skin stones and an impressive amount of shadow detail.
Blacks could be deeper, and motion could be smoother, but there's really little to complain about here. The EH-TW9400 boasts advanced capability all around, from its 3D compatibility to motorized lens controls – the latter point allowing for real precision and an easy setup. There's even a lens cover to prevent dust from creeping in!
Having launched in 2019, the Epson EH-TW9400 is widely available in the UK, India and elsewhere – though it's called the Epson Pro Cinema 6050UB in the US. Just keep in mind that it doesn't come with built-in speakers, meaning you are reliant on connected audio equipment.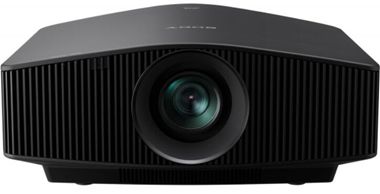 The VW915ES excels at just about everything picture wise, and for that matter, feature-wise as well. Its best modes are very close to calibrated color, without any adjustment at all. Sharpness is very natural looking. The Reality Creation (detail enhancement feature) in its setting of 20 settings of provided great sharpness with virtually no visible artifacts.
When it comes to HD and 4K SDR content, as expected, the Sony VW915ES was outstanding. While calibration will improve the picture quality, the VW915ES delivered an accurate, natural-looking picture right out of the box. Once the projector is calibrated, its laser light engine combined with the unit's Auto Calibrate feature ensures that the VW915ES will deliver "calibrated" color accuracy for several years.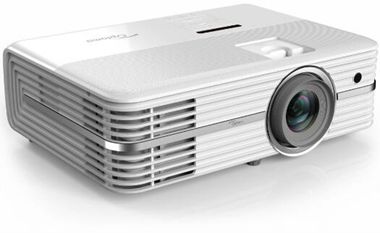 Movie buffs will want to invest in this feature-packed projector from Optoma, which throws up a powerful display that truly displays your content on the big screen.
The home theater projector dazzles with more than eight million pixels and a wider color gamut that displays 100% of colors in the Rec.2020 standard for ultra high-definition TVs.
Optoma's "UltraDetail technology" makes real-time adjustments to image clarity and sharpness, so you always get the cleanest, more detailed image. What that means: pick out more of the subtle details that basic projectors might miss, and get razor sharp images that better mirror real-life (or what the creator intended).
Get up to 15,000 hours of lamp life with this projector. That's an average of four hours of viewing every day for more than ten years.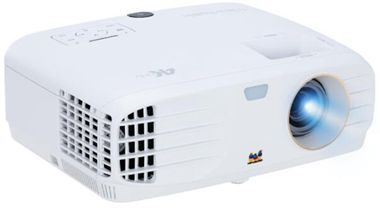 If you're are on a budget and looking for an entry-level 4K projector, then the ViewSonic PX747 is the best option for you. A few years ago, finding a 4K projector at this price range would be nigh impossible. But today you can get a 4K projector that is surprisingly bright at 3,500 lumens, supports HDR, and doesn't break the bank.
It comes with a few compromises, however. The PX747 isn't as color accurate as some of the other projectors on this list, and the keystone adjustments leave a lot to be desired — but at the end of the day, you're getting a 4K HDR projector for barely $1,000. That's a win in our book.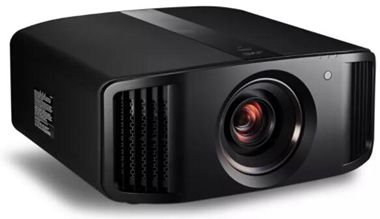 JVC's D-ILA devices are some of the best projectors in the business. They offer exceptionally good contrast handling, effortless smooth colour blending and the best black levels around. The N5 may be the baby of this famed native 4K family but it's still an absolute belter.
Its bigger, pricier siblings are better and blacker but there's easily enough shading skill and depth of darkness even here to produce an incredibly involving and three-dimensional feel whether at 4K or Full HD. What's more, JVCs ongoing upgrades to its HDR capabilities just make that picture better and better as time goes on.
The motorised lens, simple menu system and excellent choice of usable preset picture modes make it surprisingly easy to set up. It might not compete with the others here for value but it's the best performing projector on this list.
Why Do 4K UHD Projectors Have Twice the Resolution of 4K PRO-UHD?
With the demand for 4K home theater projectors skyrocketing as an alternative to sitting in a crowded theater in the post-COVID-19 world, many buyers who are looking at premium projectors are confused when trying to figure out the difference between PRO-UHD and UHD or 4K when they are choosing a projector model. So if you want a projector that will display every pixel that your 4K Blu-Ray player, 4K streaming services, gaming console, or your 4K Cable / Satellite TV provider is capable of providing – then read on.
The Consumer Electronics Association created the "Ultra High Definition" or "UHD" specification that has a minimum resolution of 3840×2160 addressable pixels. To make sure everyone got true 4K resolution on their display, the Ultra HD Forum was created to bring together the end-to-end video production ecosystem so producers like Disney could be sure their content looks good on any display. So how does PRO-UHD compare with the industry-standard UHD?
PRO-UHD has only 50% of the resolution compared to 4K UHD
For most products, using the word "Pro" or "Enhanced" in front of the industry-standard usually means that the product has been improved over the standard in some way. However, when you buy a PRO-UHD or 4K Enhanced (4Ke) – it means that you are only getting half of the resolution that a 4K UHD television or projector delivers. How is this possible? BenQ was one of the first brands to deliver a true 4K UHD projector using Texas Instruments new DLP chip that delivered true 4K UHD resolution with over 8 million pixels to mainstream home theater projectors. Other brands including Sony also market projector models with true 4K resolution, and while these models are more expensive, they all deliver over 8 million pixels to the screen.
What about projector models with "Pro-UHD" and "4K Enhancement" (4Ke) resolution? While they can receive a native 4K signal into the projector, they only display about half as many pixels – just over 4 million pixels on the screen at one time while a true UHD projector delivers over 8 million pixels at one time. Although the picture is an improvement over 1080p projectors you should be aware that a PRO-UHD projector image does not display a true 4K UHD image as defined by the Consumer Electronics Association.
Retailers may market PRO-UHD as having true 4K UHD resolution
Although PRO-UHD projectors don't meet the official 4K UHD standard, many retailers market them the same as 4K projectors that have twice the resolution. They may not make it clear that the resolution on a PRO-UHD model is lower than a true 4K UHD projector.
For example, one large North American retailer markets a PRO-UHD projector as "Epson – Home Cinema 4010 4K 3LCD Projector with High Dynamic Range – White", but doesn't display the actual pixel resolution of the projector. Another website misstates the resolution of the same model saying it has 4K UHD resolution. The Epson website even describes this model with PRO-UHD using the term "4K Enhancement (1)" that describes the resolution as 1920x1080x2, which is half of the number of pixels required for a true 4K UHD display. With descriptions like this, it is easy for customers to think they are getting the full 8 million pixels like they would if they purchase a BenQ 4K UHD projector – at a similar price point.