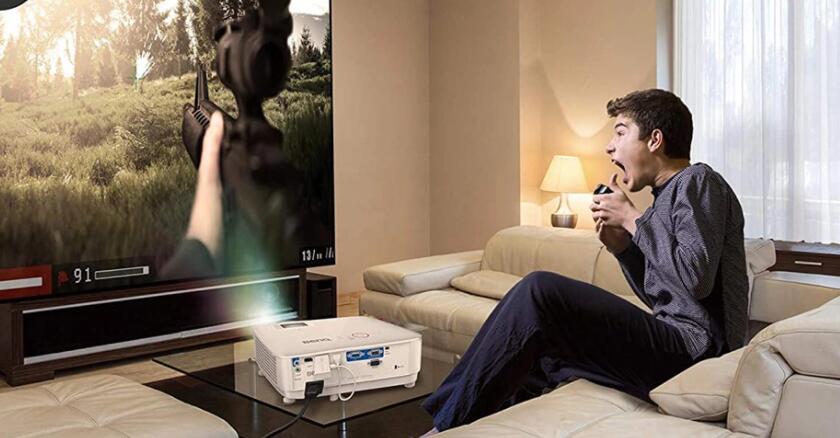 InFocus has been a well-known US projector manufacturer for many years. InFocus concentrates their expertise on DLP projectors for business and education applications, including short-throw and interactive models. InFocus also makes a line of projectors designed for conference room and installation use, including HD 3D multimedia models.
In 1986, a team of engineers in Portland's Silicon Forest imagined there must be a better way to share information. Founded on this belief, InFocus went on to create new ways to present information and collaborate beyond overhead projection, combining digital technology with light to advance how and what we can display in many powerful ways.
InFocus is the inventor of the digital projector. Many firsts followed, including the first DLP projector, the first sub-five-pound projector, the first ultra-thin projection television, the first all-in-one interactive whiteboard with touch technology, video conferencing, and many more milestones that have contributed to creating a multi-billion-dollar display industry.
3 Best infocus projectors of 2021: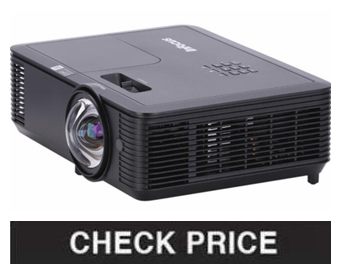 If you're looking for a modestly priced 1080p (1,920-by-1,080-pixel) short-throw projector, the InFocus IN118BBST is well worth considering. Part of the InFocus Genesis Series, it's too expensive to call entry level, but short-throw lenses are expensive enough that it still qualifies as low cost, even at $989 list price.
Among the features the IN118BBST shares with its standard-throw cousin are the 1,920-by-1,080-pixel DLP chip, the 6-segment RYGCWB (red, yellow, green, cyan, white, and blue) color wheel, and the 16.4ms input lag at 1080p 60Hz. The size and weight also match, at 4 by 12 by 9 inches (HWD) and 5.7 pounds. In theory, that makes the IN118BBST light enough to move easily from room to room. But short-throw models are a little tricky to position properly for image-screen alignment, and also finicky about needing an absolutely flat surface to avoid image distortion. The IN118BBST is best suited for permanent installation.
Another issue that makes setup tricky is that, as with most short-throw models, the IN118BBST's lens doesn't have optical zoom. There is a digital zoom, but it works by shrinking the image to use only part of the chip, which lowers image brightness and can introduce artifacts. For the best quality image, you'll need to position the projector at just the right distance to match the image to the screen without using the zoom. For a 90-inch diagonal screen in my tests, the throw distance was 3 feet, 1 inch.
Short-throw lens delivers a big picture from close to the screen
Good color accuracy
Bright enough to throw big, highly watchable image in ambient light
Bright 3D mode
Low input lag
On-board audio is a little tinny
Once in a while a product comes out of nowhere and blows out of the water any preconceptions we might have of the AV market. Cue the InFocus X10 projector…
This is a pretty bold start to a review, I guess. But I promise I'm not being sensationalist just to keep you reading. The X10 really does rewrite the rulebook, completely shifting our established frame of reference when it comes to evaluating other projectors in the future.
Our searches did uncover another Optoma DLP model, the 8000X, going for around £1,000 – but we've seen absolutely zero marketing for this product, and it also seems to be available through extremely limited distribution channels. So it hardly seems poised to make the same sort of waves we're predicting the X10 will. Having said that, rest assured we're already doing our best to get hold of an 8000X for review.
If I had a pound for every time I'd used the phrase 'you only get what you pay for' in the course of my reviews for this website, I'd be a wealthy man by now. But thankfully very occasionally you stumble across a perspective-shifting product that's the exception to the rule. And the X10 is just such a product – with knobs on. In fact, quite where the rest of the home projection industry goes from here is anyone's guess.
Excellent contrast handling
Balanced, nuanced colour palette
Good connectivity options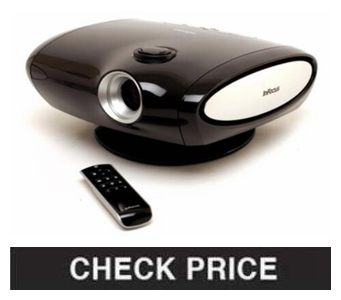 Low-cost projectors may owe more than a small debt to the corporate boardroom, but thankfully that hasn't meant that every inexpensive projector looks like an ugly '70s Doctor Who prop. Infocus' IN74 DLP projector is a good example of how the style of really high-end projectors (and it's clear in real life that the Infocus ScreenPlay 777 is what the IN74 wants to look like) has moved down the price scale.
The practical upshot of all of this is that you can in fact have a home theatre projector that doesn't just look like an ugly grey box. To stretch our Sci-Fi metaphor beyond its best straining limits, you almost expect a tiny Billie Piper to come clambering out of the bulb at any second. Perhaps if we watch for long enough, she will.
The IN74 looks impressive from the outside and it delivers quality images from the inside.
Superb visual design
Budget price
Good lamp life
Good image quality
Menus aren't novice-friendly
Auto-adjustment can be a little slow
No direct VGA input