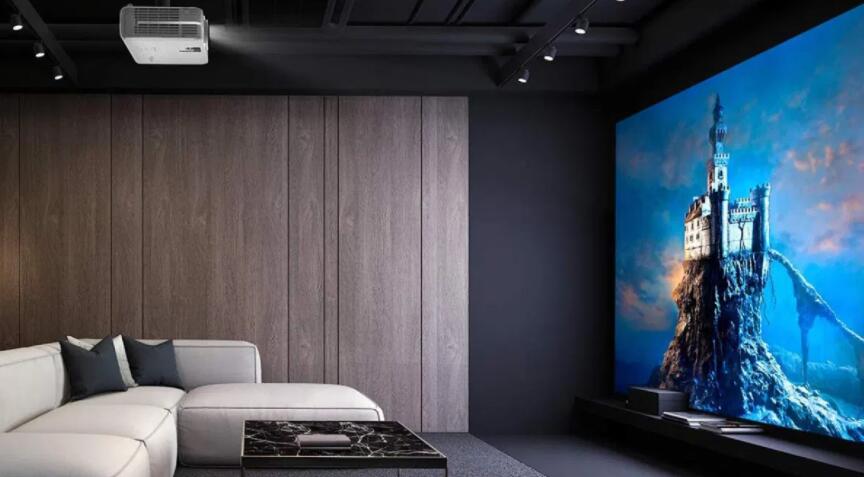 Even if you have a good TV or two, you can take your entertainment room to the next level with a home theater projector. With a home theater projector, you can get a huge screen size for a fraction of the price of a big TV , which may be the best part. These days, you can find a model with good picture quality, high brightness in ambient light, excellent color and a top-notch contrast ratio for $1,000 or less. And when you want to take movie night outside, there are portable and outdoor projector options to consider.
Home theater projectors have all the same bells and whistles as their TV counterparts, with one big difference: with a projector, you can easily watch your favorite shows and movies on a 100-inch (or larger) screen. The projector works with any content source, so you can enjoy everything from streaming video to video games on a giant screen, and all for less money than you'd spend on a 4K TV.
If you're ready to level up your home theater, or you simply want to replace your existing projector with a more advanced model, you've come to the right place! Read on for everything you need to know about home theater projectors. When you're ready to buy, check out or top picks, too.
Home theater and Home entertainment
Most of today's home theater projectors offer Full HD, which is 1080p resolution, while 4K resolution is quickly becoming the new standard by which the picture is judged.
Typically those home entertainment projectors are also less "perfectionist". Some very bright projectors have to be considered true "home theater" because they are still offering image performance to satisfy the enthusiast in many of us. Most home entertainment projectors sell for well under $2000, and many are "entry – level". For those seeking high performance image quality, moving up a big step, look to spend around $2000 to $3500 or so.
We consider that range to be the market sweet spot, with the best projectors in that price range offering the most bang, for the least buck. Spend more than that, and picture quality will continue to improve, but the best overall value for those looking for a first class picture will be the best of the $2000 – $3500 priced models.
Find out which home theater projectors won our top awards and why, one of them is probably the right projector for you! Popular projectors for you own home theater or cave include those from brands like Sony, Epson, Viewsonic Panasonic, Optoma, JVC, BenQ…
What You Need To Know
If this is your first foray into the premium world of cinema projectors there are a couple of things you need to look out for.
Projector type
Home theater projectors use one of three technologies to produce an image: DLP, LCD, or LCoS (called D-ILA by JVC and SXRD by Sony). All of the projectors we tested for this guide use DLP or LCD technology; LCoS typically produces the best black level and contrast of these technologies, but you won't find an LCoS projector priced under $1,000.
The majority of sub-$1,000 projectors use single-chip DLP technology, in which they reflect light off one microchip with millions of individual mirrors and then feed the light through a spinning color wheel to create colors. The resulting image can be very sharp, but the Achilles' heel of many inexpensive single-chip DLP projectors is an artifact called the rainbow effect, in which bright objects on a dark background (such as street lights zooming by during a night scene) carry a rainbow trail. Not everyone can see these rainbows, and most people who can see them don't find them bothersome.
Contrast ratio
This is how well your projector can distinguish between blacks and whites, and will ultimately give you better clarity when watching darker content like that pitch-black episode of Game of Thrones: The Long Night. The bigger the ratio, the better the performance – at 500,000:1 and more, blacks will be inky and colours will pop; at 2,000:1, the image will look a little blurry and colours will bleed into each other.
If you're a sports fan this won't matter too much, as most stadiums are so bright that Jeff Bezos could see them from space, so you won't need much contrast, but film buffs and gamers will want to see the deep shadows in distinction to lighter scenes.
Brightness
Projectors need the perfect setting to get the most out of them, and that often means closing the curtains and watching in near-complete darkness. However, some can cope with brighter environments and even work in the garden if you're throwing a watch party.
Brightness is measured in lumens, with a higher number offering a brighter image – around 2,500 is the sweet spot. Though you only really need to pay attention to this if you plan on keeping the curtains open or taking it outside.
Resolution
A projector must have at least a full HD (1920×1080) resolution for us to consider it for this guide because that allows for a big, detailed image with no chance of visible pixels. The results from 720p or 480p projectors look softer, and when such models are creating a big image (or when you're sitting close), the pixels are visible. In general, 4K projectors cost more than $1,000; a few projectors priced under $1,000 accept a 4K signal but scale the resolution down to 1080p.
Screen size
The screen size will depend on how close you put the projector to the wall or screen, so have a think about where you could put one in your setup. A lot of our favourites can be wall mounted or suspended from the ceiling, while others have a "short throw" meaning you can pop it just a few inches away from the wall and still get a big display.
TVs are getting wider, but they can't compete with the width of some of the more advanced projectors, which can stretch to more than 500 inches if you happen to own the world's biggest living room wall. Most projectors will be around 100 inches though, and can go as small as 30 inches if you're tight on space.
Connectivity
Many on this list are smart enough to be able to link up to your wifi to allow you to watch Netflix or Disney+ over the internet, but some will also have plenty of ports to connect games consoles, streaming sticks or a laptop.
The models on our list will all have at least a USB port or HDMI cable so you can add another device to your set-up, though the more expensive options will have more ports for more gear.
You might also find built-in speakers for better audio, smart features like Alexa-compatibility, or headphone jacks for a more personal viewing experience.
Our Top Picks:
Whether you're looking to go the whole hog with a 4K projector, want something that'll make HD sources look great, or need something you can use on the go, you're going to find the best home theater projector for you on this list.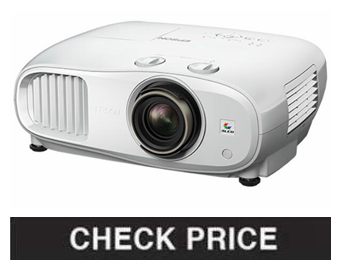 It's a shade pricey for an entry-level device but, make no mistake, this is the king of affordable 4K projectors. It's easy to set up and install, and produces a picture that's reminiscent of what you'll get at the cinema.
You'll get a great image right out of the box without needing to be any kind of expert at tinkering with the settings. All the preset modes are very well judged and it gives an excellent level of black depth and dark detail for a projector at this price. Colours are balanced and motion is naturally smooth.
That said, it's as much the convenience of this machine that makes it so good. Bluetooth allows for direct connection with a wireless speaker or soundbar, and the high luminance means that it's usable in moderately lit rooms. In other words, an AVR, speaker package and home cinema room are not entirely necessary. How's that for a superb family projector?
Excellent contrast handling
Balanced, nuanced colour palette
Good connectivity options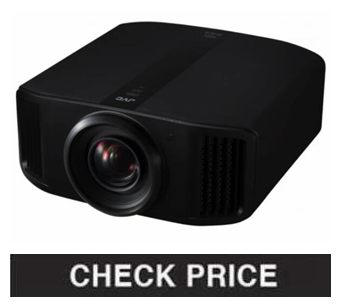 JVC's D-ILA devices are some of the best home cinema projectors in the business. They offer exceptionally good contrast handling, effortless smooth colour blending and the best black levels around. The N5 may be the baby of this famed native 4K family but it's still an absolute belter.
Its bigger, pricier siblings are better and blacker but there's easily enough shading skill and depth of darkness even here to produce an incredibly involving and three-dimensional feel whether at 4K or Full HD. What's more, JVCs ongoing upgrades to its HDR capabilities just make that picture better and better as time goes on.
The motorised lens, simple menu system and excellent choice of usable preset picture modes make it surprisingly easy to set up. It might not compete with the others here for value but it's the best performing projector on this list.
Deep blacks
Excellent HDR handling
Brilliant colour control
Add-on required for 3D
No full-screen SD upscaling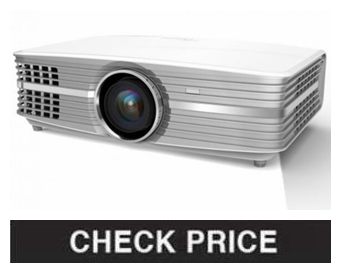 If you want top tech and a fantastic picture on a low budget – this is one projector to watch out for. It offers an excellent 4K image with HDR capabilities for under a grand, now way down from its original price. If that's not good value, we don't know what is.
At this price, you don't get native 4K projection but the pixel shifting technology works a treat. Colours are vivid, yet realistic; there's lashings of detail; and motion remains silky smooth.
There's no other way to say it: the Optoma UHD40 is a simply outstanding budget projector, and a worthy Award winner year after year.
Punchy colours
Insightful detail
Smooth motion
Black detail could be better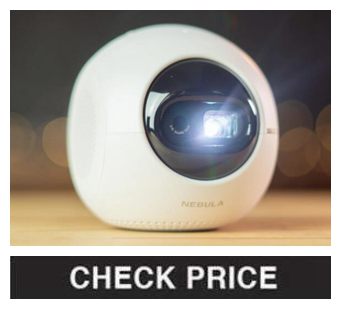 The best mini projectors are a great alternative to a kid's TV and can be super handy for camping trips or other travels where lugging around a full TV isn't viable. The Anker Nebula Astro Mini excels in any of these cases, with a cute, kid-friendly design that is detailed and bright enough for TV and movie watching while incorporating some useful safety features to protect growing eyes.
Looking more like a friendly robot than a more traditional bulky projector, this diminutive device still manages a 480p resolution, has up to 2.5 hours of battery life, and has built-in support for Apple Airplay, Netflix, Amazon Prime and YouTube Kids. It also features an automatic cut-off if it detects any motion up to 60cm in front of the lens, ensuring it never shines into the eyes of curious youngsters.
You can control it entirely from the app, or plug in an external device using USB-C or HDMI cables for streaming local content.
Fun, quick and easy to use
Solid image quality in darker rooms
Useful built-in speaker
Somewhat crude colour
Requires careful light control
Not the sharpest lens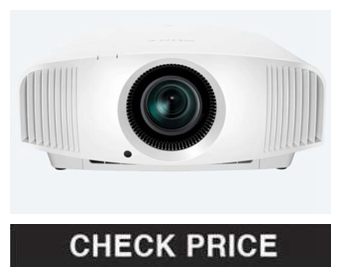 For the ultimate in home theater projections, there's little better than the Sony VW325ES. It supports 4K resolution, HDR content, and screen sizes up to a staggering 200 inches diagonally. With a brightness rating of 1,500 lumens, it's not the most luminous projector out there, but it's still bright enough for making HDR content pop—it just looks its best in darkened home theaters rather than in living rooms with the curtains open.
Where it's not the brightest of projectors, the Sony VW325ES is certainly one of the darkest. Leveraging Sony's SXRD liquid crystal on silicon technology, it has a stunning contrast ratio which, alongside its 4K resolution and Sony's X1 image processor, delivers an absolutely stunning picture. Very few projectors can measure up.
It's not the smallest of projectors, but with its motorized lens zoom and shift options, you can move the image by huge margins, making it easy to get it looking just right no matter where you mount it. It's not cheap, but if you want the best home theater projector out there right now, the Sony VW325ES is it.
Fantastic 4K detail
Excellent motion processing
Solid contrast control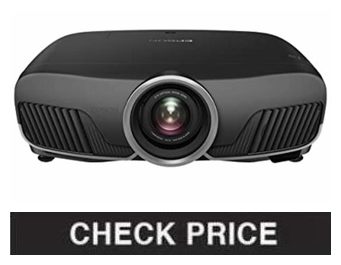 We gave this beamer five stars for its impressive color reproduction, HDR support, and 2,600 lumens brightness, making for bright and impactful images. While this isn't a native 4K projector (something you just don't get at this price), even upscaled images are detailed and come across well, with highly natural skin stones and an impressive amount of shadow detail.
Blacks could be deeper, and motion could be smoother, but there's really little to complain about here. The EH-TW9400 boasts advanced capability all around, from its 3D compatibility to motorized lens controls – the latter point allowing for real precision and an easy setup. There's even a lens cover to prevent dust from creeping in!
Having launched in 2019, the Epson EH-TW9400 is widely available in the UK, India and elsewhere – though it's called the Epson Pro Cinema 6050UB in the US. Just keep in mind that it doesn't come with built-in speakers, meaning you are reliant on connected audio equipment.
Excellent color reproduction
Motorized lens controls are handy
Blacks could be deeper
Motion not its strong point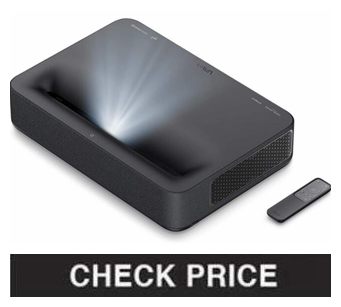 The Vava 4K projector is something of a marvel, with a sharp 4K picture and impactful HDR despite its 8-bit color limitations.
As an ultra-short throw laser projector, you're getting a massive picture (up to 150 inches) while only having to place it a few inches away from a wall or screen. The 2,500 lumens brightness is more than enough to make its images look vibrant, too – while a sleek design and soft fabric covering ensure the projector is aesthetically satisfying even when it's turned off.
The smart platform is somewhat secondary here, with an old iteration of Android TV and a couple of big-name apps (Netflix, Hulu) nowhere to be seen. But with Vava's mix of bright 4K images, impactful color, and ultra short-throw picture – all packaged in a gorgeously sleek design – it's a brilliant choice for a new home projector.
This Vava UST projector retails at $2,799 in the US, making it decently cheaper than our top pick in this guide, even if there are other, more budget models to consider too.
Effortless style
Max 150-inch projection
Poor app layout
Only 8-bit HDR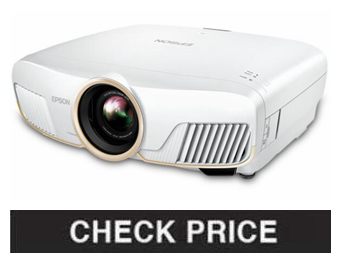 There are few of even the best projectors which handle 4K content well, but if you aren't a purist, you can expand just outside native 4K projectors to those that use clever pixel-shift technologies that display an emulated 4K image using a lower-resolution source projection. That gets you a projector able to play 4K content at near-native quality for a much lower price.
The Epson Home Cinema 5050UB is one such 4K projector, delivering a fantastic quality image at high brightness, high contrast and with full support for HDR and 3D content.
Another great selling point of this projector is its fully motorized lens shift and zoom, letting you get a perfectly shaped and sized picture no matter where you mount the projector. Just ensure it has enough space from the screen, as it has a relatively long throw distance of over 10ft.
Excellent contrast handling
Balanced, nuanced colour palette
Good connectivity options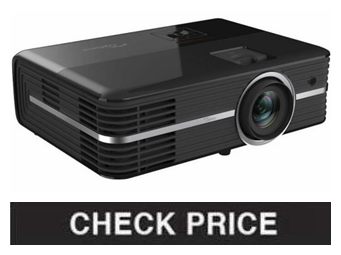 Smart, voice activated controls for a home cinema projector may sound like the kitchen-sink approach to feature lists at first glance, jumping on the buzz-word (or should that be 'wake word'?) bandwagon of Amazon's Alexa, Apple's Siri or Google's Assistant. But think about the environment and scenario that your average projector viewing session takes place in, and it starts to make a lot of sense – you're in a dark room where seeing buttons isn't always easy, possibly with your hands loaded up with popcorn and other treats.
Being able to shout "play the movie!" at a voice activated projector, potentially installed in a bracket high above your head, seems like a sound move.
Ultimately, while the Alexa features are fun (if a little perfunctory) everything about this the Optoma UHD51A performs exceptionally. At this price you're going to be hard pressed to find a projector that can deliver this level of picture quality and this feature set more confidently.
The Optoma UHD51A represents a great shift in 4K projecting quality if you find yourself on a tighter budget. What's on offer here allows even those with smaller living spaces and more modest bank balances a taste of the home cinema high life.
Rich, sharp image
3D support, for those who want it
No digital keystone
Alexa setup issues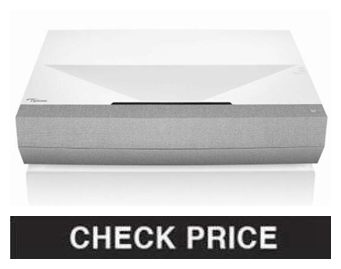 The Optoma CinemaX P2 is clearly a cool looking piece of kit, and it's not often you can say that about a projector. Stylishly finished in matte white, with complementary grey fabric grille and peekaboo lens up top, it looks suitably trendy.
It's built around a single chip DLP 4K device allied to a laser light engine, which translates to pin-sharp pictures (no chance of any panel alignment issues here) and excellent color vibrancy – though it is a bit less vibrant than its predecessor.
The tradeoff there is the the P2's audio performance is top notch. Each driver has its own 10W digital amp module, so that's a cumulative output of 40W. With the sonic chops of a large Bluetooth speaker, it's more than loud enough to disguise its operating noise, which is a low 26dB.
This isn't quite a cinephile grade projector, but for most of us the convenient form factor and fantastic audio performance should be ample compensation.
Up to 120-inch projection
Solid sound
Basic, dated software
Less bright than its predecessor
FAQs
What should I look for in a home theater projector?
Dedicated home theaters need 1000 lumens or brighter. Rooms with some ambient light should have at least 1500 lumens. Spaces with high ambient light need about 3000 lumens.
How many hours a day should you use a projector?
For projector lamps that are used under normal operating conditions of about two, up to four hours per day in a clean, relatively dust-free and evenly tempered environment, a lamp is expected to last through its entire rated lamp life.
How many years does a projector last?
Fortunately, more recent projector lamps last between 2,000 – 4,000 hours depending on the various settings used in an environment. Even though lamp life is improving, filters still need to be cleaned or replaced, and lamps will eventually need to be replaced if the projector will still be in use.
Can I leave a projector on overnight?
You can leave your Projector on 24/7 if you want to. As long as the projector is operating under normal operating conditions (clean, relatively dust-free environment, and there is sufficient ventilation around projector) the lamp will have the greatest likelihood of lasting through its entire rated lamp life.