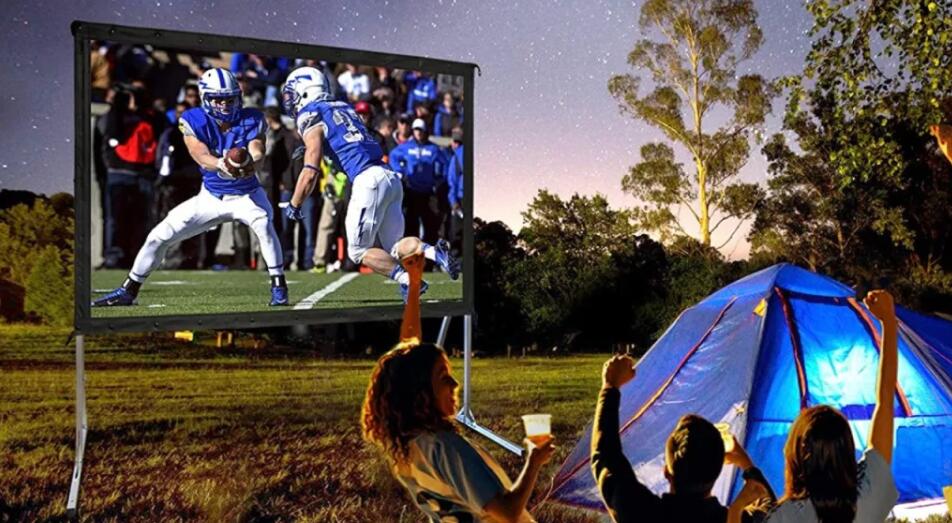 Modern families that have made a tradition out of hosting their own family movie nights are always on the lookout for ways to keep the experience fresh and exciting for everyone. Many are even choosing to take their backyards to the next level by transforming them into charming exterior home theaters with an outdoor projector screen and backyard projector to match – the perfect way to enjoy movie night and make the most of the balmy summer days to come.
If you want to build your own backyard home theater with an outdoor movie screen and projector setup, now is the time to get your pre-summer project started because this is the guide for you!
It's important to understand that your viewing experience will only be as good as the equipment you select. That's why we wrote this guide to backyard projectors and screens.
Building your own outdoor movie theater is far easier than it sounds, and can be easily scaled to suit your budget—from a simple projector/sheet combo to a full-fledged theater, with a big outdoor screen and speakers to really up the video and audio quality.
Here's a look at what products you'll need for your outdoor theater, along with some tips on how to make everything work together.
Understanding How Outdoor Movie Watching Differs from Indoor Viewing
Some people looking to create a stunning outdoor theater already have projectors and projection screens that work perfectly well indoors. They simply assume that same equipment will perform just as well outdoors only to be sorely disappointed by an experience that's hardly drive-in quality.
When you watch a projected movie indoors, it's generally (and ideally) in a room that's perfectly dark and controlled. This allows for the type of viewing experience you'd expect in a theater environment; however, it's never perfectly dark outside, even after sunset.
Your out of the house projector will be competing with ambient light from passing headlights, house lights, street lamps, your fire pit, your barbecue grill, the moon, and even the stars on a clear night. You'll need to select a projector and screen capable of offsetting the interference caused by these light sources.
Types of Outdoor Projector Screens
When it comes to open air projection screens, you've got a few options: retractable, foldable, tripods, inflatable and screen paint. Each kind of screen is great for different types of outside situations.
Retractable Outdoor Screens
If you're the type of homeowner who loves family movie nights outside on a deck or patio, then a permanently installed retractable projector screen is the way to go.
With either an exterior manual or a motorized projection screen, you can roll it down to watch a film and roll it up when you're done.
These roll up display surfaces are made to stay outside in all types of weather, thanks to their weather and insect resistant housing. These exterior retractable screens are tensioned with cable guides and weighted dowels to give you maximum stability even in breezy situations.
They come in a wide range of sizes allowing you to pick the perfect option for alfresco media entertainment on a patio, pool deck, or other outdoor venue.
Inflatable Screens
An inflatable projector screen is one that can be blown up to a significantly large size.
Inflatable outdoor projector screens offer immense size, support, and convenience for your outdoor cinema needs. For a reasonable price, you can get a large blow up projector screen, ready to project on in only a few minutes.
These air filled screens offer great picture quality and are made of a material that could withstand the outdoor elements.
Self inflating screens use fans or air pumps to fill up the frame and stay up. (So don't worry about blowing one up with your own lung power) The projection display surface is attached to the inflated frame. They come with their own means of support, but depending on the wind on the lawn you may want to use some extra grounding.
Make sure you invest in your blow up screen as the last thing you want is a pinhole prick that makes the setup deflate during the movie. A well made blow up cinema screen is also better at handling windy conditions.
Foldable Screens
Foldable outdoor projector screens are the perfect option for smaller temporary backyard home theater setups. Simply, unfold the frame; attach the surface material and legs, then project. Simple as that. You can set one up anywhere in your backyard.
A foldable projector screen for your yard is usually made using lightweight aluminum for portability and comes with either a carrying case or bag for easy storage when not in use.
Folding frame projector screens are a great low budget if you don't plan to make backyard movie nights an everyday thing but you still want outstanding visuals for the film watching outside that you do plan.
Tripod Screens
Similarly to foldable cinema screens, outdoor tripod screens are a great low budget choice for the occasional family movie night. Just set up the tripod and pull down the screen. It's as easy as that. Backyard tripod screens are also excellent for watching movies in the great outdoors as they're very portable and easy to take with you camping.
Tripod screens are limited in size compared to other exterior projector screens, so they're best for smaller gatherings in the yard.
How to choose the best outdoor projector screen
SCREEN SIZE
Screen size directly impacts your viewing experience — but you need to choose a screen size that suits both your available space and your projector. A larger screen can be great, but only if you have the room and the right projector to handle its size. Aim to choose an outdoor projector screen that's around 120 inches. This size should fit just about anywhere, and it works perfectly with 1080p HD projectors. Larger screens may distort the picture quality.
DURABLE MATERIALS
Because you're going to be using your outdoor projector screen outside, it's important to choose one that can withstand all of the wear and tear that comes with weather. Your screen should be durable — it should be able to handle moisture, wind, and sunlight. While white projector fabrics can all look the same, you want material that's made to be used outdoors in any conditions without getting damaged.
HIGH VIEWING ANGLE
A high viewing angle will improve your movie-watching experience, so make sure to choose a screen that offers just the right angle for excellent picture quality. The viewing angle is the maximum angle from the center of the screen that still provides a high-quality image and viewing experience. A high viewing angle is great for allowing neighbors, friends, and groups to see whatever you're showing from all angles.
Our Top Picks: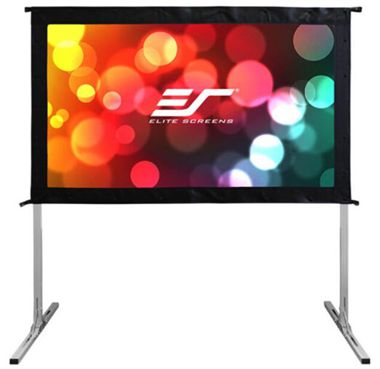 For a well-priced, sturdy outdoor movie screen, you can't go wrong with the Elite Screens Yard Master 2. This screen has a 120-inch viewing diagonal (the distance from corner to corner), and it comes with a lightweight aluminum frame that holds the screen taught for a flat projection surface.
When fully assembled, this unit stands 86 inches tall and 110 inches wide, and the screen itself has a 16:9 aspect ratio. It comes with a carrying bag, ground stakes, rigging cord, and support rigs, and while the screen is weather-resistant, it shouldn't be left outside permanently. It takes around 15 minutes to set up, and the screen provides a perfect surface to show movies, sporting events, and slideshows in your backyard. (Click here for more Elite Screens)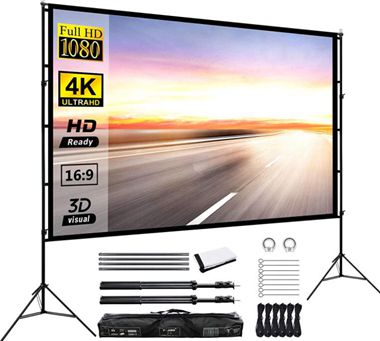 If you don't want to spend too much on an outdoor movie screen, the Mdbebbron Projection Screen offers an unbeatable value. This inexpensive screen has a 120-inch diagonal and a 16:9 aspect ratio, and it's made from a durable polyester fabric that doesn't crease or wrinkle, making it easy to store.
This screen doesn't come with a stand, but it features grommets around the edges that you can use to hang it up with hooks, ropes, or even nails. The screen measures 104 x 58 inches, and if the fabric ever gets dirty, you can put it in the washing machine for easy maintenance.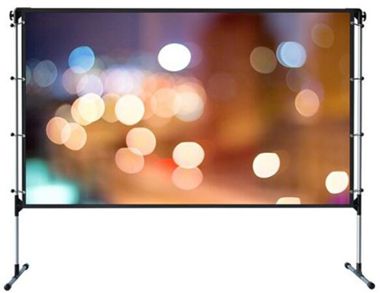 If you want a true budget option for the best outdoor projector screen, then there are dozens of solidly reviewed projector screens on all the usual sites which come without frames, enabling you to build your own or set them up tied to conveniently placed trees or fences. But one step up from that is this great entry-level outdoor stand from Vankyo. It'll save you having to DIY your own frame or buy in materials to make a stand. The extra expense for the convenience, and the ability to pack down the frame and easily carry it, is well worth it.
The stand clips into place easily, although fitting the bungie chords to the sides of the frame can be tricky and require a second pair of hands, and looks less tidy than the clip-on approach of more expensive screens. Once in place, however, they stretch out the screen for a perfectly flat screen which provides a great picture. The frame is also sturdy, especially when used with the guy ropes to hold it in place. It also supports rear projection, although this means it may let a little more light through and be harder to watch while the sun is still out than a screen with a black backing.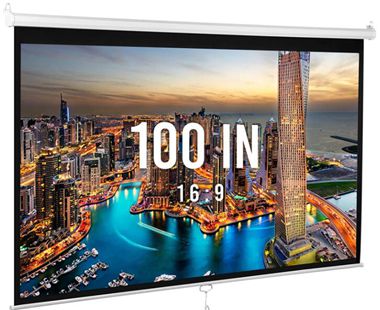 Khomo make gear for the outdoors, and the frame of their 100-inch projector screen does seem a little like a tent frame. It's set up in a similar way to a tent too, with the tension in the poles stretching the thick material of the screen out to 100 inches diagonal. While it may look a little fiddly, it can be set up within ten minutes and packed down in five once you get used to it. It's lightweight and packs away easily, making it a fantastically portable entrant in the best outdoor projector screen conversation.
The wide, flat base can be fixed to the floor with pegs or heavy items on it to keep it stable and ensure it doesn't blow away, but it is a little odd that something which looks perfect for the campsite doesn't come with guy ropes. The top of the screen can sag slightly if the tension in the setup isn't strong enough, but even if this occurs it's usually only an issue in the frame and not on the image itself.
This is the perfect screen for a camping trip or when out on picnics; so easy to carry once it's folded away you won't struggle to juggle it with everything else you need to take and it comes in at a reasonable price.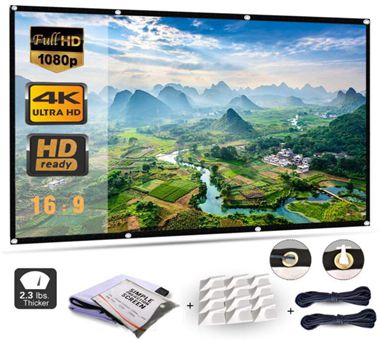 No matter what you're looking for in an outdoor projector screen, the Keenstone 120-Inch 4K Projection Screen is a fantastic choice. With a budget-friendly price and many versatile options, this single screen gives you plenty of ways to use it. And that means you'll get great value for your money.
It measures 120 inches diagonally and is constructed with thick no-crease material that eliminates wrinkles when it's stretched out flat. You can use both or either side of the screen for your movie viewings thanks to the double-sided construction, and you can place the screen indoors or outdoors with excellent results in either setting. 18 mounting holes give you versatile setup options, and it even comes with ropes and 24 hooks so you have everything you need. Thanks to its lightweight material, this projector screen can easily be taken anywhere; just fold it up and carry it where it's needed.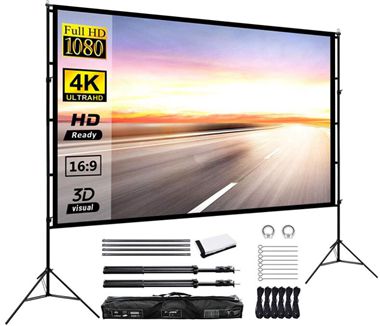 The P-Jing 120-Inch Projector Screen might be small and unassuming when you first open it up, but this little screen offers some impressive results when paired with a projector. Designed to be used to create indoor or outdoor home theaters for awesome viewing parties and fun events, this simple screen weighs just 2.2 pounds in total and folds into a slim package. However, when it's unfolded, this 120-inch projector screen displays bright, vivid colors and sharp picture quality that'll make even your favorite movies look entirely new.
Its smooth, slightly thicker surface makes images and graphics appear enhanced. Able to support double-sided projection and be hung from anywhere, this screen is highly versatile and incredibly easy to set up. It even comes with peel-and-stick hooks and features 12 metal grommets around the edges so you have everything you need for quick and simple hanging.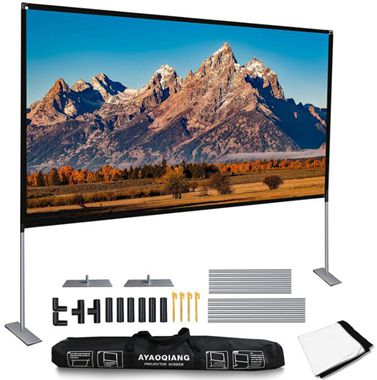 This model is a top choice thanks to its affordable price and accessories included in the kit. The screen is 2.5x thicker than most other models, with a blackout back to reduce light bleed through the screen. It's easy to wipe down, and the non-creasing material ensures you get a flat screen with no bellowing or lines.
We like the stainless steel frame that comes with this model, making it a semi-permanent structure in your yard that's resistant to weather corrosion. The frame pieces together in minutes, providing a tight screen, with sturdy legs that won't fall over in the wind. We would like to see the inclusion of tie-down ropes to make it stable in breezy conditions.
The screen provides a crystal clear picture, suitable for viewing 4K and Blu-ray movies, and you get a 16:9 aspect ratio for your favorite films. The screen packs away into a dedicated carry bag, with a total weight of less than 7-lbs.