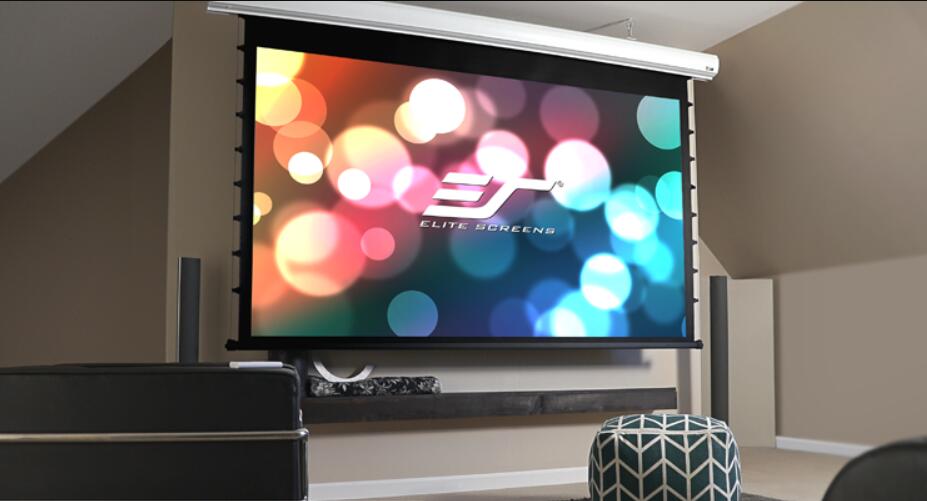 Looking for the best elite projector screen to use with your video projector? In this guide we will help you to choose the best one, suggest some of the best available, and guide you to the best current prices.
The best projection screens offer the perfect way to enjoy home cinema, or screen movies outdoors, for a great family get-together. It's the perfect way to make the most of the best streaming services; with so much content now available in 4K, it makes sense to see it at the biggest size possible.
Yes, you could use a blank wall or a simple bedsheet. But you're certainly not going to get well-defined picture colors and shadow detail that way. A proper projection screen provides a flatter and more reflective surface – and so a better overall image.
What to consider when buying the best projector screen
From inflatable versions to wall-mounted units, the best projectors are made in many different ways. As a result, there is a lot to consider when shopping for the best projector screen—perhaps more than meets the eye.
Is it your type?
Considering that projector screens, at their most basic level, are essentially blank surfaces, it might be surprising to realize there are an array of types, from pull-down screens to inflatable models that work well as an outdoor screen. Here are popular varieties:
Wall-mounted projector screens: Wall-mounted models are affixed permanently to your wall, much like a flat-screen TV.
Motorized projector screen: A motorized unit features an electric system that allows the screen to retract into its casing, which can be built directly into the ceiling, meaning it's only visible when you want to watch something. This creates versatility and can be a helpful feature when setting up a home theater in a room that has to accommodate multiple uses.
Pull-down projector screen: Similar to a motorized screen, a manual pull-down screen all but disappears when you aren't using it. It works much like a window shade, spooling at the top when you want to put it away.
Projector screen with stand: Perhaps intuitively, a unit with stand features a foldable screen or a collapsible option that can stand on legs. The stand could be a tripod setup or could feature feet on each side. Many portable screens have this type of build because the stand allows you to set up the machine in different locations. This is a good option if you're looking to set up an outdoor movie screen, or if you're a traveling professional who makes presentations.
Inflatable screen: Like a bouncy house or an air mattress, an inflatable screen features a framework that's filled with air. This is a fun option if you and friends can't make it to the stadium but still want to watch the game on an outdoor screen. Inflatable models also work for indoor home theaters, especially when you're setting that theater up in a less formal rec room. Inflatable options don't offer as uniform of a picture as a fixed mounted option, but they certainly make for quite the spectacle.
Do you want a big screen or a big-big screen?
Even the smallest projector screen will rival the size of flat-screen TVs. But the best projector screens can range in size from 40-inch portable projector screens like the Pyle Pull-Out Projector to a 150-inch projector screen, like this Elite Screens model. The bigger the screen, the bigger the image that can be displayed.
But a bigger image can also have a lower resolution. Remember, the size of the image your projector can display depends in part on how far the projector is from the screen. This is known as the throw ratio. For instance, a ratio of 1.5:1 would produce a 5-foot-wide image when the projector was 7.5 feet from the screen (5 x 1.5). Short-throw projectors with zoom lenses can mitigate this to a degree, but generally speaking, the longer your space, the bigger of a screen the device will be able to accommodate. So if you're looking for the best screen for an apartment, say, it's probably a waste of money to buy a 150-inch screen since your system won't be able to maximize its potential.
It's also important to note the aspect ratio you'll use most often. HDTVs (think streaming TV shows or live sports) play at 16:9, while widescreen movies stretch to 16:10. Many modern movies are shot with an aspect ratio of 2.40:1, compared to the 2.35:1 ratio common in classic movies.
Do you see it clearly?
The best projectors can display 4K-resolution pictures. But future models should keep advancing, meaning you may be wise to purchase a screen that can support 8K or even 16K-resolution images. The resolution of a projector screen is largely based on how well it can reflect light. That's why material matters. Movie screens actually once contained embedded silver to make the screens more reflective.
While today's "silver screens" no longer have silver, they are still designed to best reflect images. Vinyl or spandex are common materials for the best screens, though plastic, rubber, and polyester are also used. Screens with matte finishes won't do as well reflecting high-definition images. Ultimately, the smoother the screen the better, since the texture of any sort will distort pixels.
Our Top Picks
Keep reading to explore some of the best elite projector screen options on the market. These products, which were selected using the aforementioned criteria, come from a variety of manufacturers and satisfy a range of budgets.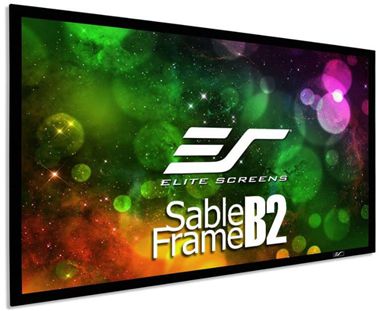 Individuals looking for a projector screen that will deliver vibrant images with excellent color reproduction may want to consider the 120-inch Sable Frame projector screen from Elite Screens. This screen has a high-quality CineWhite screen that is 4K Ultra HD and Active 3D ready. The screen has a 1.3 gain with a 160-degree viewing angle. Regardless of the seat viewers choose, they'll enjoy a bright image with high resolution. It has a 16:9 aspect ratio.
This wall-mounted projector screen is designed to be easy to install. It features a tension rod and spring system to ensure the CineWhite material remains wrinkle-free for first-class viewing experiences. The screen material is framed with a black-velvet-covered aluminum to absorb overshoot and help frame each image. Sliding wall brackets, drywall anchors, and screws are included for mounting the screen to a wall.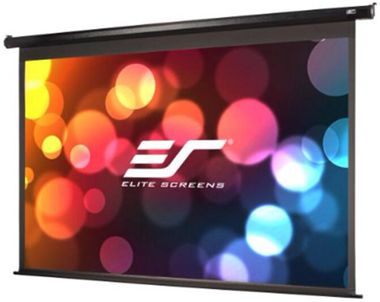 Enjoy the simplicity that comes with having a motorized projector screen with the Spectrum2 110-inch screen from Elite Screens. Individuals can easily raise or lower the screen using the three-way integrated control switch or purchase the optional remote control kit.
This screen features a MaxWhite finish with a fiberglass backing for optimal image resolution with a 1:1 gain. It is 4D Ultra HD and Active 3D-projection ready and offers an impressive 180-degree viewing angle to ensure each member of the audience has the best seat in the house. The screen material is GreenGuard Gold Certified. The screen's casing is constructed from a durable and sleek steel material. Each purchase includes an installation kit and floating mount brackets for mounting it to a wall.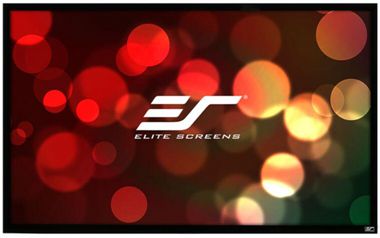 It's one of the best overall choices, for good reason—the Elite Screens 135-Inch ezFrame has a huge screen and a 16:9 widescreen ratio for that full move experience. The ezFrame is easy to set up in minutes, with a toolkit conveniently included. When watching films, the color reproduction is accurate and vibrant, thanks to the white matte surface of the screen. When it comes to design, a black velvet frame around the mount gives it an upscale and glamorous look.
Of course, a good movie is about visuals as well as audio, and the ezFrame delivers when it comes to sound as well. The ezFrame has a transparent screen, designed for use with a hidden speaker or a rear-speaker, as the screen's fabric allows for more sound to come through, creating a more realistic theater experience.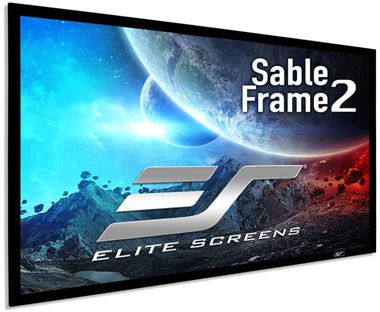 If you're shopping for a projector screen for a smaller space, the Elite Screens Sable Frame B2 92-inch 16:9 frame its slightly smaller than some of the other screens reviewed here, and won't totally overwhelm a small room.
The screen is mildew-resistant and easy to clean with soap and water, and surrounded by a black velvet aluminum frame, which is both aesthetic and functional, as it helps absorb the projector light and keep the images on the screen, rather than the wall.
We also love the high-quality build and premium feel of this screen, which ensures the screen doesn't crease or wrinkle over time. Give this screen a look if you're after a top-notch, easy-to-use product that won't overwhelm a smaller room.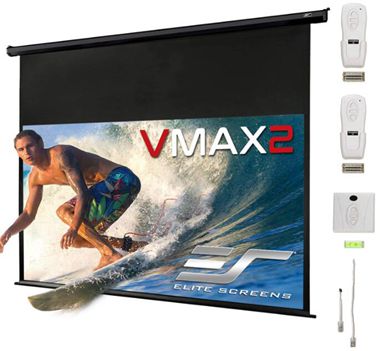 We think that right now, the best projector screen needs to be automated, easy to set up and use, and guarantee a particular level of picture quality. In our opinion, the Elite Screens VMAX 2 ticks all three boxes. For starters, not only do you get a very sizeable usable area, but you get a slightly increased aspect ratio, at 16:10. There is a full 180 degree viewing angle, and like many models in this range, it comes ready for both 4K and 3D viewing. Installation is dead simple, as it comes shipped fully assembled (so no electronics knowledge required) and you won't have to get up to adjust it, either, as it comes with its own remote. It's a clear choice over screens from Silver Ticket, its big competitor.
That said, we do think the price could stand to drop a little. The Elite Screens VMAX 2 comes in multiple sizes, like most screens here, but to be honest, it's still a little expensive for what it is. If you're looking for a less-expensive automated screen, we'd recommend the Spectrum Electric, also from Elite Screens.
FAQs
How do I know what size projector screen I need?
There are two main factors that can help determine which projector screen size is right for you. First, measure the wall or area where you plan to place the screen. Aim to leave 3 to 4 feet of space below the screen and 1 foot of space above it. However, in some cases, the maximum-size screen that fits the space may not work with the projector you have. Check the manufacturer's specifications to confirm which screen sizes are compatible with the projector.
Do I need a special screen for a 4K projector?
If you want to take full advantage of the advanced technology and sharp images possible with a 4K projector, purchasing a 4K screen is a good idea. These screens will feature a completely smooth texture, as opposed to a matte texture, which will allow 4K images to show up more clearly and with less distortion.
What makes a good projector screen?
A "good" projector screen may be different for each user. The right projector screen for you will be appropriately sized for the space, offer the right amount of gain for your seating arrangement, and have a color that works with the lighting characteristics of the space. Whether you prefer a fixed frame screen or one that is retractable also will affect which screen is best.
What is the best brand for projector screens?
We like Elite Screens for their high-quality projector screens. The screens are easy to install, come with a kit, and offer great video quality provided your projector can measure up. Some models even have audio integration, providing a compartment for a hidden speaker. We're also fans of Silver Ticket for its durability and reasonable price despite the premium build.
What size screen should I buy?
The temptation is always to go big, but this often ends up with a screen that really overwhelms the room (and viewer). Instead, measure the space where you intend to put it. You want around a foot of space between the top of the wall and the screen so you're not looking up, and a few feet below, again for comfort. You don't want the screen to overwhelm the room, but you also want to maximize your screen size to recreate the cinema experience at home.