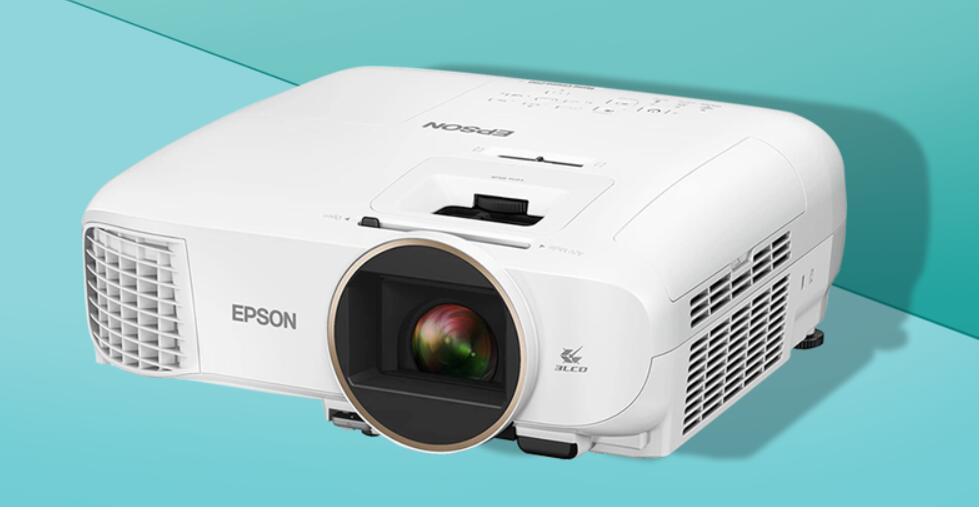 Lamp projectors are the traditional projectors you know (and love?). Lamp projectors use a giant light bulb to project their images on the screen. The lamp takes time to warm up, loses image brightness after 10 hours, and requires fans inside the projector to deal with all the heat generated.
However, lamp projectors are cheaper and easier to setup in the initial stages. Since lamp projector technology has been around for a number of years, they have become relatively cheap and easy to maintain.
7 Factors That Differentiate Lamp and Lamp-Free Projectors
Those brief comparisons are just that – brief. When it comes down to it, there are 7 key factors that differentiate between the three light sources that comprise lamp and lamp-free projectors – LED, lasers, and lamps. Although lamp life, cost, and brightness are the obvious data points to consider, truly discerning customers will go deeper in their quest for informed purchases. That's where the additional factors — color quality, power-up time, the presence of the rainbow effect, and machine noise — come into play.
Life Span
Folks may want to buy the newest versions of products, but at the end of the day, they'd also like their currently-owned products to continue functioning. That's why the stated life span of a projector's light source is so important – you don't want to invest your money in something that'll die in short order. Luckily, in the world of projectors, even the shortest of the stated life spans for the different light sources will net you more than a year of continuous use.
Getting into the specifics, lamp, laser, and LED projectors claim to have 10K, 20K, and 30K hour life spans, respectively. This equates to, approximately, 14, 28, and 42 months of constant use respectively. For the sake of clarity, be sure to remember that these life spans indicate the length of use, not the length of ownership. If you own an LED projector for 42 months, for instance, it won't suddenly die. Instead, if you only use your LED Projector for 6 hours a day, then the light source may stay functional for around 7000 days, or 19.2 years.
Cost
Money makes the world go round and it shouldn't be spent all in one place. That's why the cost of items, particularly in relation to one's income, is so important. Put plainly, oftentimes, people want to get the best value for their hard-earned cash, as opposed to blowing it all at once. This concept absolutely applies to projection products, whether they are LED projectors, laser projectors, or lamp projectors. Therein, consumers should be interested in the TCO, or the total cost of ownership, of a product. This goes beyond the initial sales number and considers potential repairs and replacements that may be needed in the product's lifespan.
Rainbow Effect
In nearly every product, glitches happen. Sometimes they can be entertaining, other times annoying, or else debilitating. Projectors are not exempt from glitches, unfortunately, and they come in the form of the rainbow effect. To understand this effect, consider how each projection type generates color. Lamp projectors and laser projectors use colored filters, or color wheels, to alter the projected light as needed. Therein, there might occasionally be moments where the color wheel is too slow, and the projected image is stained with unwanted colors. This is the rainbow effect.
Although lamp and laser projectors are stuck with the possibility of the rainbow effect, LED projectors are not. This is due to the optional presence of two color wheels, in which the rainbow effect can be filtered out before it is outwardly projected. On the other hand, since LED projectors have no need for a color wheel, as they produce colors natively, they are not at risk of experiencing the rainbow effect.
Brightness
What point is having a visual product if you can't see it? You may not think about it often, but the brightness of a display is of critical importance and is a massive factor upon which final purchase decisions may rest. Think about it, if you were looking at a monitor or screen whose screens you could barely make out, would you buy it? The answer is probably a resounding, "no".
When it comes to projectors, brightness is expressed by way of American National Standards Institute (ANSI) lumens. Therein, the higher the number, the greater the brightness. Lamp projectors tout more than 2000 ANSI lumens, while laser projectors offer more than 3500 with the option of further scaling by way of attachable modules. LED projectors, on the other hand, suffer in this regard, with a lumen count that only goes up to a maximum of 2000. However, in the case of LED projectors, this number isn't to be taken purely at face value. In fact, LED makes up for this numerical efficiency with its higher quality image perception. This is thanks to improved color saturation and luminous efficiency, which allows LED projectors to appear to have higher image qualities than they may actually possess.
Color Performance
4K! 8K! OLED! These high-tech buzzwords are rampant in the consumer-level visual products industry. The thing is that 4K is a level of resolution and OLED is a means of light emittance – though the average consumer may think that these are one-in-the-same, all indicating high performance. This confusion carries over to color quality, which is indeed separate from resolution and light emittance and is actually determined by color gamut and saturation.
Color gamut refers to the spectrum of colors that can be identified by the human eye – a standard of which is displayed by any given visual product. Moreover, a visual display's color saturation indicates the intensity of those colors present in the gamut. When it comes to projectors, each variant — LED, laser, and lamp — all use the same color standard, Rec. 709. However, LED projectors go one step further with the ability to offer color saturation up to 125% of the norm.
Power-up times
We get it, you want your device to work and you want it to work now. Instant gratification is a natural thing to want and it's the reason behind the advent of flash memory and other 'instant-on' advances that have become popular in recent years. Think back to your days in school, when the projector would take a minute or two to properly boot up. That was time wasted, and thanks to those aforementioned advances, it won't happen again.
The different projector types differ in their ability to turn on as fast as possible. On one hand, LED and laser, or the lamp-free projectors, are able to offer instant on/off capabilities. On the other hand, lamp projectors cannot. Instead, they offer exactly what you remember from school – warm-up and cool-down periods, that can take up to two minutes, before and after use.
Size and Sound
The most popular technological goods, in this day and age, are those that fit the mantra "the smaller the better." Our phones are tiny, our TVs are flat, and our cars are certainly smaller than they were in decades past. Those examples are neither here nor there, however, since it's the inside that matters. Think about it: you can have a small, well-designed product, but if its internal components aren't up to snuff, then your money is wasted nonetheless. You know those loud machine sounds some of your products make whilst in use? Those are what you want to avoid.
Best Lamp Projectors of 2022: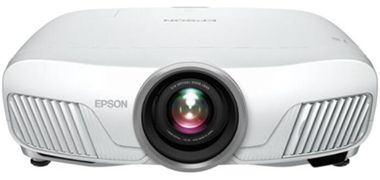 Bring the ultimate 4K experience to your DIY home theater with the Epson Home Cinema 4010 4K PRO-UHD projector. Epson 4K PRO-UHD projectors use our proprietary, advanced pixel-shifting resolution-enhancement technology1 to display native 4K content. Wide Color Gamut, HDR High Dynamic Range and 100% Balanced Color Brightness deliver an exceptional 4K experience. Show movies, sports and games the way they were meant to be seen – on the big screen, with bright, full color; stunning resolution; and no rainbow effect. It's an exceptionally immersive viewing experience that your friends and family will love.
Model: V11H932020
Smooth, Crisp Images and Transitions- 12-bit digital color processing chip with Frame Interpolation and proprietary Advanced Motion Control
Epson's Advanced Projection Lens – displays a bright, uniform image with virtually no hot spots or chromatic aberration
No Color Wheel – images are free from any distracting rainbow effect; balanced color and white brightness means no white segments
Delta Level Color Accuracy- low Delta E, for extremely accurate color reproduction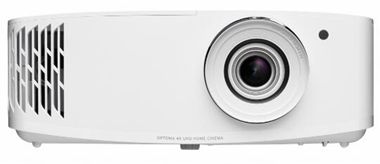 Optoma Technology, the leader in 4K resolution projector technology is very happy to be partnered with Next Projection. These people are experts in screens and projection technology, so you can expect a perfect match of Optoma Projector and screen to achieve a technological advanced image that exceeds your expectations. This is one of our unique partners that can deliver an extremely high level of knowledge on 4K display technology and how to match that with the latest screen technology. We are pleased to have their expert capability associated with Optoma Technology projectors.
Bright 3,400 lumens with 500,000:1 contrast ratio for lights-on viewing
Ultra-fast 240 Hz refresh rate for unmatched 1080p gaming smoothness
Enhanced Gaming Mode delivers 16ms response time at 1080p, 240 Hz
4K UHD (HDMI 2.0, HDCP 2.2) with HDR10 and HLG compatibility
Up to 15,000 hour lamp life reduces overall cost of ownership
Vertical lens shift with 1.3x zoom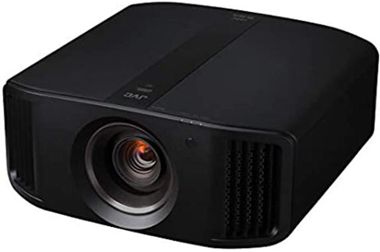 JVC DLA-NX7 D-ILA projector is wrapped in a whole new design, which is packed with the latest projection features. For instance with the new 0.69-inch native 4K D-ILA device, the projector can produce high-definition native 4K resolution (4096 x 2160) images from its all-glass 65 mm diameter lens system. HDR10 content can be projected at optimum quality with Auto Tone Mapping function, which automatically adjusts settings based on the mastering information.
Combining brightness of 1,900 lm, dynamic contrast ratio of 800,000:1, and wide color gamut covering beyond the DCI-P3 range, the projector reproduces life like images for latest contents like HDR10 and Hybrid Log Gamma. Original motion control technology Clear Motion Drive is renewed, and together with Motion Enhance which optimizes the driving of D-ILA device according to the motion of the image, motion blur is reduced significantly compared to conventional projectors.
Complies with the latest HDMI/HDCP 2.2 standard to enable full spec 4K signal input with 18Gbps transmission band-width (4K60P 4:4:4, 4K60P 4:2:2/36-bit, 4K24P 4:4:4/36-bit)
Light source: NSH 265 W lamp
Resolution: 4096 x 2160
Input connectors: HDMI x 2 (3D, Deep Color/HDCP 2.2)
Output and control connectors: RS-232C (D-sub 9pin) x 1, LAN (RJ-45) x 1, Trigger x 1 (Mini jack), 3D Sync x 1 (Mini-DIN 3pin)
3D formats: Frame Packing, Side-by-Side (Half), and Top and Bottom
New 0.69 inch 4K D-ILA (4096 x 2160) device x 3
High-definition display at 4K resolution (4096 x 2160)
17-element, 15-group all-glass 65mm diameter high-quality lens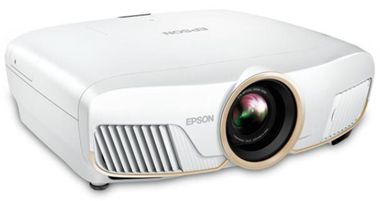 The Epson Home Cinema 5050UBe 4K PRO-UHD1 projector delivers an amazing 4K home theater experience for the DIY enthusiast. Capable of displaying an astonishing 2,600 lumens for both color and white brightness3 – along with proprietary processors for resolution enhancement, color and image processing – the Home Cinema 5050UBe produces incredible brightness, color accuracy and image detail to faithfully display all your favorite content the way it was meant to be seen. If you're looking for an amazing 4K projection experience to power your new home theater build – this could be it.
Epson UltraBlack Technology — Epson created a Proprietary Compensation Filter that controls the polarization of light itself. This allows Epson to suppress any stray light within the signal, producing an outstanding Dynamic Contrast ratio of 1,000,000:1.
Precision HDR Adjustment — Realtime HDR curve adjustment allowing for 16-steps of control to fine-tune the HDR performance – regardless of the content being displayed.
Extreme Color Gamut — One of the first commercially available home theater projectors capable of displaying the full three-dimensional DCI-P34 color space. This extreme color performance is 50% wider than typical 1-Chip Rec. 709 projectors and allows for a truly professional-level of color accuracy.
Epson Precision Lens Technology — Designed for zero-light-leakage, all Epson Precision Lenses utilize a proprietary 15-element precision glass structure for outstanding image clarity and edge-to-edge focus uniformity.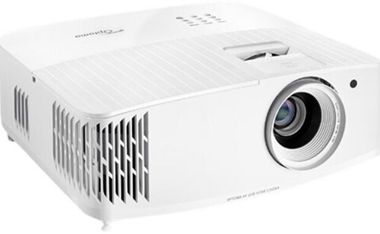 Optoma Technology, the leader in 4K resolution projector technology is very happy to be partnered with Next Projection (ProjectorScreen.com & 4KProjectors.com). These people are experts in screens and projection technology, so you can expect a perfect match of Optoma Projector and screen to achieve a technological advanced image that exceeds your expectations. This is one of our unique partners that can deliver an extremely high level of knowledge on 4K display technology and how to match that with the latest screen technology. We are pleased to have their expert capability associated with Optoma Technology projectors.