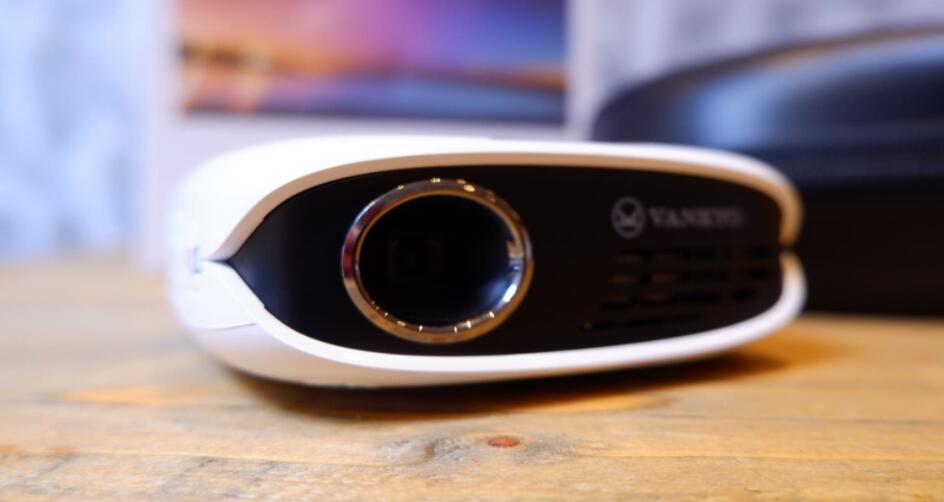 For the unware, Vankyo is a popular brand that makes Smart Projectors, Tablets in various countries. Established in 2017, the brand was founded in Shenzen, China by a company named Shenzhen Wanmai Technology Innovation Co., Ltd. Some of its core members are from Huawei, Lenovo, DJI, and more.
Vankyo Home Theater Projector
Vankyo Home Theater Projectors aim to satisfy you with many options for your home entertainment. The tremendous advances in modern technology help Vankyo to create these mini yet powerful projectors. Specifically, we will try to cover the significant factors such as watching experience, portability, and compatibility.
Superior Watching Experience – The resolution of Home Projectors varies from 720p to 1080p with remarkable brightness for excellent home theater use. These led projectors also come with wireless connectivity and inbuilt 3W dual stereo speakers. We want to make sure that the options you find are budget-friendly while without compromising the quality, especially the movie-watching experience.
Mini Size and Excellent Portability – The compact design makes these mini projectors fit in your pockets just about right. Either stay inside your room with your loved ones for private time or hang out with your friends, you'll surely get the right one to take with.
Easy to Use and Compatibility – In addition to the portability of these home projectors, the multiple connectivities can also further fulfill your requirements. You can simply connect the Bluetooth Projectors to your television or gaming set, etc. Furthermore, the effortless setup is also one of the reasons why these projectors are so popular among homeowners.
Vankyo HD Projectors
HD projectors from Vankyo are the best from the brand, as the home projectors with Full HD capabilities combine all the top-notch features in this category. The models include Performance V600, Performance V620, and Performance V630.
These home projectors come with native 1920×1080 resolution,as well as a contrast ratio of 5000:1, producing vivid, crisp, and bright images which allow you to gain a splendid watching experience. The maximum screen size of these projectors ranges from 64-inch to 300-inch, whereas the distance of projection varies from 5.15 feet to 30.18 feet. Moreover, the built-in 5W speakers (stereo) make these LED projectors ideal for home entertainment.
With digital keystone correction, any wall of your room becomes a possible place for you to project. Enjoy a large screen with the true vibrant colors and 1080P Full HD resolution movies/videos at home. Furthermore, these HDMI projectors offer seamless connectivity through various devices such as PC, smart-phones, tablets, and laptops for your convenience.
Vankyo Portable Projector
Vankyo Portable Projectors come with two types: Burger 101 and Go300. Both Mini projectors are tiny and extremely lightweight. The built-in battery enables the projector to work interruptedly. They are known as pico projectors, which are ideal selections for traveling as you can carry with them anytime and anywhere you wish.
The advanced DLP technology provides more accurate, durable color and better image sharpness. Besides, the DLP projectors also allow you to obtain remarkable readability and clarity with a high contrast ratio. It supports with 1080P full HD video sources and the featured 3D projection technology provides an outstanding authentic viewing experience. With its versatile connectivity, you can easily connect our pocket projector with Android & IOS phones, tablets, laptops, TV Boxes, gaming consoles, and USB flash drives.
Best Vankyo Projectors of 2022: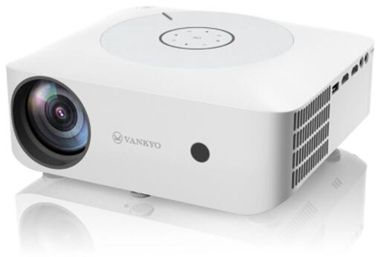 One of the more attention-grabbing features of the Vankyo 1080p Mini Wireless Leisure 530W Projector is that it comes with a 100-inch screen. That's already a bargain for $229.99, and even more so when you add in the bundled HDMI cable and three-year warranty, then drop the price to $199.99 thanks to the $30 coupon Vankyo normally includes on its Amazon page. As you might expect from the low cost, Vankyo cuts a few corners on some features. But that doesn't keep it from being a surprisingly capable projector for the price.
The 530W has a native and maximum 1080p resolution. According to Vankyo, it's built around a single 1920-by-1080 LCD with color filters and a white LED source, much like a monitor. The combination means it can't show rainbow artifacts, a perk if those flashes bother you.
Most LED projectors in this price range, including the ViewSonic M1 mini and the Kodak Luma 150, are palmtops or pocket-size. The 530W is more of a shrunk-down version of more expensive lamp-based designs, weighing just 4 pounds. At 3.5 by 9.4 by 8.3 inches (HWD), it has more than enough room on its back panel for all the connectors you're likely to need, including two full-size HDMI ports. There's also a USB-A port that can power a streaming stick or read files from a USB memory key.
One of the corners Vankyo cut is with the TF memory card slot, which can't read microSD cards. Another is that the built-in file reader is a little clumsier to use than typical for showing photos from memory cards and USB memory. The better choice is to connect to your Android or iOS phone or tablet by Wi-Fi for screen mirroring, which also works swimmingly for watching movies.
Notably low cost for a bundle of projector, screen, and HDMI cable
Focus is easy to adjust
Supports screen mirroring with Android and iOS phones and tablets
Includes two HDMI ports
Impressive sound quality and volume for its size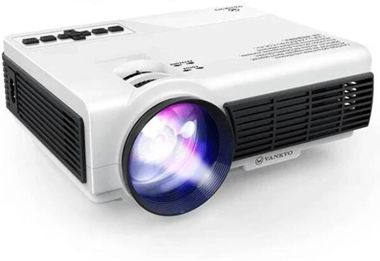 The Vankyo Leisure 3 is a single-chip LCD projector that uses white LEDs as its illumination source. Wait, what? A single-chip LCD projector? That's what the company tells me. In my communication with Vankyo reps, they never completely confirmed that it uses a color-filter wheel like a single-chip DLP projector, but when I told them I assumed as much, they said, "Glad you found the answer on your own!"
In a single-chip DLP projector, some viewers notice a "rainbow effect"—momentary rainbows that trail bright, moving objects on a dark background—which is caused by the color-filter wheel. I have no idea if it causes the same problem in a single-chip LCD design, though I can't imagine why it wouldn't.
Most inexpensive projectors have relatively high black levels, and at such a low price, this one probably does too. I don't imagine it has a dynamic iris or LED modulation, which are used only on much more expensive projectors.
At the other end of the brightness scale, the Leisure 3 claims a peak light output of 2400 lumens, which is pretty high for such a low price tag. But of course, any such manufacturer claim must be taken with a grain of salt, and small, low-cost projectors like this often claim wildly inflated light-output numbers.
800×480 resolution, supports 1920×1080 content
LED illuminated
2400 lumens peak light output
2000:1 contrast ratio
Fills screens from 32 to 176 inches
Throw distance from 4.9 to 16.4 feet
HDMI, USB, VGA, analog inputs
Innovative cooling system with heat dissipation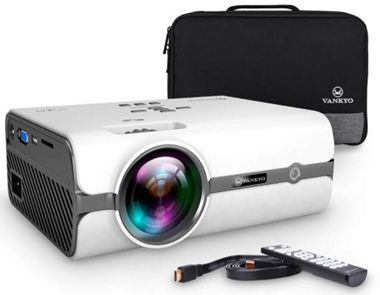 When I was younger I had a projector instead of a TV. I loved the larger picture, but as a heavily used living room TV it was far from ideal: any light in the room detracts from the picture, the constant fan noise was annoying, and the unit broke after less than a year of use. Even if it hadn't broken, I was on track to use the lamp's estimated lifespan by the end of year 2, making it an expensive proposition over time. I think the VANKYO Leisure 410 [2020 Upgraded] Mini Projector might hit the perfect sweet spot for a lot of people who are looking for a projector as a secondary/occasional-use device. VANKYO was nice enough to also send a 120″ screen to help with the review, and I look forward to many summer movie nights to come!
The VANKYO Leisure 410 [2021 Upgraded] Mini Projector is a high definition LED projector. It is marketed as an entertainment device, suitable for watching movies, television shows, and playing games. VANKYO specifically warns that it is not well-suited for text-based content like slide presentations, and I can confirm that text is fairly blurry.
Good picture performance for the price
Ease of use and setup
USB power delivery for devices like Roku/Amazon Fire Stick/Chromecast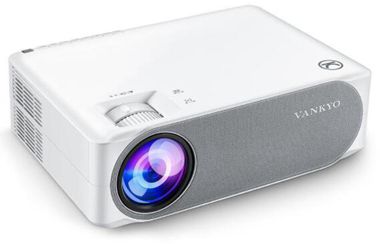 There are a ton of top tier 1080P projectors on the market, including some heavy-hitters like Epson, Sony, and Panasonic that can cost up to $1,000 or more. But do you need to spend that much money to get a top tier 1080P experience with all the bells and whistles? We took the Vankyo V610 1080P Projector with 6800Lux for a spin and found that it offered a very comparable experience to the higher priced name brands, at an accessible $220 cost.
Vankyo certainly isn't a household name so you'd be forgiven for not knowing of it. They've been focused on mid-tier projectors mostly and have a variety of options from portables to the high-end V630 that we're looking at today.
The V630 is a little powerhouse that you can either take around in its portable bag or mount using its mounting kit to a ceiling. It is about the size of an unabridged dictionary (4.3 x 12.4 x 9.3 inches) and weighs about 8lbs. so portable but not something you'd throw in a pocket or purse. Even a backpack is a tight squeeze.
Great, bright, crispy 1080P display at 25′
Relatively low cost
Lots of ports: 2xHDMI, SD, VGA, 2xUSB, AV in, aux/headphones out
Good speakers, remote
Helpful buttons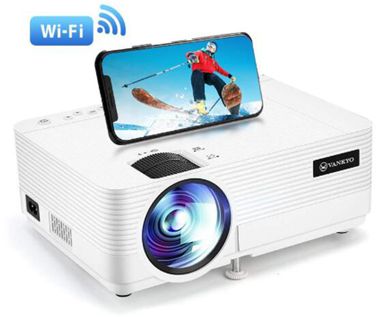 The VANKYO Leisure 470 Mini Projector comes with WiFi synchronize smartphone screen. The latest WiFi associating capacity is perfect with IOS and Android framework. VANKYO Leisure 470 likewise can legitimately interface with your cell phone or PC using a USB/Lightning link, without the requirement for an extra HDMI connector or Wi-Fi condition. The Mirror show work doesn't bolster secured recordings, as a result of copyright. (Netflix, Amazon Prime Video and Hulu).
4000-LUX superior watching experience: The VANKYO Leisure 470 has 4,000 Lux which is 80% more brilliant than other proportional projectors. MStar Advanced Color Engine and 3500: 1 difference gives the projector distinctive shading and ground-breaking differentiation of pictures. Local goals is 1280 * 720P, with 1920x1080P upheld. Angle proportion is 16:9/4:3. The light life is as long as 50,000 hours.
Predominant home theater projector: The scaled-down projector gives seeing sizes from 39″ to 250″ with projection removes somewhere in the range of 4.27 and 26.57 feet. The enormous screen eye-security light source of Leisure 470 projector and implicit 3W*1 stereo speakers let you get a charge out of the best quality film. You can interface the speakers through the sound port to improve the sound, which is reasonable for Backyard, Home Movie Entertainment, Car Travel, Play Gaming, Party.
Compact versatile digital projector: The VANKYO Leisure 470 mini projector is compatible with TV Stick/cell phones/tablets/TV/workstation/USB sticks/TF cards (max 32GB) /DVD players. It can undoubtedly associate with your cell phone, PS3, PS4, X-Box One, or Wii to appreciate games. Altered packs are intended for your conveying and capacity.
FAQs
What's the difference between LED, LCD or DLP?
DLP, LCD and LED are three main technologies used for projection. DLP (Digital Light Processing) uses a chip made of tiny microscopic mirrors and a spinning colour wheel to create an image. DLP projectors deliver sharp images, don't need any filters, have a better response time as well as 3D capabilities. The effective lamp life of a DLP projector is only 2,000-5,000 hours.
On the other hand, LCD projectors use liquid crystal displays, have no moving parts and thus are generally less expensive. If you are on a budget a single chip LCD projector is ideal. Most LCD projectors come with long-lasting lamp and the lifespan can reach 50,000 hours, that's much longer and cost-effective than DLP projector.
LED projectors are smaller and generate less heat. Do keep in mind that LED projectors have limited brightness compared to LCD or DLP so they are not recommended if your room has a lot of ambient light.
How much brightness do I need for a home projector?
When buying a video projector for your home entertainment, it's preferable to consider how much brightness that you actually need for your living room or home theater. In daytime conditions, higher lumens are strongly recommended because too bright a room can heavily impact the image quality and wash out everything you see on the screen. For rooms with dim light, there is not much restriction on the brightness, 1,000 to 2,000 lumens can meet your satisfaction for bright and clear images.
What is throw ratio? Are screen size and throw distance important?
Projectors have the main specification which is called a "throw ratio". Throw ratio is basically the specification which is determined by the first two pieces of the information in an equation.
Does resolution matter? What resolution do I need for my home theater?
Generally speaking, the higher the resolution, the better the image quality, and the more the projector will cost. Higher resolutions can display more detail in the picture, and can reduce or eliminate the visibility of the pixel structure. Both of these are highly desirable in good home theater. The native 1080p resolution projectors are most recommended for home theater, as they are affordable to most projector users.