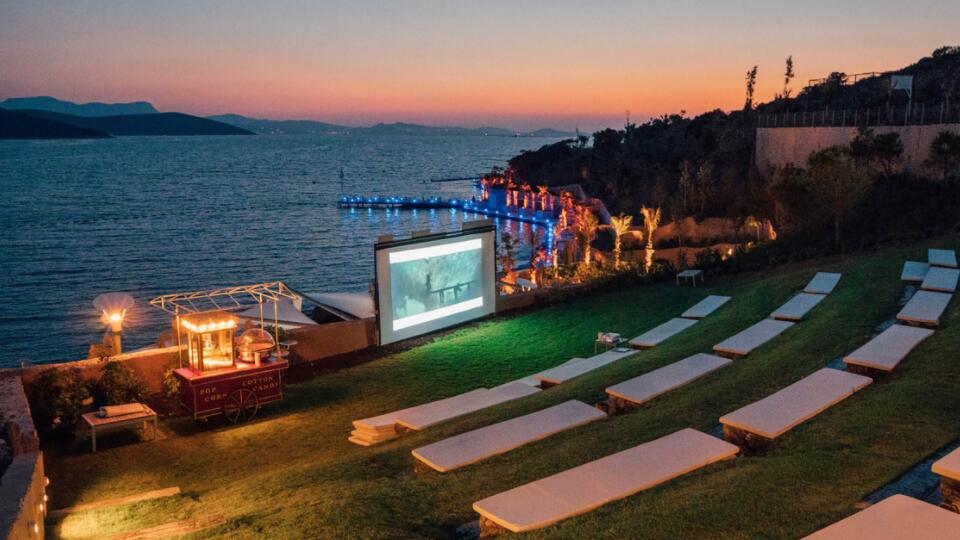 Home movie night used to mean curling up on the sofa with a bowl of popcorn. That still works, but more families are moving the activity outside, watching a film or favorite show projected onto a portable screen from the comfort of a picnic blanket and patio furniture, cozied beneath a patio heater.
While you can get an outdoor television, home projector is the key to making the experience possible — though not any old model will do, according to the tech experts at Projector Leader. In evaluating more than 10 of the latest home projectors, we focused on the features that do the most to enhance outdoor viewing, including brightness, ease of streaming, image crispness and clarity, and portability, knowing that most people will carry the equipment back inside once the show is over. As with our reviews of home projectors for indoor use, the following roundup is based upon comprehensive categorical testing, road testing of newer models and reviewing updates to past favorites.
HOW TO CHOOSE THE BEST OUTDOOR PROJECTOR
When choosing the best outdoor projector to suit your needs, there are a few factors worth careful consideration.
Purpose and Environment
The conditions for using a projector outdoors are unique to every space. Ignoring these factors, including the type of content, could result in choosing a projector with visual and audio issues such as poor visibility, low volume, or excessive brightness.
Location

: Consider where the projector will be used. If you'll be watching from under a covered spot like a porch or canopy, weather resistance may not be necessary—while the absence of those features may cause damage to the projector in open outdoor settings.

Time of day

: Will you be watching during daylight hours, or at night? Factors including brightness potentially distracting surroundings, such as a noisy neighborhood road or the presence of decorative lighting.

Intended use

: Outdoor projectors can be used in various ways, from converting your backyard into a movie theater, to photo presentations, to watching sports games poolside. How you plan on using your projector and the context of outdoor use determines the most suitable type of projection, brightness, and other factors discussed below.

Portability

: The smaller (and lighter) the projector, the easier it is to transport, set up, and pack away for next time. That ease of use, though, usually comes with a loss of picture and audio quality. Bigger, bulkier projectors are able to include the technology necessarily to create optimal images.
Image quality
For a projector to provide a quality image outside, 2,000 lumens is the lowest you can go in terms of brightness. Outdoor projectors should also play back in at least HD resolution to ensure the picture is of reasonable quality.
Screen
Aside from those fairly important tech specs, consider whether you'll need to purchase a screen or whether the side of the house or your garage door will do.
Film source and sound
Consider the source of your film – will you need to bring a laptop or games console outside? Many outdoor projectors have limited volume, so some good outdoor speakers will also always help, especially if you are broadcasting to a crowd.
HOW TO CREATE A COZY BACKYARD THEATER
If you want to recreate an outdoor theater from summer's past, then all you really need are a few things that are probably already in the house. Technically, a sheet, or a white wall, and an outdoor projector are all that's required, but we think it's the extras that make it all the more special, plus a little imagination…
Step one: set up the outdoor projector
It's best to do this first because it might determine where you can set up your outdoor cinema. You will have to have it connected to a video source, so do that first to work out how far away from the source you can have it. Pop it on a side table and a stool, and then you can move on to sorting out your screen.
Step two: rig up your sheet
Obviously, if you have a blank white wall in your backyard, you can skip this step because you will be projecting straight onto that. However, if you are using a sheet, we think the least damaging way to get it up is to peg it to a washing line – you could try using a solid masking tape to tape it to a wall too. Turn on your projector now and check it's straight and the picture is central.
Step three: get decorating
So with the essentials sorted now comes the fun bit, making it look like the most Instagrammable thing you have ever created in your life. Basically, that means to put up A TON of string lights – the more, the better. We love the look of festoon lights, and you could also add some lanterns to create even more of a lovely glow. And if you are feeling really extra, bring out your comforter and hang up a net canopy to create your own outdoor bedroom. Dreamy!
Make sure your garden furniture is extra comfy by adding plenty of cushions and roll out an outdoor rug to create an even more cozy feel. Pop some blankets in baskets and over the back of your furniture, and you can even add a fire pit or a chimenea. Get creative and toast some marshmallows – kids and adults alike would love it!
Our Top Picks
These projectors rank high for technical specifications, price, and performance for a wide array of outdoor viewing setups. Check out the best outdoor projectors for enjoying memorable backyard movie nights and more.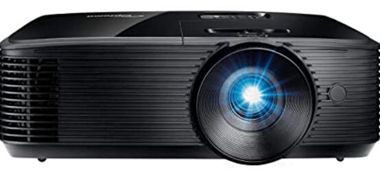 This Optoma model is a true workhorse at a tempting price. Its extremely bright 3600 ANSI lumens mean it can be seen clearly even before full sunset, and its "dynamic black" feature actively improves picture quality by increasing visibility in low-light scenes and boosting color vibrance in bright, daylight scenes. The contrast ratio of 25,000:1 means that the picture will be crisp and lifelike. Single-chip DLP projection prevents image blurring that can occur with multi-chip projectors.
To top it off, the unit boasts a bulb rated to last for 15,000 hours, enough life for one movie per day for 20 years. Its design also reduces fan noise, lowering the risk of a dramatic movie scene being ruined by a loud, buzzing projector fan. While there is no Bluetooth or wifi connectivity, with its technical features, it goes toe-to-toe with others that cost three or even four times as much. Available at Amazon and Best Buy.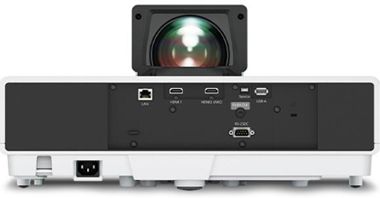 With the Epson EpiqVision Ultra LS500, you can get a 130" screen with less than two feet of distance. That makes it much simpler to set-up and align the projector, especially since it includes a digital zoom and 2D keystone correction. It powers up quickly and has an intuitive menu interface that supports direct streaming through its Android TV system as long as you're in Wi-Fi range.
The picture quality of the Epson LS500 is top-notch, too. It uses 3-chip LCD technology with 10-bit HDR processing and an advanced laser array. All together, that gives you a sharp 4K image with the full Rec. 709 color gamut and a high dynamic contrast. This is a responsive projector, too, with smooth onscreen action and a low 16.7ms input lag (21ms in 4K). That means you can use it for outdoor gaming sessions along with backyard movies.
The main potential downside of the EpiqVision LS500 is that it's not the most portable model on the list. It's a heftier unit, weighing over 20 pounds. Its range of screen sizes is also more limited, topping out at around 130". That's plenty big for indoor home theaters and can be fine outdoors for smaller groups but can be a deal-breaker for those looking to fill a 300" inflatable screen.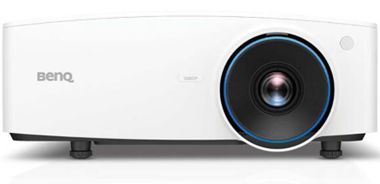 The BenQ LH930 was designed as a conference room projector for business presentations or large displays. The same things that make it appealing to business leaders also make it an excellent outdoor projector. Its laser light source generates 5,000 ANSI lumens and has a long lifespan up to 20,000 hours. It's also sealed, protecting the lens from dust, dirt, or pollen that could be floating around in the outdoor air.
The DLP technology used in the BenQ LH930 produces a Full HD resolution image, with a color gamut that covers about 92% of the Rec. 709 spectrum. In practical terms, this translates to an image quality on par with what you'd expect from a flatscreen HD TV. It's great for details like on-screen text, if not quite as impressive in terms of realism as some of the other options reviewed here.
Where the BenQ LH930 really excels is its installation flexibility. It can be used at any angle and has a wide horizontal and vertical lens shift, as well as both vertical and horizontal keystone correction. That makes it much easier to get the image just right, especially in yards that aren't completely flat. It's versatile from a connectivity standpoint, as well, with a range of video, audio, and network inputs to support any device or set-up.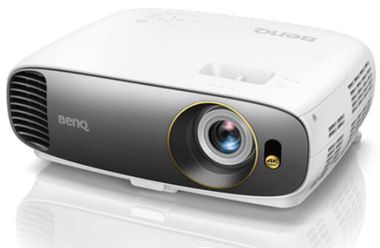 For starters, this is a UHD projector that produces a stunning picture quality with native 4K resolution. This means you'll get the sharpest, most detailed picture possible on this projector. On top of that, the TK850 also produces incredibly vivid and accurate colors with HDR10 support and proprietary Dynamic Iris technology, which automatically adjusts brightness levels to match each individual scene. All of these features are tied together through the TK850's unique crystal lens array, which features 10 individual elements that increase color, brightness, and sharpness. Plus, with 3,000 ANSI lumens of brightness, you'll be able to use this in most ambient light situations.
This BenQ outdoor projector is also incredibly portable, features a compact and lightweight design that's easy to carry in and out of your house. Plus, you get a bunch of adjustable features here that make installation easier, which is of the utmost importance when watching movies outside. The projector features vertical lens shift functionality, keystone correction, and 1.3x optical zoom so you can even install the projector at an angle and still get a square display. We were also impressed that BenQ included premium CinemaMaster Audio+2 speakers built into the projector itself. The speakers are good enough to use on their own so you won't need to connect an external audio solution to enjoy your outdoor viewing party.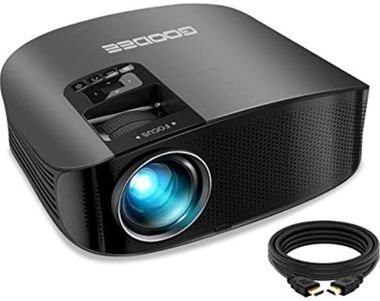 The GooDee outdoor movie projector is bright, sturdy, and extra versatile. One of its winning features is its overall design. While it isn't as compact as other projectors, it's incredibly stable and durable. You can place it pretty much wherever you need it, and it will stay put. On top of that, it features an incredibly bright lamp array. At 6,000 lumens of brightness, the GooDee YG600 is an excellent option for both daytime viewing and nighttime entertainment. You'll even be able to create displays up to 230 inches. The onboard speakers could be a little better, but the projector does feature plenty of audio connection options to bring a set of external speakers with you.
The GooDee YG600 also produces a pretty good picture quality overall. To be upfront, the projector doesn't produce full HD quality. Instead, it only creates standard HD at 1280 x 768 pixels. However, this is still fairly good at most display sizes and the difference in quality is hardly noticeable, especially in outdoor applications. The GooDee's high brightness output also helps improve picture quality and color accuracy. It also features a 3,000:1 dynamic contrast ratio and good overall performance with black levels and dark scenes.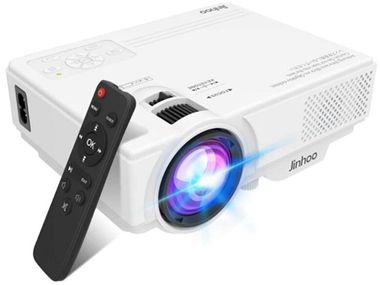 The Jinhoo Wi-Fi Mini projector is ultra-compact and incredibly versatile, a perfect combination for an excellent outdoor movie-watching experience. Measuring in at just 7.8 x 5.9 x 3.1 inches, this is one of the more compact options available on today's market. However, it's also sturdy enough to handle being used outdoors, and even includes a place for you to attach a tripod for even more portability. However, where the Jinhoo really shines is with its wireless connectivity options. When connected to the same Wi-Fi network, your projector and smartphone or laptop can connect and display movies or slideshows from those mobile devices. Be aware that streaming from apps like Netflix and Hulu may not work due to copyright issues, so we recommend downloading digital movies to your devices and watching those instead of streaming.
The Jinhoo also performs fairly well overall when it comes to picture quality and brightness. It features a whopping 5,500 lumens of brightness, which is great for such a small projector. However, it only offers a native 720p resolution. It still supports 1080p content, but it just won't be as sharp as it was intended. The Jinhoo mini projector also does well with overall color accuracy and reproduction. The colors are bright and look great on the included projector screen. Even though the projector screen is 100 inches diagonal, the Jinhoo can project images up to 173 inches in size for added versatility.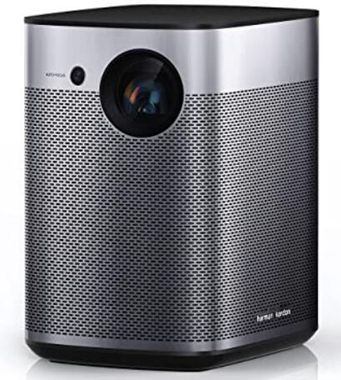 The XGIMI Halo is a great shout for anyone after a portable projector that doesn't give up on quality pictures entirely. This stylish, compact, and capable projector is easy to take with you on the go, with built-in 5W speakers and 1080p / Full HD resolution to offer both sight and sound.
You're getting 800 lumens max brightness while plugged in, though this does drop to 600 lumens when running on battery – fine for dark, outdoor settings, though you'll undoubtedly fare better with the former setting. Regardless, the battery life is long enough to watch an average-length movie (no Snyder Cut, sorry) and you won't have to pay through the nose for this capable model. There's no native Netflix support, sadly – something that also plagues the XGIMI Horizon Pro – but complaints are few and far between for the Halo.
It's worth noting that heater enthusiasts may not be satisfied with the brightness and picture of the Halo, especially because of somewhat distracting video noise in dark scenes. Meanwhile, casual viewers who want a projector they can pop-up at home, in their yard, or on camping trips may be just as satisfied with a more affordable, slightly dimmer option. But, for anyone who needs flexibility and wants the best projector that can fit that need, the XGIMI Halo will prove a worthy choice.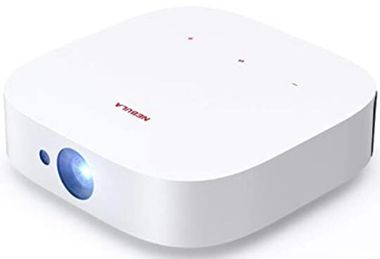 The Anker Nebula Solar Portable is a compact and stylish outdoor projector that delivers in almost every area. Sporting a sleek design, it will look great on a shelf in your living room between uses, and it's small enough to fit easily into a drawer, or even a backpack or tote bag for taking out and about.
As a portable model, the battery will last around three hours, which should be good for getting in a film when you're not close to a plug socket. However, its USB-C power port means you should also be able to link up a portable power bank for multiple uses.
While the picture quality is pretty adequate for the price and form factor, the projector is let down on the brightness front. Nevertheless, it's still a sleek, smart gadget with a few tricks up its sleeve – including Bluetooth speaker functionality that switches off the projection and just brings the tunes.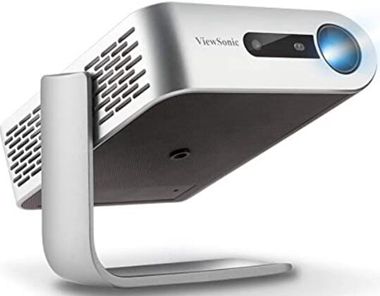 If you're looking for an easy-to-use, set-and-run projector to keep the little ones entertained, the ViewSonic Ultra-Portable Projector is just the model. The whopping six-hour battery will give you a run for your money, whether you're playing games or watching movies.
Compact with a built-in stand, this projector is perfect for camping or simply relaxing at home. While the ViewSonic is 300-lumen model, the unit does feature keystone correction and sports dual Harman Kardon speakers – which, for the price, isn't bad going at all. It's compatible with USB-C, HDMI and micro SD too.
We haven't reviewed this particular outdoor projector, though you can see our thoughts on its close cousin, the ViewSonic M2, which definitely impressed with its ease of setup, loud speakers, and good connectivity options – even if the motion smoothing was a bit aggressive for our liking. For a cheap, portable projector though, it's hard to find too many complaints here.
Keep in mind that there are a few iterations of the ViewSonic M1+, including a more basic M1 pocket projector with more basic JBL audio (for about half the price).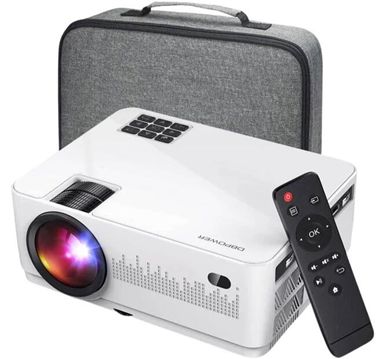 The sound of one of the best outdoor projectors might not be the first thing on your mind, but not having to carry out speakers every time you want to use it makes set up much less of a chore and lets you get on with what you want to do: sit down and enjoy your own outdoor cinema. The L21 boasts not one but two great speakers, and it's a rare treat to get stereo at this price.
Convenience is key here – the L21 is quick to set up and a glance at the simple and unfussy remote reflects the commitment to keeping things simple. BDPower boasts about the quality of its dual-fan cooling system, but the drawback is that this fan noise means both speakers will have to be turned up loud to drown it out.
FAQs
How do I choose an outdoor projector for a movie?
Start by setting up the entire movie viewing space before buying a projector. Measure how far the screen will be from where you intend to set up the projector. Observe what the viewing area looks and sounds like so you know how bright/dark and noisy/quiet the setting will be. Then, with a full idea of what the projector will need to do, you can select the right outdoor projector for your situation.
How many lumens do I need for an outdoor projector?
There are two main factors to help you decide: lighting and screen distance. If you are projecting at a distance farther than 16 feet, in more well-lit areas, or before the sun goes down, go with more lumens. As a general rule, 3,000 lumens should suffice.
What outdoor projector resolution is right for me?
If the screen is going to be bigger than 96 inches, 1080p will begin to be stretched to its limits, and 4K resolution will be better; 1080p is fine almost every other time. However, if you want perfect-as-possible images, jump straight to 4K.
Are outdoor projectors waterproof?
Not really. While some outdoor projectors may be water-resistant, the lenses that produce the image should not get wet, nor should water get inside the device. Ideally, no outdoor projector should ever be left out in even so much as a drizzle.
Can all projectors be used outside?
Yes, all projectors can be used outside, but they should not be left outside for extended periods of time. This is because projectors don't usually include any kind of weatherproofing or water resistance functionality.
How to Figure the Throw Distance
"Throw distance" is the measure of space between the projector lens and your screen. You'll find four categories of throw distance for projector lenses.
As the name implies, a standard throw is the most common, needing roughly 10 feet to the screen for a 90-inch image (measured on the diagonal), give or take a couple of feet depending on the lens. A long throw lets you put the projector much farther away for the same screen and projected-image size.
A short throw lets you position the projector closer than standard, which is absolutely necessary in a tight space and actually helpful for any backyard-movie night. That may seem counterintuitive, but think about it: If everyone is sitting behind the projector, rather than between the projector and screen, no one can cast shadows when they stand up mid-movie to get another skewer of shrimp from the barbie.