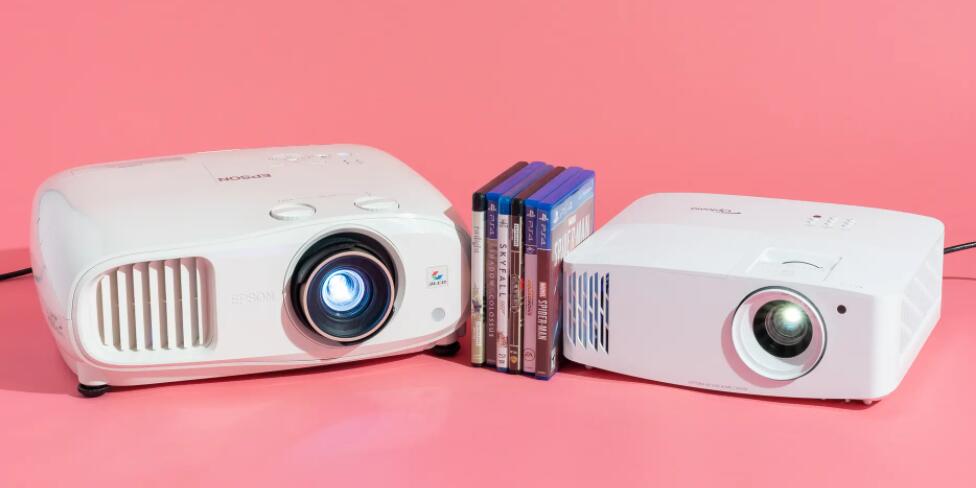 1080p resolution projectors are often referred to as Full HD (as opposed to 720p). Until recently, 1080p projectors typically referred to home theater projectors. That's no longer the case as more and more business and education projectors are now higher resolution before and count 1080p as one of those resolutions.
What is 1080p? It's an image that's 1920 pixels across, and 1080 pixels down. From a practical standpoint consider it to be 2K resolution (close enough).
About 1080p Projectors
For perspective, on the home theater side, consider Blu-ray discs. They are recorded at at 1080p resolution. A 4K standard for Blu-ray is in the works, but we're not there at this time.
We do an annual home theater report in which we review the top competitors on the market. We don't consider projectors with less than 1080p resolution, considering those lower to be more basic home entertainment projectors. On the commercial side, 1080p capable projectors are being used in scientific and engineering applications, architecture and photography. You would be unlikely to find a native 1080p projector in a high school, but they are being installed into college classrooms.
1080p home theater projectors range from under $800 up to prices well into five figures. Projector Reviews has reviewed 1080p projector units costing up to $30,000 so far, however, we have also reviewed a Sony 4K projector that lists for $24999! Ultimately 4K projectors will drive down the prices of the higher end 2K – 1080p projectors!
Portability and Projection Tech
A home projector needn't be a homebody. Many are portable enough to travel with, or at least to move easily from room to room. (The main exception is a home theater projector, which you'd most likely want to permanently install.) The gaming projectors we've seen are easy to bring along to a LAN party. Micro-projectors are highly portable, and come in both consumer and business models. (Many are good for both personal and business use.) This class of projector includes pico projectors, most of which can fit into a shirt pocket; palmtop models, which can fit in an outstretched hand; and some slightly larger models.
Most projectors are either LCD-based or use a Texas Instruments DLP (Digital Light Processing) chip along with a laser, LED, or LCOS (liquid crystal on silicon) light source.
Single-chip DLP projectors are potentially subject to what is known as the "rainbow effect." Little red/green/blue, rainbow-like flashes may be visible, particularly in scenes with bright areas against a dark background. In some DLP projectors, the effect is minimal, but in projectors where the phenomenon is average to severe, people who are sensitive to these artifacts may find them distracting, particularly with video content. LCD projectors are immune to this effect, so they're a safer bet if you or someone in your family is sensitive to the rainbow effect. That said, there are plenty of DLP projectors with excellent image quality.
What You Need To Know
If this is your first foray into the premium world of cinema projectors there are a couple of things you need to look out for.
Resolution – The most important thing about getting a new projector is getting a clear image – you want to be able to see as much detail as possible. This is measured in the number of pixels it can show off. The most basic on this list has a 720-pixel image, which is a bit outdated for our tastes but good enough if you're on a budget.
Full HD (1080p) – projectors are the most common, but the modern standard is 4K (3840 x 2160 pixels) which all movie aficionados should hunt for. You might find some models capable of 8K reproduction which is a future trend that "quadruples the visual quality", though it isn't quite ready for general consumption yet.
Contrast ratio – This is how well your projector can distinguish between blacks and whites, and will ultimately give you better clarity when watching darker content like that pitch-black episode of Game of Thrones: The Long Night. The bigger the ratio, the better the performance – at 500,000:1 and more, blacks will be inky and colours will pop; at 2,000:1, the image will look a little blurry and colours will bleed into each other.
Brightness – Projectors need the perfect setting to get the most out of them, and that often means closing the curtains and watching in near-complete darkness. However, some can cope with brighter environments and even work in the garden if you're throwing a watch party.
Screen size – The screen size will depend on how close you put the projector to the wall or screen, so have a think about where you could put one in your setup. A lot of our favourites can be wall mounted or suspended from the ceiling, while others have a "short throw" meaning you can pop it just a few inches away from the wall and still get a big display.
Connectivity – Many on this list are smart enough to be able to link up to your wifi to allow you to watch Netflix or Disney+ over the internet, but some will also have plenty of ports to connect games consoles, streaming sticks or a laptop.
Our Top Picks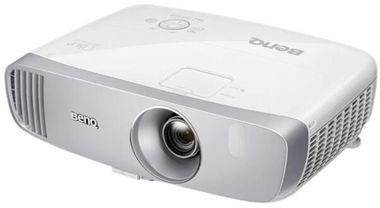 First on our list is Benq's latest offering in the 1080p projector world, designed to offer lifelike experienced for its viewers.
This projector works on a DLP technology and is enriched with a DLP high resolution. Add to this its color brightness of 2,200 Lumens and a fast RGBRGB color wheel and you will be sure to brighten your every day.
When it comes to the dark side, the 15000:1 contrast and the ISF calibration for day and night viewing make every detail be noticed by you. For the gamers out there, this one might be in your top of best projectors under $1000, as well, as it comes with a low input lag of 16 ms and 20 keystones for projection.
And this is not all! It includes glass lenses, anamorphic stretch, quiet operation, and vertical lens shift. What is more, you can use it in smaller rooms due to its minimum throw of 1.15 and a zoom lens of 1.3. Sounds great, doesn't it?(More Details For Benq HT2050A)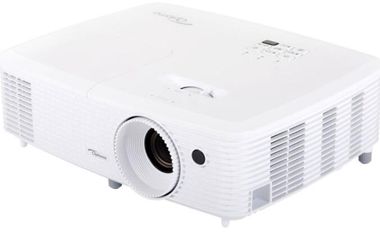 This Optoma projector is a fairly small, but chic one. Working on DLP technology as well, it puts a fair amount of brightness of 3200 ANSI Lumens, as well as amazing colors and a nice contrast of 25000:1. These characteristics allow it to produce a highly saturated image for you to watch everything you like – from sports events to engaging movies and important presentations.
With this projector, you are able to adjust the picture, according to six picture modes (Bright, Vivid, Game, Cinema, Reference, and User) and you can also preset the color temperature. It really fits your needs, whether you want to watch HDTV, Blu-Ray or DVD content and it's also an affordable solution.
And for the pictures to be accompanied successfully by a clear, engaging sound, this projector displays a good audio quality – even though it does not provide a very loud sound. Efficient, clear and made to take everyone's eyes, this projector is definitely a good choice for a home cinema or for offering successful presentations for smaller crowds.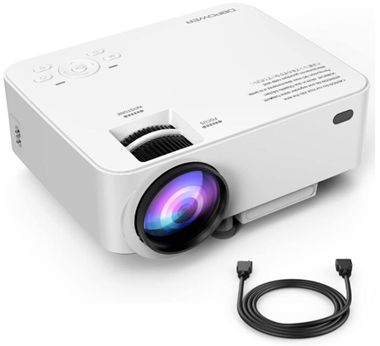 With the DBPOWER T20 1500 Lumens LCD Mini Projector, you can create your own movie magic right from the comfort of your own home. This projector is a mini home projector that has a projection image size of anywhere between 32 inches and 176 inches through a projection distance of 1.5 meters to 5 meters.
This offers a big screen experience to no matter what it is you're doing–from watching the game to enjoying movie nights with friends and family to playing your favorite video game. Adjust the image size by moving the projector further to or further from the projection surface.
It offers low fan noise thanks to the double tube cooling technology that comes with heat dispersion. The fan sound can also be cut in half thanks to the noise suppression. The fan noise is lower than any other basic LED projector so that your viewing activities are not interrupted. Ultra clear images are projected onto the surface with this DBPOWER T20 thanks to its 1500 lumens.
You can get the same visuals that you would get on any television, tablet or laptop. The extended lamp life of this unit offers up to 50,000 hours. This means that even watching a two-hour movie every day, you will have a projector lamp that is able to last up to or more than a decade with the DBPOWER Mini Projector.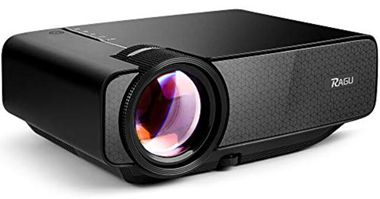 The RAGU Z400 Mini Portable Projector makes watching your favorite films either indoors or outdoors a breeze. This portable projector is ultra lightweight and compact, making it ideal for moving from room to room or even for moving to the backyard for plenty of streaming power no matter where the family wants to gather.
It is a great projector for creating both indoor and outdoor theaters, ideal for football night, movie nights, parties and more. The RAGU Projector offers 1,600 lumens of brightness with each use, offering you plenty of color that you would not see anywhere else. It provides you with incredible projection of 50 to 130 inches in size with a five to 13 foot projection distance depending on your needs and high-resolution images of 800 to 480p.
The RAGU is able to project onto any screen or wall and even runs quietly, making it ideal for use in any space. It has a powerful cooling system that keeps the fan noise to a minimum, letting you enjoy your movie or game without any excess fan noise distracting you or the other people enjoying your film.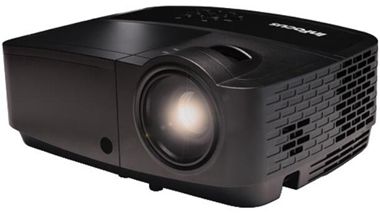 This projector comes under the brand name of focus. It is also a projector with a resolution of 1080p with high color variations, giving it a high definition quality display which makes it suitable for any kind of resolution ranging from Blu-ray technology to games, movies, etc. It has a bright light of 3600 lines, proving that you can use this projector even under ambient light.
Its lamp can last up to fifteen thousand hours without the need of changing any type of filter while giving vivid and luminous images side by side. It has a range of ports, making it suitable for connectivity through different input and output options. It also contains built-in speakers, so you don't have to worry about the sound.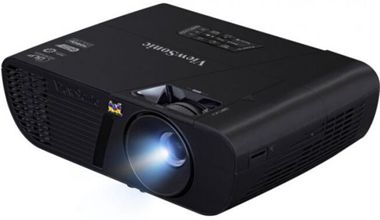 View sonic PJD7720HD projectors feature a state of the art design that will surely transform your movies into a lifelike experience. It features full HD 1080P RESOLUTION and uses 32oo lumens brightness making it ideal for use in all lighting conditions. The native resolution is 1920 by 1080p which are compatible with most content ruling the market today. Featuring a super color technology, it offers an incredibly wide color range which is important in delivering true to life image projection.
Apart from enhanced video output, you'll also enjoy its propriety sound enhancement technology, courtesy of built-in 10 watts speaker for delivering clear and audible sound. For fast and reliable connection with various devices, it features an HDMI port that is neatly designed and enclosed; it supports wireless HDMI dongles or MHL, and the cable management hood eliminates the annoying cable clutter usually present in other low rated projectors.
With its incredibly smart design, this projector is ideal for high definition presentations and entertainments purposes. It is a worthy alternative to the expensive TVs that you might be thinking of investing, yet this projector is by far much affordable.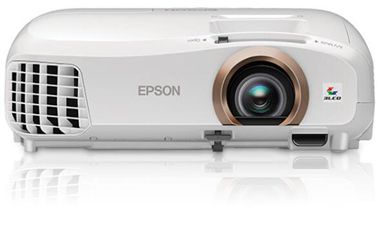 As Epson continues to display its amazing technology of 1080p projectors, you continue having more and more options to rely on. With this particular model, you are going to enjoy full HD pictures courtesy of 1080p resolution which nears the 4k resolution. It is highly competitive since it combines most of the latest features with great demands in the modern society. Talking of high definition output, this model brings to you the innovative 3LCD features which enhance amazing action scenes with no single rainbow effect.
That's not all; you will also get perplexed by the color accuracy brought about by the dynamic contrast ratio and the incredible brightness that can reach up to 2200 lumens. Thanks to the powerful lamp which remains durable for many years even if you use it daily without giving it a rest. Enjoy the breathtaking experience as you stream content wirelessly and enjoy seeing it on your enlarged screen.
Thanks to the HDMI outputs which allows easy connection to your tablet, smartphone or even the laptop. Apparently, it is more fantastic than other since it supports miracast and Intel WIDI. Another feature that you won't fail to appreciate is the image enhancement plus the frame interpolation. With two HDMI output, you can connect it to set-top boxes, Blu-ray, gaming consoles and or any other streaming device that supports HDMI port.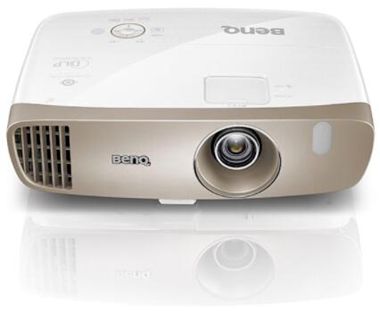 Movies and boardroom presentations aren't the only use for projectors. Let's talk about gaming. If you want to get your game on in high resolution, the BenQ HT2150ST is for you. This projector boasts a 15,000:1 contrast ratio for great detail in darker scenes. Plus, the 2,200 lumens will work in just about any room, even one that sees light from the outside. But most of all, this projector was built for gaming, with low-input lag from your game system and controllers. That's key when you're gaming.
This is a short-throw projector, which means it can fill up to a 100-inch screen from just under 5 feet away. That's a ton of coverage and versatility, meaning you can use this projector in any tight space, including a bedroom or a dorm room. One minor issue is a slight variance in luminance from edge to edge of the screen. During normal use, it's hard to see, but in our testing, it became pretty clear. All the same, our reviewer considers it a minor issue, but still one worth mentioning.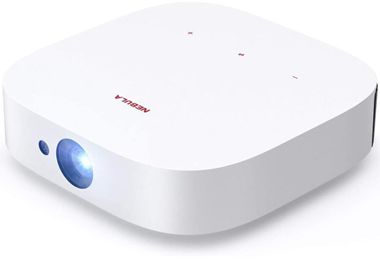 This is Anker's best Nebula projector to date and also a very, very good portable in its own right. Feature-wise, it's got almost everything one could need in an outdoor projector. There's an excellent smart platform, a three-hour battery life, a good degree of brightness and plenty of source material options.
What tops it off, though, is some really rather impressive picture quality. There are brighter machines out there but, for this price, there's a great blend of both punch and subtlety to the image. In the right setting, it's just the ticket. The onboard speakers are a touch weedy but the quality and spread of sound from them is good.
Do be warned that the app platform is missing a few of the UK catch-up services, iPlayer included, but otherwise, this feels like one of the best projectors out there for taking on your travels. It's small, convenient and very well appointed.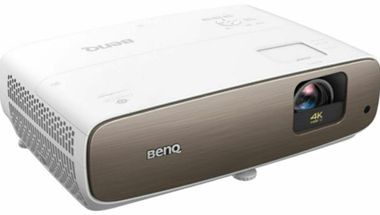 The BenQ W2700i offers incredible HDR images, courtesy of DCI-P3, the US film industry's preferred colour standard. That means the kind of deep blacks and rich, vibrant brights that you normally only get by adding a couple of grand to your budget.
People will find much to play with in the menus, but the W2700i's out-of-the-box calibrations and CinemaMaster Video+ mode mean you get multiplex-level performance without spending hours tweaking settings. That, alongside its integrated Android TV, makes this the perfect balance between performance and usability.
FAQs
Can a projector replace my TV/Monitor?
Yes. A projector is nothing more than an image generator, much like a TV. Unlike a TV, projectors are not limited to the size of their chassis. They can blow up to extremely large proportions while staying in a small package. Just like TVs, most require some kind of input such as a streaming dongle, Blu-Ray player or gaming system. Also like TVs, some of them are smart and have their own operating systems and apps.
How far do I place a projector from the screen?
Various projectors will have different "throw" lengths. That's the distance a projector needs to be from the screen. Short throw projectors can be very close. Other projectors need to be across the room depending on their focal length. Consult your manual to determine the best distance.
Do I need a screen?
It depends. Projectors function best when they project onto a screen, however, most flat surfaces will do a passable job. You'll want that surface to be shaded as light as possible because the shade of the surface will affect the shade of colors shown on it. For example, whites will look more tan when projected onto a brown wall. A screen will give you the best possible picture, so if it's in your budget, and especially if this is a permanent installation, you should also have a screen.