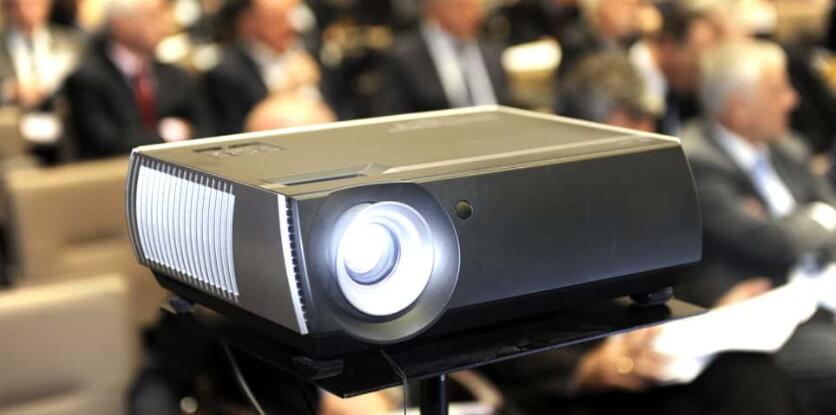 Projectors are one of the most versatile ways to take a small display and make it larger than life. No matter if you are looking for a better at home viewing experience, office display, or gaming screen, a good projector is a right way to go. The best part is that, thanks to advancements in projection technology, now it is possible to get an excellent projector for less money than you might think. While the best projector under $200 might not have all the bells and whistles of a more expensive model, it will still provide you with a high-quality display and easy-to-use interface, no matter how you choose to utilize it.
Modern technology has come a long way, and nowadays you can easily find the best projector under $200 range. They provide a top-notch video quality and treat you with numerous features that were mostly available in high-end models a few years ago.
So to guide you, we have come up with a list of the best projector under $200 that will transform your wall into a large size display.
What to Expect from a Projector for under $200?
The biggest difference that you are going to notice with a cheaper projector is that they are usually going to be smaller than a more expensive option. This will limit the size of the screen that they can be used for. Smaller projectors also have a bit smaller of a throw distance than larger options, so you would probably have to put the projector closer to your screen than you would do with a more expensive model.
Nowadays projectors under $200 come with all the necessary features that are generally available in mid-range TV. Not only will you get a decent big-screen experience, but you will also get excellent brightness and color fidelity in all your videos.
However, you can't expect them to perform the same as high-end models or offer top-of-the-line features. 1080p max resolution, 2000 ANSI lumens, 5000:1 contrast ratio, modern cooling technology, ultra-clear lens, DLP technology are some features you can expect from a projector under $200.
Although you will get a low native resolution in many models so you shouldn't expect an exceptional clarity and sharpness. Build quality-wise, they won't impress you much, and only a few of them flaunt a sturdy construction.
Features to Consider Before Buying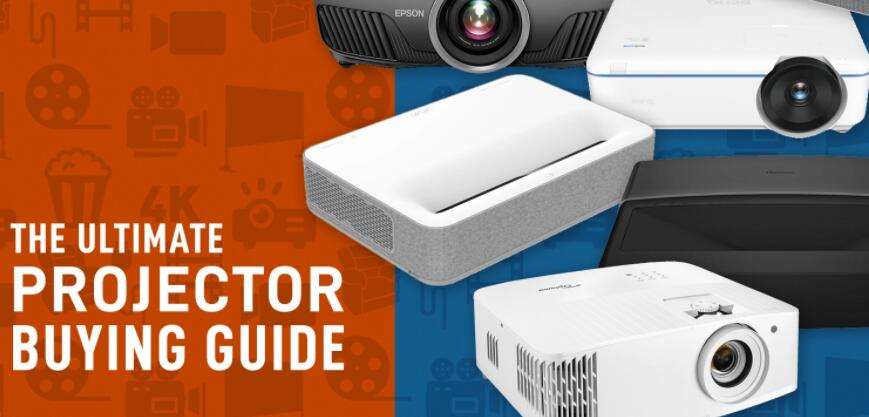 There are several key features that you need to take into account if you want to be sure to get the best projector under $200 on the market today. In this section, we will go through everything you need to know.
Connectivity
There are several different options when it comes to connecting a projector whether you intend to use it at home or the office. The best option is to use an HDMI cable, as this will provide you with the best quality sound and picture. If you are using an older setup, then you need to make sure that the projector you want can handle an old VGA or RCA cable.
Compatibility
Of course, when it comes to connectivity, you also need to realize that some projectors will only work with certain kinds of devices. No matter if you intend to use this projector with a PC, Mac, Xbox, PS4 or even your smartphone, you need to make sure to check the compatibility requirements to see if you can use it. Otherwise, you will just be wasting your time and money.
Brightness
Brightness is an essential feature that we should consider at first. However, it depends on the location where we will be using it. For example: if you use a projector in daylight, you need a brighter one (3000+ lumens might be required). On the other hand, if you are going to use it in the night, then less bright (might be required1000 lumens) will work without any issues. So, choose according to your requirement or needs. Good news is 3000+ lumens projectors can be bought under $200.
Contrast
An image can be light or dark, but the quality of the image considered by its contrast ratio. Basically, contrast is a difference between a dark image and a light image. The higher the contrast, the darker the image. In simple words, we should buy a high contrast projector in order to get a better image quality. Higher contrast projector not only gives you a better quality image or viewing experience but also ensures the clarity of an image.
Resolution
Like contrast and brightness of a projector, the higher the resolution, the better the quality of the picture. It becomes very important when we buy a projector for different purposes such as gaming and high-definition home theater experience. However, Most projectors are made with fixed resolution system. Meaning, you can't change its resolution manually. So better to buy a projector that has many resolutions options so that it can help you to find the right resolution as per your media type.
Keystone correction
Another important function of projectors is to correct distortion when the projector can't be perfectly centered. Cheaper models may lack the keystone correction feature whatsoever. Others are capable of adjusting the image only in vertical direction. Effective auto-keystone correction can be found in more expensive projectors.
Our Top Picks:
If you've done your research, you might have discovered that some of the prices are a little on the startling side. Below, we have compiled a list of the Best rated projectors available on Amazon for under $200.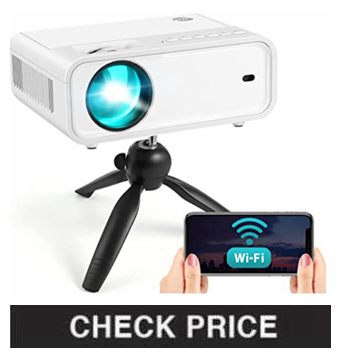 When watching the position and distance of the projector affect your experience greatly. It gives you either excitement or disappointment. Explore 2 projectors is a fantastic home entertainment projector that makes your home lively. Since the projector has been produced professionally for HD video display, you are in for a better viewing experience. The projector has great brightness Lux brightness of 4500 exceptional for outdoor and indoor projection. The resolution is also superb at 720p and supports 080p and contrast of 3000:1. It's a LED projector and enables to share screen from IOS or Android devices wirelessly. It creates incredible clear images for ideal cinematic enjoyment.
The size is small at 7.9*6.1*3.3 inches for portability. This means if you want to watch your movies outdoors at any time you want. It also comes with a tripod that allows you to use it anywhere efficiently. It comes with a total of 6 multiple ports, including the VGA, audio output, USB, HDMI, and AV for an entertainment connection.
VIVIMAGE Explore 2 gives you a chance to connect different devices for entertainment from PS3, PS4, and TV Box. Its recommended photo sharing and play games for external audio when outdoors. The inbuilt speakers are excellent and audible with enough sound with no need for external speakers. It has dual stereo speakers with SRS that provide clear, well-balanced sound quality. Explore 2 gives a 38 to 200 inches projection size with 3.7-19.6 feet projection distance. The quality of the projection material is durable and can be used for a very long time. The price of the projector is reasonable and worth the features it has been designed with it.
Affordable
Easy to use
Long-lasting
Brightness is 4500 lumens
Best for home entertainment
The speakers could be better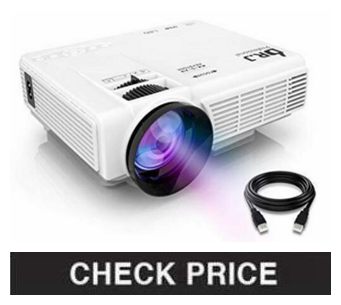 The 100-inch portable LED video projector screen is a smart choice for attaching with your digital TV, laptop, desktop, etc. The portable device has enhanced brightness, color contrast that gives you a feeling of no less than a home theatre.
If your budget is within 100-150 US$, then this one is a smart addition to your buying list. The additional advantage of buying one such projector is, the product comes with a 100" portable screen.
On finding a suitable space for hanging the projector screen, you always get a scope to turn your workspace into a conference room. It's a smart option for displaying the presentation to your client.
If the deadline is close, just draft and connect the projector with the 100" inches screen and enjoy the big theatrical screens effects while giving your presentation. The high resolution is also an added advantage with this projector.
The upgraded 1280*720 1080 p resolution upgrades the brightness up to 20%. Meeting the diverse customer's needs, it's a smart addition for your home entertainment purposes. The 32-176" inches size of the projector covers a distance of 1.5 mm- 5 m easily.
Super built-in stereo speaker sound
5 different layers of LCD lens to adjust the focal points
Easily adjustable screen with the projector wherever you want
Advanced fan cooling system reduces the heat while it's on for a long time
Noise-free performance with a cool, sleek design
The brightness and resolution may vary if it's attached with any other device apart from the screen provided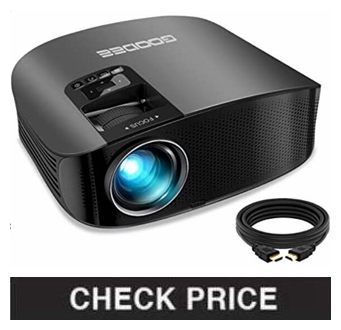 Undoubtedly, GooDee YG600 is a highly rated projector under 200 dollars that is designed to give you cinematic experience without requiring considerable investment. Engineered with a 1280*768p native resolution, this projector will showcase an exact and high video quality of all your movies.
But the feature that will attract you most is the 6800 Lux, which gives you the liberty to use it both indoors and outdoors without getting a faded view. To make it more versatile, it gives you the option to notch up the screen size from 44inch to massive 230inch. Thanks to short throw distance of 4.9-18ft, you won't need to set up a large area for a large screen view.
The 3000:1 contrast ratio with high color support gives you a vivid and sharp image quality that looks almost the same in any light condition. It serves as a complete entertainment package where the projector also offers you a dual 3-watt SRS inbuilt speaker for crystal clear audio experience.
Whether you want to use the projector for a few hours or for a long session, the newest cooling system with innovative fan design will help you use it without worrying about overheating freely. This projector serves as a worthy investment because the 50,000hours of lamp life ensures the longevity of more than a decade.
Impressive video clarity and vividness
Huge lamp longevity
A comprehensive screen size option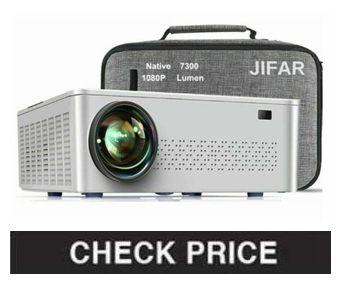 When searching for the best HD projector under 200 dollar suggestions, one product that you shouldn't miss is JIFAR H6. This projector bags the combination of TFT LCD projection technology and 1080p native resolution that allows it to deliver a remarkable visual performance that you won't expect at this price.
Supporting up to full HD resolution, you can comfortably enjoy all your 1080p movies at their optimum quality. Despite being a budget model, the vividness and sharpness it has on offer is exceptional, and the credit goes to the 9000 Lux with a 10000:1 contrast ratio.
However, the MStar advanced color engine makes the main difference, and it takes the visual experience to a whole new level. The 60-450inch screen size range makes the projector suitable for all types of usage, and you can use it for presentation, entertainment, or outdoor sessions.
Combined with VGA, USB, HDMI, Bluetooth 5 you will never have to compromise when it comes to connecting different video sources. With a two-way focus ring and keystone correction, you can rectify any image error in this one of the best mini projectors under 200 and enjoy a perfect view.
Support almost all types of devices
Mind-boggling visual and color quality
Easy to correct images
High contrast ratio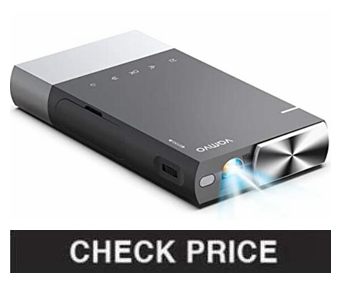 When it comes to portability, this projector is in a class of its own. It is extremely lightweight, weighing in at a minuscule 0.6 lbs. This makes it easy to take with you pretty much anywhere you might go, be it on vacation or camping. It has a rechargeable battery that is able to provide more than two hours-worth of a charge, making it perfect for movies, presentations, gaming, or watching television.
For its size, it is also extremely bright. It can put out about 1800 lumens, which makes it perfect for either pitch black areas or even dimly lit places. Of course, it cannot be used under super bright lights or in broad daylight, but it is still pretty impressive given the size of the projector.
Unlike many other smaller size projectors, this one is perfect for use with PowerPoint presentations. This is because of the short throw range of the projector. Since it has to be a very short distance from the screen, the brightness doesn't have a chance to dissipate as much as it would if the projector was further away. This portable projector can be hooked up in a variety of ways, such as by an HDMI or USB ports.
Large screen size
Portable
Rechargeable
Easy to connect to multiple media types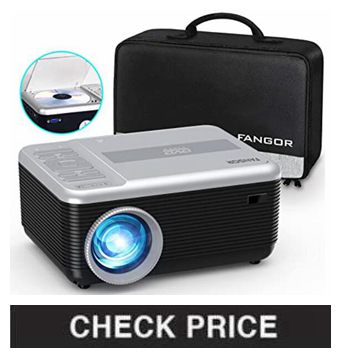 Can you imagine a projector offering Native full HD 1080p (1920×1080) resolution under $200? Here it is, Your FANGOR Full HD projector. FANGOR is not a new brand in the projection industry; it's been in the market for more than ten years. The brightest white and darkest black ratio on the screen is incredible as its contrast ratio is 6000:1. That's why I could see clear, sharp, and detailed images. And, the overall video experience was amazing.
Unlike other $200 HD projectors, the good about FANGOR is its wireless capability, which allows you to connect your wireless-enabled devices, such as smartphones, laptops, and many others, directly to it. Moreover, it includes a built-in stereotype surround speaker, but I'd suggest you connect any ideal Bluetooth speakers for the better sound effect.
With recommended distances (7ft to 20ft), you'll be able to enjoy from 60 inches to 230 inches screen projection sizes. What else? Its brightness, equipped with 6500 lumens, can produce promised CRYSTAL clear image quality. Besides, you can control and adjust the projector's settings using its Touch-sensitive panel located on the right bottom.
I would highly recommend this projector to everyone, be it indoor or outdoor. Its brightness is amazing, even in places with ambient lights. Its doesn't much time to set up completely. It is a true 1080p projector, not a partial one, thanks to its native full HD resolution. However, its fan noise might be an issue for people who will set it up in a small room.
Full HD native 1080p support
Its Maximum projection screen size of up to 230 inches
Brightness, Image quality is incredible, even in a well-lit room
Wireless Screen Mirroring, available for both IOS and Android devices
Easy setup and operation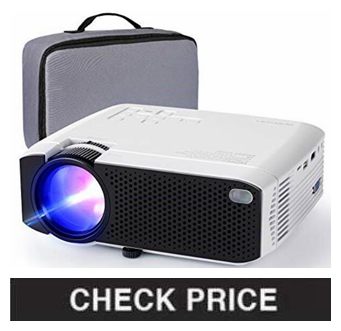 One of the best projectors for home theater and outdoor movies under $200 is APEMAN. Yes, you heard it right. I was completely impressed by its maximum screen size projection in my testing, ranging from the lowest 60 inches to the highest 300 inches. However, 120 inches is the most suitable screen size from the optimum projection distance of 3.4m.
I love the fact that it is a native Full HD 1080p projector with a resolution of 1920x1080p. Unlike other 720p projectors, your viewing experience will be far better since it produces a more detailed and sharp image. In addition to the projection quality, it boasts 6000 ANSI lumens and promises a 7000:1 contrast ratio.
If your place has dust issues, you would love this projector since most optical components of the projector are dustproof and using optical component sealing technology. Besides, It is equipped with Electronic Keystone corrections such as vertical and horizontal.
For under $200, I would love to recommend this projector to people looking for watching movies and home theater entertainment. Thanks to its native Full HD resolution at 60Hz for sharp and stunning picture quality. Its brightness is exceptional and up to the mark. The bulb won't leave you alone till 10-15 years as it is listed for 50 hours.
Native 1920x1080p resolution, 4k support
7000:1 contrast ratio & 6000 lumens
Digital Electronic Keystone Correction
Its sound quality is perfect with different sound modes
Its sealed design
50,000 hours of lamp life
Its manual focus could have improved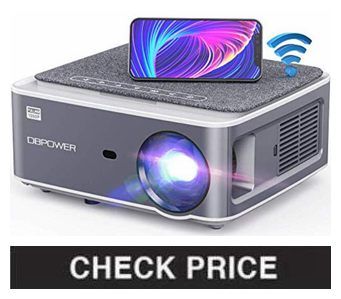 If you enjoy watching movies or playing games this portable projector is the perfect one for you to consider buying. It is compatible with a number of devices and offers excellent sound for you to delight in. It uses diffuse reflection technology which helps reduce the glare on your eyes from blue light or direct light making them less tired.
DBPOWER T22 is an upgraded model and gives 60% brighter and clearer images than the previous model. It offers a contrast ratio of 3000:1 and supports 1080p and 720p resolutions and gives wonderful picture clarity. The native resolution is 800×480 pixels. For watching games and cinema it has an aspect ratio of 16:9 and 4:3 on the screen size of 30-176 inches. Its ideal projection distance is 1.1-5 meters.
This model boasts a built-in stereo speaker which provides a sound clarity that is 50% louder than the previous model. Whether the projector is used outdoors or indoors, the speaker gives full-spectrum sound so it is absolutely a wonderful choice for parties, football nights, and movies. Thus no external speakers are needed.
The company provides you with a 3-year warranty with year-round technical support and professional customer service. It takes care of you every step of the way and ensures you do not face any problems while using the compact projector.
The audio provided is very effective
Its size is definitely an advantage as it is handy and easy to carry
It has low power consumption and so a lot of energy is saved
It is easy to set up
The reduced glare is a comfort for your eyes
Due to low resolution the text is not clear
The image gets blurred when you try to project it to a screen larger than 80 inches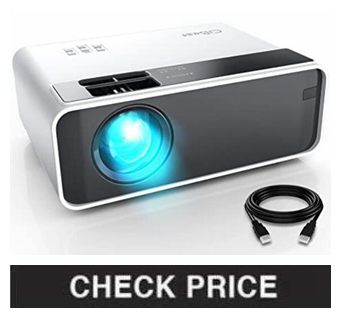 CiBest W13 won't give you super-sharp images because of the low 800×480 resolution, but for its price the LED projector offers a good set of features. You can watch content from USB flash drives or microSD cards, and there are HDMI and VGA for easy connection to a computer or TV set-top box. In reviews, users note the good picture quality up to 80 inches diagonally. In a dark room, the projection size can also be increased to 100 or even 120 inches. W13 is equipped with stereo speakers and audio output.
The only drawback is that some parts of the image might be out of focus when you use it. But if you install the projector perpendicular to the screen, it won't be a problem.
Great value
Built-in stereo speakers
Compact size
Keystone correction affects image quality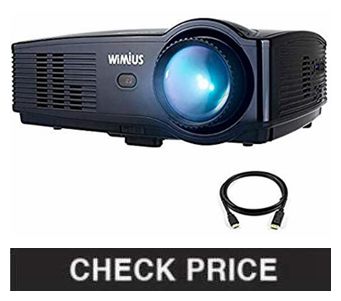 WiMiUS is the best projector in 2021 which is an upgraded one that comes with such improved features and quality.
This projector can be used as an inside theatre and as well as an outdoor projector. This WiMiUS is the best home theater projector for the money and a complete package for mid-range people.
The best projector under 200 dollars will surely make your life better and fill with the entertainment. It will offer you a brightness of 4000 lumens and the contrast ratio would be 3000:1.
However, you will experience the best quality resolution of 1280*800(native), as well as support the full 1080P.
Furthermore, with this best projector under $200, you will get 16.7M colors and 50-200 inches flexible size of the projector.
No noise
Twice LED lamp
Support full HD 1080p
4000 lumens
The picture is not that sharp and clear
FAQs
What is a good lumens number for a projector?
The level of brightness depends on where you are using your projector. For example, if you choose to use the projector in a dark room, 1,000 lumens can give you a clear, bright image while 2,000 lumens may be too bright, causing the image to be blurry or even hurt your eyes.
Which is better DLP or LCD projector?
There is much to be said on the DLP versus LCD projector debate. While LCD projectors have a sharper image and superior picture quality, DLP projectors are lighter, portable, and considered to be more reliable. DLP (Digital Light Processing) technology uses micro-mirrors to project images from a monitor onto a large screen.
Can projector damage eyes?
Almost every project utilizes projection technology that doesn't cause any eye damage however if they are directly pointed to the eye, then it might harm.
How many Lumens could be Good for the Best Projector under $200?
Brighter rooms need a higher lumens projector. Somehow, a dark room should need a projector with 1000 to 1200 lumens. Also, if you want to project large and bright images, you would surely need a projector with higher lumens such as 3500-4000.
Conclusion
You'll admit that finding the best projectors for under $200 is challenging, since most of them make false claims. As a result, we expect that our list will accurately direct you to the best unit for your entertainment needs.