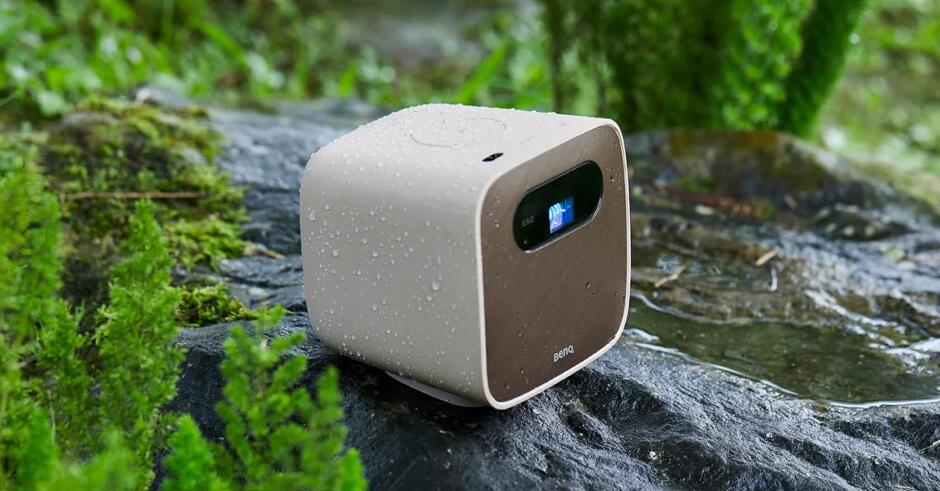 Portable projectors offer very different features and considerations compared to traditional machines. They're comparatively cheap. They come with built-in speakers, so there's no need for an AVR or external sound devices. They often have apps on board as well as storage options so that they can supply the content too. And, if you're really lucky, they'll have a battery which means you can take them with you wherever you go.
Think of them more like the Swiss Army Knife of the cinema world. This is why portable and mini projectors are a great choice for many. There's no need to replace your TV. Just pull out your portable when you want to go big. You can even take them around to friends' houses for movie nights.
What's more, installing a portable projector is no more complicated than finding a flat surface or even a sheet hung in the garden and pointing the thing at it (though a dedicated screen is so much better). Some have kick-stands to help and almost all have tripod attachments.
How We Tested
We approached the testing process like any potential shopper might, but we did so with an emphasis on business use and travel. Our reasoning was simple: Most people who shop for portable projectors need them for work, and these scenarios usually involve traveling, whether it's down the hall to a conference room or across the country to an important meeting.
First, we took into consideration each device's features, including software, various connectivity options, etc. Next, each projector was unboxed, set up, and taken for a spin. For a projection surface, we used a portable white wall that our head scientist built for product testing. Since these projectors are typically used on spare walls in casual settings, we found it to be appropriate.
During testing, we paid close attention to throw distance, color, contrast, motion performance, and peak brightness (particularly as it compares to the manufacturer's reported brightness). We also factored in the native resolution of the picture—most of the projectors we tested feature a standard WXGA resolution (1280 x 800).
Because these projectors aren't built for performance as much as they're built for convenience, our criteria was less rigid than it is for, say, televisions. Along with convenience, the portability of each projector was considered. For example, is the projector easy to set up and stow away? Does the projector come with any sort of carrying case? Essentially, we asked ourselves what it might be like to travel with these gadgets, be it across town or across the country.
Finally, as we do with all of the products we test, we took into consideration each projector's price tag overall value.
What Are the Best Portable Projectors?
There are many factors to consider when choosing the best portable projector for you; below are the most important ones, which we considered while we were researching this list.
Price
Of course, just like any other electronic device, you need to keep the price in mind. For an entry-level portable projector, you can spend less than $100. It's actually amazing the picture quality you can now get for such a small investment, as just a decade ago you couldn't purchase a 13-inch standard-definition tube TV for less than $100.
In general, for a quality portable projector, you'll spend anywhere from under $100 to around $600. Anything more than that and you're moving away from the world of portable and into stationary projectors. Whatever price range you decide on, keep in mind the potential price shifts over time.
Picture Quality
When looking at the picture quality of a portable projector there are two features you'll want to keep in mind. First is the general resolution. Projected resolution is a bit different than resolution on an actual screen. With a screen, there are physical lines of information. Projectors make use of light, so there are no "lines."
However, most projector manufacturers will give an equivalent resolution so it's easier to understand what quality you'll be getting. Beyond resolution, you should also consider color ratio. This is really what makes the picture pop, as the visual quality of a projector improves with increased color possibilities.
Throw Distance
This is a math equation that calculates how big a projector's image will be based on how far away it is from the screen or wall it's projecting onto. The further away the projector is from the wall, the larger the image will be. Some projectors are categorized as "short throw," which means they're calibrated to throw a larger image from a shorter distance.
Brightness
The image thrown by a projector is highly susceptible to light pollution, which will dim its image before it hits your screen or wall. The brighter the projector, the more it's able to overcome light pollution. Unfortunately, the brighter the projector, the lower the battery life. If you plan on using your projector at night, brightness won't be as big of a factor, but it's something to consider if you're going to use it to replace your TV in a well-lit room.
Connections
The kind of connectors the portable projector should have will largely depend on what you wish to connect it to. Chances are, you'll want an HDMI port, as this is the default connector for most modern technology.
However, you may also want to connect images through VGA, USB, or even the older RCA composite connectors. When shopping for a portable projector, always know what you're looking to pair with it and go from there.
Our Top Picks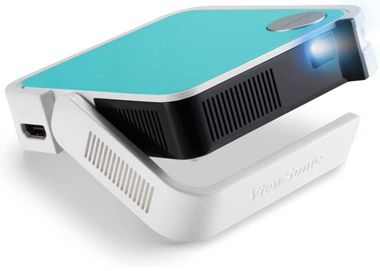 If you are worried about carrying the normal projector to any occasion or place, do not worry further. The ViewSonic portable projector is here to resolve the portability issues for you. With a size of 4"x4", it can fit inside any bag. In addition, the small size has made the projector extremely lightweight. So, there will be no issue in carrying the device anywhere, be it your next work location or a camping site perched atop the hill.
Despite having such a small size, the picture quality of this projector is amazing. Brightness and contrast are perfect, which will give you the best cinematic feel while watching the videos. If you plan to use it for your work, all the slides and the elements will be portrayed clearly with well-defined sharpness.
It is based on a mercury-free LED projector with longevity of around 30,000 hours. Due to the in-built, rechargeable battery, you can charge it anywhere using a power bank. Besides, a JBL speaker integrated with the projector will emanate loud and clear sounds with proper bass and treble.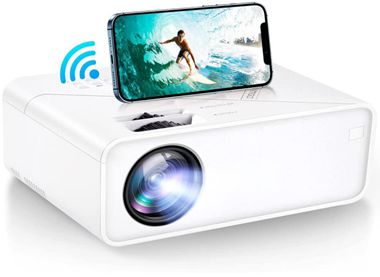 No matter how small the projector is, you need to connect it with your mobile or any other device for data input. Now that can be a hassle when planning for an outdoor movie or any other remote location purpose. This is why Vimeo has brought one of their finest creations to you – a WiFi supported portable projector. It is based on IoT technology. Hence, you can connect the device to your mobile or laptop via the internet and stream any video or presentation.
The image quality of this projector is splendid, thanks to the 6000 LUX brightness, which maintains the clarity of the pictures. It has an aspect ratio of 4000:1 with an image resolution of 1280*720 pixels. Hence, you won't have any problem viewing HD gaming videos or moves or anything else. The projection screen dimension is directly proportional to the distance between the device and the screen. For a distance range of 2.6 to 14.5 feet, the projection screen will vary from 30″ to 200″.
Even though the projector can be connected via WiFi, it is also equipped with several other I/O ports. It can support media streaming from HDMI, USB, AV, VGA, and other input ports. Audio output ports are also available since you can connect the projector to a speaker or soundbar easily.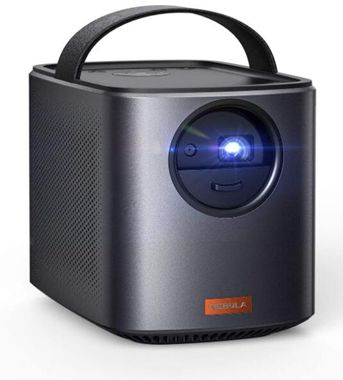 The Mars II is equipped with a 12,500mAh-sized battery and uses a proprietary cable for charging or for using the Mars II while the battery's dead (you can expect roughly four hours of battery life). The Mars II's back-facing ventilation system makes a gentle whirring noise while the projector's in use, but it's quiet enough to fade into the background, especially when the volume's cranked (did I mention that the Mars II's 10-watt speakers get really, really loud?)
Crucially, the Mars II is a top-notch performer—at least when it comes to the realm of mini projectors. You're not going to see great results in a well-lit setting, but screenings in dimly-lit rooms and nighttime viewings will look great—there's enough luminance that colors pop and shadows don't appear as washed-out as they do on some of the other projectors we've tested.
My favorite aspect of the Nebula Mars II is its Android 7.1 operating system, which comes with popular streaming apps like Netflix, Youtube, and Amazon Video right out of the box—simply connect the Mars II to a WiFi network and you're ready to go. The Mars II also comes with a small remote control so that you can navigate the software from a distance.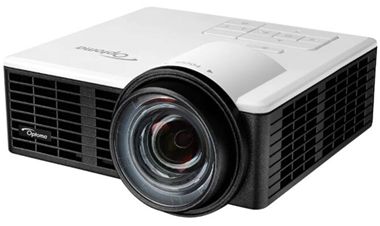 The ML750ST's small stature and light weight make it perfect for short- and long-distance travel—it weighs less than a pound and comes with a zippered carrying case that can easily be stowed in a briefcase or carry-on bag.
From a performance standpoint, this mini projector from Optoma isn't as impressive as the Anker Nebula Mars II, but it's 1280 × 800 WXGA resolution looks sharp from a distance of around ten feet. In a dark or dimly-lit room, the ML750T is bright enough to produce a picture with decent contrast, but as is the case with most mini projectors, the picture will appear flat and washed-out if there's too much ambient light.
One of the ML750T's bigger weaknesses is the projector's tinny, 1-watt speaker—there just isn't enough volume, even for the most modest of business presentations. And, compared to the Nebula Mars II's 10-watt audio drivers, it's downright quiet.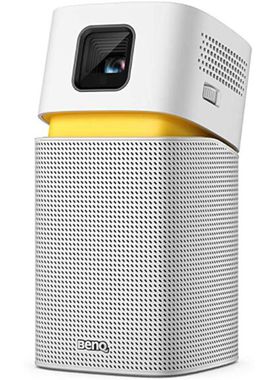 BenQ is one of the top names in projectors for the home, so how does their offering for the best portable projector size up? Well, the picture is really bright and clear, with a good-sized picture from quite a short distance. The tiltable top section makes positioning the image easier than projectors with fixed lenses, and when it's run out of batteries you can tilt it quizzically up and pretend it's a cute Star Wars droid looking at you.
It's small enough to be carried in your shoulder bag, with a decent carry case that protects it (although the plastic casing of the projector does feel very robust). Crucially, set up is swift: the auto keystoning means that once you've pointed it at a wall or made an adjustment to placement, the screen clicks into the correct square automatically. Less easy is the focus control though: a side dial which can feel like trying to crack a safe when looking for the best picture. The image quality is worth it when you get it right though!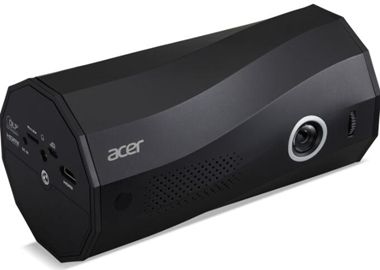 If you can't do without native 1080p in your quest for finding the best portable projector, the Acer C250i is the way to go. Acer is one of the leading brands in gaming displays and this was their entry into the portable projector market.
It's not the easiest to chuck in a bag – there are smaller and lighter projectors that will work better for that – but the priority here is on image quality. It quickly responds to changes in positioning even during use and will set itself to portrait mode without projecting those annoying black bars when required. Not that your only options are horizontal or landscape: the slightly odd shape of the projector means you can set it on any of the sides to change the angle of projection: handy for positioning the image. However, it's not the brightest image and may need to wait until the sun's down to really get going.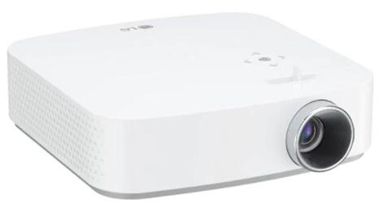 LG's projector is the most powerful projector in a couple of significant ways: It has the highest resolution (1080p), brightest bulb (600 Lumens), and an array of ports (two HDMI, USB-A, USB-C, Coaxial, and Ethernet). In addition to its ports, the PF50KA supports LG's SmartTV platform and ScreenShare, so you can access content wirelessly.
It has a maximum screen size of 100 inches, which is on-par with most portable projectors and can throw a 40-inch screen from a distance of 4.1 feet. LG has done a good job balancing tech specs and size; at 2.1 pounds, the PF50KA is a fairly light option.
That lightness does have a downside: this projector only has two 1w speakers, and gets 2.5 hours of battery life, which is the lowest on this list. All things considered, if you're looking for a high resolution projector, or plan on using it in conditions with a lot of light, this is a great choice.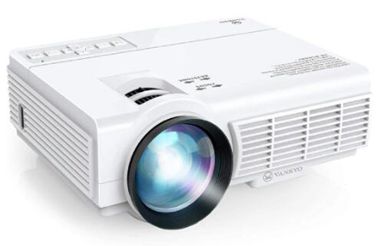 VANKYO's Leisure Mini Projector is an excellent beginner's choice for people who want to bring a big screen with them on the go. It's not battery-powered like the other projectors on this list, but at only 2.1 pounds, it won't weigh you down.
This projector has a native resolution of 800 x 480 (480p), and has a maximum screen size of 170 inches; that's the biggest screen of any projector on this list, but it'll need to be 18 feet away from a wall to create it. VANKYO says the sweet spot for this projector is 90 inches, which makes sense because of its lower resolution.
The most surprising thing about this projector is its ports. It has one of the following: HDMI, VGA, USB, AV, and Audio In. Two of those ports aren't available on any of the other options on this list. Its four-watt stereo speaker system (two watts per speaker) is also impressive.
It's not the highest-resolution projector, and you'll need to plugged in at all times, but VANKYO's Leisure Mini has a lot to offer.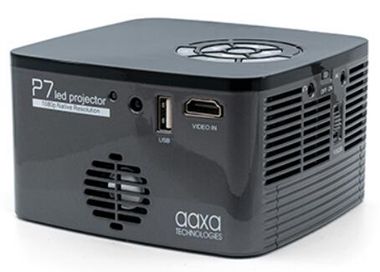 AAXA P7 is one of the smallest mini projectors to deliver true native 1080p resolution. This next-gen solid-state mini projector integrates compact 4th generation Texas Instruments Digital Light Processing (DLP) technology – found in movie theaters – to makes the native 1920×1080 pixel resolution possible.
Provided with rated brightness of 600 lumens, better than some of the other projectors in a similar form factor, the AAXA P7 doesn't support Wi-Fi but comes with VGA, USB and HDMI options for connectivity. It also features a card reader to project content directly. The versatility of this compact projector is supported by a tripod provided alongside. Backed with 30,000 hours luminous LEDs, the P7 projector produces a 120-inch image. Its MSRP has been dropped to $419 from the initial $499.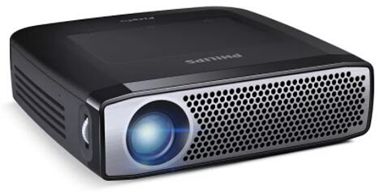 The Philips Pico PPX4935 is a brillaint Android based pocket projector that comes equipped with 350 lumens, 720p HD resolution, Wi-Fi and Bluetooth audio allowing you to connect to other devices and share your videos & pictures straight away thanks to wireless screen mirroring. Integrated media player & HDMI/MHL interface, various connections for all common appliances, Bluetooth audio function, Wi-Fi to go online and share web content, connect wirelessly with other devices within a network or to set up your own network.
FAQs
What is the lifespan of projector lamps?
Pretty much every portable projector relies on LED lamps, which are far more efficient than traditional incandescent lamps. They can get brighter and last a lot longer. Most projector lamps are rated for at least 30,000 hours, which is more than enough for what they will be used for.
What is the difference between a portable projector and a pico projector?
Portable projectors and pico projectors are essentially the same thing, but the "pico" moniker is referring to an approximate form factor. Pico projectors are generally incredibly smaller, usually about the size of someone's hand. Pico projectors also always include batteries, which is not true of every portable projector. Generally speaking, larger portable projectors are going to be brighter and have a higher resolution. That being said, the quality of pico projectors has dramatically increased over the past several years. Which is best for you largely depends on what you want out of it and the specific features you're looking for.
How long will a portable projector last?
With most projectors, the first thing to wear out is the lightbulb. Many portable projectors use LED lights. That means that a number of the projectors we have reviewed have bulbs that will last in excess of 20,000 hours.
Should I get a DLP, LCD, or LED projector?
The answer depends on what you want from the projector. For example, if price is your primary concern, you may want an LCD projector. LCD projectors do not have moving parts, so they are less expensive.
If image quality is your concern, then you may want a DLP projector that offers truer colors.
Many portable projectors use LED technology because they produce less heat and require less energy. The downside is that they are not as bright as their counterparts.