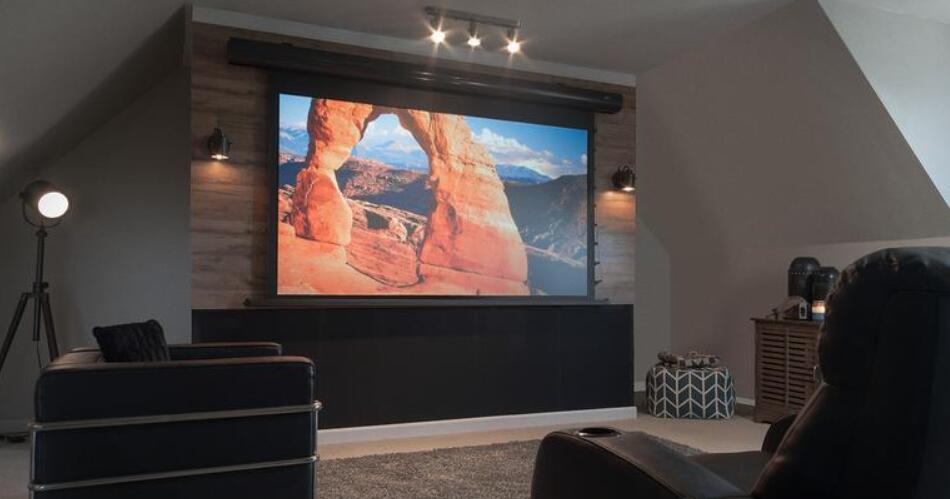 Are you looking for a high-quality projection surface that does not have to be rolled in and out by hand? Then one of the best electric projector screens is the right choice for you. It comfortably moves with a push of a button.
In order for the image quality to match the performance of your projector, the background must be right. Only a good projector screen guarantees that the image will look like 4K. If you also want to run 3D movies on the screen, you need the appropriate projection surface. Projector screens usually make the image appear brighter and even more contrast. No matter how well a room wall is painted, it will never reflect such clear images as a screen. Take a look at our top picks and choose a screen diagonal that fits the size of your living room wall. For the perfect picture it is worth paying attention to the so-called amplification (or gain) factor, which should be around 1.0.
We have tested and selected for you 5 best motorized projector screens, mostly with versatile functionality.They will bring your home theater experience to another level, especially when you have a limited space in your living room. Electric projector screens are also great for conference centers and classrooms to perform business presentations (combined with mini projectors). There are options for any budget, but choosing the right one can be tricky.
What is a motorized screen?
Usually, motorized refers to what we think of as a conference-room screen; a wall- or ceiling-mounted screen that descends on command (or even automatically as the projector is turned on). Some feature external housings that are often offered with different finishes or veneers to help match the aesthetics of the room in which they are placed.
Alternatively, there are ceiling-recessed screens, which are installed completely above a drop ceiling. A trap door on the bottom of the enclosure hides the screen when it's not in use. The screen can then be controlled via a wall switch, remote control, through a room automation system, or by connecting to a special low-voltage trigger port on the projector.
Who this is for
If you have a projector, you should get a screen. Most modern projectors are bright enough to throw a decent image on just about any close-enough-to-white surface, but if you're still using a white-painted wall, you really should upgrade. A screen has less texture and will show more accurate colors, plus add pop to the image, since paint almost always has less gain than a screen (meaning the image will appear dimmer than is ideal).
But if you ask a home theater expert or aficionado what to choose, more often than not, they'll recommend something that costs more than the projector itself. Our pick is aimed more at someone looking to put together a casual home theater on a budget or just wanting to upgrade from a living room wall. A good screen can last a long time, so it's worth investing enough money to get something that's easy to set up and offers decent performance.
How to Choose the Best Motorized Projector Screen?
Even a cheap projection screen will perform better than a plain white wall, but for a better viewing experience you should pay attention to the following key features.
Material
Projector screens are most often constructed from plastic, rubber, vinyl, spandex, polyester, and fiberglass for different components:
Viewing surface: Vinyl and spandex are the preferred fabrics for freestanding and portable screens. These flexible materials don't require tension to lay flat and are naturally wrinkle resistant. Vinyl is stronger and more water resistant than the alternative, polyester, which is also detrimental to the environment. With permanent screens, fiberglass fabric boosts reflective capabilities for superior contrast. Additionally, some projector screens are treated with active compounds that make light on the viewing surface easier to see.
Backing/frame: Some permanent screens contain a stiff black backing made of fiberglass, which creates the most tension and the flattest viewing surface possible. Others feature an aluminum backing covered in velvet or fabric; the material is lightweight, affordable, and reasonably strong (prone to minor dents and damage). The backing absorbs overhead and rear light to enhance color contrast and improve image quality.
Stand or base: Aluminum is often used in the bases of floor-standing projector screens. It's lightweight yet sturdy and highly weather resistant, so aluminum is well-suited for portability and outdoor viewing conditions like wind or rain. With inflatable models, a PVC plastic or rubber structure supports the screen, both tough materials that can handle variable weather.
Dimensions
Determining which screen size is right for your space is important before getting too deep into your search. Consider the guidelines below when measuring for indoor and outdoor projectors:
Measure the area where the screen will be placed to see the amount of space that is available.
Keep in mind that the base of the screen is usually 3 to 4 feet off the ground so those sitting in a back row will still be able to see the entire picture.
For indoor spaces, the top of the screen should be at least 1 foot down from the ceiling to keep individuals from straining to look up too high to see the images.
Aim to have the first row about twice as far from the screen as its height and the last row up to eight times as far as the screen's height. For example, if a screen is 10 feet high, the front row should be located about 20 feet from the screen, and the last row as far as 80 feet away.
Find out which screen sizes are compatible with the projector. Some projectors won't be able to project a clear image onto a large screen and a smaller image will end up on a large screen, which could look out of place.
Screen Color and Resolution
The color and resolution of a projector screen affect how the images display. Projector screens are available in three color options: white, gray, and black.
White: White projector screens are the best choice for displaying more vivid colors. However, if a room isn't fully dark and has ambient light, it can be challenging to view the image on a white screen. White screens generally cost less than gray or black screens. They usually are a better choice for an office environment or other uses where slides and other text will be displayed.
Gray: Gray screens offer a better option for rooms where more ambient light is present. Unlike white screens, they are able to reject ambient light, which makes it easier to see images in rooms that aren't completely dark. However, compared to white screens, the viewing cone of a gray screen is often narrower than that of a white screen. Gray screens are often the best choice for an outdoor projector screen since it will absorb more light than white screens but still allow other colors to be displayed properly.
Black: Black projector screens are also able to reject ambient light. Dark colors and blacks appear really deep on a black screen, but whites and lighter colors may not look as accurate.
Screen Gain and Viewing Angle
Gain is a unit that measures the brightness of the image that is reflected off of the projector screen. Gain is the ratio of the light reflected back from the projector, which is the light source. Screens that offer a gain measurement that is more than 1.0 yield a brighter image than what is being projected. As an example, projector screens with a 2.0 gain would yield an image that is perceived as 2,000 lumens from a 1,000-lumens projector.
While screens with a high gain are brighter, they aren't ideal for areas where a wider viewing angle is needed. The higher the gain, the narrower the viewing angle. This means a projector screen with a lower gain would be best for spaces with a wide row of seats. A lower-gain screen is also better for displaying vivid black colors.
Our Top Picks: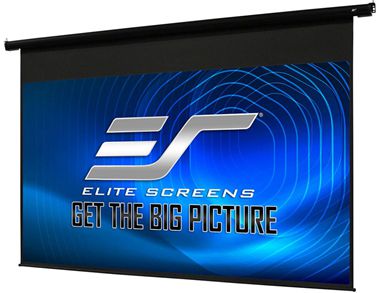 The Elite Screen is made of a steel housing which is extremely quick to install. All youneed to do is put the brackets flush to the wall and add the ceiling mountain (hardware included).
There are over 15 available sizes with different aspect ratios. Colors come in choices of matte white or sound transparent material.
Compared to all the other motorized projectors the Elite Screens quality is definitely a few big steps ahead of the competition, especially given the ability to clean it.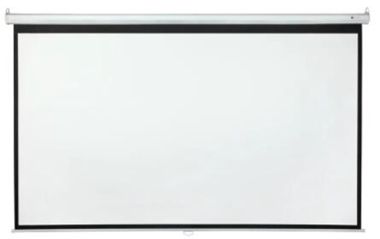 The sturdy, energy efficient HomeGear projector screen is a good option that has a 160-degree viewing angle making it useful for both homes and businesses. Its users enjoy that it is very reasonably priced for its size, but also note that it does not come with mounting accessories.
It has a 1.2 gain matte white screen with 30mm black masking borders, 25m RF remote, 3 layered black backed screen and comes with a wall mountable control panel to use without the remote. This remote controlled projector screen is a good option if you are looking for an affordable motorized screen.
Overall reviews for the Homegear 120" HD Motorized 16:9 Projector Screen are very high. Most users state that they are very happy with it for the price. It is easy to set up and get working, although one customer reported having to make adjustments for it to meet their specifications.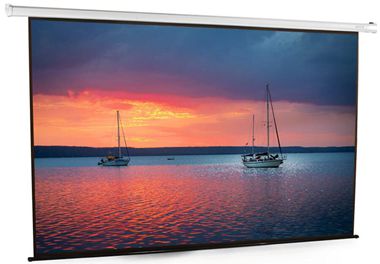 Don't be fooled by the inexpensive price tag of the Vivo 100-Inch—it packs a punch well above its price bracket. If you're in need of a motorized screen, the Vivo is affordable but offers a very high-quality product. The screen operates with an electric motor and can easily be raised and lowered with the included remote.
It's large, at 60 inches in height and 80 in width, and has a 4:3 viewing area. The durable metal casing is ideal for both wall and ceiling installation, although you'll need to purchase mounting hardware separately. With a viewing angle of 120 degrees, you have plenty of room for your audience to get a good angle to view the movie and the matte white screen diffuses light to create an accurate picture. A black backing blocks out unwanted light, and the resulting image quality is impressive.
While the Vivo doesn't support Active 3D or 4K video, it's still an overall great choice for anyone looking for a motorized screen at an affordable price point.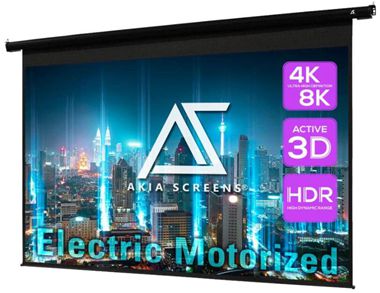 Akia is a sub-brand of Elite Screens and offers more affordable, but good quality projector screens. The smallest version with an aspect ratio of 4:3 is an excellent choice for business presentations. If you need a large display for watching movies and shows, a 16:9 screen is the one to choose. It supports 4K and even 8K. The customers point out in their reviews that MaxWhite B material is rather thin, so you have to be gentle when cleaning it.
Akia Screens Electric Motorized Projector Screen comes with a handy Radio Frequency Remote. The accessory can also be used as a wireless 5-12 volt trigger to synchronize with your projector. The screen is shipped fully assembled and ready to install.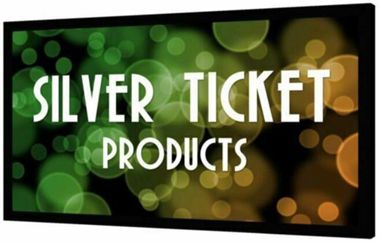 If you're looking for the best possible projector screen for your money, you can't go wrong with the Silver Ticket 100-Inch. Made from a solid and durable aluminum frame, it has the look and feel of a premium product at a budget-friendly price. Thanks to its contoured and wrapped frame, you get the best possible home movie viewing, since the wrapping helps avoid shadows and the contouring absorbs extra light, useful if your projector isn't positioned at the best angle (it also looks pretty good with the black frame).
The Silver Ticket is a permanent mount, so it's best for those looking for a screen that will stay in one place, such as in a basement or rec room. With its wide 160-degree viewing angle, you get a fantastic picture, no matter where you're sitting.
FAQs
What is the best brand for projector screens?
We like Elite Screens for their high-quality projector screens. The screens are easy to install, come with a kit, and offer great video quality provided your projector can measure up. Some models even have audio integration, providing a compartment for a hidden speaker. We're also fans of Silver Ticket for its durability and reasonable price despite the premium build.
What size screen should I buy?
The temptation is always to go big, but this often ends up with a screen that really overwhelms the room (and viewer). Instead, measure the space where you intend to put it. You want around a foot of space between the top of the wall and the screen so you're not looking up, and a few feet below, again for comfort. You don't want the screen to overwhelm the room, but you also want to maximize your screen size to recreate the cinema experience at home.
How does electric projector screen work?
Electric projector screens can be Wall Mounted, Ceiling Mounted, Floor Mounted, or Ceiling Recessed(for a concealed in-the-ceiling installation). Electric projector screens are operated by an electric motor that raises and lowers the screen via remote control or wall switch.