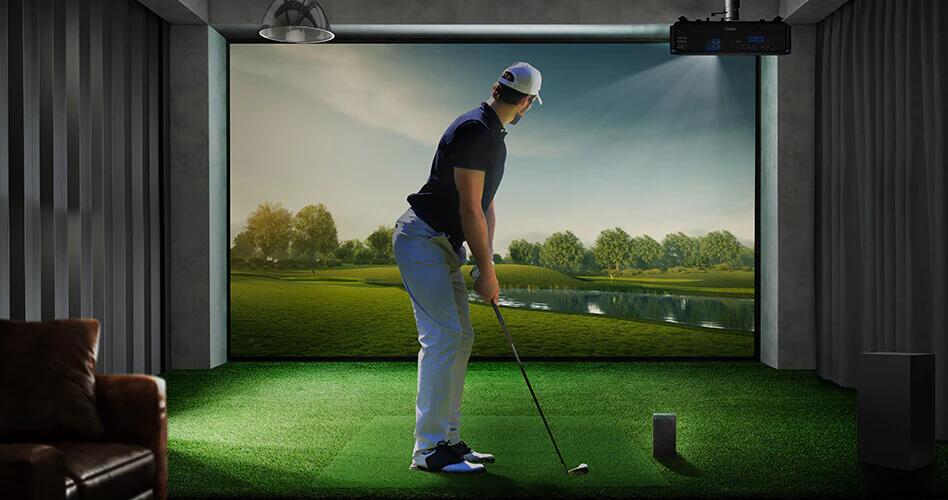 We get asked all the time, "What is the best projector for Golf Simulators like SkyTrak or OptiShot ?" The projector you decide to go with is indeed a very important decision in creating your dream home golf simulator setup. The issue is, reading projector specification sheets can be extremely confusing for someone who has never used a projector before. In this guide, we will provide our top golf simulator projector recommendations and help point out key features to look for in your golf simulator projector.
What Is a Golf Simulator?
A golf simulator is a home golf setup made by advanced technology to play golf indoors. In a golf simulator, golfers can play on a virtual driving range or online golf course. A golf simulator is not just a device, rather it's a system that works with a set of home golf equipment.
You can play golf in a simulator system regardless of weather & time. Because it lets you enjoy golf both in a limited space at home or an open space in the backyard. Confused? Let's be more specific.
Suppose you are a beginner or a professional golfer. You are somehow stuck at your home or you cannot go out because of rain. But you need to practice golf as you are preparing for a competition with your friend or to attend a golf tournament. Now how can you continue your game? Is there any way?
The answer is yes. There is a system named golf simulator to practice golf even in an adverse situation. What can be more comfortable to play inside of your own home? Won't it be better to build your own golf simulator & continue playing whenever you want?
What are your needs?
The most important aspect of any setup is the constraints of the room. Calculate your room depth to make sure the projector you select will suit the room you have to work with. Sometimes buying the most expensive product won't solve all your problems, you need the right projector for the right room. When working with home golf simulators, the goal should be to find the most compatible product for you and your setup.
The more space you have the further back you can put your projector. Most people with indoor golf setups have limited room behind them, so short-throw projectors are the solution. But those with a large area or a lot of room behind them have the ability to select one of our ceiling-mounted or offset projectors.
Also, it's important to consider the software you will be running, different software runs on different devices that use different aspect ratios. For example, if you get a SkyTrak Launch Monitor it uses an iPad to show you how your swing affects your shot, so a projector with an optional 4:3 aspect ratio will make the most sense.
Key Requirements
To assess the various projectors available there are some specific areas to consider in your selection process.
Aspect Ratio
The first thing to consider is the aspect ratio of the screen. For smaller setups, a 4:3 or square aspect ratio offers the most hitting zone in a small area. Projectors with native 4:3 aspect ratio (XGA) have lower resolution, but you can also setup a higher resolution projector to display in a 4:3 mode. A widescreen aspect ratio is more realistic and enables you to see a better view of the hole away from the fairway. Native 16:9 and 16:10 widescreen projectors offer higher resolution– and are easy to use as a home theater or large screen TV.
Resolution
Resolution is what enables you to see the details on every tree and the subtle contours of a sand trap. The bigger your impact screen, the more important resolution becomes in creating a realistic image. Typically smaller systems will use 1080p or lower resolution, and WUXGA is used for mid-sized screens. For the best widescreen experience, a 4K projector will create an immersive image even on impact screen larger than 14 feet wide. This is especially important if you are using a system such as Foresight, TruGolf, and other simulators that support 4K output.
Projector Position
The best mounting position for a projector is just behind and above the hitting area, roughly 4 feet behind the tee location, so the projector is away from the club path and sufficiently away from the screen to avoid being hit by a rebounding golf ball (and without a shadow).
The "throw ratio" of a projector determines the distance needed for the projector to fill up your impact screen. You can use a online projector calculator to determine how far back the projector needs to be – or do the math yourself using the formula on the sidebar. For most home simulation setups you will want a "short throw" projector, which has a throw ratio around 1.0 or less.
Brightness & Color Accuracy
Golf simulation projectors need to be brighter than a home theater projector, since you need enough light in the room for your camera to see your club and track the ball spin as it travels to the impact screen. A 3000 ANSI lumen projector is a good starting point for a smaller impact screen, and if you have a square impact screen, a 4:3 XGA resolution projector will provide more brightness than a native 16:9 projector that is displaying a 4:3 image. For larger screens that are 10 feet or wider, you will want to look for a 4000 lumen or brighter laser projector. 5000 lumen laser projectors are the most popular choice with brighter room and a bigger screens.
Our Top Picks
In addition to having this overview of how to choose a projector, it can be helpful to have some specific models as a kind of starter list. Each of the sources I spoke to has their own favorites. Here's the list of what they recommended with key specs for each. Models in the list that don't include a lens shift spec, have no lens shift.

Why is the Optoma EH460ST our top pick? Because, as Optoma's brightest short throw projector, it's priced very reasonably, it produces 1080p images with an impressive lumens rating of 4200, and it has short throw capabilities which means you can mount it from a short distance away.
At the time of writing, Top Shelf Golf has a great deal on the EH460ST, with very quick shipping and customer service. The EH460ST has a 0.5:1 throw ratio, effectively meaning you can produce a 152″ image with the projector just 5.5 feet away from the screen.
The 4200 lumens of the projector produces a very bright, vibrant, clear image even if there is a considerable amount of ambient lighting in the room. It's not just great for golf though. A few special features make it suitable for things like conferences, training courses, classes, and religious events.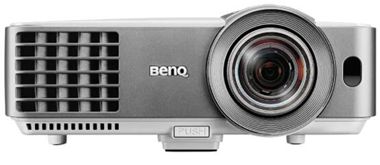 The BenQ MW632ST is an excellent choice if you're on a really tight budget. BenQ is one of the best projector brands out there today.
This model can only project up to 1280×1800 resolution and is just barely considered a short throw projector, but a lot of golf simulator owners have had great success with it.
The MW632ST has a throw ratio of 0.9:1. This effectively means that you can get an 87-inch image with the projector placed 1.36m away. It produces 3200 lumens, which is impressive given its price. You can add a bit more light to your room and the image will stay bright.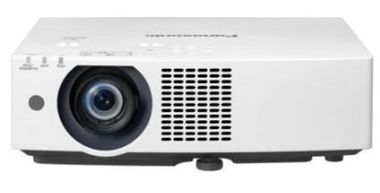 The Panasonic VMZ50U is one of our selection for the Best Overall Short Throw Projector for Golf Simulators. Sporting a 1920 x 1200 WUXGA native resolution for viewing HD video and detailed simulation.
It is 5000 lumens bright, and has a native 16:10 WUXGA aspect ratio. With 2.3M pixels per frame, the VMZ50U allows for true to life, immersive, detailed pictures ideal for golf simulation, movies, or gaming.
Additionally, as a laser based projector it comes with certain advantages over its lamp based counterparts. Laser based units are quieter, fire up quicker, are lower maintenance and as a result have a lower total cost of ownership. The VMZ50U has a life expectancy of over 20,000 hours.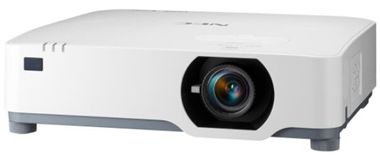 The NEC NP-PE455UL is our selection as the Best HD Projector for Golf Simulators. It is 4500 lumens bright, and has a native 16:10 WUXGA (1920×1200) resolution allowing for sharper and cleaner images compared to standard 1080p HD.
This laser LCD projector also has 4K availability and allows one to display 4K 30hz content utilizing NEC's proprietary high performance video processing/scaling chip.
With a standard throw ratio of 1.2-2.0:1, the unit will have to be positioned further away from the screen than its short throw counterparts. That said, installation is made easy with the NP-PE455UL's lens shift and digital keystone capabilities.

If you want to be captivated by a projector, we would like to refer to the name of Optoma EH412ST. This projector has the capability of captivating you through its 4000 lumens bright image, vivid, life-like colors and 50,000:1 contrast ratio.
You may look for a projector offering maximum brightness. The big benefit you will find in this projector is that it will allow you to play in maximum brightness.
You can use any space to use this projector. For the advantage of a long lamp life, you mightn't need to replace it for about ten years. And great value for the price.
For those who are on a tighter budget, the BenQ TH685i is likely the best gaming projector you'll find in the under $1,000 price point. Its input lag is an impressive 8.3ms in Game Mode, which adds other enhancements like the LumiExpert brightness control that prevents eye strain during play.
The built-in wireless connectivity of the BenQ TH685i also gives you more ways to connect to content sources. Along with wired inputs like USB, VGA, and HDMI, you can mirror content from other devices using AirPlay or Chromecast, or stream it directly through the Android operating system. This gives it good versatility as a home theater projector, too, if you want a multi-purpose projector.
The main sacrifice you make for the comparatively low price of the TH685i is resolution. While it supports 4K input, it has a maximum resolution of 1080p (full HD). It also has a lower contrast and smaller color gamut than other projectors on the list. On the plus side, it has a robust array of alignment and installation features, including an automatic keystone correction and vertical lens shift.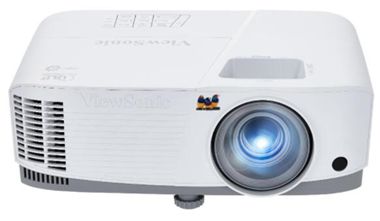 Viewsonic's short-throw projector provides some solid visual flair that makes it great for nearly all applications that will be thrown at it. Sporting 3600 lumens, even the brightest room won't be able to impede the image. The screen can project up to 120 inches from just over 15 feet away and 27 decibels of sound will easily reverberate throughout the entire room or basement.
The lamp can last for around 15,000 hours, so you can easily set and forget this projector. The ViewSonic PA503S offers tons of ways to connect, including HDMI and VGA cables. If you are having trouble getting another projector to work with your old pc, try this model and see how easy it is to get things up and running. The color wheel has six segments that make any shade or hue pop vividly.
This projector is ideal for golf simulators because it reduces input lag so your shots will come together much more effectively and with its automatic keystone correction, the device eliminates the tilted or crooked images that plague other similar projectors. Overall, this is a great choice if you have a big room with many other light sources pouring in.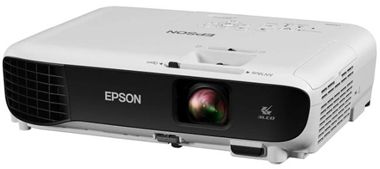 Epson is another famous name in the projector industry. It offers a comfortable display and has a portable design. The best projector simulator offers easy adjustment and very quick to setup. The interface includes HDMI for easy connectivity with the media players and laptop. The salient features that make this product stand out in the market to include the high color brightness and SVGA resolution.
The device offers easy setup and fast delivery via Epson. The best thing is that it works best with all the latest laptops, operating systems, and phone devices. You can easily connect your phone, tablet, or computer to enjoy high resolution and a large image on the big screen. It comes with the advanced technology lamp having a long life of about 10000 hours.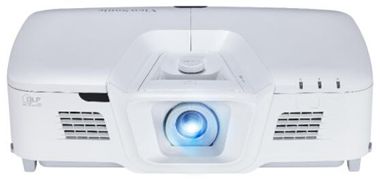 Another great addition to the list of the best projector for golf simulators is the ViewSonic PG800HD Projector. The high resolution in support with the massive 5000-lumen brightness and 50000:1 contrast ratio makes for the perfect visual display. Furthermore, it provides various adjustment features like zoom, centered lens, vertical lens shift, and vertical keystoning adding to the flexibility.
The six-segment color wheel results in sharp pictures, perfect for indoor gaming. Be it video gaming, or golf simulation; ViewSonic PG800HD Projector gives the best result for all. It comes with multiple input options to connect your devices for streaming. The HDMI, and USB ports come to use in this regard.
The sleek, compact design provides easy handling in the field. It makes use of the Super Color Technology and Sonic Expert technology to give you both a high definition display as well as a sound system. The dual speakers along with the amplifiers take the sounds to next level. This all-in-one projector would be the perfect fit for all your indoor leisure activities. Play golf, watch movies, or video games with your friends on this large screen for the ultimate experience.
This Optoma X318ST short throw projector will prove a good fit for golfers looking for high brightness levels and exceptional levels of detail, especially if you are restricted in terms of space. This golf simulator projector boasts an impressive short throw ratio that will deliver large images measuring 80 inches from only a few feet away.
This projector also utilises Digital Light Processing technology that provides your projections with significantly higher levels of contrast and delivers a faster response time. This innovative technology will also ensure your projected images maintain a premium pixel structure, with next to no degradation when it comes to colour.
Wide connectivity with a host of media devices is also supported by this golf projector, with Mobile High Definition (MHL) connectivity allowing you to enjoy instant displays from compatible tablets or smartphones. There is also an extensive connectivity option with HDMI, VGA and Composite.
FAQs
What is a golf impact screen made of?
Golf impact screens are made from heavy-duty woven polyester and can withstand direct impact up to 250mph with almost no bounce-back. Some come reinforced with silicon. The best impact screens can take thousands of hits before showing any signs of wear.
What is the best golf simulator for the home?
The more accurate question would be, "What's the best golf simulator for you?" Think about budget and your comfort levels with tech to whittle down your shortlist. OptiShot offers a wide range of options to suit all tastes. If you're looking to spend a little less, the Rapsodo R-Motion is well worth a look.
How high should a ceiling be for a golf simulator?
Many home golf simulators call for a space of 10 x 15 x 10 feet, but this is not always practical. Many basements – a common location for a golf set-up – have ceilings as low as 7 feet while the recommended minimum height for a ceiling is 8.5 feet.
Do golf simulators improve your game?
Absolutely. You can improve in two key ways. Firstly, you'll be able to put in plenty of practice at times when it's impractical to hit the golf course. Beyond that, the way in which the simulator analyzes your game and offers feedback that you can work on is the next best thing to having a golf pro at home.