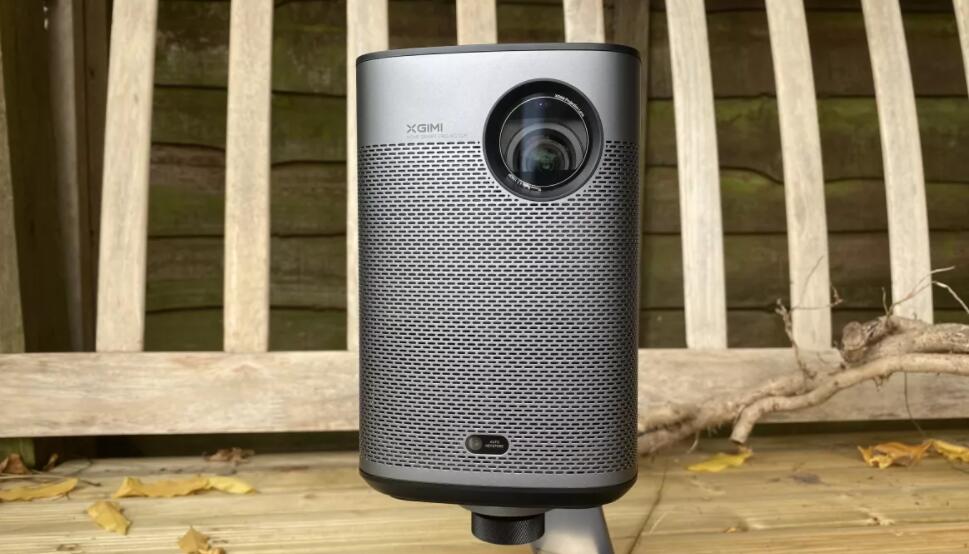 Trusted by more than 1.5 million users, XGIMI designs and manufactures high-performance multi-functional smart projectors and laser TV" and is determined to improve viewers' audio-visual experience. XGIMI has created a series of game-changing giant screen projection products with critical partners like Harman/Kardon, Google, Texas Instruments. By constantly recreating its products, XGIMI optimizes its portfolio and provides the most technologically advanced and user-first experience for consumers.
Pico and Palmtop Projectors
Pico or pocket projectors are a little larger than smartphones. Because most of them can accommodate videos and photos for on-the-go entertainment (in addition to slides and charts for business or classroom presentations), these models can be thought of as multimedia display systems. Though convenient and snazzy, they tend to be of low brightness and relatively expensive for their performance.
So-called palmtop projectors are larger (and generally brighter) than pico projectors, typically a bit too large to fit comfortably in the palm of your hand, even with your fingers outstretched. Still, they are lightweight enough that you wouldn't think twice about packing one in a bag or a backpack. Most are brighter than pico models, and have more connection options.
Brightness, Resolution, and Technology
Pico projectors have low brightness (from less than 50 to up to several hundred ANSI lumens). They generally have low resolution, often 854 by 480 pixels (aka FWVGA or 480p), with a 16:9 widescreen aspect ratio. This combination limits their effective use to projecting onto a small screen in a darkened room, with optimal image sizes ranging from 24 to 48 inches, measured diagonally. If too much ambient light is introduced, or the image is enlarged too much, it will look washed out and detail will be lost.
Although a few palmtop projectors have a brightness of less than a hundred lumens, most fall in the range of 200 to 600 lumens. Some palmtops have 480p or lower resolution, and a few have resolutions up to 1080p (1,920 by 1,080), but most are 720p (1,280 by 720 pixels). Their optimal image size tends to be between 36 and 60 inches, depending on their brightness and resolution. Slightly larger mini-projectors can have brightnesses of 1,000 lumens or more. Thin-and-lights and standard-sized portable models are often in the 3,000-lumen range, use standard projector screens, and can tolerate ambient light.
Best XGIMI Projectors of 2022: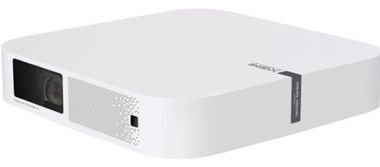 The XGIMI Elfin is an indoor projector with 800 ANSI lumens that delivers a ton of features in a small package. The projector comes with built-in Google TV as its operating system, complete with a collection of streaming apps along with it. You can set up this projector and be watching a movie within minutes.
Unfortunately, Netflix has been left out of those apps, the projector not qualifying as a supported device, for some reason. You can work around that by casting to the projector or using a streaming stick on the HDMI port on the back, but really, you shouldn't have to.
The base of the projector is round with rubber feet and a tripod mount in the center. The round base makes propping the projector a little awkward because there's also no aiming mechanism to allow you to point the projector where you want it to go. But what outshines most other projectors is the auto keystone and auto obstacle avoidance built-in. When you aim the projector at the screen or wall, the projector will automatically fill the largest possible space while avoiding other objects on the wall like shelves or lamps. It's really slick and makes this projector super easy to set up.
Finally, the sound on this projector is loud and clear. It's tuned by Harmon Kardon, and the dual 3W speakers get as loud as you need them to be. There isn't much bass here, so if you're looking for thump, you'll want to add an external speaker or soundbar, but by itself, the speakers are really solid. The brightness could be brighter for sure, but overall, this projector has a ton of great features in a small package and will serve you very well.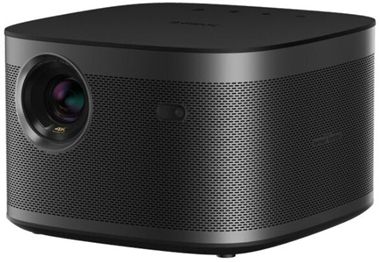 The Xgimi Horizon Pro 4k is one of the best 4K projectors, and best projectors for gaming on paper: it has the great image of a dedicated UHD projector and the small size, loudspeakers, and automatic setup functions of the best portable projectors, too. With full Android TV 10.0 OS, a focus on streaming, and tolerable gaming input lag, it feels like a thoroughly modern unit. But does the setup hassle represent a drawback?
The Horizon Pro is part of a recent trend of projectors that are cube-ish in shape and smart-looking. Its shelf footprint is small, though it's still taller than most projectors. A lack of screw-in adjustable feet or lens shifting means if the unit's tilt isn't right for your image placement you'll have to start finding items to slide under it to angle it correctly for your viewing though.
The highly accurate autofocus and keystoning do make very quick work of changing setups, so it's ideal for taking to other locations. It can even be set to sense any objects around the projection area and the size of the projector screen to display an appropriate image. However, if it's on a table and nudged it can take an awkward few seconds to readjust even if minimal changes are required.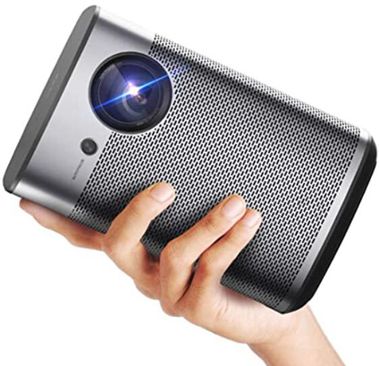 XGIMI has steadily added to its projector portfolio over the course of 2021. The launch of the Horizon Pro was a key moment in the brand's journey as it was its first 4K projector, and that was followed by the svelte Elfin, a 1080p LED projector that is easy to carry around.
The manufacturer is now focusing its attention on the portable segment with the Halo+. The projector is an updated model of the first-gen Halo that launched in 2020, and while the design doesn't look too different, there are a few key changes. The Halo+ projects a brighter image at 900 lumens, has beefier hardware, and runs Android TV 10 out of the box.
It's safe to say that the Halo+ is the best portable projector around. It delivers a bright image, has decent onboard audio, features Android TV, and does so in a portable form factor that you can set up anywhere in a matter of minutes. So if you need a projector that's versatile but doesn't miss out on the basics, the Halo+ is the best overall choice in this category.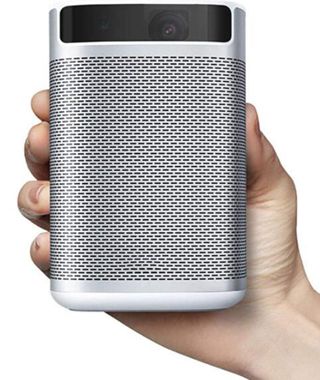 The Xgimi MoGo Pro offers almost everything we could ask for in a portable movie projector. This 1920×1080-resolution projector delivers a good-looking image with better contrast and detail (and more picture adjustments) than you can get from most of its competitors. Also, it's easy to set up and use, it's compact, and it has an internal battery that lasted about two hours in our tests (it also comes with an 8-foot power cord).
Best of all, the MoGo Pro has Android TV with Chromecast and Google Assistant built in, so it's basically a projector and a full-fledged streaming media player in one. That means you don't have to connect an external video player to enjoy lots of movies and other streamed content, though the unit has HDMI and USB Type-A inputs if you need them. The internal speaker sounds respectably loud and full.
In addition, the MoGo Pro supports both Bluetooth output (to send audio to an external speaker or to headphones) and input (to serve as a Bluetooth speaker). The only downsides to this projector are that it's not as bright as others we tested and that it currently does not support the Netflix app (but there are workarounds).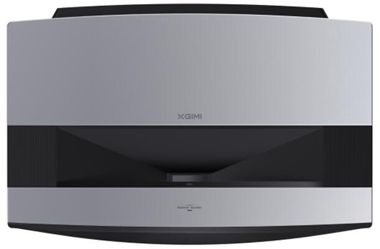 The XGIMI Aura is a 4K (3840 x 2160) Ultra-Short-Throw DLP Laser projector that boots up fast. Fast as in 12 seconds or less in my experience. XGIMI rated the Aura's brightness at 2400 ANSI lumens. The light source life span is rated up to 25,000 hours, that is 17 years if you use the projector for 4 hours every single day.
At 17.3-inches from a wall or UST projector screen, the Aura can project a 150-inch image. However, if you are short on space, the Aura can be placed a mere 4.3-inches away from a wall or UST projector screen to project an 80-inch image. The big images match up with the big and handsome-looking Aura. The projector measured at 23.85" W x 5.49" H x 15.78" D and weighs 32.91 pounds.
The Aura uses a 0.47-inch DMD Texas Instruments (TI) DLP chipset and a 2,400 ANSI lumen laser diode light source to deliver its 4K (3840 x 2160) displayed resolution. In addition, Aura features HDR10 (High Dynamic Range); HDR10 sends static metadata to the video stream, which is encoded information on color calibration settings required to make images look more like the content creator's intentions. The Aura covers up to 90% Rec. 709 and 80% of the DCI-P3 color gamut.