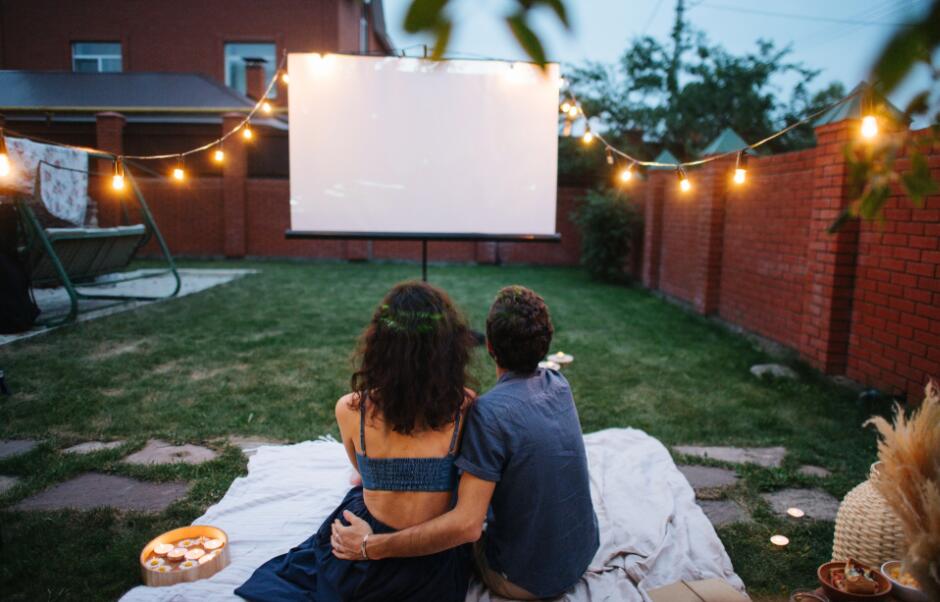 Whether incorporating a theater into your home or looking for a place to display presentations, a projector screen is helpful. While you can project onto a wall, the quality of the display will not be the same. Use this as a guide to place your 100-inch projector screen in the best area for your space.
A 100-inch projector screen has an overall size of 53.7 inches tall by 91.9 inches wide. If using a screen stand or pull-down mount, the screen will need more space. The screen's diagonal measurement is 100 inches, and the view size ultimately depends on the screen's aspect ratio.
What Are the Average Dimensions of a 100-Inch Projector Screen?
Projector screens come in many different sizes. The most common are 60, 72, 100, 120, 140, and 170-inches. The size of the screen refers to the size of the diagonal measurement. The width of the projector screen is about 87% of the screen's diagonal measurement.
A 100-inch projector screen is 53.7 inches high by 91.9 inches wide. The diagonal measurement of a 100-inch projector screen is 100 inches.
16:9 Aspect Ratio Screen
A 16:9 aspect ratio is usually used in home theaters, as it's better when viewing movies. When determining the projection size of a 16:9 aspect ratio screen, you will need to find the width and height.
To determine the width, multiply the size of the diagonal by 0.8716. To calculate the height, multiply the diagonal by 0.4903. The projection size of a 100-inch screen and 16:9 aspect ratio is 87.16 inches wide and 49.03 inches tall.
4:3 Aspect Ratio Screen
A 4:3 aspect ratio is usually used in conference rooms, classrooms, and teaching settings. To determine the projection size of a 4:3 aspect ratio screen, find the width and height.
To determine the width, multiple the size of the diagonal by 0.8. Next, to determine the height, multiply the diagonal by 0.6. The projection size of a 100-inch screen and 4:3 aspect ratio is 80 inches wide and 60 inches tall.
Best 100″ Projector Screens of 2022: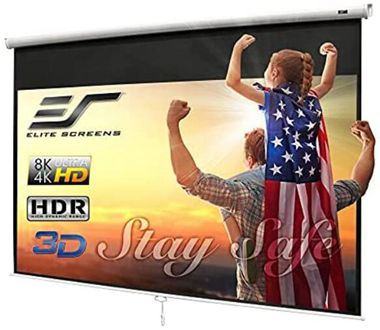 If you have room to mount an outdoor movie screen, the Elite Screen Manual B Pull-Down model is high-quality and well-priced. It has a 100-inch diagonal and a 16:9 aspect ratio, and it can easily be retracted back into its housing when not in use.
This screen has a textured matte white surface with a black border, and the fabric is made from layers of PVC and polyester, making it mildew-resistant and less likely to curl on the sides. The screen retracts slowly back into its steel housing when the handle is released, and it also features an auto-lock mechanism for variable height settings. The only downside is that this screen isn't recommended for use with short throw projectors.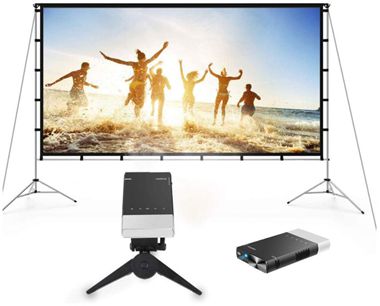 The Vamvo Projector Screen is a top-rated self-supported option, as it comes with a stand that's quick and easy to set up. This movie screen has a 100-inch viewing diagonal, and with its stand assembled, it's 66 inches tall and 91 inches wide. Plus, thanks to the stand's unique tripod design, it takes less than five minutes to fully assemble the whole screen.
This self-supported outdoor movie screen comes with ground stakes, tethers, and a storage bag, and reviewers confirm that it's quick and easy to set up. However, some note that the screen itself isn't wrinkle- or crease-proof, so you may need to iron it before use if you want the clearest picture possible.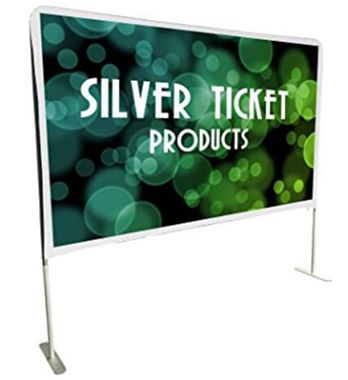 This 100 inch projector screen from Silver Ticket offers picture quality comparable to substantially more expensive models at a budget-friendly price. The screen is quick and easy to assemble, and comes in multiple sizes; most are native 16:9, but some larger sizes are also available in 2.35:1 aspect ratios. With a good projector, the image quality is excellent before even considering price.
The screen has an even texture and excellent color accuracy with only a slight blue tint. It's claimed 1.1 gain puts it in the ideal range for typical viewing conditions with a modern projector while the wide viewing angle makes for easy setup. Although this fixed frame projector screen might not seem fancy, it proves there's no need to spend thousands of dollars for good performance.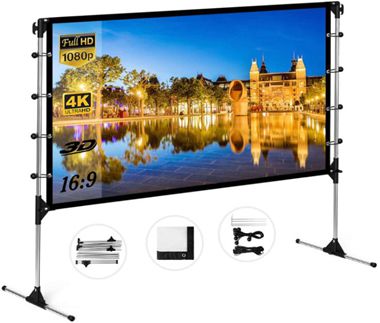 The next product on our list comes from the brand GT GETCO TECH which is fairly new to the market. However, its quality has been assuring which is the reason it has taken a place in our list.
This 100-inch portable projection screen comes with 160 degrees wide viewing angle and 16:9 ratio format. Its build quality is quite sturdy and resistant to dust and rust. So, it is suitable for both outdoor and indoor use.
It is quite easy to install, operate and transport as well. Because the screen can be folded into a smaller piece compared to other projects screens in the market. It is compatible with most of the projectors.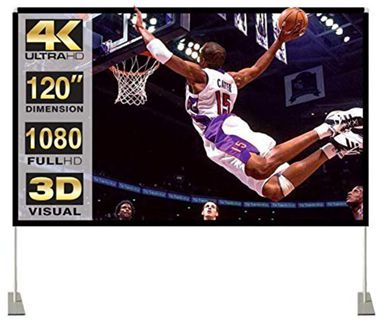 While you may not have heard about Hoin in the past, its projector screens are quite innovative in terms of their design and practical usage.
The Hoin Projector Screen can be another viable option if you are looking for something portable and ideal for outdoor usage. This is primarily due to the reason that you get an inbuilt stand and a foldable design with it. It is able to offer such a portable footprint thanks to its 100″ screen size.
Fortunately, Hion has not compromised on the movie watching experience as you still get an aspect ratio of 16:9. And unlike what you would expect from a small projector screen brand, Hion includes a 1-year warranty on this screen model.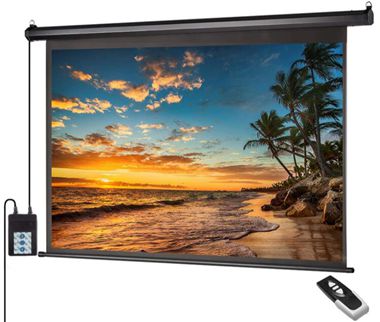 This 100-inch projector screen from Zueda is a budget-friendly option that offers a lot of great benefits. A pre-wired power cord is integrated into the design of the screen and allows for motorized operation using the control panel or remote control. The screen has a 1:1 gain with a wide 160-degree viewing angle. It offers top-quality image reproduction due to the yellow-staining- and wrinkle-free matte white finish.
This projector screen offers a 16:9 aspect ratio. It can be used with a variety of projector types including LCD, LED, and DHP models. The screen retracts into a solid metal silver casing when not in use. The casing is designed for both wall or ceiling installation options to provide flexibility with room layout and planning.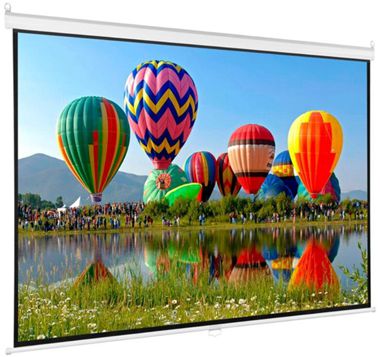 Vivo's 100-inch projector screen offers a simple pull-down design that allows the screen to retract out of the way when it is not in use. Simply tug on the small handle at the base of the screen to pull it down for use or to send it back into its casing. The design features a self-locking height adjustment to help set the screen to the desired location.
The projector screen is made from a multilayer matte white material that diffuses light in all directions to display high-quality images. The black backing works to prevent light from penetrating the screen to further enhance image quality. The screen has a 1:1 gain and a 120-degree viewing angle. It has a 16:9 widescreen aspect ratio and is compatible with most DLP, LCD, or LED projectors.