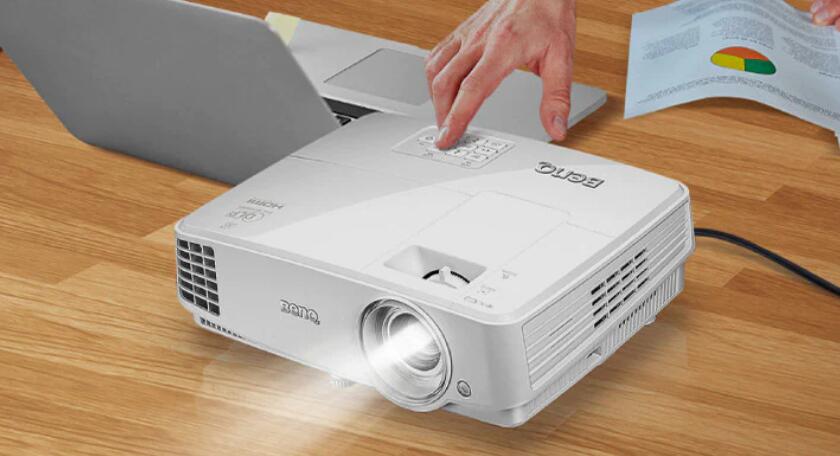 BenQ is a world-leading human technology and solutions provider driven by the corporate vision of "Bringing Enjoyment 'N' Quality to Life" to elevate and enrich the aspects of life that matter most to people today – lifestyle, business, healthcare and education. BenQ is the #1 DLP projector manufacturer globally. BenQ provides a variety of projectors including 4K, gaming, portable, smart TV, etc.
They market some of the most popular home entertainment and home theater projectors available, primarily in the $1,000 or less price range. The bottom line? If you need a projector, BenQ likely has one that will fit your needs and be ultra-friendly to your wallet.
BenQ projectors: an overview
BenQ is a Taiwanese consumer electronics company that manufactures everything from laptops and monitors to digital cameras and projectors.
Today we're interested in projectors, as the company has made a name for itself with the kind of data-grade projectors you often see in classrooms, boardrooms and bars. But that doesn't mean it can't also cater to living rooms, patios, and bedroom viewing.
BenQ's projectors are based around Texas Instruments' DLP (Digital Light Processing) display technology. This uses a chipset composed of millions of microscopic mirrors, which reflect the light from the bulb through the lens or away from it. As a result, each tiny mirror is either on or off, creating a black and white image.
A single-chip DLP projector adds color using a spinning wheel composed of red, green and blue segments, and this approach has both benefits and side effects. On the plus side, using a single chip results in a pin-sharp image, though the spinning color wheel can cause some people to see color fringing (rainbow) artefacts.
Should I buy a BenQ projector?
Now you understand how a BenQ projector works, why choose one of its models over another DLP competitor, like Optoma? The simple answer is economies of scale – an advantage that BenQ has leveraged to produce a range of competitively priced projectors to meet every requirement and pocket.
It's often overlooked, but when it comes to big screen bang for your buck, nothing beats a projector. You can achieve screen sizes much bigger than even the largest TV panel, and for a fraction of the cost. BenQ offers numerous projectors that are not only very cheap, but easy to set up. Plug them in, point them at a wall, and you're good to go.
BenQ might dominate the lower-end of the market with budget 1080p and 4K models where the emphasis is on big, bright and colorful images, but it hasn't rested on its laurels. BenQ has also developed a range of home cinema models, which are not only more accurate, but can even deliver 100% of the DCI-P3 color gamut.
BenQ also offers projectors aimed squarely at sports fans and gamers, where the quick response times, smooth motion and low latency are perfect for fast-paced action. So whether it's watching the big match, playing your favourite game, or catching-up on the latest 4K HDR movie, BenQ has you covered with its expansive range of projectors.
How much do BenQ projectors cost?
BenQ offers a few different projector ranges. There's CinePro, CinePrime and CineHome. That's what most people will need to know about. However, there are some other categories if you have more specific needs, such as gaming projectors, business projectors, portable projectors and large venue projectors. Essentially, no matter the size of your needs or your walls, BenQ has you covered.
The CineHome line-up is aimed at the more casual projector user, where the emphasis is on ease of setup, brightness and very low input lags. Prices ranging from the 1080p TW535 at just £499 (around £645 / AU$920), up to the 4K W1720 at $1,199 / £799 / AU$2,190.
The CinePrime and CinePro Series are designed for the home cinema fan, with a more sophisticated range of 1080p and 4HK HDR projectors, where the emphasis is on accuracy and wider color gamuts. These range from the 1080p W2000 at $1,199 / £899 / AU$1,499, to the high-end 4K HDR W5700 at £2,399 / AU$3,999 (around $2,330).
Consider Before Buying a BenQ Projector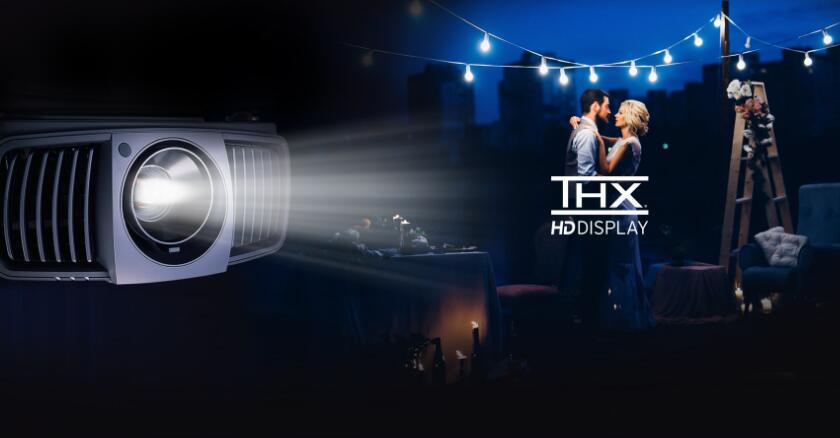 If you care about enjoying your video content in the best quality possible, then you most likely already know that a projector is unbeatable for a truly cinematic experience. However, a great projector is only one piece in a multi-element projection system, as the screen onto which you display makes a world of difference.
Sometimes, after having invested in a top of the line projector, people forego a proper projection screen altogether. Projecting onto a wall or just a white surface has a significant negative impact on image quality. Notably, image contrast, resolution, and color reproduction suffer the most from using a surface not intended for projection.
Screen Style
There are two main styles or core designs of screens: fixed and retractable. The one that suits your needs best depends mostly on the room you intend to use for your projector. Also, retractable screens tend to cost more than fixed ones, which might be a crucial factor to keep in mind.
Fixed Screens
If you have the space available, it is always better to go for a fixed screen. A fixed screen is composed of an aluminum or wooden frame that very tightly holds the screen proper, which in turn is usually made of PVC. This setup offers a very smooth and even projection surface for the lowest price, in part thanks to its simple construction.
Additionally, from an installation point of view, it is easier to integrate. If you can hang a picture frame on a wall, then you already know how to install a fixed frame screen in your media room. Making sure that it is centered and at the right height is enough to have a high quality screen ready for your next viewing session.
The downside to fixed frame screens is their size. To put things into perspective, a 120″ diagonal projection screen is approximately 2.65 meters wide. Such a big screen would look out of place in most living rooms, which means that you most likely need a dedicated media room to avoid your projector setup getting in the way of daily life.
Retractable Screens
If you do not have a dedicated media room, a retractable screen might give you the flexibility needed. This type of screen can be rolled down when you crave some movie enjoyment and then quickly rolled up and out of sight when you're done. You can place such screens in front of any wall or even your already-there TV.
Retractable screens also give you more ways to integrate the screen into your room in an inconspicuous way, hiding it away until ready to use. They come in two main varieties: pull-up and pull-down. Pull-down screens can be wall or ceiling mounted, allowing you to keep the whole screen away from view in a recessed space in the ceiling. Pull-up screens, on the other hand, are usually placed on the floor behind your media center or integrated into a custom-made piece of furniture, magically popping out for movie time.
Either one of these two types of retractable screens work equally well. However, for any retractable screen, there are two additional aspects you should keep in mind.
Screen Size
After deciding the style that suits your media room the best, it's time to choose the right size for your projection screen. While bigger is usually better, the massive size of projector screens presents challenges not commonly found when using TVs that rarely exceed 75″ diagonally.
The price difference between a 100″ and a 120″ projection screen is usually minimal, so you might want to go for the biggest size you can fit on your wall. However, it is advisable to pay attention to a few other factors when choosing an optimal size.
Viewing Distance
Even if your wall is large enough, bigger is better still may not always prove the best strategy. That is because the bigger the screen is, the longer the distance you need to sit away from it to watch comfortably. If your room is not large enough, you might be better off opting for a smaller screen.
To calculate the optimal viewing distance, we have to consider the field of view of the human eye. SMPTE (Society of Motion Picture and Television Engineers) guidelines recommend sitting at a range where the screen fills up a minimum of 30° of your field of vision, while THX recommends 40° for a more cinematic experience. An easy way to calculate this distance is multiplying the screen size by 1.2 for a cinematic viewing distance or 1.6 for standard usage.
If you use the THX guideline, a 120″ projection screen is best viewed from 144 inches or 3.65 meters away while a 100″ screen gives you the best experience when viewed from three meters.
BenQ Projector Reviews 2021:
However, price and specifications only tell half the story. More importantly, how do these projectors perform, and what has ProjectorLeader made of BenQ's latest models? We've reviewed BenQ projectors in a number of price ranges – and you can check out our full thoughts with the links below:
1. BenQ TK700STi (High framerate HDR gaming on your wall)
If you're looking to lay a big load of cash on a projector, you can't go wrong with the BenQ TK700STi. If you're buying it for gaming, then that endorsement is even stronger. This unit supports 4K at 60Hz with an unsurpassed 16ms response time at that resolution, which is as low as response times get in a native 4K projector. If you want up to 120 inches of bright, crystal-clear game on your wall or screen, this sets a new benchmark.
What do those numbers mean in practice? It means a crisp 100 inch image with a smooth frame rate and utterly negligible input lag. With a 3,000 lumens brightness and HDR support – as well as a couple of purpose-suited game modes – the display absolutely sings. With the PS5 and Xbox Series X out in the wild now (albeit, still hard to find), this projector can actually take advantage of the new console generation's performance advantages.
While 60Hz at 4K is impressive, the TK700STi will also support 120Hz so long as you're happy to compromise on a 1080p output, and with three modes in the form of FPS, SPG and RPG, the display can be optimized according to the type of action happening on screen.
What does that mean for watching TV content? Not a great deal: you're getting a brilliant image at 4K, though naturally the 120Hz capabilities, not to mention the low response time, aren't going to make a big difference. This is a projector for someone who wants the best of both worlds, though if you're never going to use it for gaming, and 4K isn't a big deal to you, you can probably settle for something less expensive.
Gorgeous and bright picture
4K at 60Hz, with HDR
Very impressive response rate
No Netflix
Fiddly onboard buttons
Weird Android TV integration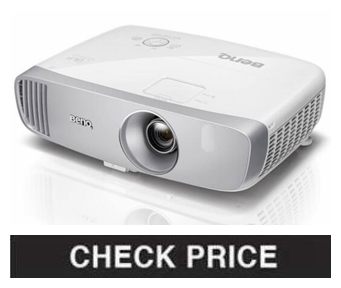 The BenQ HT2050A offers the best image contrast of any sub-$1,000 projector we've tested, and it produces richer, more vibrant colors than many budget DLP projectors. This 1080p projector provides a variety of inputs and is easy to set up thanks to a flexible lens that has both zoom and vertical shift. The 1.3x zoom gives you some wiggle room in how close to the screen you can place the unit, while the vertical lens shift allows you to avoid the keystone effect.
Like most projectors under $1,000, the HT2050A has a built-in speaker; it's not amazing, but it does produce a fuller sound than what most budget projector speakers offer. The HT2050A's biggest drawback is that its single-DLP-chip design can produce a visible rainbow effect for some viewers, but most people either can't see it or won't be bothered by it.
Bright, colorful pictures
Great value for a 100-inch screen
Only average black levels
Best with professional calibration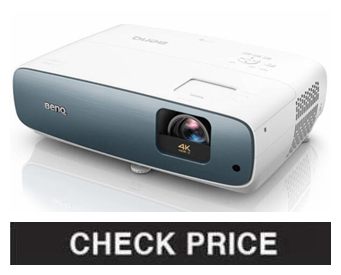 While the TK850i's dynamic iris improves the units contrast, its home theater focused sibling, the BenQ HT3550i, can deliver deeper blacks. However the TK850i is significantly brighter making it a better choice for an average living room. The TK850i delivered bright accurate colors out-of-the-box which made both broadcast and HDR content look great.
The TK850i projector claims 3000 lumens and it will perform remarkably well both in darkened rooms or in rooms with uncontrolled ambient lighting.
One really nice feature to note is that the TK850i supports both HDR10 and HLG HDR. The TK850i features a dynamic iris designed to enhance black-level performance. There's an onboard speaker system featuring two 5-watt speakers that gives the TK850i some decent stand-alone sound capabilities should you choose to use it without plugging into an external sound system.
This is a projector designed to handle the latest and greatest 4K content with HDR. The BenQ TK850i stands out from the DLP pack when it comes to bright accurate color s accuracy and good black levels.
Quick and easy to use
Solid image quality in darker rooms
Useful built-in speaker
Somewhat crude colour
Requires careful light control
Not the sharpest lens
4. BenQ HT3550i (Great 4K color on a budget)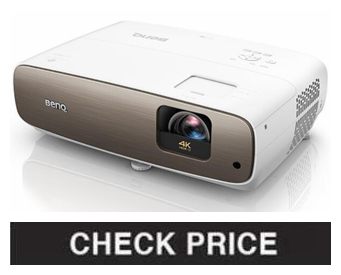 Powered by 4K resolution and the inherent sharpness of DLP, the BenQ HT3550i home theater projector puts up exquisite detail. On a 100-inch screen I saw individual hairs, the specific weaves in fabric and wrinkles galore. It's also one of the most color-accurate projectors I've recently reviewed, with rich and vibrant reds, greens, blues and everything in between. These two aspects of performance make for a pleasingly realistic image.
The HT3550i is a 4K projector, and every bit of that resolution is visible on screen. It's also HDR-compatible, but like all projectors, you shouldn't expect great things.
That lumen rating is really the HT355i's biggest liability. 2,000 lumens is certainly not dim, and even just a few years ago would have been plenty. But in this era of ultrabright projectors, it's well behind. If it had a better contrast ratio this brightness wouldn't be an issue. However, it does not. We'll dive more into why that matters in a moment.
Tidy build
Strong black depth and dark detail
Decent sound system
Colours lack complexity
Mains power only
5. BenQ HT2150ST (Best budget short-throw projector for small rooms)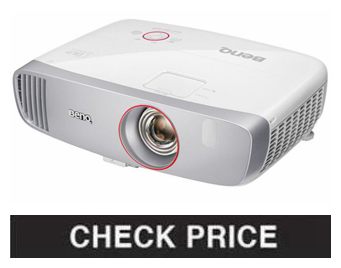 If you don't have the space for a standard projector, or if you want something you can more easily set up and not leave out all the time, you might want a short-throw projector, which needs less space between the lens and the screen. The BenQ HT2150ST can produce a 100-inch image from less than 5 feet away from your wall or screen, which lets it fit into more confined spaces. The lens creates some color fringing that you might notice, and the colors are not as accurate or vivid as those of the BenQ HT2050A, but the HT2150ST still produces a good picture.
The BenQ HT2050A needs to sit 100 to 130 inches from your screen to produce a 100-inch image. By comparison, the HT2150ST can sit two-thirds of the way closer, 36 to 43 inches from the screen. In addition to letting it work in more spaces, this model's ability to sit that close to the wall or screen means people are less likely to walk in front of the lens and cast a shadow on the screen. Being able to set up a 100-inch display without needing a lot of space allows you to get a giant picture where you typically can't.
Realistic colors
Impressive SD and HD upscaling
Easy set-up and controls