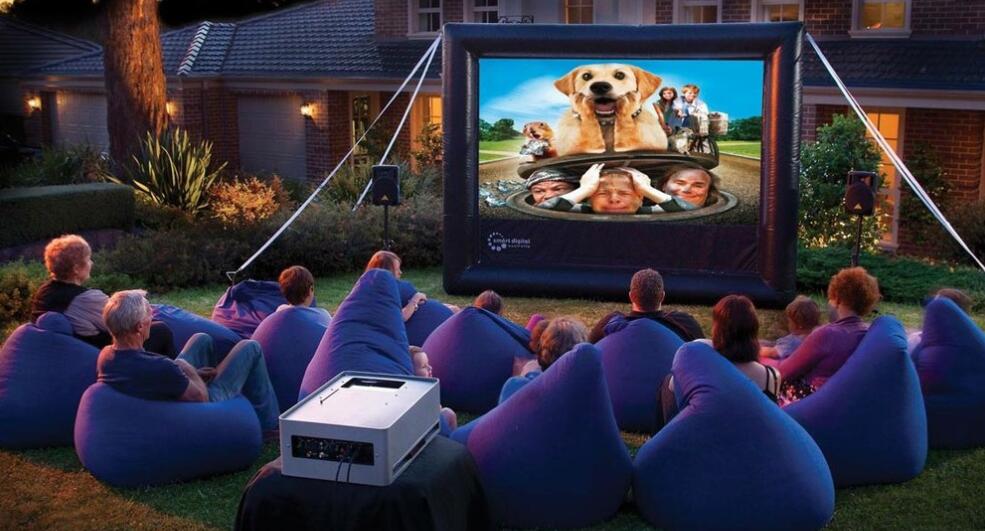 On warm summer evenings, an outdoor projector is perfect for movie nights, BBQs and sports events – with a vast image that is significantly larger than a regular TV. But to get the most out of the experience, you will need a worthy screen.
While it may be tempting to use the garage wall or a white sheet, these are unlikely to result in great picture quality. After all, walls are rarely white enough, and that sheet will probably have creases that will quickly become a distraction.
Luckily, there are a wide variety of outdoor screens available to suit every budget – but hold on before buying the first one you see online. It may seem like a simple decision, but there are a few things to consider before making that purchase.
Benefits of Projection Screens with Stands
A theater-like experience wherever you place the set-up. You get a full-fledged cinematic and immersive gaming experience.
At an educational institution, you increase the attention span of the students. And enrich their learning by using learning AV aids for better retention.
At work board meetings, conference rooms, and marketing kiosks are enhanced by the use of a projector screen with stand. They pull people's attention and convey the intended message.
Sharp images appeal to the eye and the mind. The PVC is covered in various types of materials to maximize the gain and viewing angle. There are coats to enhance the contrast, viewing angle, brightness, and other aspects of the picture quality.
Storage cases As these are portable screens on stands that can be set up anywhere. They require a carrying case that also protects the screen surface. The case protects from dust, dirt, light pollution, and grimy hands.
Why You Need a Good Projection Screen?
Of course, you will get beautiful pictures mostly because of the projector. However, a projection screen plays a major role in making your slides beautiful and clear. In general, most people investing in a projector for the first time will often avoid investing in a screen. The reason is that they wish to save money and decide to project the slides on their walls. Naturally, a good quality screen will add to the cost of a projector setup. Nevertheless, it will play a major role in improving the quality of the picture. In turn, you will experience an overall enjoyment with the right projection screen.
You will come across screens made out of different materials. For instance, when you go for a vinyl screen, it will ensure a smooth-looking picture. Even, some manufacturers apply a special coating on the vinyl. This is done to change how the light of the projector is reflected back at viewers. Now, with these things known, it becomes important to understand the points to consider in shopping for the right projection screen:
Factors to Consider Before Buying a Projection Screen
There are, of course, multiple features to consider when shopping for an outdoor projector screen, but some of the most important of them include size, viewing angles, aspect ratio, ease of installation and materials.
Diagonal size
The size of an outdoor projector screen is not only important for the viewing experience, but also for the space you have available for installation. While size is all about personal preference, many users prefer the largest diagonal size possible, going up to 200 inches, because this offers a truly cinematic experience at home. When choosing the size of your screen, make sure you take into account what your projector is capable of. As a rule of thumb, you should opt for an outdoor projector screen with a diagonal size allows you to get a 16:9 aspect ratio because that is the most common ratio for movies.
Aspect ratio
The aspect ratio of a projector refers to the ratio between its width and height. While most of the standard HDTV movies have a 16:9 aspect ratio, other common formats include 4:3 (XGA & SXGA) and 16:10 (WUXGA). When choosing the aspect ratio, it's important to consider what you want to project. Keep in mind that the 16:9 aspect ratio is the only one supported natively by DVD players and also the standard for HDTV signals and Blu-ray discs. Of course, you can watch 4:3 content on a 16:9 display, but this means that you'll see black bars on the top and bottom, because the content doesn't match the projector's native resolution.
Viewing angle
The optimum viewing angle depends on how far from the screen you want to sit. As a rule of thumb, it is recommended for home theater ranges to be somewhere between 30 to 40 degrees. If you watch at a larger angle, the image may become dimmer and reveal artifacts. Projector screens intended for multiple users have viewing angles that go up to 160 or even 180 degrees, which means everyone who's watching can have an immersive experience.
Gain rating
While it's not always listed for outdoor projector screens – which are often not as tech-savvy as their home theatre counterparts – gain is a measurement used to describe how reflective the screen is. Broadly, a gain rating of 1.0 is standard.
What that means is the screen is able to accurately reflect light from the projector without ruining the brightness of the picture. A gain rating of more than 1.0 suggests the projector provides solid screen brightness, less than 1.0 means the image won't be as bright. In general, aim for a gain rating of at least 1.0 if possible.
Portability
It goes without saying, if you are using a projector screen outdoors or on camping trips; portability is a major factor in your buying decision. Many of the screens on Amazon will come with a carry case and can easily be disassembled – great for storing the screen away when the weather is rubbish or if it needs to be transported in a car.
Best Projector Screen With Stand 2022: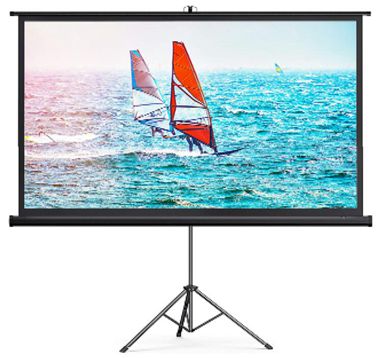 The TaoTronics projector screen comes with a tripod support stand and carrying bag for easy transport, storage, and setup. The screen can be set up and ready to use or rolled up and put back in the case in as little as 2 minutes. Individuals can adjust the height of the screen using the knobs and controls on the back.
This projector screen features three-layer construction. The top layer is a PVC matte white material that is wrinkle-free and resists yellow staining to ensure crisp and clear images. A polyester layer and black back layer also are included to enhance the image quality and keep light from penetrating the screen. This low reflective screen offers a 1:1 gain and 160-degree viewing angle.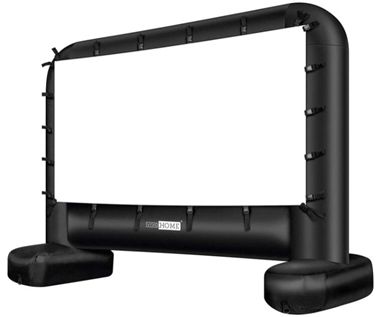 Have a blast with VIVOHOME's blowup projector screen while hosting outdoor movie nights or other outdoor events. This 17-foot screen comes with a fan pump to blow up the screen and keep it inflated while in use. The fan operates quietly so as not to distract from the viewing experience. A storage bag, 250-watt air blower, and yard stakes are included with each set.
This inflatable projector screen is made from a high-quality 210D Oxford cloth that is durable and weather resistant. It features wide feet to ensure stability and straps that can be adjusted to flatten the screen for a smooth projection surface. The screen has a 16:9 aspect ratio and can be used with either front or rear projection.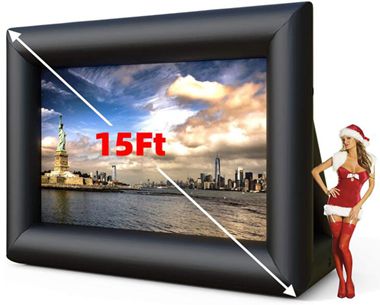 For an outdoor screen that will add entertainment to any party or barbeque, check out the SUNCOO 15ft Inflatable Movie Screen. It's a massive outdoor screen, offering 110 inches in width and 57 inches in height, and a 16:9 aspect ratio. Despite the huge size, it's lighter than you'd expect, at 22 pounds.
Set-up is simple with the included blower and stakes, which keep the screen inflated and secured to the ground. Within minutes, your screen is fully inflated—just make sure you've zipped it shut, or the air won't stay in. The noise from the fan is almost non-existent, so it won't interfere with your movie. The screen itself is made from a durable oxford fabric that can withstand the elements and displays your video clearly.
Another useful feature is that the SUNCOO offers front and rear projection, giving you increased options. If you're looking for something to add excitement to your pool party, birthday, or outdoor gathering, both kids and adults will love the fun of this affordable outdoor screen.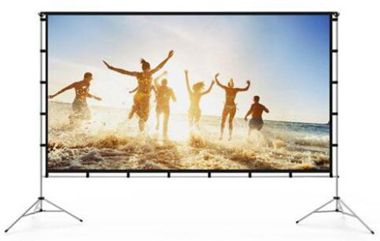 The Vamvo Projector Screen is a top-rated self-supported option, as it comes with a stand that's quick and easy to set up. This movie screen has a 100-inch viewing diagonal, and with its stand assembled, it's 66 inches tall and 91 inches wide. Plus, thanks to the stand's unique tripod design, it takes less than five minutes to fully assemble the whole screen.
This self-supported outdoor movie screen comes with ground stakes, tethers, and a storage bag, and reviewers confirm that it's quick and easy to set up. However, some note that the screen itself isn't wrinkle- or crease-proof, so you may need to iron it before use if you want the clearest picture possible.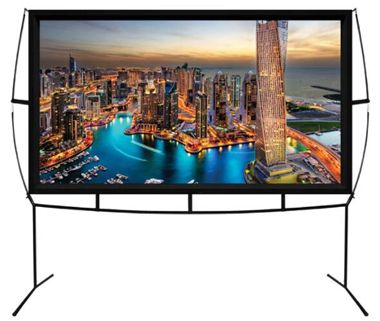 If you're looking for a movie screen that's light enough to travel with, the Khomo Gear Portable Folding Frame Projection Screen weighs around 12 pounds and includes a unique stand that helps to pull the screen taught for a flat projection surface. This product has a 100-inch viewing diagonal, and it measures 84 inches tall with its stand assembled.
The projection surface is 102 x 59 inches, and the fabric is made from oxford nylon reflective material for high-resolution pictures and clear colors. The folding stand is made from lightweight materials, and the frame helps to stretch the projection surface as tightly as possible to prevent any wrinkles or creases. Overall, this screen is portable and convenient, though you may need to weigh it down with some sandbags if it's a particularly windy day.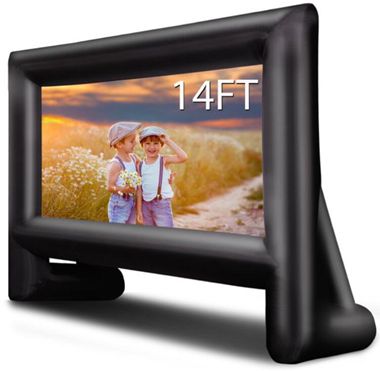 This projector screen by Outtoy makes the list due to its quality and features for a budget price. This inflatable screen is best for fun outdoor gatherings like camping, birthday parties, movie nights, or even wedding parties.
Like the name specifies, it is a 14ft Airblown screen that can be set up in minutes, folded after use and conveniently transported in its storage bag. It is very lightweight, weighing about 7lbs., making it one of the most portable large screens out there.
The inflatable frame comes with a triangular base and ground stakes to keep the screen from falling when there's a strong wind. The screen is anti-crease. It is made with high absorbance material and can be cleaned with a damp cloth when it gathers dust.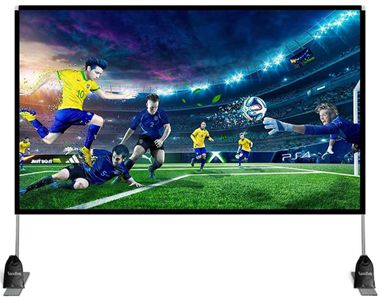 Take your viewing experience to the next level with this projector screen by Abdtech. Highly rated, it offers an aspect ratio of 16:9 backed by a 160° viewing angle. It is a 100-inch model, so you can use it for large commercial activity, backyard movies, or camping.
The standout feature is the one-of-a-kind screen design. This beast touts a three side black border hollow construction for smooth post-insertion. The ripple effect is that the screen remains flat without wrinkles even in windy conditions.
Each unit comes with rust-resistant aluminum stands for quick set up. You also get plastic joints for a tight fit. Meanwhile, the pole's rectangular base ensures that the stand is sturdy. The roll-up mechanism offers secure storage while the 5.7 pounds of weight increases portability.
The display texture is soft and hassle-free to maintain – you can wash and dry if it gets dirty. Reviewers say this projector's images are sharp and clear. Many note that the frame is super easy to assemble, while others like the anchor spikes on the base.
FAQs
Will I be able to use my screen in the middle of the day?
You technically can. However, you really should be using it in an environment that is as dark as you can possibly get it. You'll probably notice that the contrast will diminish in broad daylight.
Are HD and 4K Essential to Consider?
Earlier, it was claimed that a screen is a screen irrespective of whatever you throw at it. However, years later, screen makers have discovered the HD and 4k-optimized surfaces. The reason is that it cannot be stated that a specific screen is ideally reflective as the quality of the surface will have an effect on the resolution of the picture. The unfortunate thing here is that at present there is no particular standard to measure the effect of screen material on its resolution. This makes it hard to differentiate the hype from the true improvement in performance.
What type of paint to use for a projector screen?
Generally, digital projector screen paints serve as the regular paint for the projector's screen, but the color of the paint differs according to the lumens of the device. If your projector has more than 3500 lumens, then gray paint is the finest choice or else white serves as a good option.
Where to buy a projector screen?
E-commerce sites and general electronics serves as the best hub for buying projector screen. However, Amazon is counted as the most excellent possible option as it offers numerous products from different manufacturers and all the products are available with the best deals.
How do I know what size projector screen I need?
There are two main factors that can help determine which projector screen size is right for you. First, measure the wall or area where you plan to place the screen. Aim to leave 3 to 4 feet of space below the screen and 1 foot of space above it. However, in some cases, the maximum-size screen that fits the space may not work with the projector you have. Check the manufacturer's specifications to confirm which screen sizes are compatible with the projector.