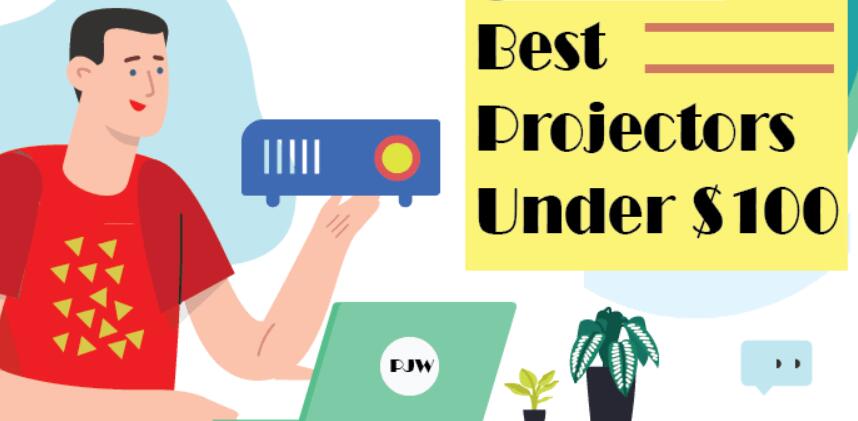 When it comes to watching movies, turning on a weekend football game, or playing video games, not much beats a huge, high-quality display. Thankfully, you don't need to break the bank on expensive and heavy LED televisions – projectors can be used to create a theater-style display in your home at a fraction of the cost. Projector technology has advanced tremendously in recent years, so much so that many are capable of matching the screen size and resolution of top-of-the-line televisions. And best of all, many high-quality projectors are available for less than $100.
Some things to consider when shopping for a projector include brightness, resolution, and portability. If you're watching DVD quality movies, anything at 720p is going to be fine. Higher-quality movies will require a higher resolution. Ambient light is a projector's enemy, so it's important to find one with a higher brightness if you're not going to be in total darkness.
Compatibility is also an essential factor. With inexpensive models, you often need another device to stream from, like your laptop, gaming console, or smartphone. Make sure that your projector will be able to connect to your device. Look for connection compatibility with HDMI, USB, VGA, TF, AV, and TV sticks like Chromecast or Amazon Fire Stick.
Regardless of your needs, we have a projector for you. Of course, in the world of projectors, the word "cheap" is subjective, so they shouldn't strain your home entertainment budget too much. So without further ado, read on for our picks for the projector under $100!
What to expect from $100 projectors
As we hinted at in the introduction, you will have to make a few concessions when you're looking for a projector in this price range. The biggest question you'll have to answer is how bright you need the lamp to be. Many of the options on this list need a completely dark environment to function.
A dark space isn't a problem for some customers. If you're using the projector for backyard night-time movie nights, for example, or if you like watching movies in a theater-like environment, you won't need to worry so much about the brightness.
If you'd rather have some lights on in the room while you're watching, though, you'll probably want to get one of the brighter lamps. None of these projectors will be perfectly visible in sunlight, and most of them will struggle in a well-lit room, but some will handle small amounts of ambient light better than others.
The overall image quality is also going to be a bit weaker with these projectors than what you'd find on a higher-end model. The contrast ratio is generally on the low side, between 1,000:1 and 3,000:1 depending on the model. In practical terms, this means the blacks won't be as deep and the colors aren't going to be as vibrant.
The main factor in the image quality, though, is the native resolution. This is the resolution of the projector itself—in other words, how many pixels are represented in each dimension on the screen. This is different than the supported resolution or maximum resolution, which is the highest content resolution the projector can accept and convert for display.
Whether or not this is an issue for you really depends on what kind of content you want to view. The issue of resolution is one you'll especially want to think about if you plan to use the projector for modern gaming. It's also the main thing that makes these projectors less ideal for workplace presentations and other uses where you'll need to read words on the screen. If you're just watching movies and TV shows, though, the lower resolution on these projectors likely won't prove an issue.
Things to Consider
When it comes to choosing a projector under $100, there are some criteria that you need to consider. If you choose wisely, it will not only serve you for an extended period but will also provide a top-notch visual quality.
Brightness
When it comes to projectors and brightness, the brighter a projector is, the better it will be at projecting in environments with more ambient light or from longer distances. If you plan on projecting close to the screen or wall and in dark environments, then brightness may not matter as much, but for those who want an even moderately versatile projector, brightness will be important.
Brightness in a projector is measured in lumens. The higher the number of lumens, the brighter the projector is. So what does that mean? Well, for a home projector that will be used in dark environments, you might be able to get away with as little as 1,000 lumens. Brighter projectors, however, will be much more suited to environments with some ambient light. With a larger room or one with more ambient light, you'll want something closer to the 2,000-lumen range, while really large or bright rooms might need even more than that. For basic use, we recommend something close to the 1,500-lumen range.
Resolution
Every projector has a resolution that it can reach, and it's a resolution that will determine the size of a display and sometimes even aspect ratio. The higher the resolution is – the more pixels are used to generate the image, meaning the image will be more clear and crisp. Therefore, getting a projector with a high resolution is important to get all details displayed correctly and generally have a satisfying image.
Lens Zoom
Projectors thankfully aren't made to sit a set distance from the screen you're projecting onto. Instead, they can zoom in and out a little to accommodate a range of distances. The lens zoom essentially allows you to adjust the size of the image (within reason), meaning that a great projector can be useful for smaller TV-sized projections, or much larger projections when needed. The bigger the lens zoom, the bigger you can make an image.
Contrast Ratio
The contrast ratio is the projector's ability to display dark and light and black and white on the screen. The higher the contrast ratio, the more clearly you will see shadows and bright lighting in your content.
The contrast ratio will look something like this — 3000:1. The first figure refers to the brightness and the second figure pertains to the black. So if you have a projector with a contrast of 3000:1, the lightest part on the screen is 3000x brighter than the blackest. You want to have higher contrast in your content to have more vivid colors in between the white and black.
Screen Size
A lot of people prefer watching movies outdoors where there are no screens. So what size would work best? The answer varies depending on who you are asking because some want larger spaces than others while still providing an enjoyable experience.
Inputs And Outputs
Regardless of the type of projector you get, you'll need a way to connect your computer, phone, speakers, and other devices to it—and that's where inputs and outputs come in. There are a few types of inputs and outputs commonly used on projectors. Here's a quick rundown of them:
HDMI ports are the most common input for projectors and TVs these days, which are a super high-quality standard that combines both video and multi-channel audio into one.
DVI is another popular, though slightly less common, port that exists in a few different versions. There's the digital DVI-D port, the analog DVI-A, and the hybrid DVI-I port that transfers both digital and analog signals.
Composite is a little less common these days, but can still be found on many projectors. Composite splits up a signal into one video connector, which is yellow, and two audio connectors for left and right channels.
VGA is another common analog connector that has become slightly less popular in recent years. VGA connectors are a little large and unwieldy, but if you're using a computer that has a VGA connection, another VGA connection on the projector can come in handy.
3.5mm is a connector that's only used for audio—so if you have a set of speakers or a sound system that you want to use with your projector, a 3.5mm connector could come in handy.
Wi-Fi is very popular when it comes to streaming content to projectors rather than having to use physical cables. Wi-Fi connections are usually used in conjunction with an app, or sometimes smart projectors simply stream content from the internet.
Our Top Picks:
Imagine watching your favorite movie in the comfort of your own home, but without all the expensive equipment. A projector makes this possible! You can now have a theater-style experience at home that was once only reserved for those with deep pockets and high budgets.
But the good news is that there are affordable models of projectors to fit any budget. In this article, we'll go over 10 of the best cheap projectors under 100, all with excellent reviews.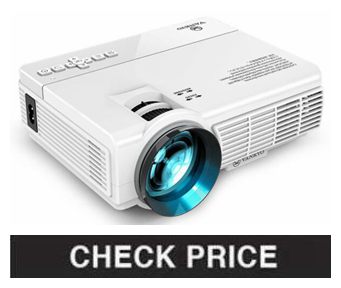 If you have a look at everything VANKYO LEISURE 3 projector offers, you'll see that it's the best cheap projector you will be able to find under $100. It's upgraded with a Mstar Advanced Color Engine that makes it 60% brighter than any ordinary projector.
In combination with a 2000:1 contrast ratio, this projector supports 1080p HD resolutions that result in a very bright and colorful performance. Whatever your reason for a new projector is, it's most likely that VANKYO LEISURE 3 will fit your needs.
It's very simple to project the image, making it up to 10x larger. It's only necessary to plug in the device which can be a TV stick, HDMI input, or even PlayStation console and the image will be enlarged and presented straight away.
What's really useful is the size and weight of this projector which makes it easy to transport. With the VANKYO LEISURE 3 projector, you'll also receive a carrying bag and a tripod which is very useful for keeping the image steady.
Best projector under $100
Easily portable
Stays cool for hours
Very quiet during use
3-year warranty
The light bulb isn't bright enough for watching in the light
The power cord is a bit short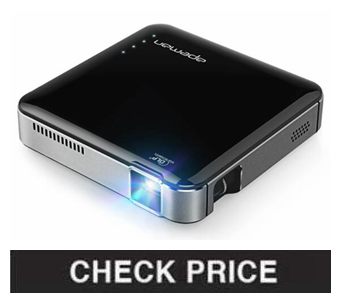 With 3,800 lumens, the APEMAN mini projector is bright enough to use indoors or out. The budget-friendly projector supports 1080p HD support for clear picture quality, and can project a screen size up to 180 inches. It has a recommended projection distance between 5 and 8 feet. The dual built-in speaker provides loud sound, but you also have the option of connecting your external speakers too.
You can connect this projector to HDMI, VGA, USB, Micro SD, RCA AV inputs to stream from PC, laptops, game consoles, or even smartphones with a lightning to HDMI adapter. It's compatible with Fire TV Stick and Chromecast, too. It's a great choice for basic movie-watching in a variety of settings.
The very bright projection color
Quality dual stereo speakers
Long lasting bulb life
Support 1080P full HD
Upgraded LCD display technology with an LED light source
Great value for the price
It doesn't have an autofocus function
The cord is on a short side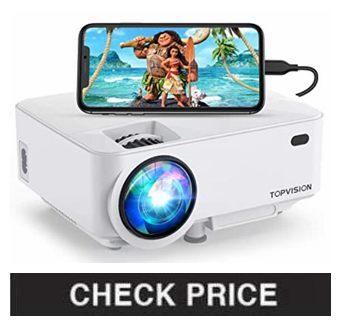 Consuming media on your phone is great, but consuming it on a larger screen is so much better. The TopVision T21 is designed to plug into your iOS or Android phone and project the screen so it's even larger. It costs less than $100, weighs just 2.5 pounds, and can project a screen size of up to 176 inches. That projection will be at 1080p and 3,600 lumens, which is really bright for a projector.
All you need to do is plug your smartphone into the USB-A plug on the side. From there, you can project anything that is on your phone screen, but there is a limitation. You cannot project Netflix, Hulu, or Amazon Prime videos due to copyright restrictions. You can project those from a laptop, but not your phone. Some get around that limitation by plugging a TV dongle like a Firestick into the HDMI port.
Where this projector really shines is in gaming. You can project your game screen onto the screen for a blown-up gaming experience. The projector can play even in brightly lit game rooms, and when you can game on a screen that's 176 inches, it becomes a pretty fun and intense gaming experience.
Highly portable
Very bright
Supports iOS and Android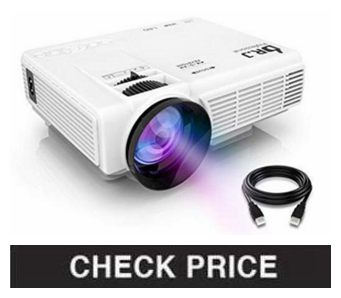 The Dr. professional Hi-04 is a fantastic projector and will be a smart choice for home theater entertainment—whether it is your indoor or outdoor, it won't disappoint you.
Those who don't know should know that Dr. J Hi-04 is an upgraded model with an improved contrast ratio and brightness. Plus, you don't need to buy a projector screen separately, as a 100 inches screen is included in the box.
When it comes to the resolution of the projector, you will be surprised to know that it supports full HD 1920×1080 with aspect ratios 4:3 and 16:9. It s native resolution is 1280×720, which is impressive by any mini projector.
With an improved and enhanced contrast, it offers a 3800:1 contrast ratio. So without a doubt, it is going to be a vivid quality with true color accuracy on your projector screen.
Very portable and offers a wide range of connectivity options
Excellent picture quality with a five-layer LCD lens display
It is silent—using an advanced Fan cooling system, and looks fabulous in white color
A 3-year warranty and a 100% money-back guarantee
The built-in stereo speaker is not up to the mark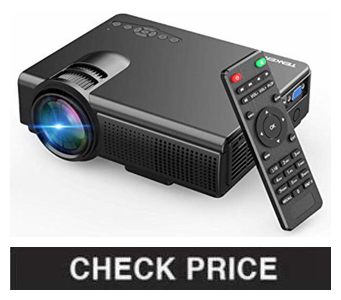 TENKER Q5 is great for watching movies. It will provide you with a great home use experience. Please note, as this is a home entertainment projector, we do not recommend it for pots or business presentations.
The native resolution of the model is 800*480 pixels, and the supported resolution is 1920*1080 pixels. You can enjoy your favorite movies on a screen size from 32 to 176 inches with a projection distance of 5-15 feet.
The projector is equipped with a modern speaker system that makes the sound 50% louder than the previous version of the projector.
The innovative TENKER cooling system provides tremendous heat dissipation – your projector will never overheat. In addition, the volume of the fan has been reduced by half – this will allow less distraction when watching movies or games.
Overall, the Tenker Q5 is an ideal purchase for your home that does not require significant costs. Optimal brightness (2,200 lumens) and contrast (2,000:1) of the projector will allow you to enjoy watching movies, and the absence of noise from the fan will not distract from watching your favorite TV series.
High level of illumination
Noise reduction
Compact size
HDMI cable is not included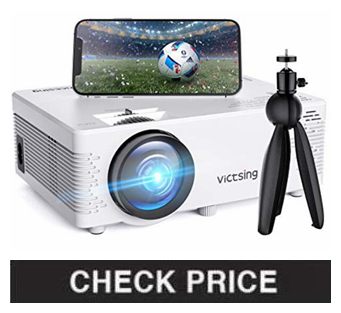 VicTsing BH400 Wifi & Bluetooth mini projector is a combination of high quality, convenience and price. This model is equipped with a Wifi & Bluetooth adapter that allows you to pair with both IOS and Android. This feature allows you to transfer images or videos directly from your laptop, smartphone, or tablet, without using multiple cables.
At the same time, the presence of VGA/USB/HDMI/AV/SD/Audio Out ports makes it possible to connect to PCs, monitors, game consoles, and DVD players. Thanks to Bluetooth, the device can be connected to wireless headphones for silent viewing of a movie or video.
The updated filling of the device gives a high-quality image: figures and objects have high definition, which is provided by a contrast of 2,000:1. a Powerful lamp (4,200 Lux), provides a bright projection picture, and 1080 pixels with a Full HD resolution provide high image quality. Projection distance 3.2-16 feet. The device works silently, thanks to a good cooling system, which, by the way, extends the life of the lamp (up to 40,000 hours).
Powerful cooling system
Long lamp life
Portability
Availability of a tripod
Ability to connect to different devices
Built-in Wi-Fi & Bluetooth adapter
No battery
Not suitable for business presentations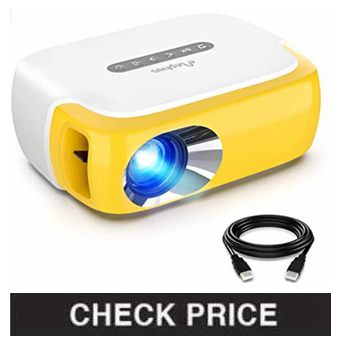 This ELEPHAS Mini Projector model gives users convenience like no other mini projectors because it's compatible with your smartphone. You can go from turning on the device to watching movies in a matter of minutes, thanks to the Wi-Fi connection. Even if you are not in an environment with Wi-Fi, the projector can still connect to your phone with a cable.
The visual effects and parameters of this specific projector are amazing. It has a native resolution of Full HD 1080p and vivid color due to the true 24-bit color support.
The screen size can reach 200 inches, and the in-built speaker will accompany the incredible images with sound.
Full HD resolution
Wi-Fi
Compatible with your smartphone
200-inch maximum screen size
Best color support in budget projectors
Built-in speaker
Noise reduction technology
Does not directly support Netflix
Must use an additional device such as the Fire TV stick for streaming platforms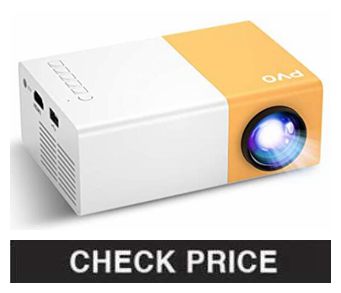 PVO is another famous name in the budget circuit that has impressed thousands of customers with its visual quality at an affordable rate. Many consider it as one of the best home projectors under 100 dollars as it adopts modern 4.0 LCD display technology with an advanced LED light source.
With 4500 lumens of brightness and 2000:1 contrast ratio, the projector takes care of clarity and vividness of the image even when you play it in outdoor areas. Once you buy this projector, you are entitled to a spectacular movie experience, and it has been made possible by its full HD playing capability. For playing your content, you can utilize the HDMI, USB, VGA, AV, RCA, and micro SD to connect any content source or media player.
With an updated cooling system, you can enjoy your movies for a long time without requiring to switch off the projector after every 2-hrs. Importantly it comes loaded with inbuilt dual speakers that offer decent audio quality, but it fails to deliver in front of a large crowd.
The maximum screen size you can achieve with this projector is 180inch, and it is quite sufficient for any crowd. It might not excel much in the audio department, but it compensates with its incredible 45000 lamp longevity that promises a smooth run for a decade.
Easy and quiet operation
Vivid and sharp visual quality
Decent amount of connection options
Short cables
The audio quality isn't that great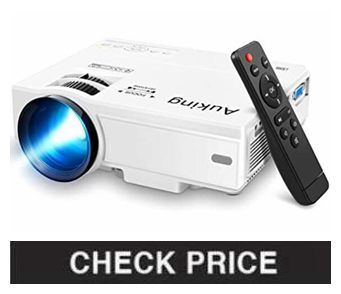 We often judge products based on their brand name, but it would be unwise to do the same with AuKing as it offers top-notch performance and numerous facilities. One of the major highlights of this projector is 55000hour of LED lamp life that makes sure you can use this projector for decades without lamp replacement.
However, it is the 1080p resolution support and 2600 lumens that impress everyone because together, they deliver a visual quality you can't expect in this price range. The 2000:1 contrast ratio adds to the overall visual quality and ensures top-notch clarity in every image. However, in terms of color quality, it won't impress you much, but it does a decent job by maintaining the overall picture quality.
If you are getting this one of the best mini projectors under 100 dollars for big-screen movie time, then it would be ideal. It treats you with a massive screen size of 32-170inches and throws distance of 3-12ft, which we think is more than sufficient for home entertainment.
Engineered with a Hi-Fi level speaker, you can easily watch movies or play games without frowning on the audio output. Whether you want to connect your PC, PS4, or smartphone, you can hook everything with the help of HDMI, VGA, AV, USB, SD card, and audio 3.5mm port. The most interesting part is that it gets 2-years 100% money-back guarantee that you won't find in its rivals.
Excellent image quality
Totally budget-friendly
Decent audio output for two people
The colors could have been better
Lacks the zoom knob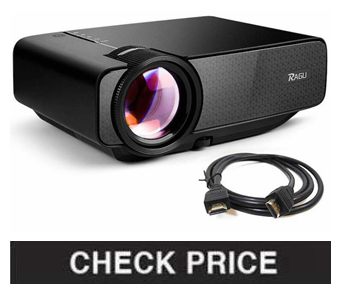 If the main thing you're looking for is quality, even though you might have to sacrifice a few features, then RAGU Z400 might be the right projector for you.
Other than its quality build, RAGU guarantees the lamp will work for about 50,000 hours since the latest LED technology has been used to extend the lifespan as much as possible. This projector is even covered with a 1-year warranty.
Considering the price, RAGU Z400 projector is definitely made to last and its quality shouldn't be mistaken when comparing prices.
We would also like to mention that Z400 is a 2019 upgrade, and when it comes down to the image, this projector is now able to present 85% brighter image than its previous version and other projectors within the price range.
One of the many features we liked is the 180″ visual display that combines really well with the 1080p full HD resolution. No matter how large your displayed projection is, you'll never deal with a pixelated image.
1080P full HD image
+85% brightness
-90% noise
Upgraded NTSC and clarity
Durable & long-lasting build quality
Features only single leveling foot which isn't very convenient for most uneven surfaces
Features only one HDMI port
FAQs
Here are some of the answers to the most common questions people ask before purchasing a projector. This will help you learn more and stop doubting anything, making your purchase a confident one.
How are projector screens measured?
​Projector's display image is measured as every other TV or computer monitor screen, which is the length measured from the top left corner to the bottom right right screen of the corner. This is a diagonal screen size listed in inches and it can be seen in the specifications of every projector.
Can I use a mini projector outdoors or does it work indoors only?
These mini projectors work well in any dark environment (indoor or outdoor), all they need is a surface to project on. However, some mini projectors can also work well in dim light.
Will projector work in daylight?
Yes, projectors work in daylight, but it doesn't provide much clarity. However, a projector that has a high number of lumens and contrast ratio can produce excellent clarity and sharpness.
What is the price of a cheap projector?
We really cannot predict the actual amount of a cheap projector because most of them come with decent features for their price. For example, for a $100 projector, you can find several features that are present on a $500 product.
Typically, they are priced at $60 to $4000, and more. Depending on your budget and requirements, more importantly, you would want to consider it. So, as you can see, projectors that are priced below $500 can be called cheap.
How long does the lamp last on a cheap projector?
Many buyers have the misconception that when they are going for a projector under $100, then they won't get great lamp longevity. But in reality, it is totally different, and nowadays, most of the budget projectors can live up to 30000hours with ease. If you are looking for longevity, then you shouldn't settle for a projector below 10000hours.
Conclusion
Projector technology has come a long way in the past few years, making it a visually comparable but far more affordable option than buying a new Smart TV. And while expensive projectors are out there, we feel that you can get terrific video quality from a number of projectors that sell for under $100. Our round-up and buying guide give you everything you need to know to make an informed decision about which of the many inexpensive projectors on the market is right for your needs.