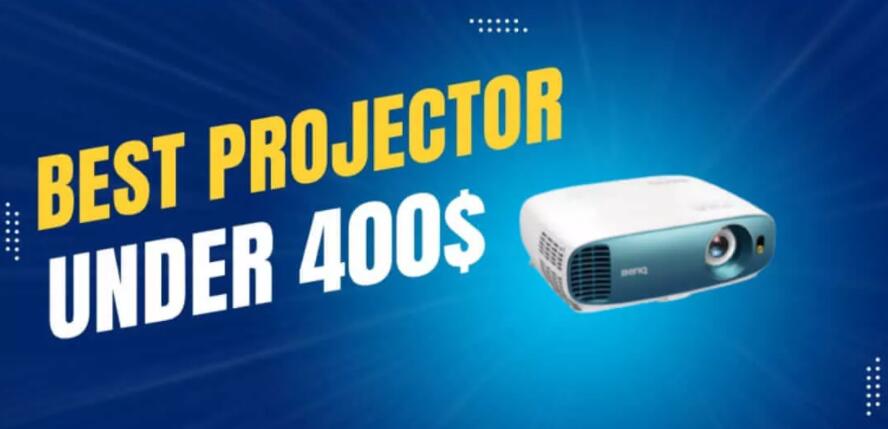 For a product to be considered the best projector under $400, it needs to have more than an attractive price tag. Some of you are just so happy to find an affordable projector that you forget to check other attributes that would make the invention an ideal purchase. This is a mistake you can avoid by simply reading the write up below.
Choosing the best projector is a challenging task as the market is filled with a plethora of projectors by various brands. Plus, there are a lot of factors that you should look for in a projector, so without proper information, it's suggested not to make a purchase.
Keeping this thing in mind, I have crafted this list of the best projector under $400 to help you choose the right projector for your needs. I have performed extensive research to craft this article to only present you with the top-performing projectors under $400.
Why should you buy a 400 dollar projector?
The 400 dollar range serves as a sweet spot when it comes to buying a projector, especially when you are getting it for the first time. This price range gives you the option to experience high-quality visuals at an affordable rate. Not everyone has the liberty to splurge a huge amount of money on projectors for entertainment or business presentation, so this price range serves as a good base.
Another great thing about projectors in this range is that they give you all the necessary features so that you can have an outstanding visual experience without compromising on anything. If you don't have the budget to afford a large-screen smart TV, then a projector under 400 dollars would serve as a good alternative. You will have the option of playing all contents from the OTT platform on a large screen but without spending thousands of dollars.
Since most of the devices get long lamp hours so they will last for at least 5years even if you use it for eight hours on a daily basis. However, you won't get the same if you invest in a TV under the 400 dollar price mark as they get poor build quality as well as low-quality hardware.
You will be surprised by the fact that some of the projectors even get portability features where they facilitate you to take it almost anywhere. An ample amount of connectivity is another added advantage, and the type of ports you will find in this range is nearly similar to that of projectors around $1000.
What to consider before buying a projector under 400
While discussing the best projectors under 400$, home theater projectors play an essential part in a wall's cinematic look. The image they generate is even larger than the TV. If you choose a high-quality projector, you can enjoy a great viewing experience of your favorite shows and movies.
Lumen
People mistakenly believe that a projector with a higher lumen output ensures excellent image quality, but this is absolutely wrong. High brightness often leads to bad image quality. You should select brightness depending on your location and goals. To watch movies at home, you need up to 2000 ANSI lumens to get an accurate and bright image. Although, to get the same result outside, you should buy a projector with more than 3000 ANSI lumens, as there will be an abundance of bright natural light. If you are going to purchase a projector for business needs or to place in the audience, we recommend you stick to 3500 ANSI lumens or higher, as you probably won't use it in a dark room.
Resolution
The best projectors under 400 dollars can't offer you a screen resolution better than Full HD, but even this is enough for most needs. The native HD and 800p resolutions are the most wide-spread option you can find in this price range. Nevertheless, almost all the projectors offer Full HD support, so you won't have problems with watching your favorite movie in high resolution.
Screen Size And Throw Distance
If you are going to use a projector for watching movies outdoors, or delivering presentations, you need a screen size of 30-300 or 400 inches. Although if a projector is supposed to be used indoors, the maximum screen size of 150 inches will be good enough. On the other hand, you should consider the projection ratio depending on the space you have. For a small-sized apartment or a conference hall, it would be reasonable to get a projector with an ultra-short or short-throw lens, as they can reach 100 feet from a distance of 4-7 feet. Still, for outdoor environments, you can use a standard projector until you have a real problem with space.
Lamp Service Life
Durability is a crucial characteristic of any projector, and the service life of the lamp is one of the factors that affect it. Even the best projectors under 400 dollars can't offer a large service life of the lamp. The maximum you can get is up to 20000 hours.
Connectivity
You might notice that most of the projectors come with multiple connectivity options such as HDMI (standard connectivity), Bluetooth, VGA, and RCA connectors. So, make sure your projector is packed with these inputs. However, if you connect your projector wirelessly, then you might not get the best picture quality as we get via HDMI. And when it comes to home theater, the RCA connectors become a very necessary feature. So choose a projector as per your needs.
Our Top Picks
This list is based on many expert projector review site ratings, Amazon customer reviews and projectors price in between $300 to $400.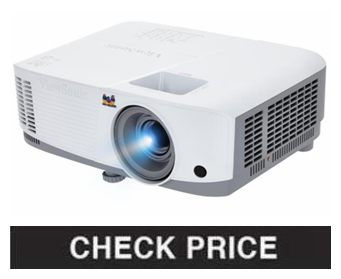 This powerful beauty won`t leave you disappointed. It has everything you would ever need. The versatile projector will give you advanced visual features, which is ideal for use both in education and small business environments. Big screen projection, which provides projecting in 120 inches from 15-feet 8-inches in 3800 lumens, will let your project whatever you want from different distances.
With simple setup and control, everything that is entirely up to you is just plugging in and playing your presentations, videos, or pictures. The long-life lamp will serve you for 15 000 hours, which is more than a year and a half. This technical miracle also supports most media players, PCs, Macs, and mobile devices with input options such as HDMI, VGA, and more. HDTV Compatibility is also quite wide.
ViewSonic can show pictures in: 480i, 480p, 576i, 576p, 720p, 1080i, 1080p. Supporting different video compatibilities such as NTSC, PAL, SECAM, you will be able to share almost everything. XGA+ Wide resolution means that you`ll be able to watch your files in 1280×800, in simple words it implies that you`ll get amazing color accuracy. What about price? As promised, it is less than 400$, 380$ actually, quite affordable, isn't it? And I would even say that it is the best home projector under 400.
So, ViewSonic 3600 Lumens WXGA, is at the top of this list, not just because of price or pretty design. For such an affordable price, you won't find another projector with similar technical characteristics.
Bright WXGA projector – 3800 ANSI lumens
16:10 Aspect Ratio
Lamp life continues up to 15000 hours
Lightweight and portable
All cables and remote control are in the box
3D Blu-ray Ready HDMI Input
Due to powerful fan, it can make some noise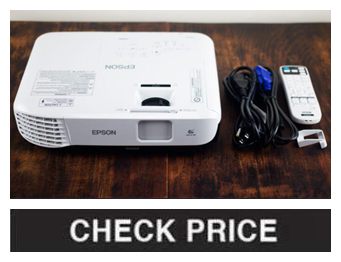 If you need SVGA data for school or business, Epson VS240 SVGA 3LCD Projector is the one you should get.
It is the best church projector to be considered. Relating to its price, it becomes evident how it doesn't have an optical zoom. It also doesn't have the 3D capacity as it is an LCD model.
This best projector under 400 has a low running cost because it has a long lamp life, with a concrete range of ports. It can be used in a midsize or small classroom or conference room as it shows good quality images and videos with good brightness.
This VS240, the best projector under 400, has rounded corners with a black and white structure. By dimensions, it is 3.2 by 11.9 by 9.2 inches (HWD) and 5.3 pounds in weight. That makes it portable even though it doesn't have a carrying case. It has a slider for horizontal keystone correction, making it the best projector for horizontal keystone.
Epson VS240 SVGA 3LCD Projector works best as an SVGA data projector for a business or a school, defending its price.
It cannot compete with the image quality of Epson EX3240 as picked by Editors. It has a weaker sound system and is slightly dimmer. Even if it is not preferred as an SVGA data projector, Epson VS240 can be used for simple presentations for its average image quality and low price.
Digital Zoom
Mac compatible
Supports HDMI
No external jack for outdoor speakers
Low resolutions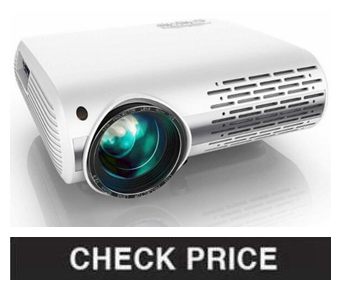 YABER projector can be referred to as the best versatile home theater projector because of diversified options for image clarity and projection. The final image produced is of high quality with appropriate sharpness and adjustment.
This projector can easily adjust the picture as per user demand due to the auto-keystone correction function. Also, the motorized zoom facility will enable you to focus on the specific area you like. Hence, the change in size won't be a hassle anymore.
The reason for standing out is the versatility of the projector. It can be regarded as the best 1080p projector under 400$ that will serve the best due to LED technology. Due to multiple connectivity options, you can easily mirror the image through your phone, laptop, or PC. Hence, a versatile projector at an affordable price.
Perfect picture accuracy due to color matching algorithm
Various connectivity options
Do not put a strain on eyes
A bright, sharp, and clear final image due to high resolution
Vertical and horizontal keystone correction for picture adjustment
No function of optical zoom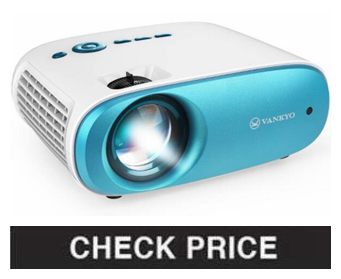 VANKYO multimedia projector can be included among the best projectors for under 400$ because of its capability to act as a home theater and multimedia projector. With a 15-degree keystone correction and sharp image, it projects a bright image on the screen.
In an affordable price range, the projector provides high-quality Hifi speakers and the capability to connect with the ones of your choice. It helps in ensuring high-quality sound. Also, the dual cooling fan won't allow the issue of heating and noise.
The reason for standing out is the multiple connectivity options that make it best for presentations at college or other places. Through a VGA adapter, you can even connect it with your phone. Also, other options make it easy to use with PC, laptops, and gaming purposes.
Ideal for multimedia projection and home entertainment (2 in 1 projector)
High supported resolution
Sharp and clear image
Adjustable screen size
Affordable price range
Not suitable for conference halls and large areas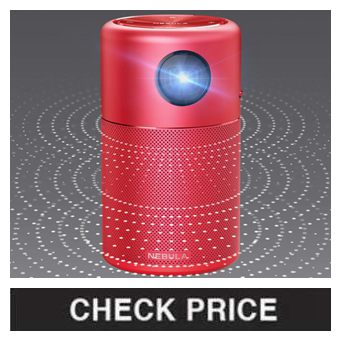 Pico projectors, also called pocket projectors, serve for outdoor use. Being portable, you can carry them anywhere, either on camping or to the office. Their ANSI lumens are usually less, making them acceptable for small tasks.
Anker projector is another excellent addition among the best projectors under 400$ because of its ability to carry easily. This brightness is not up to par with traditional projectors but is excellent for small spaces and dim lights.
It is convenient to use through the touch panel. Also, the audio output is significant to use for large groups. Furthermore, you can download its app and easily connect it with your phone and use various applications.
The reason for standing out is the portability it provides. You can quickly drop it in your bag or any large pocket carrying it to the place of use. Also, you can make a setup outdoor to enjoy your favorite movie or game.
Best for home entertainment
Multiple connectivity options
YouTube, Netflix, Hulu streaming options
Easy to carry
Budget-friendly
Not suitable for large spaces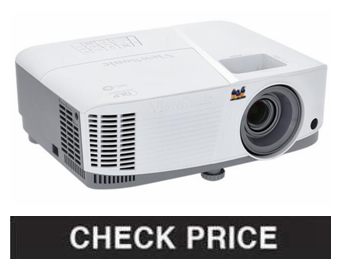 This is an excellent gadget for both personal and professional use. It has all kinds of features you look for in a projector. This 2.2 kg projector has a quick power-off feature that allows you to quickly power it off and put it in your bag without waiting for it to cool down. Its dimensions are 11.6″ x 8.6″ x 4.3″.
You can project an image scaling up to 120 inches from a distance of 15 and a half feet. With 3600 lumens and 1280×800 WXGA native resolution, the image will shine in a pretty bright room.
The device can accept input from digital high definition sources such as Blu-ray, HD satellite or HD cables. This ability comes from the HDMI inputs which also allows 3D projections. You can view 3D with ViewSonic PGD350 Shutter Glasses or any regular 3D glasses.
The VGA inputs and outputs of the projector enable it to interact with analog devices which will give you the ability to connect multiple devices displaying the same projection. It also has an analog audio input and output, and a composite video input interface.
The 1.7:1 throw ratio makes the projector manageable in big rooms. There is a built-in speaker in the projector. You will get a power cable, VGA cable and a remote in the box.
Accepts full HD (1920×1080)
SuperEco mode extends lamp life
Minimum 16ms input latency
15,000-hour lamp life
Super color technology with a 6-segment color wheel
Defaults to 800×600 resolution
You might need an extra speaker
7. Optoma S334e – Best DLP Projector Under $400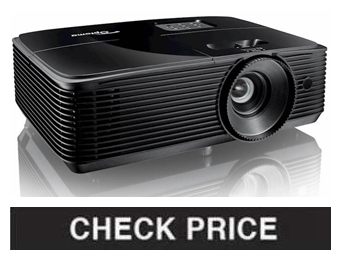 The Optoma S334e is the second DLP option listed, which also features impressive brightness. However, in comparison to the ViewSonic PA503W, it falls short where resolution is concerned. As such, use in classrooms and offices is preferred.
For the audio part of your presentation, you have a 10W inbuilt speaker. Also notable is the 15000 lamp hour life of the tool. Depending on how you use it, the device can even last ten years.
While not as compact as the Anker Nebula Capsule D4111111, this projector weighs only 7 pounds and will be relatively easy to carry around. Installing it in class is also a breeze, and the process should take less than three minutes.
This projector has a relatively small build and is lightweight. Controls are easy to figure out, with a vertical keystone correction being the only thing you have to worry about. The 10W speaker and the multiple connectivity options will definitely prove useful to buyers.
Connectivity at its best
Brightness visuals on screen
Easy to carry out
Adequate battery performance
Performance goes downward where ambient light interfere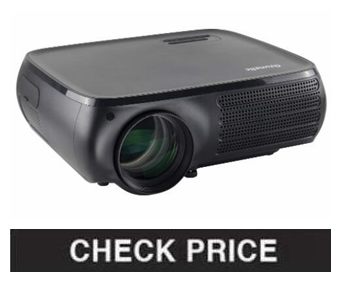 Gzunelic is the projector that was designed solely for entertainment purposes, but the features are making it capable to be used for other purposes as well.
More importantly, for which this projector got the spot in our list the ability to satisfy the user in every area. Indeed, we failed to find out any prominent or performance-related aspect, where this projector is lacking.
For serving you with the quality images video's graphics, without causing any delay, manufacturers have packed it with 5500 Lumens which is 50% more efficient than the rest of the similarly priced projectors.
In fact, the brightness is enough stronger that you will be able to use it even in daylight without witnessing any decline in the quality and clarity. Moreover, the lens is also coated with 5 layers of transparency for setting it different from other projectors.
There is nothing that goes against this projector from every aspect, we would recommend you to consider it as the top priority if you are on the specific budget as everything including quality projection, optical lens, keystone correction, better connectivity, and built-in audible sound could be found in this single projector. More interestingly does not cost you like premium projectors, even after offering you almost identical features.
Brighter screening experience
Can turn a room into a theater with extraordinary projection
Exceptional LED lamps
Keystone correction
Compatible with a range of devices
Connecting external speakers is tricky
FAQs
Here's a list of some of the important questions you must know before buying any projector in 2021 and beyond.
Can I Use My Projector For Watching TV Shows?
Yes, you can use the projector for viewing your favorite shows on your TV. Also, TV tends to have harmful effects on your eyes, unlike the projectors.
How Many Years Will My Projector Last?
Any gadget tends to last depending on the user's activity and care. In general, projector bulbs can have a life till 2000 hours. But the products reviewed here offer you a much more increased life span till 10,000 hours as well.
Can I expect high-end display technology from a $400 projector?
Since there're different types of display technologies, I'll discuss only what fits your budget. Around $400, we have two display options, such as DLP and LCD.
DLP is known as digital light processing, while LCD stands for liquid crystal display. A DLP projector use a wheel (sort of spinning color wheel) to project images. Some of the significant advantages of buying DLP projectors are 3D capabilities, higher contrast, more compact, and light-weight. However, you've to spend more on a DLP projector than an LCD projector. Plus, you might see a rainbow effect (sometimes) because these types of projectors use micromirrors.
On the other hand, you have an LCD that offers sharper images with exact colors. Unlike DLP projectors, these types of projectors have no moving parts. Therefore, LCD is cheap compared to DLP. However, it also has some disadvantages like 3D capability, bulkiness, and lower contrast.
What brightness do I need?
Projectors can be used both indoors and outdoors, in daylight, and at night. And brightness is a characteristic that tells you about the amount of light the device can project onto different surfaces. When this amount is higher, the image you get will be brighter. Basically, this feature is measured in lumens.
So when it comes to choosing brightness you should decide when you will use your projector more often. If you want your projector to successfully compete with a sun light in a midnight, you`ll need at least 4,500 Lumens in brightness characteristic. If at night – with 3,000 Lumens the picture will be bright enough for comfortable viewing. Honestly, every projector from our best home projector under 400 is powerful enough to show you a bright picture both in daylight or at night.