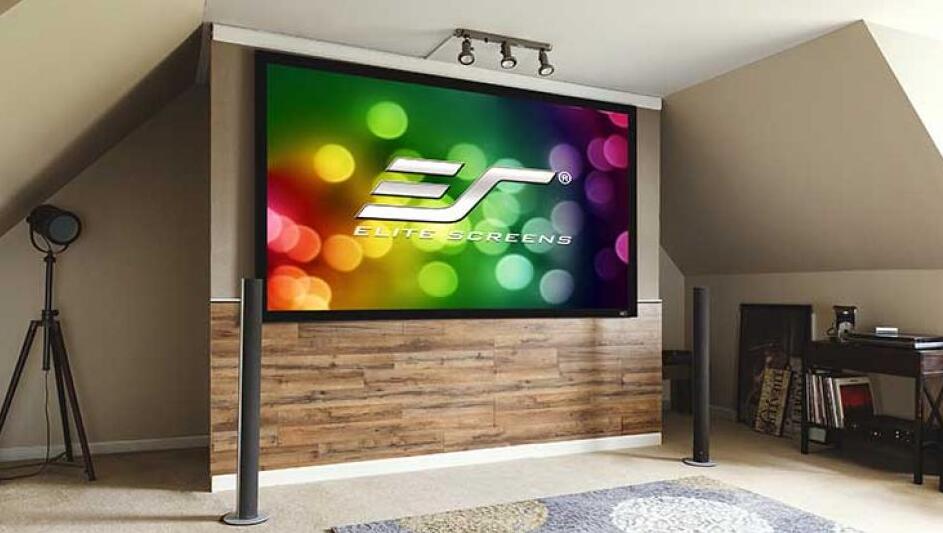 Every cinema, tv and sports enthusiast craves that big screen experience. There's just nothing as awe inspiring as experiencing media on a 120 inch projector screen in beautiful hi-def 4K resolution right in your own home.
Up until a year or two ago your options were limited to a flatscreen TV that topped out at 80 inches or a home theater projector in a dedicated dark room with lots of space to display such a large image.
Thanks to leading brands like Epson, Optoma, LG, Samsung and Hisense, the Ultra Short Throw projector has come to the forefront, overcoming the ambient lighting and distance limitations of their predecessors. With their compact flexibility and humongous screen size, USTs are replacing conventional flatscreen televisions. As they become more and more popular ultra short throws are taking projectors out of the basement and moving them into the living room.
What to Look for in a Projector Screen
Screen Size
Before opting for the most massive projector screen you can get your hands on, be sure to measure the space where you intend to put it. Keep an eye out for the screen size that'll best fit your environment. You don't want the screen to overwhelm the room, but you also want to maximize your screen size to recreate the cinema experience at home.
Fixed Vs. Movable
Consider how you'll use your projector screen. Do you want it to disappear when you've finished watching something, or do you want it to be more permanent? While some projector screens can roll up out of the way when they're not in use, others are more static. Additionally, some screens offer a motorized feature, so you don't need to get out of your seat to start the action.
A movable screen saves space on your wall, but if it's electronic there's always room for something to go wrong.
You also have the option of portable screens, which can either pop up or inflate, which are useful for travel or camping. They are a lot of fun, but their screens can sometimes be prone to wrinkling, since they fold up when not in use.
Material
Projection screens are made from a variety of different materials — some displays may be more suitable for Ultra HD content than others. Additionally, different screens offer various features like easy cleaning and fire resistance.
If you're purchasing a screen for outdoor use, make sure you're able to clean it easily, as stains or bird droppings always tend to occur in the most inconvenient places.
Best 120 inch Projector Screen of 2022: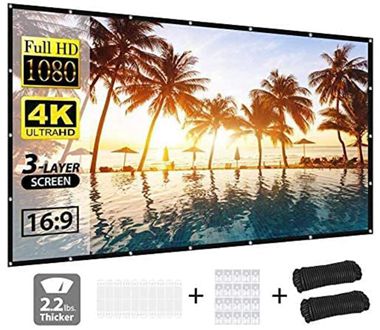 Up until recently, we've recommended Silver Ticket as the go-to brand for affordable projector screens. They recently discontinued many of their products, and are no longer widely available. Fortunately, there are several other excellent options, and one of them is the Vamvo Outdoor Indoor screen. It's basic and functional, but it has several key advantages to other screens from the likes of Mdebeddron. For starters, it's exceptionally easy to put together, and we think the picture is comparable to some of the more expensive screens mentioned here, like the Elite Screens Spectrum 2.
However, despite the Vamvo Outdoor Indoor claiming that it can be used, well, both indoors and outdoors, the reality is a little more complex. Without a very dark environment, such as a basement with blackout curtains, there is a noticeable degradation and picture quality. And while the screen is easy to build (it will be up and running in minutes) it's also easy to tip over. Fortunately, a few sturdy weights. This from happening, and we think the great picture quality is enough to mitigate these issues. Vamvo have big shoes to fill, but they've done well here. This is an ideal screen if you're on a budget.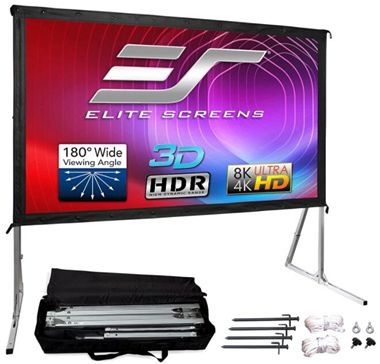 This 120-inch diagonal, 16:9 aspect ratio screen plus lightweight silver aluminum frame with stainless steel components can be assembled in minutes without the need for extra tools, thereby providing your own freestanding indoor or outdoor 'big screen' viewing experience.
The foldable 'go anywhere' canvas is stowed in a carrier bag when not in use for easy transportation – though, for obvious reasons, the makers advise against setting it up outdoors if it's windy. A black backing is also included to prevent light penetration and enhance picture quality.
Claimed as being mildew resistant and featuring a surface that can be wiped clean with soap, water and a wet cloth, the screen comes with a two-year manufacturer's warranty for additional peace of mind. Other sizes including 90in, 100in and 135in are also available – as are versions with an old-school 4:3 aspect ratio.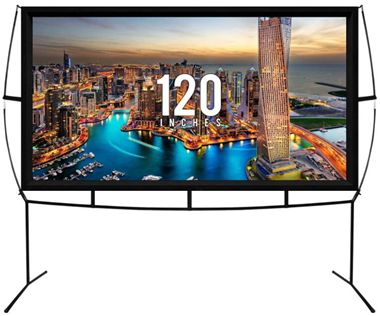 Want a large projection screen for outdoors, that's large but still quick and easy to assemble? Assembling this freestanding frame in much like putting together tent poles, and is a cinch to put together within about 15 minutes. Given the size of the screen, it's impressively lightweight and you get a carry bag too.
The fabric doesn't match the reflectiveness of a pro-grade projection screen, but it's certainly good enough to enjoy TV and movies on in the dark. As such, this is a great choice for families wanting to spend some time together in the garden, or out on a picnic or camping trip.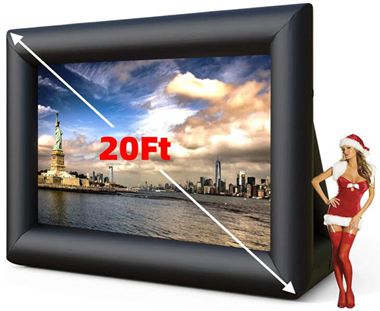 Inflatable outdoor projector screens tend to be massive— it's sort of the point— and the SUNCOO Inflatable Movie Screen is no exception. It's a gigantic 120 inches wide, with 12.5 square feet of viewing area. Inflating it is relatively simple (the package includes a motorised pump) and although it doesn't match the clarity and sharpness of indoor screens, it's a perfectly acceptable option for hosting an impromptu outdoor movie night.
The problem is that there are better options available. The Giant Gemmy Airblown is still the leader in this particular category. Although it's more expensive, by about $30, it's also larger, and even easier to set up than the SUNCOO. The world of inflatable projector screens is a crowded one, and although the SUNCOO is a viable alternative to the Gemmy, it lacks any killer features to elevate it to a true essential. If you want an even larger option, there is a 200 inch version available, although it is of course more expensive.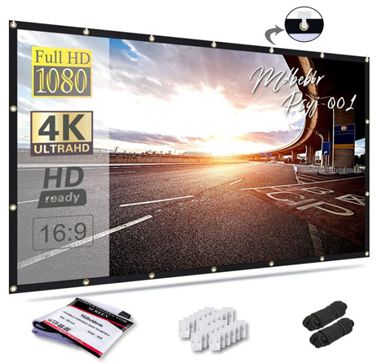 If you don't want to spend too much on an outdoor movie screen, the Mdbebbron Projection Screen offers an unbeatable value. This inexpensive screen has a 120-inch diagonal and a 16:9 aspect ratio, and it's made from a durable polyester fabric that doesn't crease or wrinkle, making it easy to store.
This screen doesn't come with a stand, but it features grommets around the edges that you can use to hang it up with hooks, ropes, or even nails. The screen measures 104 x 58 inches, and if the fabric ever gets dirty, you can put it in the washing machine for easy maintenance.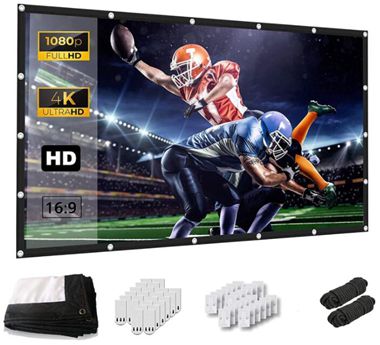 No matter what you're looking for in an outdoor projector screen, the Keenstone 120-Inch 4K Projection Screen is a fantastic choice. With a budget-friendly price and many versatile options, this single screen gives you plenty of ways to use it. And that means you'll get great value for your money.
It measures 120 inches diagonally and is constructed with thick no-crease material that eliminates wrinkles when it's stretched out flat. You can use both or either side of the screen for your movie viewings thanks to the double-sided construction, and you can place the screen indoors or outdoors with excellent results in either setting. 18 mounting holes give you versatile setup options, and it even comes with ropes and 24 hooks so you have everything you need. Thanks to its lightweight material, this projector screen can easily be taken anywhere; just fold it up and carry it where it's needed.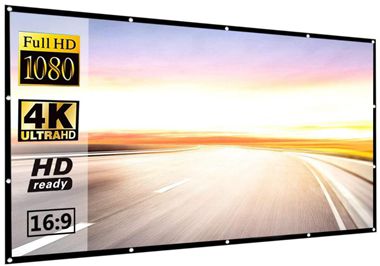 The P-Jing 120-Inch Projector Screen might be small and unassuming when you first open it up, but this little screen offers some impressive results when paired with a projector. Designed to be used to create indoor or outdoor home theaters for awesome viewing parties and fun events, this simple screen weighs just 2.2 pounds in total and folds into a slim package.
However, when it's unfolded, this 120-inch projector screen displays bright, vivid colors and sharp picture quality that'll make even your favorite movies look entirely new. Its smooth, slightly thicker surface makes images and graphics appear enhanced. Able to support double-sided projection and be hung from anywhere, this screen is highly versatile and incredibly easy to set up. It even comes with peel-and-stick hooks and features 12 metal grommets around the edges so you have everything you need for quick and simple hanging.