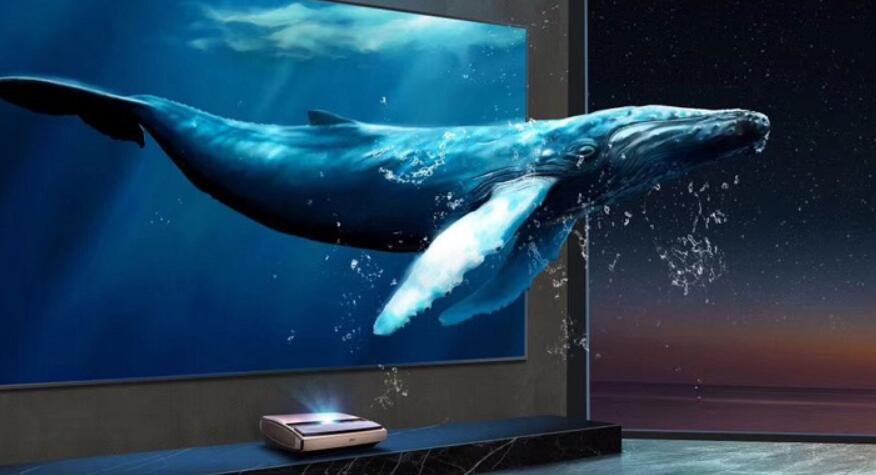 While 3D may seem to be the province of action movies and other casual entertainment, 3D projects can actually be extremely useful business tools. Businesses that need to display 3D models, like architecture and engineering firms, and those that frequently need to project 3D graphs of complicated datasets can benefit greatly from the depth that a 3D projector creates. While 3D projectors are generally similar to 2D projectors, they require both some additional parts as well as specially formatted content.
What is a 3D projector?
A 3D projector uses specialized technology that allows it to produce a three-dimensional image on a two-dimensional surface. The viewer is able to see depth from a 3D projector, unlike a traditional projector.
Ready to learn more about 3D projectors? Below I outline how these projectors work, the pros and cons of investing in such technology and the types of glasses you can use to best view 3D images.
How Does a 3D Projector Work?
3D projectors are similar to 2D projectors in many ways, including their problems like noise (we have a solution for that in our guide). They typically contain the same hardware options, such as DLP.
The type of data transmittal affects which kind of 3D projector you need. 3D images are transmitted through the use of one of four format techniques. These include frame sequential, frame packing, side-by-side, and checkerboard.
Frame Sequential

: Frame sequential data formats are the most basic type of transmittal signal. Frame sequential devices send one image to the right eye, followed rapidly by another to left, continuing back and forth throughout the duration of your entertainment. Frame sequential resolutions are limited to a maximum of 1280×720.

Frame Packing

: Frame packing is similar to frame sequential, but with one major difference. Instead of rapidly sending images to alternate sides, pictures are relayed simultaneously. These images are stacked over each other, with a slight space between each. A projector that displays these images will then need to separate the pictures and display them in the right sequence. Devices that are HDMI 1.4 capable will need to be capable of handling frame packing transmittals.

Side-by-Side

: Those with DirecTV receive side-by-side 3D data signals. Side-by-side 3D signals compress the original resolution of an image to half their size before relaying them to the projector. Once received, your 3D projector then must separate the signals and resize them to the correct resolution. That being said, side-by-side images do lose some of their resolution through the process.

Checkerboard

: Checkerboard data formats are perhaps the most complex type. These images are interwoven, with every other pixel being for the left eye, while the other addresses the right one. Televisions have been using this type of data format for years. 3D projectors, however, are slower to adapt this technology. Converter boxes may be required to ensure your 3D projector can handle this data format; make sure you carefully review your projector's specifications if you believe you will need to display checkerboard source data.
Types of 3D Projectors: Full 3D vs. 3D-ready Projectors
Like 2D projectors, 3D projectors are built using display technologies such as DLP and 3LCD. However, 3D projectors receive and project a different data stream type in a variety of formats.
3D videos are transmitted using four major formats: Frame Sequential, Frame Packing, Side-by-Side, and Checkerboard. The transmission format supported is the yardstick for dividing 3D projectors into two groups: Full 3D and 3D-ready projectors.
3D-Ready Projectors
Consumers often buy "3D ready" projectors only to be disappointed by their inability to view 3D with their projector. A faulty projector does not cause this but rather an uninformed purchase; as these buyers do not know what a 3D-Ready projector is.
3D-ready projectors are designed to handle only the Frame Sequential data transmission format. This design helps reduce production cost as frame sequential transmission is one of the simplest forms of 3D.
A frame sequential signal is sent as a full resolution picture at 120 frames per second. These frames alternate sequentially, sending a frame for the left eye, then another for the right eye, and so on. As a result of this simple setup, the projector does not need to decode the source data stream and can display the same directly. The only requirement for the projector is that it can accept 120Hz signals. As you would expect, this method of transmission is bandwidth extensive.
To use a 3D-ready projector, you need a computer that is equipped to transmit such data (e.g. NVIDIA's 3D Vision system.) Unfortunately, a 3D-ready projector will not project 3D content from other computers or other 3D capable devices such as Blu-ray 3D players and set-top boxes.
Full 3D projectors
On the other hand, Full 3D projectors are capable of handling any of the four 3D content transmission formats. Full 3D projectors offer full 1080p 3D projection, and they are compatible with HDMI 1.4 or Blu-ray 3D. Before buying a Full 3D projector, ensure that these specifications are clearly stated by the OEM.
The Best 3D Projectors in 2022:
The new 3D projectors that launched in 2010, including many education and business 3D capable projectors were lower res under $1000, while 1080p for the home started from $4500. Affordable 1080p 3D projectors were a no show until CEDIA – fall of 2011. CEDIA offers new 3D projectors like Panasonic PT-AE7000U, the rumored Epson 3D projector, three Optoma's, plus more. That will fill shelfs with affordable 3D projectors, most boasting very good quality and more brightness than before.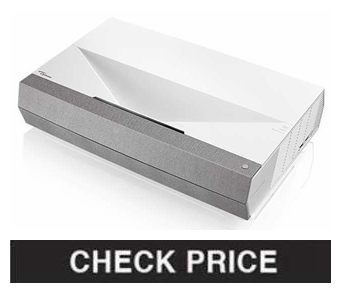 The Optoma CinemaX P2 is the best 3D projector for a smart home entertainment system. Its built-in Android interface lets you download streaming apps right on the projector, no need for a streaming stick. Along with that, it's compatible with multiple voice control systems and can be used with IFTTT. That allows you to link the projector to other devices like smart lights and doorbells, as well as create customized routines and commands.
Installing the Optoma P2 is easy, too. It has an ultra-short throw distance, producing a 120" image with just over 2 feet between the lens and screen. For most users, that means no need for a ceiling mount or other hardware. Along with that, the Optoma SmartFIT app automatically corrects the image geometry, eliminating warp and squaring the picture to the screen. It even has a built-in 40-watt soundbar with Dolby Digital support, with high enough quality and output you don't necessarily need to use external speakers.
Along with all these convenient features, the Optoma CinemaX P2 is an excellent choice if you want the best picture quality. Its laser light source is backed by HDR10 and PureMotion technology, with a 6-segment color wheel whose color gamut exceeds the Rec. 709 spectrum. With true 4K resolution and a high contrast ratio, you'll get a sharp, detailed, and realistic picture from the CinemaX P2.
True 4K resolution with high dynamic contrast
High frame rate with PureMotion technology
SmartFIT app and automatic focus for easy installation
Ultra-short throw distance
Compatible with Google and Amazon voice control
Supports IFTTT for smart home integration
Higher cost than other options
Limited app support through Android interface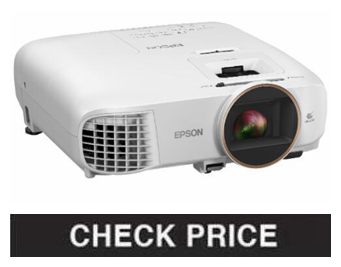 Here's a streaming projector for buyers on a budget. The Epson Home Cinema 2250 is one of the best 3D projectors in the under-$1,000 price range, especially for those who want to stream content right on their projector. It uses an Android TV system with Google Assistant voice control. You can watch shows and movies through Hulu, HBO, and more, and search for content on all of them with your voice through the included remote.
From a picture quality standpoint, the Epson 2250 is impressive for the price, if not as stellar as the projectors above. One advantage it has is the use of a 3LCD chip system for the color production. That's especially good news for those sensitive to the rainbow effect, and gives viewers more consistent overall color saturation and brightness. On the other hand, the lamp brightness, resolution, and contrast are lower. You'll still get full HD resolution, and the dynamic iris makes the most of the 2,700 lumens put out by the lamp.
The Epson Home Cinema 2250 is an ideal choice for living rooms and home theater spaces. It uses a standard throw ratio and may need some light control, especially if your space has a lot of windows, but the set-up is fairly easy with a good range of adjustment features. We also appreciate the portability of the 2250, which weighs less than 10 pounds and has a compact, rugged design. That makes it a good choice for indoor/outdoor use around the house, especially since it can produce images up to 300".
Vibrant colors with no rainbow effect
Stream content through Android TV interface
Built-in voice search with Google Assistant
Compact, portable design
Full HD 3D support
Needs a lot of space
Maximum resolution of Full HD (no 4K)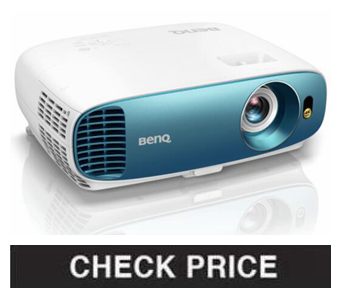 The projector has excellent bright-room performance with 3,000 lumens of lamp brightness. This is plenty of brightness for use in rooms with any kind of ambient light. The TK800 projector also offers excellent colors that are vivid and accurate, with 92% Rec. 709 color space. The picture is also incredibly detailed with both 4K ultra HD resolution and 1080p resolution when in 3D mode. Be aware that you might experience some rainbow effect with this BenQ DLP HD projector, due to its 4K color wheel, but it is minimal overall.
If you're a gamer, you'll also enjoy using the BenQ TK800 4K Pro UHD projector. For a projector, it features a decent input lag at 44ms. But it really shines when it comes to motion handling and high-action scenes. The TK800 has both Sports and Game modes that create smooth, judder-free images for a more immersive experience. This powerful projector is easy to use and easy to install, as well.
It features automatic keystone correction and a user-friendly interface. If there were one thing we could change about the BenQ DLP HD projector, it would be the fan noise. It can get a little noisy, even on Eco mode, which was disappointing. This option also provides plenty of connectivity options, including USB ports and HDMI ports. Compare this to the best short throw projector that offers a sheer number of cutting-edge functions and features.
Vivid and bright image quality
Good bright room performance
Minimal input lag for gaming
Somewhat noisy, even on Eco mode
Some rainbow effect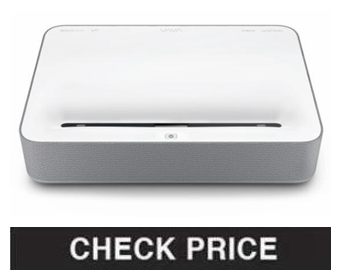 The Vava 4K projector is an excellent addition to our lineup of the best 3D projectors, featuring the newest features and technology to create a super crisp and amazingly detailed picture. This option is, by far, the best 4K 3D projector your money can buy. For starters, the already-great 4K resolution is made even better with HDR10 support and ALPD 3.0 technology, which increases lighting efficiency and brightness. The Vava 4K Pro UHD projector also features an amazing 3,000:1 native contrast ratio, which is even better than a movie theater's native 2,000:1 contrast ratio. Plus, with its laser lighting technology, this projector requires less maintenance overall.
The Vava 4K is an ultra-short throw projector, which means you'll only need mere inches between the unit and your screen for it to create a screen size up to 120 inches. This 3D DLP projector is also designed incredibly well with a low-profile body that won't obstruct your view. Our favorite design feature here, though, is the Vava's built-in sound system. With built-in stereo surround Harman Kardon speakers, you won't need to connect to an external sound system unless you want more power.
This 3D projector also features a user-friendly interface, but it uses an older version of the Android Smart TV interface, which is a little clunky and awkward at times. As such, we recommend using a streaming device like Google Chromecast, Roku TV, Amazing Fire TV Stick, or Apple TV with the included HDMI ports to watch your Netflix and Hulu shows.
High native contrast ratio of 3,000:1
Less maintenance with laser lighting technology
Harman Kardon speakers output excellent audio
Older smart TV interface
Disappointing HDR performance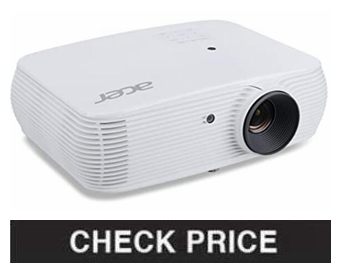 Acer offers a DLP (Digital Light Processing) instead of a three-filter LCD. This helps you avoid the hassle of cleaning the filters. It operates at 235W power and weighs only a little above 5 pounds.
You can connect any HDMI/MHL source for excellent projection. To use it in a small classroom or office, place it at least 3.3 feet away from the screen. For a large room, you can set it as far as 33.8 ft from the projected image.
Despite its low cost, the image quality is out of the park. It displays a native 720p resolution that can be increased to 1920 × 1200. You can display any image or HD video from your TVs, mobile phones, cameras, or even wirelessly on the screen.
The 3D projector adjusts the color and brightness to display better contrast and details according to the scene and ambient light. Did you know that Acer has a wall color compensation technology to accurately display content on colored walls? The projector prevents color from decay to prolong its life.
Low cost
Excellent image quality in daylight
Noise is minimal
Small remote control
Rainbow effect and no auto-focus
FAQs
What light sources does a 3D projector typically use?
In addition to the technology used for projection, there are different types of light sources when it comes to 3D projectors. The most common and affordable projectors use lamps to produce light from a projector. Lamps are the most common light source and were the original light source technology used for these projectors. Our product test shows that there have recently been 3D projectors that use LEDs, lasers, and a combination of both to project 3D images.
Where is the best place to install a 3D projector?
Although we are dealing with easily transportable devices, there are big differences between projectors when it comes to dimensions and weight. The compact projectors can be moved around from one place to another with ease. They are easier to install as you can play around with the distance to the wall until you get it just right.
If you are setting up a 3D projector in your living room, we recommend placing the projector on a solid support that is well balanced and out of the way of foot traffic. This not only means that it is less likely to become damaged or knocked over, but it also means that no one can hinder the projection or walk in front of the light right at the critical moment of a movie. It may be obvious, but if you can project the image in the middle of uninterrupted wall space, you will have a much better viewing experience.
How important are lumens in a 3D projector?
The number of lumens in a projector directly affects the quality and brightness of light that the projector can emit. It is important to determine what you are going to use the projector for, at what distance, and what the natural lighting conditions are, as this will determine how many lumens will be required to ensure that the 3D projection is effective.
A range between 1000 and 1500 lumens is typically sufficient for home use where the room is quite dark. If the room in your home is not very dark, 2000 lumens would be better to ensure you can still produce a quality image. If you are planning on using a 3D projector in an office or classroom, you should look for a projector that is capable of providing 3000 lumens. Our test shows that if the room or space is even larger than a classroom, then a measurement that is higher than 3000 lumens will be necessary.
What connectivity options do 3D projectors have?
The connectivity options are an important factor when deciding on a 3D projector to purchase. Most projectors will have connectivity options such as HDMI, DVI, RGB, and S-Video, but there are also some models that utilize Wi-Fi connections and Bluetooth technology. Think about what connectivity options suit you the best before purchasing a 3D projector.