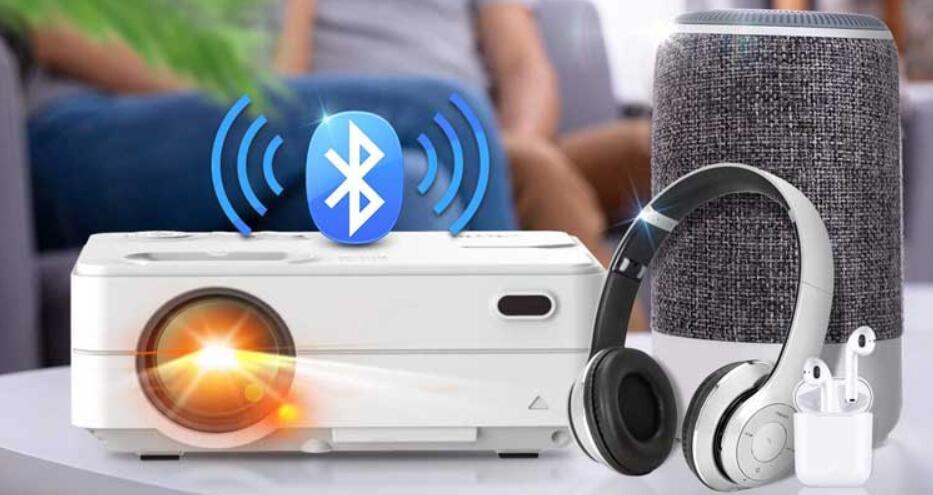 Whether you're looking for a projector that's easy to move between multiple meeting rooms or you need a travel-friendly projector for client presentations, there are a lot of options available. We've rounded up our top choices of the best portable projectors, focusing on features that meet almost every need.
From options for bright conference rooms or ones with long battery life for out-of-town presentations, we'll help you choose the right projector for you.
Things to Consider Before Buying a Bluetooth Projector
When looking for the best projector with WiFi and Bluetooth, there are several factors to keep in mind. Here, we look at some of the features that will be important to inform your decision on which projector to purchase.
Resolution
Resolution is always the first thing to check when buying a new projector. After all, you are buying a projector to display an image, and you want that image to be as crisp as possible so that you can enjoy your experience.
Be sure to understand the difference between native resolution and supported resolution. They are not the same thing. Native resolution is the quality of the image that you will see with your own eyes. This a projector with a 1080p native resolution is giving you a high-quality output.
Supported resolution is simply the type of video resolution the projector can convert. Thus, your projector may have a 1080p supported resolution but only a 480p native. That means your 1080p is being transformed into a less quality image when displayed by the projector.
Distance Coverage
While selecting WiFi and Bluetooth mini projectors, one crucial aspect you must keep in your mind is the distance your projector can cover. You might want to sit back and relax while keeping your phone or another connected device away from you. Ensure your comfort is not disturbed by the need to continually place your connected device near the projector due to short distance coverage.
Lumen
The math is simple: higher lumens mean more brightness. So, anything above 1500 lumens is a good bid, but the higher it goes, the better. But more lumen means it will need more power and electricity to run. Yet, if you want to use the device without having to turn off every light in your vicinity, always go for higher lumens.
Wireless Services
A device isn't considered portable if it doesn't have wireless services. You should be able to connect the best projectors to your android or iOS devices through the wi-fi. And most devices do support it, but if you're going to be using this, make sure it's not there for namesake only but can actually stream the videos properly.
Portability
We give strong preference to projectors that can run on battery power, although we are willing to consider models that omit this feature if they seem particularly strong in other areas. Some portable models lack a battery but can run on a portable USB-C power bank, which is almost as good. We require all the projectors we consider to be at least small and light enough to carry between rooms and to put in a backpack or suitcase. A carrying handle or included travel case is a big plus.
Connection and source options
We look for projectors that offer multiple input options so you can access content in different ways. We require all projectors to have a full-size HDMI input, since that's about as universal a connection as is available today. We like the convenience of projectors that have Wi-Fi and internal streaming-video apps (such as Netflix or Disney+) because you don't have to connect an external source device as a result, but such models generally cost more. A USB slot for playback of personal media files (or charging an HDMI media stick) is also a plus.
Best Bluetooth Projectors of 2022: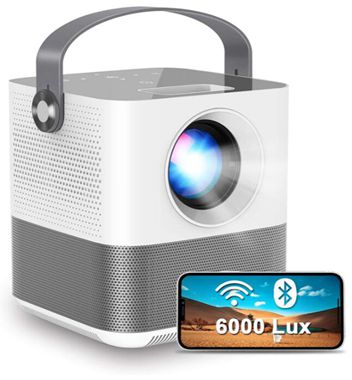 First on our list of the best projector with wifi and Bluetooth is the FANGOR WiFi Projector. The extensive range of connectivity options makes it stand out from its competitors. Connect your iOS and Android devices to the projector and enjoy your media on the big screen. The wireless options relieve you from the inconvenience of connecting long, suspended cables.
It is not surprising to find it under the best outdoor projector with wifi and Bluetooth. The 7500-lumen brightness and 1080p resolution result in a brilliant display both indoors and outdoors. It serves as the perfect projector for backyard parties and camping trips. None other option under this range comes with the additional five-layered lens and the 5.8" TFT panel. This increases the light output, giving a sharp image.
You can connect it to your laptops, PC, mobile phones, and other devices through multiple input ports. The built-in speakers also support Bluetooth connection giving you easy access to an amplified sound system. Enjoy your movies, games, and other media with full cinematic feels. The display performance is exceptional for a projector at this price.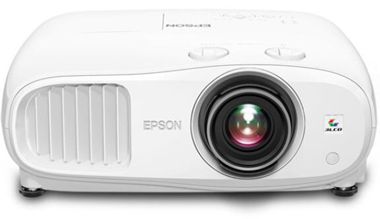 This home cinema projector brings a new experience to your movie nights with its 4K Pro resolution. Its advanced 3LCD technology can process millions of pixels while displaying 100 percent of the RGB colors.
It also has 3000 lumens for outstanding brightness and vivid pictures. The projector's lens has a multi-element precision glass structure that displays clear images without fading on the edges. You won't have problems with the rainbow effect, either.
It has a built-in dual 10W dual speaker system. But more importantly, it supports Bluetooth for wireless connection to external speakers and other sound systems.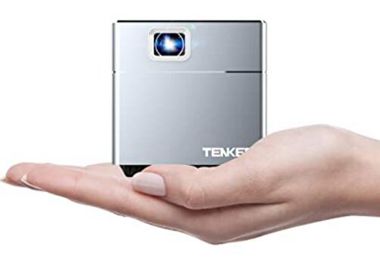 Coming up as number five on our countdown, we're looking at TENKER's own S6 Mini Cube. Equipped with DLP technology from Texas Instruments, this Cube DLP Projector brings razor sharp pictures and amazing videos with incredible color and brightness. It supports 1080p video files, but nothing higher, unfortunately.
The software is a Linux system with integrated WiFi. It's actually running off of the 802.11a/b/g/n band for 2.4GHz networks. This means that you can do simultaneous screen mirroring and streaming with no issue. It also means that it works with both Android and iOS — using Miracast for Android devices, and then AirPlay for iOS devices.
The battery is the only disappointing factor here, though it's hard to complain with how portable this technology is. You only get a 2,600mAh battery, which can only stream video for 1 to 1.5 hours.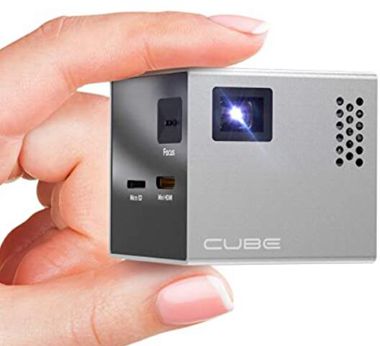 One of the smallest projectors yet, the RIF6 CUBE is a high-end, portable way that you can bring the movie theater experience almost anywhere. Even thought it's tiny, you might be surprised to find out that it's display reach is 120-inches, even better than the Nebula Capsule. Now, since it is so tiny, it doesn't have a whole lot lumens inside — just 50, so you won't be using this in a dark room.
On top of that, the RIF6 CUBE works well with Android tablets and smartphones; however, since it supports HDMI, it works with most HDMI-equipped devices, including laptops and gaming consoles. It weighs over 800 grams, so it's not exactly the lightest projector either.
Small wireless projectors like these that support WiFi and Bluetooth are pretty pricey, but this is definitely one of the cheaper options on Amazon.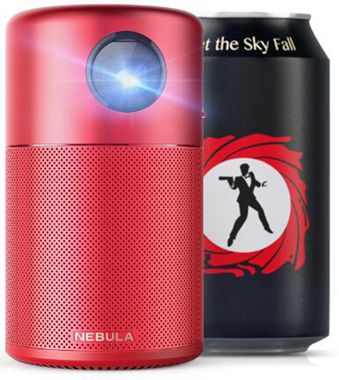 The Anker Nebula Capsule is both a projector and a speaker, the size of a soda can. With this smart Wi-Fi mini projector, you can move the party anywhere—indoors and outdoors!
It comes with Android 7.1, which lets you download Netflix, Youtube, and other apps through the Google Play Store. You can stream content from your device to your capsule via Bluetooth, Airplay, mirroring, and Miracast. The device also supports HDMI and USB.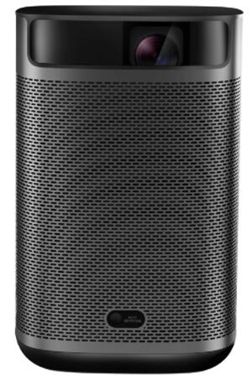 Of all the small, portable projectors we've tested, the Xgimi MoGo Pro delivers the best-looking image for movie playback in a dim or dark room, with better contrast and a deeper black level that combine to produce a richer, more saturated picture. Its built-in Android 9.0 operating system with Android TV gives you access to more apps than many competitors do, so you don't have to connect an external video player.
Because Google Assistant is also onboard, you can use voice search to find something to watch. Setup is simple, and the intuitive remote and menu design create a good user experience. The internal speaker can play pretty loud, and the MoGo Pro supports Bluetooth to send and receive wireless audio.
Video-connection options include HDMI and USB Type-A, but you may never need to use them, since the MoGo Pro basically has an Android TV media player built in. That means you have direct access to streaming services such as Amazon Prime Video, Disney+, Google Plus Movies & TV, Hulu, Pandora, YouTube, YouTube TV, and many more (but not Netflix—see below).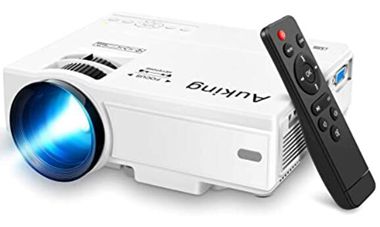 It is a 1080p equivalent projector that can connect to laptops and smartphones, thanks to the HDMI, VGA, AV, and USB connectors. This makes it perfect for enjoying movies, business presentations, and games with high visual requirements.
The built-in speakers are loud enough to reach everyone in a large room. If you feel like you need even more sound, you can easily connect it to an external speaker.
The AuKing might not fit into your pocket but it's still very easy to move around without discomfort. It is easy to use and adjust to suit your viewing needs with the keystone corrections and focus wheel features.
A contrast ratio of 2 000:1 complemented with over 7 000 lumens is a good bargain for the price. For the best visual experience, make sure you're in a very dark room when you're projecting. You'll appreciate the picture quality and sharpness it'll provide.
How to Use Bluetooth to Connect a Projector
Using a video cable to connect your computer to the projector often leaves the cable exposed for everyone to see. In addition, it limits the distance you can have between the two devices. Some projectors, however, feature a Bluetooth adapter that provides a way for you to connect to the device wirelessly. If your computer has compatible Bluetooth capabilities, you can add the projector by using the Windows Bluetooth setup wizard. This allows your computer to send the images for your business presentation to the projector using Bluetooth transmissions.
Step 1: Press the power switch or use the remote control to turn on your projector.
Step 2: Connect the Bluetooth USB adapter to the projector. The location of the USB port varies depending on the projector, but is typically on the back of the device.
Step 3: Set the transmission source of your projector to Bluetooth to make it discoverable on your computer. Depending on your projector, this may involve pressing a button on the device or navigating through the menu options using the remote control. Refer to your owner's manual for specific instructions for your projector model.
Step 4: Turn on your computer and wait for it to boot completely.
Step 5: Open the Charms bar, click "Settings," and then click the "Change PC Settings" option.
Step 6: Start the Bluetooth setup wizard by clicking "Add a Device." A dialog box appears displaying all available Bluetooth devices.
Select the projector from the list of discovered Bluetooth devices, and then follow the onscreen instructions to complete the installation.
Step 7: Enter the projector's security passkey when prompted. This allows communication between your computer and the projector. Bluetooth-enabled projectors typically feature a default passkey. For example, the NEC NP54 projector uses a default passkey of "0000". However, changing the passkey from the default helps improve device security. If uncertain of the passkey, contact your system administrator or refer to the owner's manual for your projector.
FAQs
What does a Bluetooth projector do?
Each wireless projector has a Wi-Fi card that allows it to connect or create a wireless network in order to communicate with smart media sources like PCs, HDTVs, and media players like DVD or BD players. Bluetooth can also be used for communication like screen mirroring, but it's mostly used for audio.
Both Wi-Fi and Bluetooth allow you to connect media sources to your projector for the sake of coordinating encryption, compression, and the relay of data from device to device.
Can I connect a Bluetooth speaker to my projector?
In order to connect a Bluetooth projector to a wireless Bluetooth speaker, you simply need to tinker with the settings of the projector and leave your speaker in pairing mode. The Bluetooth chip and software should recognize the pairing mode speaker right away.
From there, you can establish a connection manually. Afterwards, the connection will end up automatically every time you turn on your Bluetooth speaker and put it within proximity of your projector. Read your manual for more details.
Do outdoor projectors have Bluetooth?
Yes, of course. Actually, outdoor or portable projectors depend most on Bluetooth speakers because their built-in speakers are too tinny or too low volume to deal with the ambient noise of your backyard or an open courtyard exposed to the elements.
Bluetooth allows you to connect to the speaker once by fiddling with your settings then automatically the following times you have them within proximity with each other.