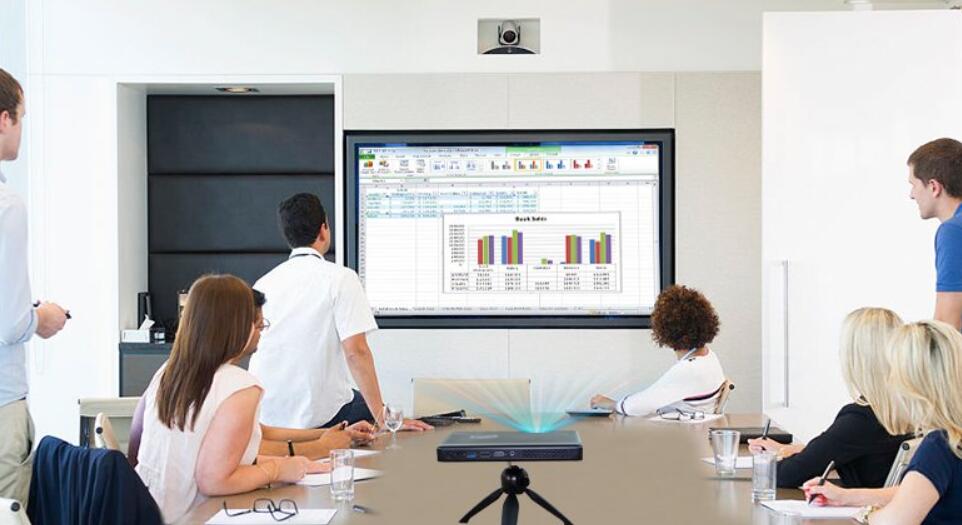 If you're looking for one of the best business projector choices to make your presentations really stand out or to supercharge your home entertainment, then you've come to the right place.
In our list of the best business projectors, we've examined a wide range of brands and models to suit all kinds of budgets and use cases.
Having the best business projector is vitally important if you regularly make presentations – every device on this list is able to produce bright and vibrant projections that allow you to share your screen with an audience, while keeping them engaged with your presentation or meeting.
Buying one of the best business projectors will mean looking for different features than buying a projector for entertainment, so high resolutions and millions of inputs aren't going to be quite as important as they would otherwise be.
How We Decided
Finding the best business projectors can be a process, but our research and analysis identified several key components that you need to consider before clicking that buy button. To begin our ranking process, we first focused on finding projectors with enough brightness to work in both well-lit rooms and those with moderate light ambiance. It's rare that you'll be sitting in a completely dark room at work, so we preferred options with at least 3,000 ANSI lumens of light output. There are a few above that don't feature this much brightness, but they are often pocket-sized and travel projectors. In these cases, lower brightness is acceptable since you trade it for more portability.
Next, we scored each projector based on its picture quality. Business projectors aren't known for their full HD or 4K projector resolution, so we didn't score too harshly for less-than-HD resolution. We preferred options with accurate colors, though, and so awarded bonus points for projectors that required minimal picture adjustments to create a true-to-life image. We also gave more points to options with gamma output adjustability, which allows you to adjust color tones so they can show up on walls that aren't white.
Finally, we looked at connectivity and design quality. The best business projectors should be able to connect to nearly any device in the office, including laptops, desktop computers, tablets, and smartphones. We scored projectors higher if they provided network connectivity for larger offices. We also awarded bonus points for projectors with wireless connectivity, which allows you to stream content directly from your mobile device.
What Kind of Images Do You Plan to Show?
There are two basic kinds of images you can show on a projector: data (meaning text and graphics) and photorealistic (photos, video, and film). Games generally have some aspects of both. Any projector can show any kind of image, of course, but a projector may handle one kind of image well without necessarily doing a good job with the other. You'll want a projector that's optimized for the kind of images you plan to show.
Data projectors are designed to show images such as business graphics, line drawings, presentations, spreadsheets, and PDF files. They're optimized for conference rooms, throwing a bright enough image to stand up to ambient light on a large screen. Many can handle photorealistic images well enough to project short video clips in a presentation, but they aren't good for full-length movies. They tend to favor brightness over contrast, which is an important factor for producing realistic-looking images, and in many models, colors can look obviously off, with few or no options for correcting them.
LOW COST BUSINESS PROJECTORS
Most weigh at least 5 or 6 pounds, and up to 10 pounds, except for the one to three pound pocket projectors which are now just becoming bright enough for projecting to small groups, and in some cases medium sized, as almost all pocket projectors are 500 to 1000 lumens.
What you'll find with entry level business projectors:
Limited connectivity
Most often, they are DLP technology, although LCD projectors are typically only slightly more. (There are far more DLP models out there, even though most projectors sold are 3LCD.)
Virtually all offer HDMI
Monitor out (to drive a computer monitor) is something many entry level projectors lack, especially the more portable ones.
Audio – typically a single audio input, or maybe two (one computer, one video), the exception again would be projectors designed for the school market, where you may get extra audio inputs. Portables often have one or two 1 to 2 watt speakers, while more expensive and education focused models typically have at least a single 5 watt speaker and as much sound as a pair of 10 watt speakers.
Remote controls, some projectors will have credit card sized remotes, most will have "full sized". Credit card sized remotes usually offer no, or very limited "remote mousing". They are also typically limited to about a 20 foot range.
No interactive projectors in the entry level ranges (yet).
Consider the technology while choosing an entry level business projector. Especially, if color accuracy is important, you will need more lumens on a DLP projector to overcome ambient lighting, than would be required of an LCD projector, Why? Color lumens vs. white lumens.
Our Top Picks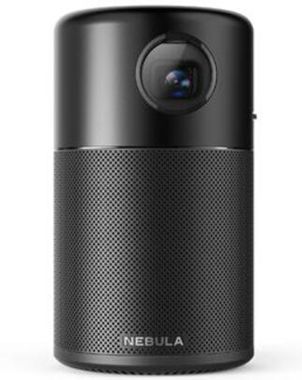 This is a really nice projector that offers quality video and sound for your needs. You can stream from many sources with ease with this unit and you can use it with a tripod with ease if you wish. You will get 100 lumen brightness from this machine and it will work well even in really dim conditions.
This capsule shaped projector is easy to pack and carry with you and it will hold up to travel and storage in bags. The shape of this machine makes it really easy to use with a tripod and to pack into a bag and you will love that it is so durable as well as so portable.
It offers a quality display as well as nice features and 100 lumens of brightness. This is a quality item that can pack up into your bags with ease and which will hold up to travel and other challenges with no issues.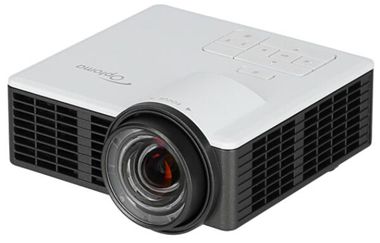 The ML750e by Optoma may not be the smallest projector we're talking about here, but it's a lot more powerful than the pocket-sized PicoPix from Phillips. It weighs in at an ultraportable 380g with a small footprint that makes this easy to carry around. The differences in size between this and the PicoPix are negligible for the power you get in return: a 700 Lumens lamp that lets you present in rooms that aren't completely darkened.
Not only is it port-rich with one MHL-ready HDMI input, a USB 2.0 slot for thumbdrives, a universal I/O slot, and a microSD card slot, but the ML550 handled our 90-inch test screen with impressive results, and peaked at a 60-inch-or-so size. Much like the ViewSonic PLED-W800, though, the ML750e had us grumbling because you need to buy a dongle for Wi-Fi access. which felt as arcane at the time of this projector's release as it does today. And in another moment that felt anachronistic, there is no way to work with the projector via a smartphone or tablet.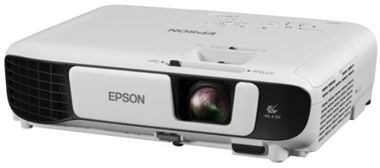 Usually when you choose a portable business projector you have to make a few sacrifices in order to have such a small device – but that's not the case with the Epson EB-S41.
Epson has an excellent reputation with business projectors, and it has brought much of its expertise to the EB-S41. Its 3,300 lumen brightness is much brighter than many other portable projectors, and means you have more flexibility when setting up the EB-S31 in environments where there is still ambient light.
The EB-S41 is small and light enough to carry around with you on business trips, but it also has a very large projection size – up to 300 inches – which makes this an incredibly versatile portable business projector.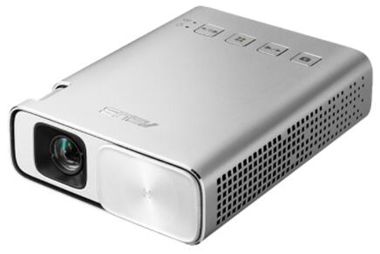 The Asus ZenBeam E1 is a beautifully designed pocket projector that's small and light enough to carry around with you if you often make presentations on the road.
Despite its small size, it can project images up to 120 inches in size, and it has a built-in 6,000mAh battery that can power the projector for up to 5 hours, which makes it rather flexible, as you don't have to worry about finding a plug socket to power the device. In a rather nice touch, the projector can also double as a power bank for other mobile devices.
The Asus ZenBeam E1 isn't the most powerful portable projector, but its versatility, ease of setup and eye catching design gives it a place on our list of best business projectors.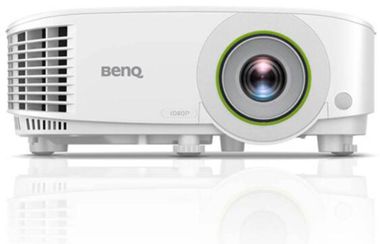 The BenQ MW560 uses precision-cut glass lenses that give the image excellent clarity, backed by a high contrast ratio that ensures the same sharp detail for color graphics that it gives to text. Its Data Review Mode is designed for text and reports, ensuring you'll be able to read projected numbers and other writing at any screen size.
For value, you can't beat the BenQ MW560. Its performance is exceptional for the price, for one thing. It also costs less to operate than many projectors, using up to 70% less power than other projectors when you put it into SmartEco Mode. The lamp is relatively long-lasting, as well, especially if you take advantage of Eco Mode, so it's low-maintenance, too.
The automatic vertical keystone correction of the BenQ MW560 make it easy to install in most situations. However, its manual image adjustment options are limited if you need to fine-tune it further. One nice feature of the MW560 is that it offers 5 different aspect ratios, making it more versatile for different screen and content formats. Its connection panel is robust, as well, with the option of adding wireless networking hardware if that's something you need.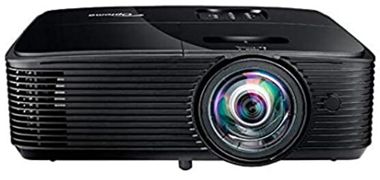 The bright, high-contrast image produced by the Optoma X400LVe brings excellent saturation and clarity to presentations in any space. Its color performance is especially impressive, using the same Rec.709 spectrum you'll get from most home theater projectors. The X400LVe is also a good option if you'd rather not use external speakers, with a 10-watt speaker with good mid-range clarity for speech and a high enough output for most classrooms and conference rooms.
The Optoma X400LVe is another great option if you're looking for an eco-friendly projector. Its Eco+ mode reduces the overall power consumption and activates the Auto Power Off, with a Quick Resume feature that instantly restores power if you turn it off accidentally.
The rugged build and compact overall design of the Optoma X400LVe give it good portability. Where it suffers a bit is in its installation ease and versatility. Its throw distance is long, even compared to other standard-throw projectors. You'll also need to manually correct the skew and its other alignment features are relatively limited, so precision is key in installing the ceiling mount.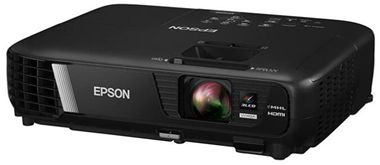 Epson EX7240 is an incredible piece of device that can be associated with the title of one of best projectors for PowerPoint presentations. Epson has geared this model with 3LCD technology and Poly-silicon TFT Active matrix, together they serve as the driving force behind its lucid performance.
Brightness plays a crucial role in deciding the richness and vividness of a data image, and that is why it gets 3200 ANSI Lumens which is an incredible figure. Every participant in the presentation will get a clear view of all the texts, and it is ensured by a 15000:1 contrast ratio which imparts a tremendous amount of clarity.
Unlike cheap projectors for presentations, Epson EX7240 engulfs all the images and figures in the presentation with accurate colors, and its wide color gamut serves as the main reason. It comes with 1280 X 800 as its native resolution so you can always make an HD presentation without worrying about the source.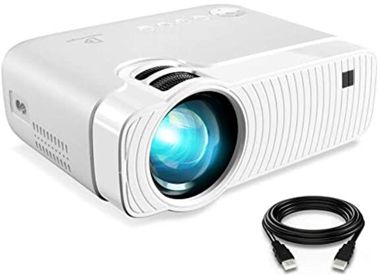 The Okcoo is one of the best cheap projectors you can buy for business purposes on today's market. Surprisingly, the Ockoo business projector doesn't even need to sacrifice a ton of functionality in order to give you that affordability, either. In fact, it outperforms many other projectors in this category. When it comes to resolution and picture quality, you get a full HD display. The colors are bright, as well, but they do lack some of the tone and definition you get with other business projectors.
The best feature of the Ockoo is its brightness output. The powerful lamp can produce up to 6,500 lumens of brightness, which is more than enough for any situation, even for daylight viewing. We were also impressed by the projector's design quality. It's durable if a little bulkier than other options. It's also easy to get set up and running in no time. The Okcoo features 15-degree keystone correction and -75% optical zoom so you can get your image just right for your presentations. The projector is also quiet, even when the cooling fan kicks in, thanks to its advanced cooling system that moves air throughout the entire system for comprehensive cooling power.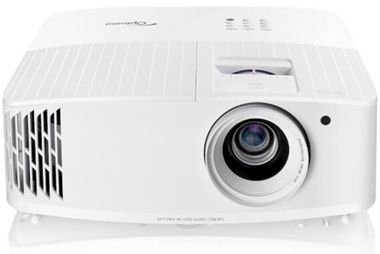 The UHD35 is a 4K projector that costs only a few hundred dollars more than many 1080p projectors. It's bright, has fairly accurate colors and looks far better than you might expect of a "budget 4K projector." And it serves up eye-watering detail on a gigantic screen, the kind of sharpness that no 1080p projector can match.
While overall the image on the UHD35 looks good, it still has the same issues common among projectors similar in price. There's no lens shift, the zoom is minimal and the contrast ratio — an aspect of image quality even more important than detail and resolution — is fairly average. It's also noisy, which is true of all small projectors, but the sound from the UHD35 is more wheeze than whirr. And then there's the HDR picture quality, which is improved over the earlier UHD30 but still not great.
Overall though, the UHD35 looks really good: Bright, vibrant colors, 4K detail, all in a projector that only costs a few hundred more than some great 1080p projectors like the Epson HC2250 or BenQ HT2250A. If you're looking to step up in sharpness without going too far into debt, it deserves strong consideration.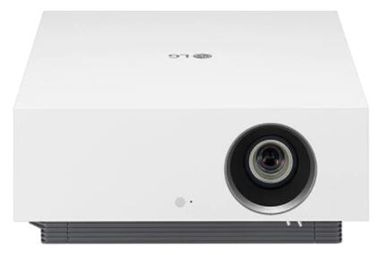 The LG HU810PW has lasers. Two of them! Lasers are awesome and I won't hear anyone say otherwise. In this case the two lasers, aided by a green phosphor, let the 810P create some remarkably lifelike colors and a brilliantly sharp image thanks to its 4K DLP chip.
What the 810P does right, it really does right. UltraHD 4K resolution is always welcome in a projector, letting every bit of detail in the video impress the eyes. This projector is also very bright, producing roughly 1,500 lumens. It's the colors that steal the show, however, with deep vibrant reds, blues, greens and more, all at impressively high levels of brightness.
The downside is that with dark scenes the 810P looks pretty mediocre, saddled by grayish black levels and lack of overall punch. At $3,000 it's also much more expensive than 4K projectors with better contrast, like the Optoma UHD30. Given the flawed contrast I can't recommend the LG HU810PW to everyone in this price range, but if you crave brightness, color and detail, it's tough to beat.
FAQs
How Bright Should My Video Projector Be?
Projector brightness is measured in ANSI lumens. A lumen is equivalent to the amount of light a birthday cake candle emits in a square foot-sized area. How many lumens your projector needs depends on your audience size and the lighting conditions in the space where you're presenting.
How Do I Get The Best Image From My Video Projector?
Resolution and inputs are the most important factors for business users who want high-quality images. But keep in mind that the quality of your PowerPoint or Excel doc will make a big difference in the quality of your presented image. No matter how good a projector you buy, if you use low-res graphics they will look bad, especially when blown up on a 150-inch screen. Make sure you save your presentations at the highest available resolution.
What Kind of Light Source Do You Want?
There's a growing trend in projectors of moving from using lamps as light sources to using LEDs and lasers. For the moment, at least, there are advantages for each choice.
LEDs and lasers maintain a higher percentage of their initial brightness for longer. All light sources lose brightness over time, but lamps generally lose a large percentage in the first 500 hours of use, and decline slowly after that. LEDs and lasers tend to lose brightness more evenly over their entire lifetimes.
The initial price for a lamp-based projector will be lower, but the total cost can be higher if you keep it long enough to need a replacement for the lamp. If you plan to replace your projector with every new jump in resolution or other image technology, buying a series of lamp-based projectors will be more cost-effective. But if you plan to keep your projector as long as it works, the better buy will be an LED, laser, or hybrid model that won't need an expensive lamp replacement.
Do You Need 3D Support?
Showing images in 3D for educational, business, and home applications seems well past the boomlet it enjoyed a few years ago. But if you're a fan of 3D movies or have an application that requires 3D, it's still easy to find projectors that support it.
Several 3D technologies are available, so make sure any 3D projector you consider will work with the 3D source you want to use. A "3D-ready" designation usually means it will work only with 3D generated by a computer. If you have a collection of 3D Blu-ray discs, the designation to look for is usually Full HD 3D. Also confirm which kind of 3D glasses it works with. DLP-Link glasses are the most common, but there are several types, including some proprietary versions.