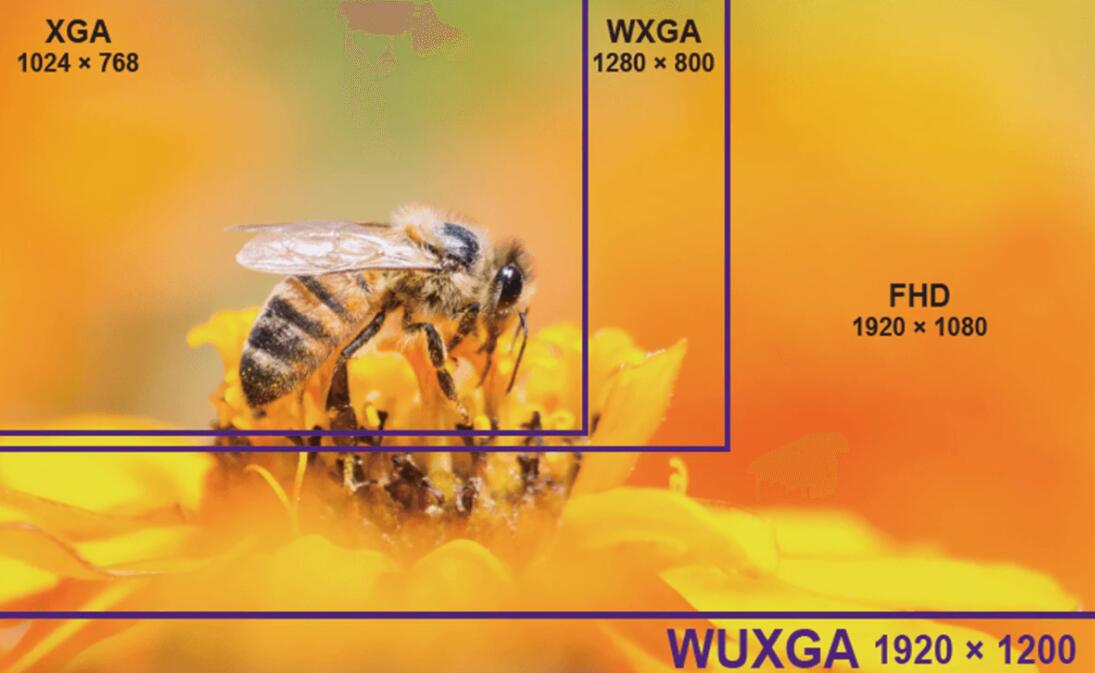 WUXGA stands for widescreen ultra extended graphics array and is a type of display resolution. Resolution explains how many pixels a display has in width x height format (the more pixels, the sharper the image quality). WUXGA displays have a resolution of 1920 x 1200.
Today's laptops/Projector mostly stick to 1080p or 4K resolution. On the other hand, there are a few PC monitors that offer WUXGA, which is a nice little step up from the most common resolution of 1080p. It's rate, but that extra screen real estate means that you'll see more of your favorite documents and web pages without scrolling.
Why Choose WUXGA
WUXGA is brighter
So how do WUXGA and Full HD projectors compare? We've seen that screen height is crucial. If the screen height is the same (matched for the room's purpose and viewing distances) and the specified light output is the same, then a WUXGA projector will be 11% brighter than a Full HD model. That's because the lumens become more spread out in Full HD projection.
WUXGA works well with the widest range of content
WUXGA has an aspect ratio (screen width to screen height) of 16:10. This is slightly closer to square than the Full HD aspect ratio of 16:9. At first glance, the difference may appear small. But it becomes substantial when we use projectors with different types of content: PowerPoint® slides, spreadsheets, engineering drawings, documents and websites.
WUXGA is a better fit for presentations
The PowerPoint and Keynote® presentations that are the focus of so many business meetings come in a choice of aspect ratios. While wide aspect ratios are gaining popularity, Bring Your Own Device presentations often originate from tablets in 3:2 or 4:3 formats and many legacy presentations are still formatted in 4:3. WUXGA is better suited to this broad range of possible sources. It can display three common aspect ratios (4:3, 16:9 and 16:10) with minimal loss of screen real estate. Less of the screen is wasted as letterbox or pillar-box black bars.
Best WUXGA Projectors of 2021: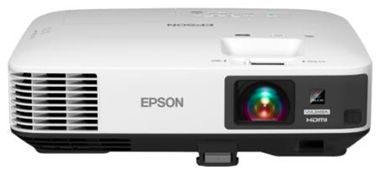 In the universe of high-resolution projectors, the Epson PowerLite 1980WU WUXGA 3LCD Projector offers a little more than most. As the name indicates, its native resolution is WUXGA (1,920 by 1,200), rather than the more common 1080p (1,920 by 1,080.) The difference isn't all that much, but it's enough to notice if you need to show lots of data on screen at once. Even better, the 1980WU combines the high resolution with high-quality images and a level of brightness suitable for a midsize to large room.
Compared with the Panasonic PT-RZ370U, which is our Editors' Choice high-resolution data projector, the 1980WU delivers both higher resolution and higher brightness. However, it doesn't have the Panasonic model's more advanced features, like the ability to monitor its primary colors and automatically compensate for changes to maintain color balance, or even its more common advanced features, like vertical and horizontal lens shift, which you'll also find in the Epson PowerLite 4855WU 3LCD Projector. (Lens shift makes setup easier by letting you move the image without moving the projector.)
That said, the 1980WU doesn't cost as much as either the Panasonic PT-RZ370U or the Epson 4855WU, and it offers some useful tricks of its own that also go beyond the basics. Most notably, it will let you show images from two different sources at once on a split screen, and you can take advantage of Epson's control software running on a PC to manage up to 50 image sources at once and choose up to four of them to show onscreen.
Because it's a three-chip LCD projector, the 1980WU can't show rainbow artifacts (flashes of red, green, and blue), which can be a problem with DLP models. The design also gives it the same color brightness as white brightness, so you don't have to worry about a difference between the two affecting image brightness or color quality. (For more on color brightness, see Color Brightness: What It Is, Why It Matters.) As with most LCD data projectors, it doesn't offer any 3D support. This won't be an issue for most applications, but if you need 3D capability, you'll obviously have to look elsewhere.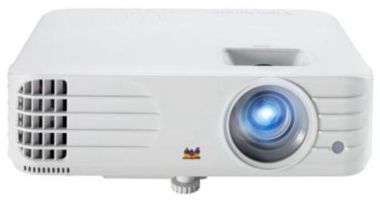 The ViewSonic PG701WU is a high brightness WUXGA projector with 1920 x 1200 resolution and a 16:10 aspect ratio. The 3,500 ANSI lumens of brightness allows the PG701WU to project images in full depth and detail, even in brightly lit medium-sized spaces, such as meeting rooms or classrooms. Its new SuperEco+ mode extends the projector's lamp life of up to 20,000 hours, effectively reducing lamp replacement and maintenance costs.
In addition, the dual HDMI ports allow you flexibly connect to your laptop, PC, and other high definition devices for presentation files or multimedia applications. Lastly, the USB Type A with power supply provides connectivity to a USB dongle for a wireless presentation.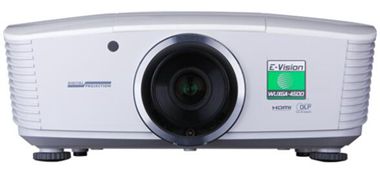 The Digital Projection E-Vision 4500 WUXGA Projector is a WUXGA Large Venue Projector. This lamp based projector is capable of displaying 4,000 Lumens at its brightest setting with a native resolution of 1920×1200 , and is 3D capable. The internal DLP technology touts higher contrast, less visible pixels and more portability.
The unique projector lens has the ability to be shifted to allow greater flexibility in positioning the projector relative to the screen. This projector was first available for purchase in May 2020 and has been discontinued by Digital Projection.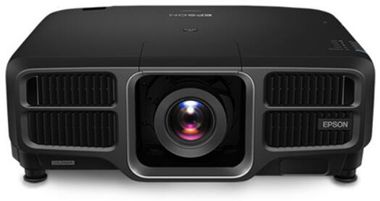 The Pro L1755U combines a laser light source and 3LCD technology for powerful, uncompromising images. This premium large-venue projector also features native WUXGA performance with Epson 4K Enhancement Technology. Delivering 15,000 lumens of color/white brightness from a standard 120 V power source, the compact Pro L1755UNL offers ultra bright, vivid color, while its laser light engine and electrostatic air filter provide virtually maintenance-free operation for up to 20,000 hours.
FAQs
What is WUXGA TFT?
Display Technology has a range of TFT displays available. Below we show you three 10.1″ TFT feature products with a WUXGA (widescreen ultra-extended graphics array) resolution of 1920 x 1200 pixels.
Is WUXGA better than 1080p?
For general business and professional content, WUXGA is a better fit. Compared to Full HD, WUXGA projection delivers notable advantages. We've seen that WUXGA is brighter for any given screen height that a room requires.
What is WUXGA Plus display?
W. (Wide Ultra XGA) A screen resolution of 1920×1200 pixels, which is a wide-screen version of the Ultra XGA (UXGA) standard (1600×1200). WUXGA is also known as "1080p+," because it adds 120 lines of vertical resolution to the 1080 (1080+120=1200).
What is a Wuxga projector?
The "Widescreen Ultra Extended Graphics Array" (WUXGA) is a 16×10 aspect ratio with a display resolution of 1920×1200 pixels. Originally emerging in high end desktop and laptop computing monitors, WUXGA projectors can now allow unique system designs for larger screen video applications.