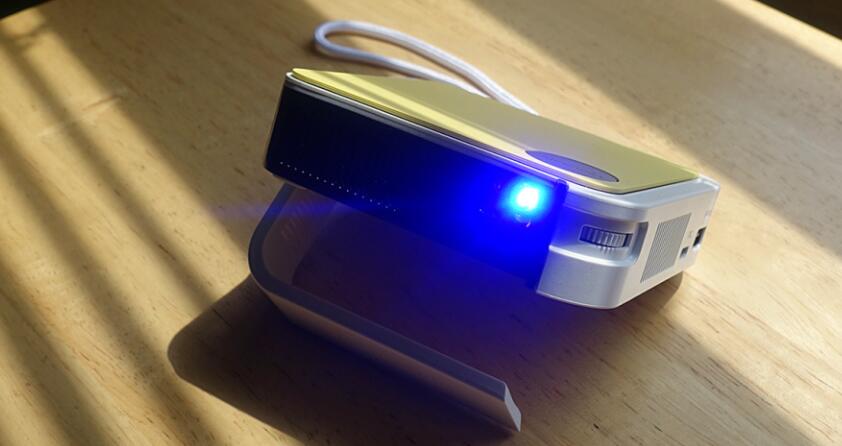 Whether you have your own coaching centre or you are an entrepreneur with your own office, projectors are one of the most important devices that you need to give a proper presentation. ViewSonic has always been one of the most popular names in the market. And it has offered the customers with a plethora of extraordinary projectors over the years.
ViewSonic's got some great projectors. They are well known to be price performance oriented, as they tend to set their prices at least slightly below the competition, when there are similar models out there. And, again, you can't beat the warranty.
The question – once you figure out which ViewSonic is the one that fits your needs and your budget – what are you still waiting for?
Why Buy a Projector?
Sure, TVs are nice. They have their place. But for projection enthusiasts, nothing beats a really big image at a really great value. Here lies the heart of the projection advantage. Inch-for-inch, TVs can't compete.
Projectors deliver the biggest images with the lowest per-inch price tag. They've got other great advantages as well. Compared to TVs, projectors offer:
Best value – Projectors offer the best value in cost per screen inch. Even factoring in the cost of replacement lamps and a projection screen. LCD TVs are much more expensive.
Bigger images – Projectors deliver much larger images than flat-screen TVs. Projectors are also adjustable. They don't limit you to one screen size. How much bigger, you ask. Many projectors can project an HD image up to 300 inches diagonally. HDTVs have a fixed screen size that currently maxes out at 80 inches.
Better viewing at more angles – Flat-screen TVs look great when viewed from the sweet spot. Sit at an off-angle and the image on TVs can be compromised. Projected images stay true regardless of the viewing angle.
Easier portability – Projectors can be mounted or used freestanding. Ditto TVs. The difference? A freestanding projector can be easily transported to liven up a backyard barbeque. Enjoy an epic game day at a friend's house. Pitch your latest entrepreneurial idea to investors. All with a big, cinema-style image.
True HD image enjoyment – Due to the constraints of human eyesight, many users won't experience the visual clarity of Full HD 1080p content on an LCD TV. At the average viewing distance of 9 feet, the benefits of Full HD will only begin to become visible with a 55" screen, and the full visual benefits won't be achieved until reaching a 75" screen.1 With a projection system achieving an image size at which high definition viewing can be fully enjoyed is both easier and more cost-effective.
Which Projector to Buy?
Projectors offer a wide range of features. If you want to keep things easy, your best bet is to start with this question: How will the projector be used? Your second question should be: what will the lighting conditions be like?
There's no such thing as a one-size-fits-all projector. Features may overlap. But different combinations best meet specific needs. Below, the key things to keep in mind when shopping for home entertainment, gaming, or portable projector.
Environment
Consider how space will be used. Is it a true home theater or a multi-purpose media room?
Can it replicate theater-level darkness? If so, brightness can be as low as 1,000 lumens.
If there will often be some ambient light, then projector brightness should be higher.
Room size and throw ratio
How big is the room? How far from the screen can you place the projector?
Throw ratio is the key spec for determining where a projector can be placed to create certain image sizes.
The keep-it-simple guideline: The smaller the space, the shorter the projector throw you'll want.
Resolution
Full HD 1080p resolution delivers terrific image clarity and detail. Most of today's content will be compatible.
4K resolution offers added image detail and is a more future-proof option as content moves to 4K.
Best Viewsonic Projector Reviews 2021: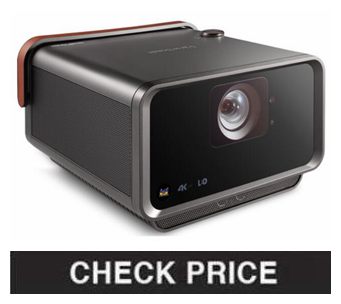 Like its predecessor, the ViewSonic X10-4K, and the LG Cinebeam HU70LA, this convenient device offers HDR10 support, a solid-state light source, and a fairly light weight—though at 9 pounds, it's more luggable than portable. Niceties such as a reliable auto-focus make it as easy to set up as a TV. Most importantly, it delivers decent color accuracy, contrast, and shadow detail straight out of the box.
Like most DLP 4K projectors, the X10-4KE uses TI's XPR fast-switch pixel shifting to get 3,840 by 2160 pixels on screen from a 1080p chip. It pairs the chip with a red-green-blue-blue (RGBB) LED light source, adding the second blue diode for higher brightness and to help improve color accuracy.
Setup is simple. Point the projector at your screen, plug in the power cord, and connect to a video source. The short-throw lens has no optical zoom, so you have to move the projector to adjust image size, but the auto-focus works well enough that you don't have to fiddle with it.
The X10-4KE also handles Full HD 3D nicely, using DLP-Link glasses. There are 3D versions of all four picture modes. I didn't see any crosstalk in my tests, and 3D-related motion artifacts were typical for recent projectors. Image brightness in 3D is higher relative to the 2D modes than with most projectors.
Long-lived LED light source
4K UHD (3,840-by-2,160-pixel) resolution using TI's XPR fast-shift pixel shifting
HDR10 support
Built-in handle for easy portability
Notably high-volume, high-quality audio
Integrated streaming, Android OS, and smart home features
Perceived brightness is lower than the rated 2,400 LED lumens
Out-of-the-box color accuracy is somewhat off
Disappointing shadow detail in dark scenes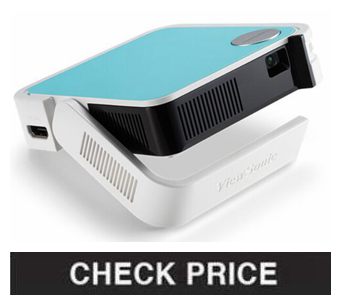 Although the palmtop-size ViewSonic M1 mini throws a relatively faint image, physically this projector is bright and cheery—matte white on the sides and bottom, with interchangeable top plates in gray, yellow, and teal. With a cleverly designed built-in stand, above-average image quality, and a simple interface and media player, this affordable, highly portable device is a good choice as an entry-level projector for use in a family room or while on vacation. The M1 mini's modest brightness limits its usable image size, and it works best in a darkened room.
Most mini projector stands are tiny tripods that screw into a projector's base. ViewSonic took a different, and refreshing, tack with the M1 mini, whose stand is built into the device itself.
When the M1 Mini is not in use, the lens is hidden by a hinged arm with a 90-degree bend, which wraps around most of the front and left sides of the projector. If you want to use the M1 Mini with it placed flat on a surface—where it rests on four tiny feet, each less than an eighth of an inch tall—you can swing the arm upward and out of the way to reveal the lens. When you swing the arm downward, it acts as a stand or riser, with the "forearm" extending underneath the projector to support it. Tilt angles range from about 10 degrees (when the arm no longer blocks the lens) to about 60 degrees from the horizontal.
The ViewSonic M1 mini is much more basic than the AAXA P7 and LG PH550, but it sells for less than half their prices. If you're fine with connecting via HDMI or running files from a USB thumb drive, and you need a portable projector for use in a small room that you can darken if necessary, the M1 mini will do the job.
Highly portable
Simple yet innovative stand
Interchangeable top panels in three colors
Media player handles photo, video, and music files in a variety of formats
Can project images only at modest size
No on-body control panel
Tiny remote is easily lost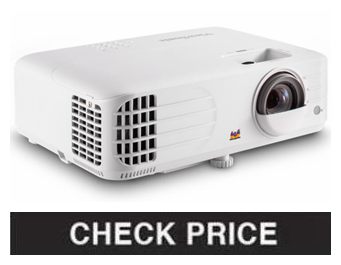 The PX703HD uses 1,920 by 1,080 pixels on a 1,920-by-1,200 DLP chip to give it a 1080p native resolution for video sources. The extra pixels on the chip let you shift the image up or down by a total of 10% of the image height to more easily match the picture to your screen during setup. A PC providing WUXGA input can take advantage of the full 1,920-by-1,200-pixel resolution.
The white panel on its red-blue-green-cyan-yellow-white (RBGCYW) color wheel produces a brighter image but can hurt color accuracy compared to projectors without a white segment; the cyan and yellow panels help correct for that. The six-segment wheel is designed for use in bright rooms, such as a family room with a lot of windows.
Most people will judge the Sports, Standard, and Gaming modes as watchable with default settings, at least for casual viewing. However, all are blue-shifted to varying degrees, and Gaming mode lightens most scenes to the point where brightly lit ones are on the verge of looking washed out. For dark scenes, this can be an advantage in games, since it lets you see what's happening in the shadows more quickly.
However, it can rob photorealistic images of contrast and diminish three-dimensionality. For movies and video, Movie mode delivers more visual impact for dark scenes and the best color accuracy of all the picture modes.
Bright enough to throw a big image that can stand up to ambient light
Good contrast and black level for the price
1.3x zoom lens and image shift for easy setup
Low input lag delivers fast reaction time for gamers
Supports full HD 3D
Maximum input resolution is limited to PC connections; only 1080p for video sources
No HDR support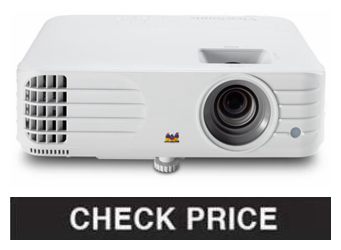 ViewSonic's website touts the PX701HD as ideal for both home and office, but it's better thought of as a home entertainment projector that can also serve for presentations—a statement that's true for almost any home projector. In truth, it's a close match to the BenQ TH585, which BenQ calls a home entertainment model.
Like the TH585, the PX701HD offers native 1080p resolution, a low lag time for snap responses in games, a picture mode that brightens the dark areas in game scenes to reveal hidden dangers, and another for watching movies that delivers more dramatic-looking dark scenes and better contrast. It even offers the same 3,500-lumen brightness rating. It's an able full-HD projector choice.
If you're interested in gaming, watching movies and video on a large screen in rooms with ambient light, or both, the ViewSonic PX701HD is a capable 1080p choice. But be sure to consider whether it's worth paying a bit more for a projector like the Optoma GT1080HDR or Optoma HD39HDR, both of which are also 1080p projectors designed for gaming as well as movies and video, but which add higher brightness and HDR support, with its promise of a wider color gamut.
Low cost
Bright enough to throw a big, nonfading image
Good contrast for the price
Low input lag delivers fast reaction time for gamers
Supports 3D
Default settings make at least some colors in every picture mode obviously off target
Maximum input resolution is limited to 1,920 by 1,200 (WUXGA) for PCs and 1,920 by 1,080 (1080p) for video sources
No HDR support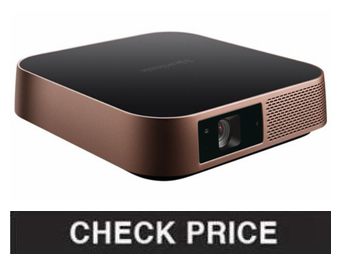 The ViewSonic PLED-W800 offers easy portability, a good set of connection choices, and solid data-image quality for an LED-based mini projector. Its main weakness is poor video quality.
The W800 had slightly better text quality in our testing than the InFocus LightPro IN1146, our Editors' Choice LED-based WXGA projector, but the IN1146 is a better-rounded model, with higher brightness (1,000 lumens), multiple connectivity choice, and much better video at a comparable price.
That said, if you use little or no video in your presentations, the ViewSonic PLED-W800 is a good choice. It offers a wide range of connectivity ports, easy portability, and solid data-image quality.
Small
Lightweight
Mobile High-Definition Link (MHL)-enabled HDMI port
Can project content from a USB thumb drive or SD card
2GB of internal memory
Loud audio for its size
Poor video quality
Apparent scaling artifacts at native resolution
FAQs
How to adjust the image size on a projector?
The projector's image size is determined by the distance between the projector itself and the screen. Moving the projector closer to the screen will make the image smaller, and moving the projector farther from the screen makes the image size bigger. If the projector has zoom control ring. You can use this to adjust image size too.
How to Upgrade the M1+ Firmware?
1. Go to "Downloads" -> "Driver & Software" by searching M1+ from ViewSonic website to download "M1+ Firmware Update v2.03".
2. Unzip the downloaded files and copy the Firmware files, "MstarUpgrade.bin" and "M1+WW.bin" to a FAT32 formatted USB drive.
3. Power on the projector.
4. Plug in the USB drive with the new Firmware (from Step 2).
5. The projector will automatically detect the Firmware files and a Firmware update notification will pop up.
6. Click "Confirm".
7. A progress bar will appear.
8. After reaching 100%, the projector will return to the ViewSonic start up screen for loading again.
9. The whole upgrading process will take around 5~10 mins.
10. After the process is completely finished, the projector will return to the Home page.