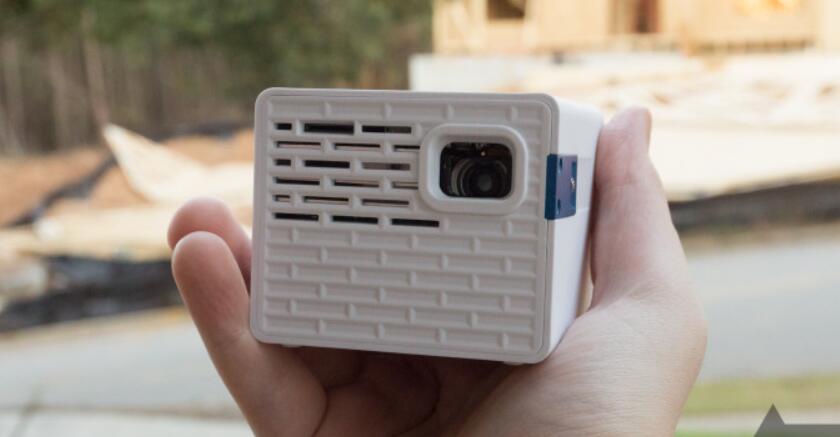 AAXA Technologies Inc was founded in 2008 as a developer and manufacturer of a new class of projector known as "micro" projectors and "pico" projectors. AAXA's core technology is based on small LCoS (Liquid Crystal on Silicon) and DLP (Digital Light Processing) imagers mated to LED (light emitting diode) and Laser light-sources that makes micro projectors and pico sized projectors possible.
In 2010 AAXA launched the world's first laser pico projector and today remains a leader in mini-projector technology. AAXA holds several patents in optical and LCoS designs and manufactures the majority of its products in China, with core technological development occurring in both the Silicon Valley, California and China.
What are Pico Projectors?
As denoted by "pico", these are mini projectors or micro projectors, and the term projector is used generously here. They're very small and of course light, so you can effortlessly move them around, carry them in your pocket or a bag, and take them anywhere.
But due to their tiny size, these devices have very limited projection capabilities, and are not suited to much more than viewing a display about the size of a TV for a short period time, as their built-in batteries lack the power needed for extended sessions. Sure, you can use USB wired power, but even then, pico projectors have lots of limitations as they're not meant for true large format, big screen viewing.
Advantages and Disadvantages of Pico Projectors
Beyond a compact and light design, pico projectors appeal to potential buyers with low prices, typically starting at a modest US$25. They fit in your pocket and don't hit the wallet too hard, therefore seeming like an easy fix. But they're not, especially with current technology.
That's because on the downside, pico projectors have mediocre image quality that gets hazy towards the edges. Brightness is very limited (100 lumens in most cases), and so is resolution (480p if you're lucky). Add short battery life and you get devices that aren't suitable for any kind of serious projection.
Best Aaxa Projector Reviews 2021: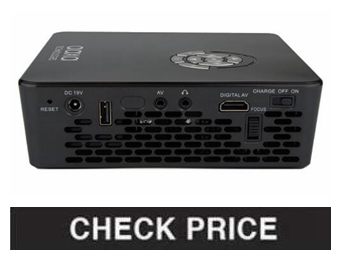 The AAXA P6X is called a pico projector on AAXA's website, but if you think that "pico" describes something that fits in a shirt pocket and isn't very bright, that can be misleading. The P6X is small enough to slip into a briefcase or backpack, but it's more of an oversized palmtop, effectively a bigger, brighter version of the Kodak Luma 350 or the ViewSonic M1 mini. Though AAXA calls it a business projector, it can also serve nicely at home for casual movie and video watching and even gaming.
The AAXA P6X is an impressive little projector. It's bigger, heavier, and more expensive than the ViewSonic M1 mini or the Kodak Luma 350, but it's also a lot brighter. It also has far more robust audio with better sound quality and higher volume than any number of projectors that are bigger and more expensive.
Few projectors as portable and inexpensive as the P6X can deliver an image this bright or watchable. As long as you don't need a Wi-Fi connection to mirror your phone or tablet screen and you can tolerate the minor issues with focusing and retaining the projector positioning setting, the P6X is an excellent choice for presentations on the road and media viewing at home.
Bright image for the size and weight
Remarkably good contrast, black level, and shadow detail
Battery lasts up to four hours and can be used to charge other devices
Focus wheel is hard to reach when an HDMI cable is connected
Slightly soft focus
Some colors are oversaturated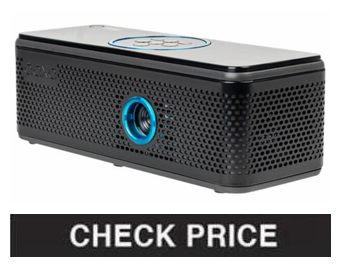 The AAXA BP1 Speaker Projector, the latest in a string of mini projector/Bluetooth speaker mashups that we have reviewed, is stronger as an audio system than as a projector. The BP1's twin 6-watt speakers produce clear and loud sound, but the projector's low brightness and pedestrian resolution limit its effective use to a small image size in a dark room. Somewhat brighter mini-projectors like two recent Editors' Choice models, the Kodak Luma 350 and the Anker Nebula Apollo, can project larger usable images and better withstand ambient light.
Nonetheless, the BP1's modest price makes it a tempting combo of a portable projector and an audio system for someone with modest projection needs.
Of all the projector/Bluetooth speaker combos we have reviewed, the BP1 is strongest as a Bluetooth speaker as opposed to a projector. It does have some good points as a projector, with plenty of connection choices, the benefits of AAXA's easy-to-operate media player, and typical image quality for a low-brightness LED-based DLP projector. And its long-lasting battery makes it a good choice for portable use.
That said, its low brightness and resolution relegate it to projecting relatively small images in dark rooms. For a larger image size, and at a higher price, either the Kodak Luma 350 or the Anker Nebula Apollo, both PCMag Editors' Choice picks, would fit the bill. They both incorporate Android and run its apps, but of the two, only the Apollo doubles as a Bluetooth speaker. But if you're primarily in need of a Bluetooth speaker and have just light projection needs, the AAXA BP1 Speaker Projector could well be the bargain combo you are looking for.
Modest price
Long-lasting rechargeable battery
Good Bluetooth speaker sound and functionality
Easy-to-use media player
Many connection choices
Low brightness and resolution
Labels are hard to read
Meager warranty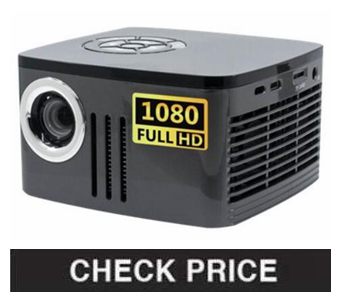 The AAXA P7 Mini HD Projector, which fits comfortably in your palm, is easily the smallest projector with native 1080p resolution that PC Labs has tested, beating out AAXA's own M6 by more than two inches in both width and depth. Like the AAXA M6, the AAXA P7 does well at displaying small type and intricate designs, and it can function as a portable media player for video and photos, as well as playing music. Although not as bright as the AAXA M6, the P7 has slightly better video-image quality, and it costs less.
The AAXA P7 Mini HD Projector is unusually small and light for a 1080p projector. Although it can be used to show photos or video (or play music) stored on a flash-memory device, its real strength is its data-image quality, which makes it a great choice for businesspeople who give presentations while traveling but don't want to tote a full-size projector.
As was the case with the P7's data images, I saw some rainbow artifacts when I switched to video, but they were mild. It's unlikely that even people sensitive to the rainbow effect would find them distracting.
Audio from the dual 2-watt speakers is of decent quality, and loud enough for use in a small room. Should you want punchier or better-quality sound, you could connect a pair of powered external speakers to the projector's audio-out port.
Highly compact and lightweight
1080p native resolution
Built-in battery
Good data-image quality
Plays music and displays photos or video from memory cards or USB sticks
What to Look For in a Mini Projector
Contrast Ratio
You've probably seen some contrast ratios that look like 1,000:1, or 10,000:1. The contrast ratio is defined as the difference between the brightest color possible and the darkest color possible. The bigger the difference, the more the projector will differentiate between colors. Lower contrast ratios will result in pictures that look either too dark or washed out. Contrast ratio is denoted as "XXX:1". The higher the first number is, the better.
Brightness
Obviously, how bright your picture is will determine how dark your environment has to be in order to watch. Brightness is measured in lumens or ANSI lumens (See above). A brighter picture is more visible even when there's a lot of ambient light. Generally speaking, a higher brightness is better.
Battery/Battery Life
One of the benefits you'll get from a portable projector is the ability to set it down anywhere and go. Batteries ensure you don't even have to worry about a power source. If you want to get through a movie, look for a battery life that exceeds 2 hours. Obviously, in this case, higher is better, because it gives you more freedom of placement.
FAQs
How to connect your Android Smartphone to the projector using HappyCast?
The P2-A Projector employs a "Happy Cast" smart phone mirroring system that is compatible with Android systems.
1. Download the HappyCast App by clicking on this link: Here or type https://aaxatech.com/h2.apk manually on your Smartphone.
2. A prompt will come up stating "This type of file can harm your device. Do you want to keep happycast.apk anyway?" Choose "Ok" and the download will begin. Once finished press on the HappyCast download notification to install the app.
3. If "Install apps from unknown sources" is not enabled on your device, then it will prompt you to turn it on. To do this, go into Settings and it will be under either Security or Application settings depending on the Android OS your phone is currently on.
4. Once the app is successfully installed you may now start the HappyCast app. Make sure the HappyCast app is running on the projector as well. Your Smartphone will show the streaming name that is displayed on the projector. To connect, press on the streaming name displayed.
5. Your Smartphone screen should be displayed on the projector. If you have any other questions or run into problems please contact us at [email protected] or call us at (714)-957-1999 during our business hours from 9 A.M to 4 P.M Pacific time.
How to use a pico projector for decorating cookies?
There are many methods of connecting the pico projector to a video source, including USB, HDMI, and others. Some also provide the option of connecting through Wi-Fi. After this, directing the lamp at the specific cookie which is to be decorated and keeping it above the workspace will do your work. You can also use decoration tools for it.
How to use a tripod or wall hanging mount?
Using a pico projector looks like a difficult task, but it is not as difficult as it looks. You can use either tripod or wall hanging mount for your work. You can use a retractable stand to properly place the pico projector. Avoid placing it sidewise so that the image doesn't fall on the cookie.