Samsung has always been a strong innovator in the world of electronics, and the Samsung Freestyle projector is yet another shining example of their commitment to develop new and exciting products. This portable projector has been specifically designed to cater to the needs of modern consumers who are always on the go and demand high-quality entertainment wherever they are. In this review, we'll examine the key features of the Samsung Freestyle projector, discuss its performance, and help you decide whether this compact device is a worthy addition to your entertainment arsenal.
Check Price On Amazon
Design and Build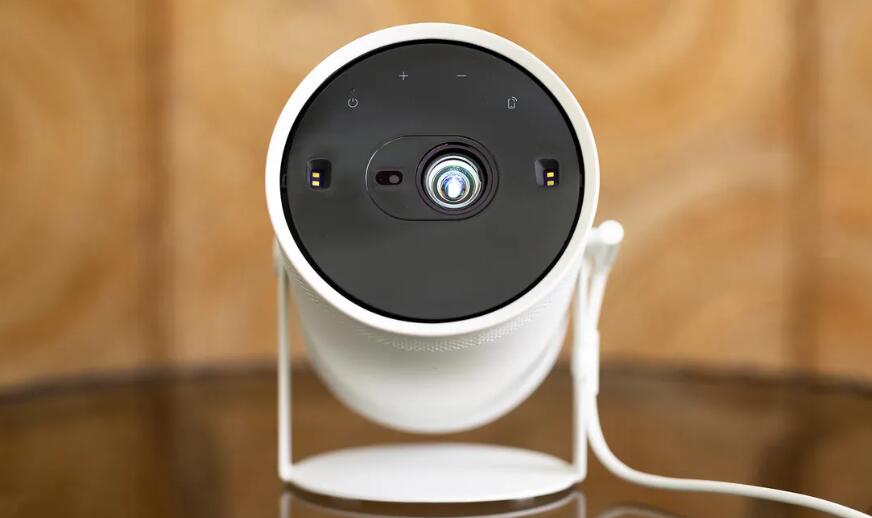 The Samsung Freestyle projector is a compact and lightweight device, measuring just 3.6 x 3.6 x 5 inches and weighing around 1.8 pounds. This makes it incredibly easy to carry around, whether you're planning a movie night at a friend's house, a camping trip, or a business presentation.
The design of the Freestyle projector is quite sleek and modern, featuring a minimalist cylindrical shape with a soft-touch matte finish. At the top, you'll find a touch-sensitive control panel with power, volume, and source buttons. The front of the device houses the projector lens, while the back accommodates the power input, a USB-C port, and an HDMI input.
One of the most innovative features of the Samsung Freestyle projector is its 180-degree rotating lens. This allows you to easily project content onto walls, ceilings, or any other surface without the need for a tripod or stand. The built-in auto-leveling feature ensures that the projected image is always perfectly aligned, saving you the hassle of manual adjustments.
Performance and Features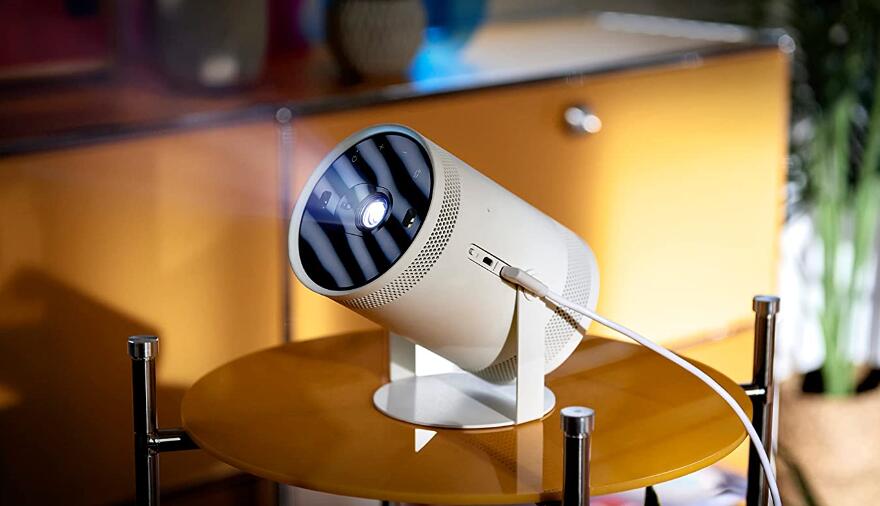 Image Quality
The Samsung Freestyle projector utilizes DLP technology and delivers a native resolution of 1080p Full HD, ensuring that you can enjoy high-quality content with excellent detail and sharpness. The projector provides a brightness of up to 300 ANSI lumens, which is more than sufficient for most indoor viewing conditions. However, you might face some limitations when using it in bright outdoor environments or rooms with a lot of sunlight.
One of the highlights of the Freestyle projector is its support for HDR10+ content, which allows you to enjoy a wider color gamut and better contrast levels in compatible movies and TV shows. When it comes to the overall image quality, the projector delivers vibrant colors, deep blacks, and impressive detail, making it an excellent choice for both home entertainment and professional presentations.
Audio QualityThe Samsung Freestyle projector comes equipped with a built-in 360-degree speaker system that delivers an impressive audio experience. The device features Dolby Atmos and Dolby Digital Plus technology, which ensures that you get immersive sound quality, even without an external speaker setup. While the audio performance is good for a compact projector, it might not be enough for dedicated home theater enthusiasts who prefer a separate, more powerful audio system.
Smart Features
The Freestyle projector is powered by Samsung's Tizen OS, which offers a smooth and user-friendly interface with a variety of pre-installed apps, such as Netflix, YouTube, and Hulu. This means you can start streaming your favorite content right out of the box without the need for an additional streaming device. Additionally, the projector supports both Wi-Fi and Bluetooth connectivity, allowing you to connect it to your smartphone, tablet, or laptop for seamless content sharing.
One of the standout features of this projector is its support for Samsung's SmartThings ecosystem. This allows you to integrate the Freestyle projector into your smart home setup, enabling you to control it using your voice or through the SmartThings app.
Battery Life
The Samsung Freestyle projector comes with a built-in rechargeable battery that provides up to 3 hours of playback on a single charge. This makes it a great option for those who want to use the projector in places where there's no access to a power outlet. However, keep in mind that the battery life may vary depending on the content you're streaming and the brightness settings you choose.
Pros and Cons
Pros:
Compact and lightweight design
180-degree rotating lens with auto-leveling
1080p Full HD resolution with HDR10+ support
Built-in smart features and app support
Integrated 360-degree speaker system with Dolby Atmos
Cons:
Limited brightness for outdoor use
Audio performance might not satisfy home theater enthusiasts
Battery life could be better for extended outdoor use
SAMSUNG The Freestyle Review YouTube
Conclusion
The Samsung Freestyle projector is an innovative and versatile device that offers excellent image quality, smart features, and portability in a compact package. Its unique design and 180-degree rotating lens make it a convenient and flexible solution for a wide range of applications, from home entertainment to business presentations.
While the projector's brightness might not be sufficient for outdoor use in bright conditions, and its built-in audio performance may not satisfy dedicated home theater enthusiasts, the Freestyle projector is still a solid choice for those who value a portable and feature-rich entertainment solution.
Overall, the Samsung Freestyle projector is an impressive piece of technology that caters to the needs of modern consumers who are always on the go but don't want to compromise on quality. If you're in the market for a stylish, versatile, and portable projector, the Samsung Freestyle is definitely worth considering.