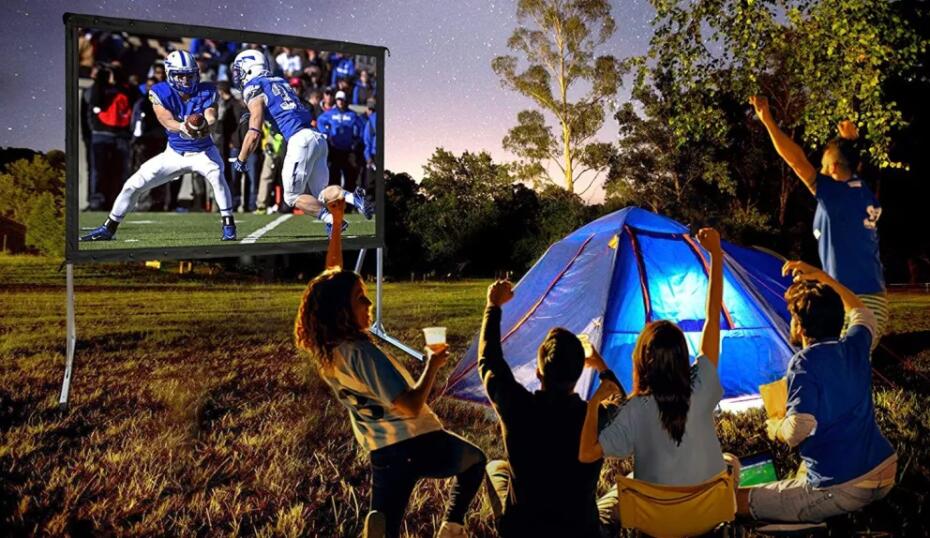 Is there a cooler way for Netflix binge-watching, than on a large portable project screen? Probably not, but to fully enjoy all of its benefits, you have to find the one that will suit you. Getting the right screen is dependent on your needs. You might use it for leisure, business, or academics. That will determine the most suitable screen for your projector. To help you find the best one, we have researched the top 10 best portable projector screens for you with reviews and a buying guide.
What Are the Best Portable Projectors?
There are many factors to consider when choosing the best portable projector for you; below are the most important ones, which we considered while we were researching this list.
Native Resolution: A lot of projectors accept HD content, but very few of them can actually produce an HD image. Many of them use a technology called "downsampling," which means it takes a high resolution image, and scrunches it down to a lower quality one.
Throw Distance: This is a math equation that calculates how big a projector's image will be based on how far away it is from the screen or wall it's projecting onto. The further away the projector is from the wall, the larger the image will be. Some projectors are categorized as "short throw," which means they're calibrated to throw a larger image from a shorter distance.
Brightness: The image thrown by a projector is highly susceptible to light pollution, which will dim its image before it hits your screen or wall. The brighter the projector, the more it's able to overcome light pollution. Unfortunately, the brighter the projector, the lower the battery life. If you plan on using your projector at night, brightness won't be as big of a factor, but it's something to consider if you're going to use it to replace your TV in a well-lit room.
Weight: The biggest upside to having a portable projector is its portability, so it's important to factor in weight. All of the projectors on our list weigh less than five pounds, and will fit in a backpack, but this is definitely a factor to consider if you're planning on carrying your projector around a lot.
Speakers: All of the portable projectors on this list have built-in speakers, so you don't have to carry a pair around with you to watch a movie. That said, the speakers are generally smaller, and less powerful because of space restraints, and can add to power consumption.
Battery life: Portable projectors are a battery power balancing act: brightness, speaker size, weight, and resolution all play a part in how much time you'll get to use them per charge. Most have different power settings, which gives you some control over how long they'll last, but in general you should expect to get through one or two movies without much trouble.
Our Top Picks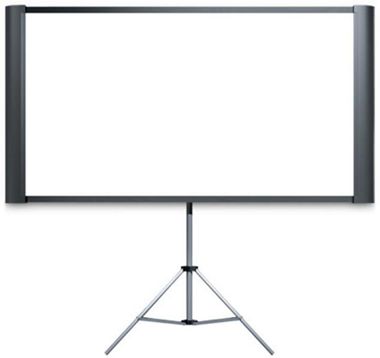 The Epson Duet Ultra Portable is a true multipurpose projector screen, with the ability to serve as a business presentation tool or as an affordable entertainment screen. This screen is unique in that it deploys side-to-side rather than the standard top-to-bottom so you can choose between two aspect ratios – 4.3 for a 65-inch size, and 16:9 for an 80-inch viewing area. Although picture quality will not stack up to that of dedicated home theater screens, it is solid overall, and usable for a wide variety of purposes.
There is a slight blue tint, but paired with a good projector the image is bright and detailed with a very wide viewing angle. This portable screen is easy to set up, with the option of hanging it on the included floor stand or mounting it on the wall. When not in use, it folds up and can be stored in a protective carrying case; although at nearly 27 pounds, it's not exactly lightweight.
A common problem with the Epson Duet Ultra Portable is the tendency for the screen to curl in at the top and the bottom since there's no support; this is a relatively minor issue but it can be an annoyance for perfectionists. However, this projection screen offers excellent overall value with a compelling combination of solid performance, portability, and affordability.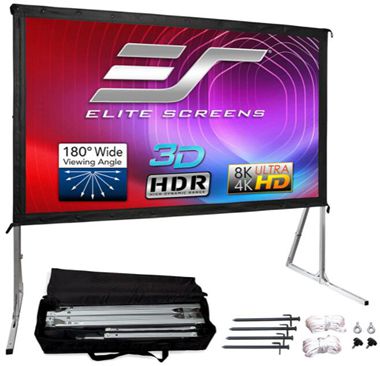 Goo Systems' GooToob is a DIY option for those who don't mind putting in extra work to save some money. This projector screen option is essentially a painted on screen with the option to make it as big as 128 inches (16:9) or trim it down smaller. This screen offers even gain (rated at 1.0), a smooth screen surface, and good color accuracy.
It comes with a sheet of paper and everything else needed to install the screen, but the process will usually require the help of at least one other person, and can be quite time-consuming. The fact this method will be very difficult to remove and take with you should you move, this screen option won't be right for everyone. However, if you're willing to put in the work, the affordable Goo Systems GooToob offers excellent image quality.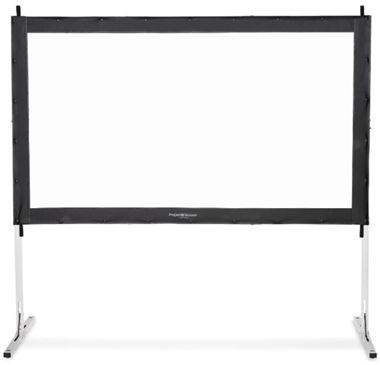 Visual Apex is a high-resolution/high-resolution portable projector screen. It's well-known for its high-quality movie theatre projection. This model is UV protected anti-static with the flame-retardant coating. All of these attributes make Visual Apex super portable and easy to carry around. It comes at a great price for its 144-inch size. Plus, it highlights remarkably high resolution resulting in ideal image delivery.
The screen is made up of high-resolution white matte PVC plastic that showcases zero light penetration. Upon assembling, the material stays flat and wrinkle-free.
While Visual Apex is reasonably priced and offers excellent color reproduction, the only pitfall is its complicated assembling technique. The legs don't adjust, and brackets are too tight to clip to the frame, causing assembling and disassembling a hassle every time.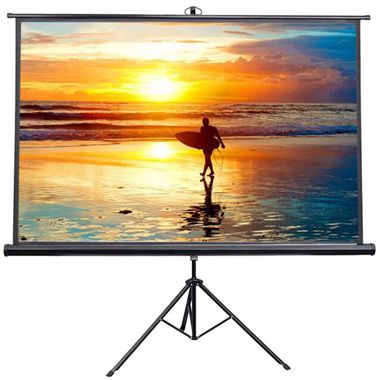 Vivo is a conventional patterned portable projector with a 100-inch diagonal screen. The layout of the model is white, with a background to minimize light penetration. The black borders of the screen absorb light effortlessly and provide better picture quality.
This model has 120 degrees viewing angle with 1.1 gain. Unlike the new portable projector screens, you would see this with a traditional tripod stand. It can also be mounted on the ceiling or the wall. The product is easy to transport and store. Still, it requires an assembling process. This portable screen is meant to be used for day to day purposes – at home, in offices, or for education, since it isn't fragile. You can also wash Vivo off with mild soap and water if required.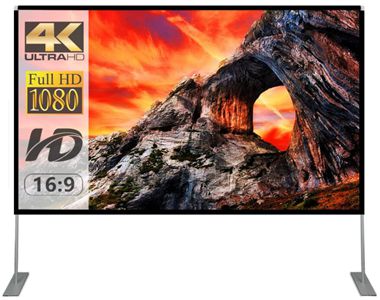 This projector screen incorporates features seen in more pricey models at a more affordable price. The view angle is 160 degrees, and it highlights a ratio aspect of 16.9. It's a 100-inch portable projector screen. It's made using highly durable polyester and spandex to ensure it long-lasting. This screen will guarantee you clear images with high resolutions, no matter if you plan to use it for rear projection or front projection.
This model is easy to set up since you do not need complicated tools such as screws, string, and other accessories when doing so. It's also convenient to carry around since its lightweight of only 6lbs. You can conveniently carry it along with you when on family trips, backyard movie nights, and much more. The package also includes a unique base stand for maximum stability. You can use this projector in indoor as well as outdoor spaces such as performance entertainment centers, camping, and even as a home theatre.
FAQs
What can I use if I don't have a projector screen?
That's perfectly OK! You can DIY a screen or even use the side of your house to project movies. Build a frame using PVC pipe or wood and stretch a piece of canvas or a white bedsheet across the frame. It's really that simple to make your own projector screen that will bring your family hours of entertainment.
How many lumens do you need for an outdoor projector?
Even though it's dark outside, it's not pitch black. There's ambient light from other homes, the moon, streetlights, and other sources. That's why you'll need a projector with the power to shine brighter than those other light sources. For the best quality image, you should look for an outdoor projector with at least 800 lumens. Those with at least 2,000 lumens (and more is always better) will provide a high-quality viewing experience.
How many formats of screen projectors are there?
There are the Square format screens mostly used for slide projection. They come in different ratios that include the popular 1:1 for square, 4:3 in video, 16:9 HDTV, 16:10 PC Widescreen, and 2.35:1 for cinema. They also differ in resolution.