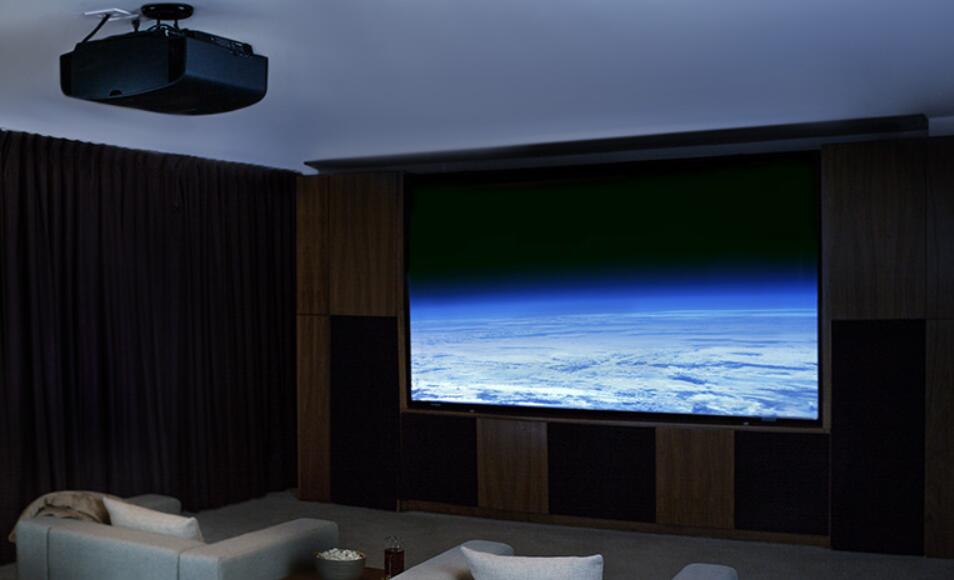 If you want to achieve an amazing, high-quality movie experience, look no further than a 4K projector screen. Designed to work with high-quality projectors, these screens will impress and delight any audience. Whether you need an acoustically transparent screen, one with ambient light rejection, or one compatible with ultra short throw projectors, you've come to the right place. At Projectorleader.com, we have a wide range of 4K projector screens from the best brands in the business and we're ready to help you find the perfect one.
Why Buy a 4K Projector Screen?
When it comes to high quality image and a stellar viewing experience, we often recommend 4K projector screens. With its high versatility and wide range of options, a 4K screen can be a top choice for both residential and commercial use, from home theaters and schools to conference rooms and places of worship.
Moreover, if you already have a 4K projector, you should get a compatible screen in order to enjoy the best viewing experience. Without a 4K screen, no matter how powerful your projector is, it will not deliver its full potential. That's because only 4K projector screens have the proper texture and coating designed specifically for the quality needed for 4K visuals.
Additionally, these screens can enhance the experience of 1080p projectors, too. Whether you need to showcase a business presentation or simply watch a movie at home, you want to make sure you're getting the best visuals possible.
What to Look for in a Screen When Using 4k Technology?
When dealing with 4k technology, the pixels actually come from the projector you use. It is, after all, the projector that's reflecting the picture and creates the resolution. But what kind of projector screens work with 4k the best?
There's only one main specific feature that makes a projector screen 4k ready. All other features should be determined by your own preferences, where the projector is mounted, and the room you're using (or if you're using it outside).
The texture should be your main concern when deciding if a projector screen can handle 4k technology.
Older projection screens have a thick texture so you can see the details better with less resolution. However, when looking for a projector screen that's 4k ready, you need a screen that has a much finer texture so you can enjoy every detail of your picture, whether you're projecting a project for work or a movie.
Our Top Picks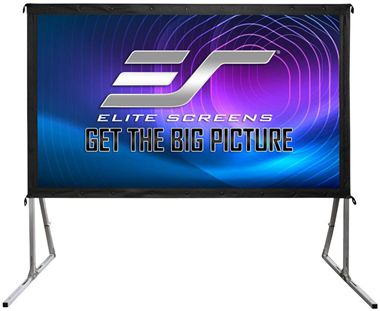 The Elite Screens Yard Master 2 measures 58.8 inches in height by 104.6 inches in width and is supported by a silver aluminum frame. The CineWhite 1.1 Gain Matte White screen is ideal for catching the light of the projector without any sort of glare. Perfect for using in outdoor settings, this Elite Screens Yard Master 2 has an all weather design.
Its 180-degree viewing angle makes it simple for you to see it just as easily as the rest of your audience can, no matter where everyone is currently seated. The black masking boarders enhance the contrast of the picture. This Elite Screens Yard Master 2 can be assembled in only minutes and does not require the use of tools to do so. Its lightweight aluminum tube frame construction can be easily moved from place to place with the help of its padded carrying bag.
A fully tensioned, snap-button frame offers totally flat projection with the Elite Screens Yard Master. It comes with everything you need to set up the Elite Screens Yard Master 2 with no issues so that you, your family, your friends and your neighbors can all enjoy your favorite games, television shows, movies and more at any time.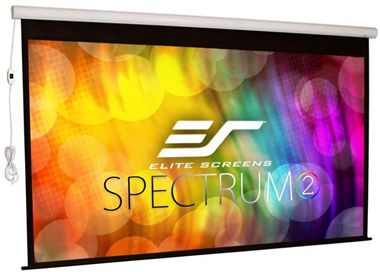 Elite Screens Spectrum2 is a projector screen that offers more than a decent quality and performance but doesn't cost too much at the same time. It is available in four sizes (91", 100", 110" and 120") and 16:9 aspect ratio, which is the most suited for today's movie and TV standards.
This projector screen is supplied with aluminum casing and the tubular motor that can be controlled over the integrated 3-way switch (up, down and stop) and offers the possibility for ceiling installation. The surface of the screen itself allows for 180-degree viewing, has a 1.1 gain and fully supports watching of 4K and Active 3D video materials.
Elite Screens Spectrum2 has a fair price and a three-year warranty, and overall offers great value for the money, with only minor flaws, such as occasional lack of tension. In other words, if you are after the best-motorized projector screen for an affordable price, Elite Screens Spectrum2 is a great deal.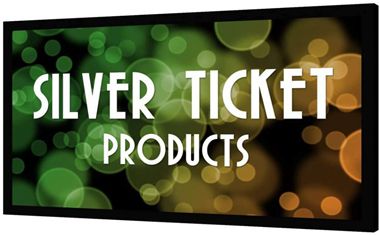 If you are looking for the best 4K projector screen that won't take too much money out of your pocket but will deliver the performance worthy of the best projectors, Silver Ticket series might be a great choice for you.
This great value product comes in various sizes (from 92 to 200 inches), gains and aspect ratios (16:9, 16:10 and 2.35:1), but also different materials (white, grey, high contrast material, etc.) In other words, there is an option for anybody.
The screen is easy to install, offers wide viewing angles, and more importantly, delivers a sharp image. It has a durable aluminum frame and is built out of high-quality materials. Moreover, it supports Active 3D and 4K materials and altogether offers exceptional value for the money and is an overall great projector screen.(Click here for more silver screens for projector.)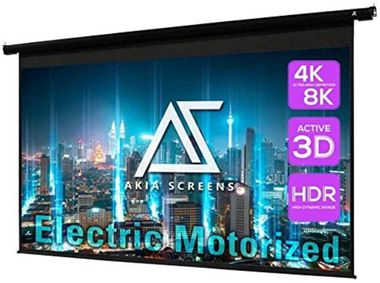 This screen allows you to create the perfect movie experience set up right in your living room. Even more, once the movie is done, you can roll it up with the press of a button, and forget it's there until the next movie session!
The tubular motor (that ensures the screen goes up and down) is silent and works swiftly. Also, you can use the remote to open and close the projector from a distance (meaning you can have everything installed on the ceiling).
To ensure the best viewing experience, the projection material is ISF certified for accurate color reproduction. Also, it offers a 180-degree viewing angle with 1.1 gain, and the back is lined with black material to increase brightness and stop light penetration. In addition, the material is installed inside a sturdy aluminum case with fittings for ceiling and wall installation.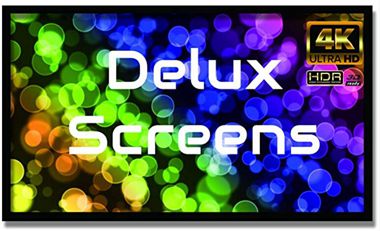 Transform your home into a movie theatre and enjoy the best image quality with an impressive video projector together with the Delux screens projector screens. It comes with great features that are compatible with your projector to deliver the best. Being able to provide big-screen images that are clear, the screen projector is not simple at all. At 150 inches and 160-degree viewing angle with a gain of 1.5, what will you not enjoy?
The projector screen allows you to enjoy videos in full HD and 4k and also 3D content. The frame of the projector screen has been made from very lightweight aluminum for flexibility purposes. Its sleek design is what makes it even more beautiful to have at home. The border of the screen has been made with black velvet material to prevent image spillage by absorbing projection overshoot. It's quite easy to do screen installation after setting up your projector. It has complete sliding wall brackets, screw and drywall and completely easy to set up.
The quality of the screen is premium and is uniform all over with o wrinkles to it for a smooth viewing experience. The projector has been designed for rooms with natural ambient light. It gives out the best contrast and ultra HD images for the best of home film and gaming. It's quite easy to do the cleaning on the projector screen by whipping it with soap and water. The extensive screen features make it perfect for so many places like schools, restaurants, hospitals, offices, schools, and homes. All of the places have their importance and use of the projector screen to do their things. At home, the images are super and in synch with your video projector.
FAQs
Is a projector screen better than a wall?
A screen provides the best quality and highest definition possible. Light reflection is the key and a wall simply cannot match that of a screen. An ultra-smooth surface is what reflects light best and since most walls have flaws, cracks or bumps, projection screens are far superior in this aspect.
What color screen is best for a projector?
Gray screens are often called high contrast screens because their purpose is to boost contrast on digital projectors in viewing rooms that are not entirely dark. The gray screen absorbs ambient light that strikes it better than a white screen does. In so doing the black level on the screen is maintained.
Can you watch TV on a projector screen?
To summarize, you can watch normal TV on a projector but you'll need to get a cable box and connect the box to the projector via HDMI. You'll also need to work on an audio solution because built-in projector speakers aren't the best.
Conclusion
A projector allows you to easily watch movies and sports on a very large screen for a pretty cheap price when compared to a similarly sized TV set. But, if you want to match the image quality of your projector to a standard TV, then it is highly recommended to use something like the best projector screens discussed earlier in this article.