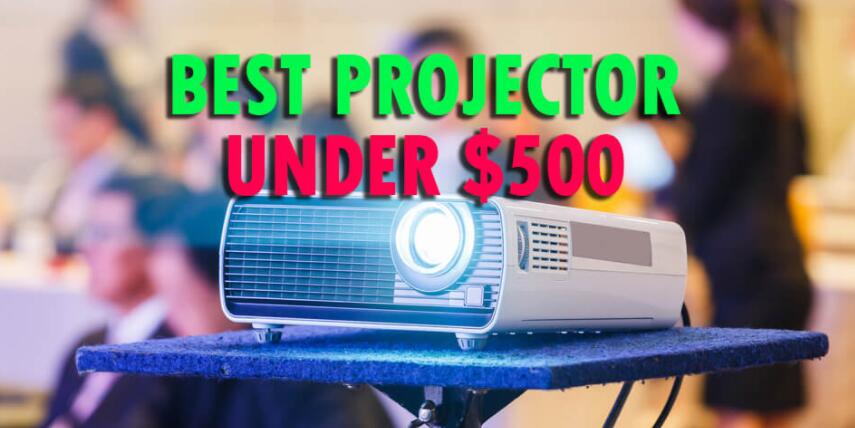 A home theater projector can transform your entertainment system, allowing you to create an immersive, cinema-style viewing experience at a cost that's far less than a new LED or OLED TV. While you might need to spend at least $1,000 for a one of the best projectors, you can still find plenty of great projectors for less than $500. Most projectors in this range deliver impressive image quality, lots of connectivity options, portability options, and flexible controls.
If you are looking for your home, business, and classroom or for events whether outdoors or indoors, we have got you covered in all of them.
Here you will find every detail about the best projectors under $500 In 2021 that meets your need and even more. We have researched regarding features, performance, compatibility and many other essential features. Let's explore each of the projectors to get more information to get the one that meets yours.
What to Consider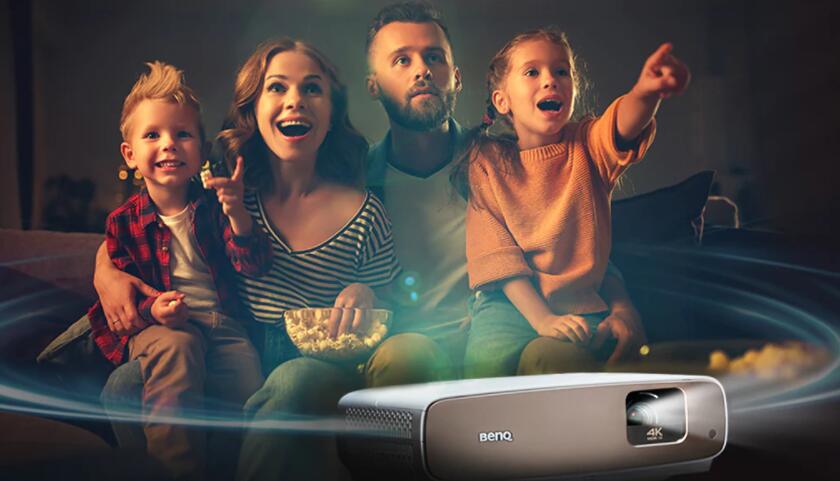 When looking for a projector that costs less than $500, keep an eye out for these specs and features: screen size, brightness/lumens, LCD versus DLP, resolution, throw distance, connectivity (HDMI, USB, Bluetooth, Wi-Fi). If you plan to take the projector with you, you'll also want to consider specs like size and weight.
Projector Type
There are two leading types of projectors on the market today – an LCD and a DLP projector.
A DLP projector is known for higher resolution picture quality compared to its counterpart. They have high brightness and sharper images, which extend to fast-moving objects onscreen. For good resolution, 3D support, and realistic imaging, DLP is the way to go.
However, that's not to say DLP projectors don't have their disadvantages. A DLP model has issues with dark scenes, especially in a well-lit room where you might encounter the rainbow effect.
An LCD unit is not as bright, which can pose an issue with background light. It's also because of the wide color gamut seen in the DLP that raises the issue of dark color rendering, which is unseen in LCD units.
A major pro of LCD units is their price range to get a projector with good resolution. They are often more affordable but the full 3D pictures and fast-moving objects portrayed onscreen doesn't match up to DLP models.
Screen Size
A projector screen will have a maximum and minimum screen size it's able to cast on the screen. The best projector under 500 dollars will need to match the screen or the surface you intend to cast the image onto. Measure the wall or white screen to decide on the best range.
However, the max and min screencasting will also depend on the throw range, which our experts will also cover in a bit. In short, the screen sizes will depend on how far or how close you place the projector to the screen or wall.
The screen size is an important feature to look for in a projector because it could affect the pictures if you go beyond the throw ratio.
Brightness, Contrast, Resolution
The brightness, contrast, and resolution come together to create a quality image for the best home theater projectors. For exceptional color accuracy and white brightness, you need to look at these characteristics. Working together, these will create the ultimate entertainment in your home theater system.
Let's start with the brightness. When turned up to the max, the brightness of a portable projector can give you eye fatigue and a headache. This is why simply turning up the backlight is not the solution in a bright room or well lit rooms. What you can do is determine the amount of ambient lighting that will be present in your viewing space to determine the brightness levels.
The brightness is measured in lumens, or ANSI lumens, a more detailed lumens standard. Yes, in general, a higher lumens rating in a portable projector will equal a brighter picture, but that doesn't always mean better.
The next item to consider is the contrast. Contrast is the difference between the brightest and darkest colors in your content. 10,000:1 is our experts' recommended standard, but the higher it is, the better.
In addition, contrast affects the realism of the color accuracy and warmth and coolness they portray. The contrast ratio needs to be optimal and not too extreme. Also, consider a good ratio between the deep black levels and the shadow details.
Lastly, the resolution is the most crucial point for picture quality. The better the resolution, the better quality the picture and images are.
It's quite simple, the higher the number, the higher the resolution of the quality images. Most of the best projectors under 500 will offer at least 1280 x 800p resolution or 1920 x 1080p resolution. Our experts also do not recommend going below 1280 x 800 as this will affect the quality of the images.
Throw Distance
Our team touched upon the throw distance above, but let's explain it in more detail.
The throw range is the distance the projector is from the screen to cast the best quality picture, or the range the projector needs to be within without compromising visual clarity. It basically means how far you can distance the projector from the screen without the pictures going blurry.
To understand if the projector's throw distance and throw ratio are suitable for your setup, you need to look at the placement and size of your room. To get a big screen size, your projector will need to be pretty far away.
If you have a small room, a shorter throw ratio is recommended. If you plan on a hosting movie night outdoors, you will need to find a home theater projector with a longer throw ratio.
How We Selected (Top 10 Picks)
Although the concept is simple enough, projectors serve a variety of purposes. In selecting the best models, we made sure to include something for everyone. Whether you're looking for a presentation tool, a portable gaming display, or a home theater setup, there's a projector here for you.
We combed through user reviews, independent reviews, and product specs to identify the most promising models. We then narrowed the list down based on the above-mentioned criteria: screen size, brightness/lumens, LCD vs. DLP, resolution, throw distance, ease of use, and connectivity. As for other features like lens shift, motorized zoom, and keystone correction—those are all nice perks, but they may or may not be available in this price range, so we didn't necessarily require them.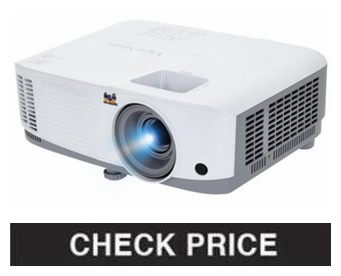 If you're looking for a projector for an office, classroom, or any environment meant for presentations, we recommend the ViewSonic PA503W. It's very bright with decent image quality and adequate connectivity options (HDMI, VGA). With its WXGA resolution and 16:10 aspect ratio, the PA503W may even punch above its weight class.
It also includes automatic keystone correction, solid audio quality, and a three-year warranty. We noticed a steady trickle of user complaints about fan noise, which is something to consider before buying. For the price, though, the PA503W is a highly capable projector suited for most any presentation or work environment. Just don't expect it to wow audiences in a cinema setting.
Very bright
Impressive specs for the price
Many user complaints about fan noise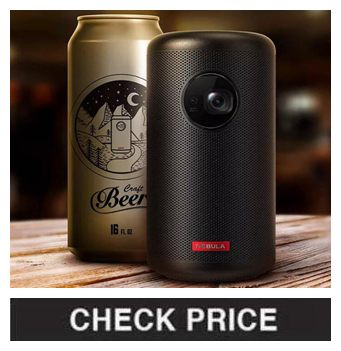 The Anker Nebula Capsule II is about the size of a soda can, but don't let its diminutive size fool you: This little gadget packs a ton of useful features for cinephiles, gamers, and casual viewers alike. In this tiny contraption you'll find Android TV, voice control, a built-in speaker, a rechargeable battery, and a bunch of connection options: HDMI, USB, Wi-Fi, Bluetooth, and Chromecast.
While it's a bit pricey for this category, the Nebula Capsuke's 200 ANSI lumens make it bright enough even for some outdoor environments. We'd also like to see Full HD quality for the price, but there's still a lot to like about this little gadget.
Lots of connections
Portable
Cool design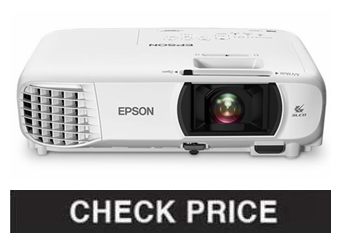 Have you ever thought of getting something that can resonate well with your environment no matter where you go? Well have had similar thoughts before and when I stamped on the Epson Home Cinema 1060, it was just perfect for me. This may not be the case for you, but you will not be disappointed with the features this projector comes with and other advantages.
You can enjoy a larger than life entertainment on Full HD right in your home. That's not all you will enjoy images and content of up to widescreen of 360" that is more than 25% of the 60" flat panel that most of us used to in our homes. The resolution is as well not disappointing at all with its 1080 pixels capability. Some of the other incredible features include the fact that you can work with other streaming devices like Blu-ray, gaming consoles and also MHL devices.
When it comes to brightness, you will not be disappointed with the way it displays since it has 3100 lumens. Images delivered by the Epson Home Cinema projector is just vibrant and catching too many since it has been designed with the 2LCD technology and what it delivers is just amazing when compared to other competitive projectors.
The images are of high quality
Has no rainbow effect
The brightness is fantastic with 3100 lumens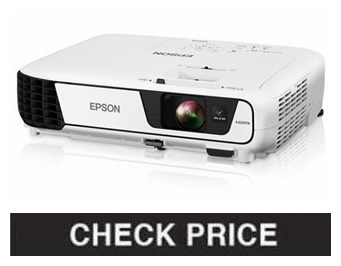 Epson products are known to be one of the best in the world with the quality they offer. That is not different from the projectors they design. When it comes to color accuracy they have it all figured out and one to their best technology. To achieve the best color accuracy the Epson manufacturers have used the 3LCD, 3 chip technology for the achievement of 3 times higher color brightness and color gamut than other projectors in the market.
With the brightness of 3200 lumens, you are able to get the best content quality even in a well-lit room. Since the brightness of the projector determines the way content will be projected on the screen, with high brightness, the content displayed on the screen in vivid and clear especially the color.
If you are worried about compatibility with other devices, that is no issue with the projector since it is compatible with almost all latest devices including laptops, smartphones and media players. This makes possible with the connectivity's it comes with like HDMI ports and many others. With this projector, you are sure to enjoy a longer lamp life of up to 10,000 hours before replacing the lamp.
The brightness of 3200 lumens
Easy to carry around due to the lightweight
The picture quality is great
The audio could be improved
Has no zoom feature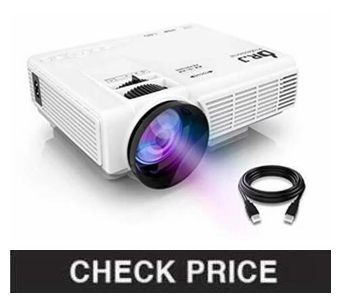 It is an ideal surprise gift for your loved ones and also comes under the best projector under 500 on amazon. It works not only on a TV stick but also smartphone.
This projector is ideal for cinema projector not for indoor and outdoor movies but kids can also play games by HDMI port connection. It supports 1920*1080 resolution, with 4:3 and 16:9 aspect ratio and, Lamp lifetime is 40000 hours with watching Size 32"-176".
Having a projector distance of 1.5m-5m, not recommended for PPT, word, excel, or business presentation. It is a multimedia portable projector like a TV Box, ChromeBook, PCs, Laptops, Tablets, Blue-ray DVD player, SD Card, USB Flash Drive, Video Games, Media players, Smartphones.
Compatible with smartphones and tablets
Ideal for Home. education
Playing games for kids
Easy to use
The setup was super easy
Not recommended for PPT
Not good for Word Excel and Business presentations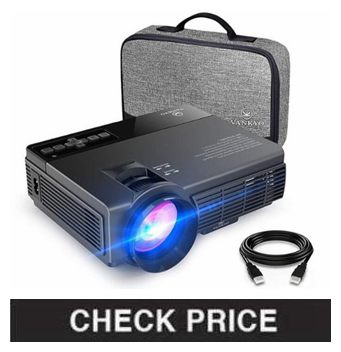 We recommended that this mini entertainment projector and is the best gaming projector under 500 that you love to buy or give a surprise to your loved ones. It is also perfect for video watching, TV serials, and photo browsing, best budget projector 2021.
So you don't miss any episodes or enjoy your wonderful images with your family. Home entertainment enjoys a big screen size from 32" to 170" having a projection distance between 4.9ft to 16.4ft.
Which makes your screen clear and its brightness feels you joy in the happiness and scare in horror scenes. It supports 1920*1080 resolutions with a 2000:1 contrast ratio and aspect ratio are 4:3/16:9/auto, having 4000 hrs lamp lifetime. You can enjoy your videos and TV serial by watching projection size that is 33-170 inches and enjoy your holidays just like sitting in the theater for watching the movie.
Easily connect with Smartphones
Excellent sound quality
The problem of overheat and noise is solved
A customized bag is designed for carrying
Not suitable for presentations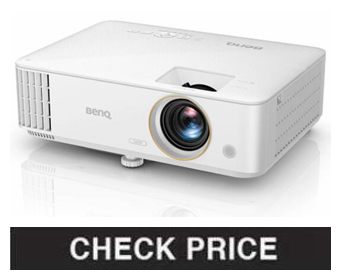 The TH585 is a True Full HD projector coming from the popular projector's brand BenQ. Talking about its brightness, the TH585 offers 3500 ANSI lumens and is equipped with a 10,000:1 contrast ratio. Compared to other same category projectors, I found its brightness and contrast a balance of the ultimate viewing entertainment.
Though it uses several modes to enhance the overall picture quality, even in a bright room, depending on the environment, you can use it for different types of content, such as shows, movies, sports, streaming, and online gaming.
On the other end, I love the fact that the TH585 is more like a gaming projector. Considering four different gaming scenes—role-playing, action, sports, and party games—and from multiple entertainment sources, its low input lag with 16ms response time handles every situation like a boss.
Other features, such as portable projection, 1.1x zoom, digital lens shifts, and vertical keystone, are completely praisable. These features come in handy while setting up, adjusting through distance, ability to adjust the projection heights, and perfect alignment, relatively. So I don't mind giving it 10/10 for its setup.
Very bright, crisp, and sharp; it has multiple options for brightness
Digital Lens shift and vertical keystone are incredible
Sound output
Dedicated viewing modes, including gaming mode
Low input lag, 16ms low latency
Its built-in Speaker, especially when setting it up for a home theater feel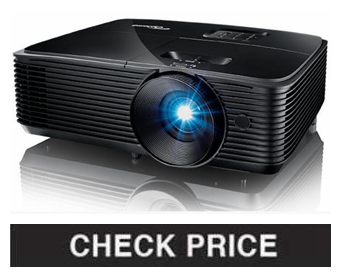 Optoma HD146X is another option if you want a home theater projector. However, Above both, projectors are also good for home users, but they are less expensive. That's why I took this projector in the third position on my list. Being an expensive projector, it offers excellent features and advanced technologies if compared to others.
The Optoma HD146x is a full HD DLP home projector. It comes with 3600 Lumens of brightness. From approximately 13–14 feet, it can project a 120 inches image. It also supports MHL with screen project size from 28 to 301 inches. Unlike BenQ and ViewSonic, it has 10w in-built speakers.
Under $500, this projector offers excellent features, whether it is its resolution, contrast ratio, or brightness. If you are a big-screen fan, then you won't find any better projector than this. However, it is a bit pricey if compared to others, but worth the money.
An excellent full HD resolution 1920 x 1080
It comes with 1.1x optical zoom
Extended impressive Lamp life up to 15,000 hours
It comes with multiple input ports
Installation and setup of the projector are quite straightforward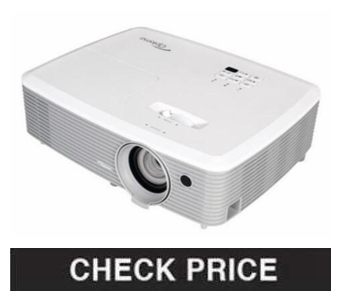 This is the best budget projector from Optoma which offers many powerful features at an affordable price range. It comes with 1280 x 800 pixels WXGA resolution which is ideal for projecting everyday presentations and graphics. The projector has 4000 lumens of equal color and white brightness which delivers more accurate and vivid colors even in a bright room.
The Optoma W400LVe works with the latest laptops and media players with HDMI connectivity support. This business projector has DLP display technology which gives 3 times higher color brightness and 3 times wider color gamut. Its 10-watt built-in speaker makes it loud enough for small-to-medium classrooms and meeting rooms. If you want to buy a projector for movies, sports, and gaming but running on a tight budget then Optoma W400LVe is the best inexpensive projector for you.
Lightweight and portable
3D capable
Lots of connectivity options
Easy to install
Vibrant and sharp visuals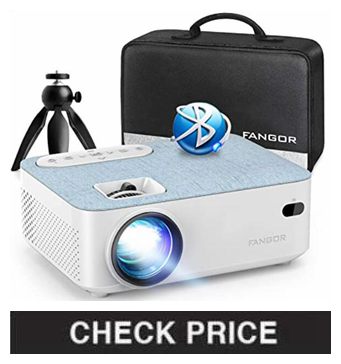 FANGOR F-701 is a DLP projector that offers many high-end features under $500 price range. The projector comes with a sleek and lightweight design of anti-dust, lower noise and cooling system. It offers 1080p full-HD image quality with a brightness level of 8500 lux lumens, which is actually pretty good against competing brands.
By producing the contrast ratio of 10000:1, the F-701 produces fine details in dark and bright scenes without washout. With this projector, you can maximize big-screen thrills in minimum space as it requires mere 9.8 feet to project stunning 300" images. As this projector is based on LED technology, you won't have to worry about buying pricey replacement light bulbs as well.
Bright and clear images
Includes keystone correction feature
Wireless screen mirroring
Comes with a carrying case
Affordable for streaming movies
Color distortion occurs in dark scenes
FAQs
How much brightness do I need in an at-home projector?
When purchasing a projector, it's wise to think about the area and time of day in which you will be using it. If you plan on using it during the day where the light is bright, higher lumens are recommended. For rooms with dim lights, lumens are not restricted as much. Ideally, you'll want 1,000-2,000 lumens.
What's the difference between DLP, LCD, and LED?
DLP – DLP (or digital light processing) uses tiny mirrors to reflect light toward a screen using a spinning color wheel.
LCD – LCD (liquid crystal display) projectors have no moving parts. Instead, three liquid crystal planes are used to project colors on the screen at one time. These tend to be less expensive and come with a longer-lasting lamp compared to DLP.
LED – Much like LED light bulbs, LED projectors tend to be smaller and generate less heat. They are more energy-efficient, but they also tend to be the least bright out of the three.
Does high-resolution matter?
The higher the resolution, the better the image quality. If you're looking for crisp, clear images, you will want something that can display full HD. The downside to this is that they tend to be a bit pricier.
What is the throw distance?
A projector's distance from the lens to the screen is known as the throw distance. In simpler terms, this means that as you increase your screen and projector's distance, the image will also increase. The ratio determines if it's long (meaning you can play from farther away) or short (these projectors perform better closer up).
Is the projector without screen possible?
Yes, it is possible to use a projector without a screen, but you can't expect the optimum visual quality from your projector. A projector screen is dedicated to bringing out the best performance of a project as they are able to the projector the accurate output. However, the output will be different and low grade on an ordinary white wall even if you play 4K contents.
Conclusion
The consumer market of projectors is amazingly rich with best-budget projectors to best-cheap projectors. Plenty of home theater projectors offer excellent image quality, color accuracy, long lamp life, and multiple ultra-modern connectivity facilities to make you halt for a while and pick your best projector without crossing the budget limit.
All of the top 10 best projectors under 500 having been overviewed in the article have amazing features to promise superior performance. Rest assured that whatever projector you pick to match your need and expectation, you will choose yours best.