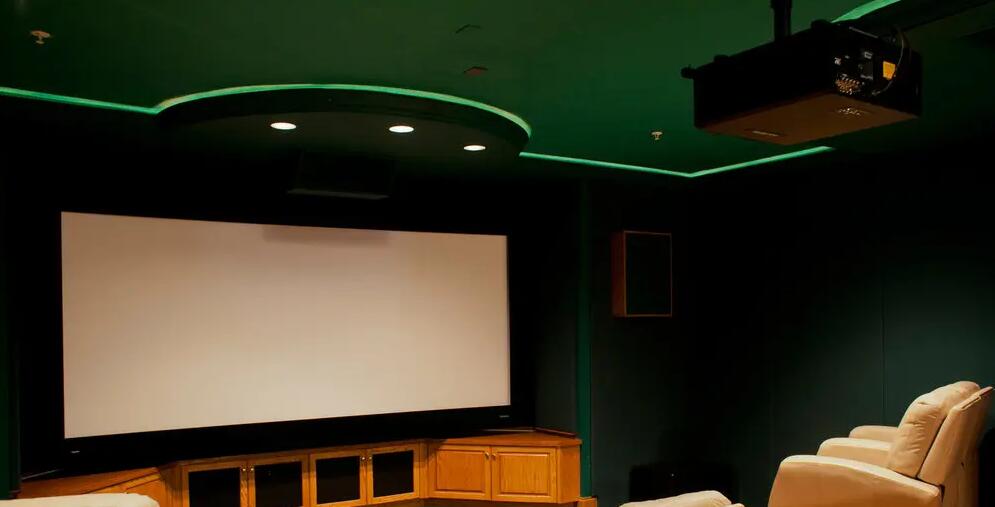 DLP, or digital light processing, uses tiny mirrors to reflect light toward the screen (an "on" pixel) or away (an "off" pixel). Most models use a color wheel — literally a spinning wheel with color filters — to create sequential color. Some high-end models use three DLP chips; one each for red, green, and blue. DLP projectors range in price from a few hundred dollars to tens of thousands, and more. Most projectors in movie theaters use DLP. You can find models from Optoma, BenQ, Mitsubishi, and many others.
Advantages of DLP projectors
DLP projectors offer road warriors and home theater enthusiasts many advantages:
Portability: DLP projectors tend to be smaller and easier to transport given one chip versus LCD's 3 panels. DLPs using LED or pico technology are even more portable and can connect to smart phones, tablets and other mobile devices.
Higher Contrast: DLP projectors' deep blacks achievable make them popular for home cinema applications.
Reduced Pixelation: DLP projectors have a muted pixel structure when viewed from a normal viewing distance, which may not affect a PowerPoint presentation, but will affect smooth video presentations.
Reliability: DLPs have fewer parts and are less expensive to repair – sealed optics are good for dusty environments.
Disadvantages of DLP projectors
The few disadvantages of DLP projectors are:
The Rainbow effect: Looking away from a projected image on older DLP or from one side of a screen may have "rainbow" effect, or moment of rainbow-colored stripes around brighter objects.
Light leakage: Grey band outside of the image can cause stray light reflecting off the edges of the mirrors on DLP chip. This can be avoided by installing black borders around the older DLP projector screen.
What to Look for in a DLP Projector: Standard Specs
DLP projectors come with a dizzying array of features and price points. Different combinations suit different applications. Uses range from home entertainment to houses of worship, portable presentations to lecture halls. Conference rooms to collaborative classrooms. By knowing how you're going to use a projector, you'll be able to find the projector that's right for you.
Resolution
Think back to the amazing mirror-laden DLP chip. Each mirror creates one pixel. The total number of mirrors corresponds to screen resolution. For example, a 2K DLP projector has about 2.2 million mirrors. A 4K device about 8.8 million. The greater the resolution, the better the image quality.
4K DLP projection is set to explode. Ideal for home theater, 4K projectors are engineered with advanced DLP® 4K Ultra HD chip and XPR technology. In turn, they deliver 8.3 million distinct pixels in 4K UHD (3840 x 2160) resolution.
When comparing 4K projectors some may say they "support" 4K. This is not the same as the ability to reproduce actual 4K images. DLP projectors must produce the minimum 8 million active pixels required by the Consumer Technology Association (CTA) to qualify as true UHD projection.
Contrast Ratio
Contrast ratio compares the darkest and lightest values a projector can produce. The higher the contrast ratio, the better the picture quality. DLP projector contrast ratios range from 500:1 to 100,000:1.
Contrast ratio is an important spec for home theater projectors and high-end use. For home theater applications, look for a contrast ratio in the range of 10,000:1 to 100,000:1. Bigger is better. For large venues, like auditoriums, go for the best: 100,000:1.
A high contrast ratio is less critical in classrooms and conference rooms, as the benefits are most noticeable in highly light-controlled, pitch-black rooms. For business and classrooms, look for contrast ratios in the range of 4,000:1 – 30,000:1.
Brightness
Projector brightness is measured by how much light the projector can output, called lumens. The more lumens, the brighter the projector. Importantly, brighter isn't always better. Environments don't always need the brightest projector to achieve satisfying results. Higher brightness also means a higher cost. Factors that influence brightness needs include:
Ambient Lighting. Viewing spaces with lots of lighting require higher brightness to deliver a sharp, clear image. In darkened rooms, like a home theater, lower brightness (but higher contrast ratios) deliver great results. Multi-purpose spaces do well with mid-range brightness, from 2,000 – 4,000 lumens.
Room/Screen Size. Larger rooms and screen sizes require brighter images. The higher the distribution of light over an area, the brighter you'll need a projector to be. The number of people in a room is a helpful guideline for determining comfortable viewing. Generally, the more people in the room, the larger the ideal screen size.
Under 3,000 lumens – Used in low-lighting environments, these projectors require tightly controlled lighting to eliminate ambient light. Ideal use: home theater.
3,000 – 4,000 lumens – This covers the sweet spot of DLP projectors, in terms of value and features. These are the typical brightness levels used in classrooms, conference rooms, and home entertainment rooms where you're unable to block out ambient light.
4,000+ lumens – Projectors with this level of brightness are appropriate for the largest meeting rooms, classrooms or multipurpose rooms. DLP projectors in this range produce a crisp, clear image, even on larger screens. This enables ease of viewing with larger audience sizes. Ratings higher than 4,000+ lumens are considered high brightness projectors and are used in high-end commercial installations.
Best DLP Projectors of 2022: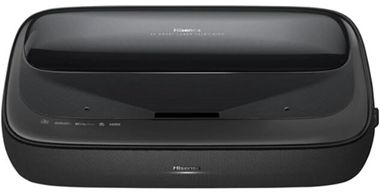 Hisense is redefining the future of TV. As the leader and innovator of Laser TV technology we are pleased to be working with Next Projection as one of our expert resources to consumers. Their team can be trusted to educate and advise customers looking for an affordable Laser TV solution with technologies ranging from a single laser source to dual-color lasers, and in the future Tri-Chroma technologies with screen sizes 100" and up.
Inspired by a world of incredible color at a scale that makes everything feel brand new. The 3000 Lumen ultra short throw projection TV features the TriChroma laser engine to reach 107% of the BT.2020 color space. That's color you've never seen on a TV. Premium features like Dolby Atmos High-Speed HDMI, HDR10/HLG, Filmmaker Mode, and a perfectly paired ALR screen make the L9G the ultimate home entertainment upgrade.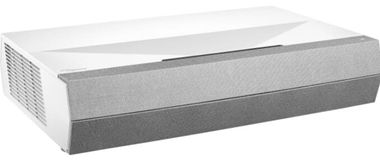 For starters, the P2 offers a dynamic contrast ratio of 2,000,000:1 versus the P1s 1,500,000:1. With the same 3,000 lumens output as it's predecessor, the increase in contrast means that the image maintains its brightness but with a 25% wider color spectrum.
One major change in design to the P2 is its color wheel. As both the P1 and and P2 use Digital Light Processing (DLP for short) to produce their image, they utilize a color wheel that spins rapidly to produce its final color display.
New technological developments have allowed Optoma to reduce the size of this color wheel from 8 segments to 6 segments. The new wheel omits the yellow section, and concentrates solely on red, green and blue. By reducing the size of the wheel by 25%, colors appear more vivid, natural and accurate. The P2 achieves this without any drop in brightness.
Another change in design is that the P2 is a white projector & soundbar, whereas the P1 was black. For those who still prefer black model, Optoma offers their flagship model the CinemaX Pro. The P2's audio portion remains identical to the P1's exhibiting the acclaimed NuForce 40W Dolby Digital 2.0 soundbar with 2 full range speakers and 2 woofers.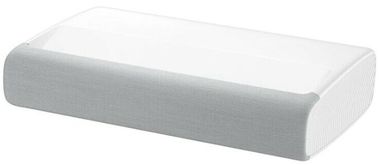 The power of the ultimate cinematic encounter is now contained right in your living room thanks to the sleek compact design of the Samsung Premiere LSP9T. This 4K Ultra Short Throw projector resides directly in front of your projection screen providing larger than life video on a tremendous canvas of up to 130 inches.
The Premiere LSP9T is the world's first HDR10+ certified projector with triple laser technology. It delivers revolutionary contrast details as the viewer watches from bright to dark scenes with a peak brightness of up to 2,800 ANSI lumens. This brightness allows for optimal viewing even in a well lit room.
Samsung's LSP9T features powerful built-in woofers and Acoustic Beam surround sound technology providing top of the line audio, with a design perfect for tighter spaces.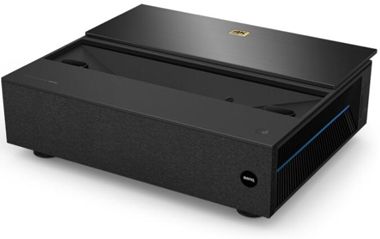 The best home theater experience has moved from the basement to the living room with the BenQ V7050i 4K ultra short throw projector. Astounding detail, vivid colors, and uniform display create awesome video on your projector screen up to 120 inches. Treat your eyes to the newest ultimate laser TV projector, with uncompromising image quality and outstanding contrast control, even in rooms with ambient light. Welcome to the future of home theater in your living room.
Astounding color performance from this BenQ ultra short throw projector comes from its 98% coverage of the super wide DCI-P3 color space, which was defined by the Digital Cinema Institute for use in motion pictures. Accessing vastly more colors than the Rec. 709 color space, DCI-P3 helps the visuals on your projector screen to appear more realistic, with significantly better color accuracy and subtle gradations.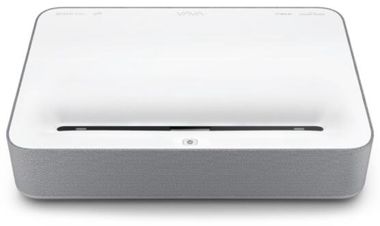 VAVA is the #1 brand for 4K Ultra Short Throw Projectors and to have Next Projection (Projectorscreen.com & 4KProjectors.com) representing us with their deep knowledge in the industry makes this a great partnership. The expertise and professionalism they bring to every partnership and sale is astounding. We look forward to growing this relationship and launching new products with them.