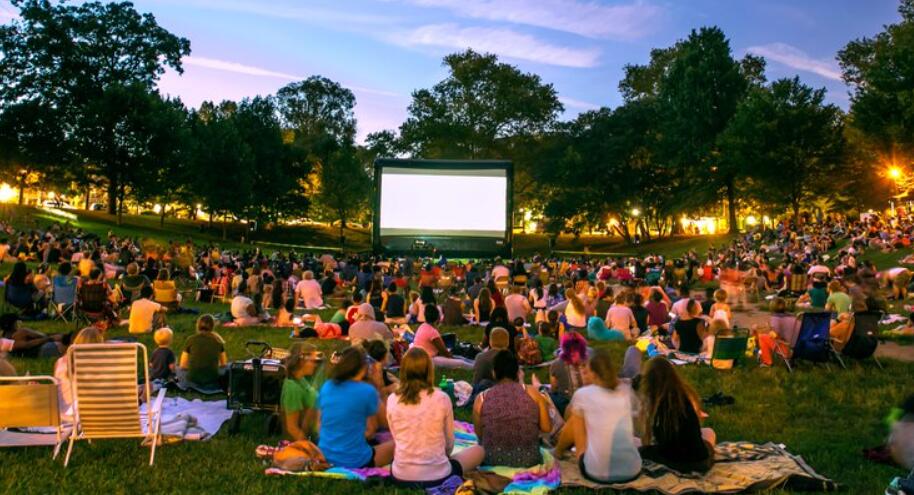 It's never been more tempting to pick up one of the best projectors for a big home viewing upgrade. Blockbuster movies heading home faster than ever, either on Premium VoD or snapped up as an exclusive by the likes of Netflix, and projectors can give you that true cinema experience at home.
And whereas in the past, the best projectors were decidedly costly, now only some of them are. They're also more flexible than ever in terms of size and positioning requirements, so can find one that's suitable for any room.
Projectors come in a variety of form factors, from ceiling mounted home theatre models, to compact beamers which can be stowed away between uses, to ultra-short throw projectors that don't require any major space to cast a huge image. Park it by a big white wall and you're away.
WHAT KIND OF PROJECTOR SHOULD YOU GET?
DLP, or digital light processing, and LCD projectors are lamp-based, so the bulb will eventually degrade, but they're much more affordable than laser projectors. DLPs tend to be smaller and more portable, and they offer more contrast and blacker blacks. LCDs tend to have a sharper, crisper image and appear brighter than DLPs even at a lower lumen count. Projectors with a laser source are not lamp-based, so they require less maintenance; on average, the laser lasts 5x longer than a bulb would.
And unlike a lamp-based projector, where a bulb emits light through a color wheel to produce the image, laser projectors generate only the exact colors needed for an image. This efficiency makes for a much brighter image and very accurate colors and deep black levels and contrast. All of this comes at a much higher cost, however. Low-end laser projectors are typically around $2,000, although you can find some smaller ones for less.
Then there's the throw ratio, which is how big the image is in relation to how far it is from the surface. Traditional projectors sit behind the viewer, ideally 10 to 20 feet away from the surface they project onto. Meanwhile, short-throw projectors can project a large image with only a few feet between them and the wall, and ultra-short-throw projectors are basically right up against the wall.
SCREEN OR NO SCREEN?
The surface you project on is important — you can use a wall; white is best — but it won't show off the projector's best self. Every tiny bump refracts light and creates small shadows, so the image ultimately loses quality and brightness. You'll benefit a lot from getting a projector screen, especially if you'll be watching with a little daylight. Projector screens brighten the image noticeably depending on what they're coated in. I used an inexpensive 80-inch Panoview pop-up screen — you can find a similar one for around $100 — but it still made for a better experience than just pointing the projector at my wall.
4K OR 1080?
4K projectors are a lot more expensive and not as common as 4K TVs because the pixels on projector chips are incredibly small. But unless you're really investing in a proper home theater, most living room setups won't allow an average viewer to spot the difference between a good 1080p projector and a reasonably priced 4K projector.
And as for content, every projector I tested has an HDMI input, internal speakers, and also an audio output, so I was easily able to stream things by plugging in my Roku stick. You can also use a laptop, Apple TV, or whatever device you use to stream video.
Our Top Picks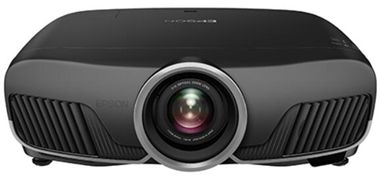 We gave this beamer five stars for its impressive color reproduction, HDR support, and 2,600 lumens brightness, making for bright and impactful images. While this isn't a native 4K projector (something you just don't get at this price), even upscaled images are detailed and come across well, with highly natural skin stones and an impressive amount of shadow detail.
Blacks could be deeper, and motion could be smoother, but there's really little to complain about here. The EH-TW9400 boasts advanced capability all around, from its 3D compatibility to motorized lens controls – the latter point allowing for real precision and an easy setup. There's even a lens cover to prevent dust from creeping in!
Having launched in 2019, the Epson EH-TW9400 is widely available in the UK, India and elsewhere – though it's called the Epson Pro Cinema 6050UB in the US. Just keep in mind that it doesn't come with built-in speakers, meaning you are reliant on connected audio equipment.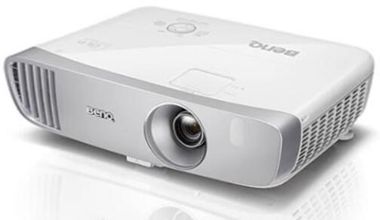 The BenQ HT2050A offers the best image contrast of any sub-$1,000 projector we've tested, and it produces richer, more vibrant colors than many budget DLP projectors. This 1080p projector provides a variety of inputs and is easy to set up thanks to a flexible lens that has both zoom and vertical shift. The 1.3x zoom gives you some wiggle room in how close to the screen you can place the unit, while the vertical lens shift allows you to avoid the keystone effect.
Like most projectors under $1,000, the HT2050A has a built-in speaker; it's not amazing, but it does produce a fuller sound than what most budget projector speakers offer. The HT2050A's biggest drawback is that its single-DLP-chip design can produce a visible rainbow effect for some viewers, but most people either can't see it or won't be bothered by it.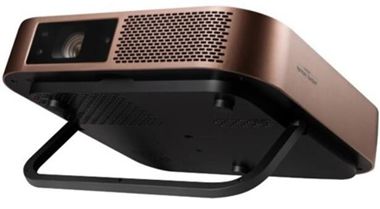 For the man who wants it all without remortgaging the house, the mid-range X10-4K is up there among the best for sports and movie-watching. The high contrast ratio and the solid lumen count means you won't have to invest in blackout blinds, either; pick it up by the handle and treat yourself to the big event in the garden.
Its short-throw tech is very useful for a portable projector, as it means you can stick it pretty much anywhere – we achieved a 90" display by placing it a metre away from the wall. Thanks to its unobtrusive design and the whisper-quiet fan, we completely forgot it was even there when watching Sound of Metal on Amazon Prime.
Equally impressive are the built-in Harman-Kardon speakers, which deliver crisp trebles and deep bass. They max out at 8W so are more for on-the-go than every day, but connecting a soundbar or surround sound system is nice and simple.
The inclusion of Alexa meant we could bark orders to change the volume or glide through the menus without having to hold the controller.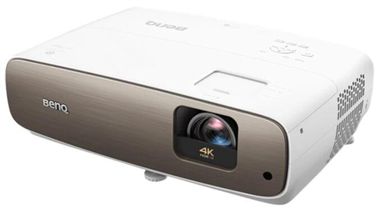 For our money, this is pound-for-pound the best 4K projector in the world right now.
The BenQ W2700i offers incredible HDR images, courtesy of DCI-P3, the US film industry's preferred colour standard. That means the kind of deep blacks and rich, vibrant brights that you normally only get by adding a couple of grand to your budget.
People will find much to play with in the menus, but the W2700i's out-of-the-box calibrations and CinemaMaster Video+ mode mean you get multiplex-level performance without spending hours tweaking settings. That, alongside its integrated Android TV, makes this the perfect balance between performance and usability.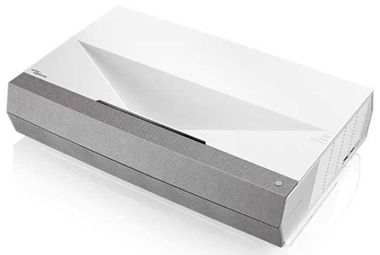 The Optoma CinemaX P2 is an excellent choice for smart home entertainment systems. It's compatible with Amazon Alexa and Google Assistant voice control and also has support for IFTTT. This makes it easy to integrate the P2 into home automation routines and connect it to other smart devices.
The Smart+ technology on the CinemaX P2 is helpful even if you don't have a smart phone. The Android-based operating system lets you watch content right on the projector through streaming apps. It also pairs with the SmartFIT app for quick geometry correction and image alignment. If you have issues with the app (which some users do) the digital zoom and keystone correction are still easy to use.
The Optoma P2 uses a laser phosphor light source with dynamic contrast and a 6-segment color wheel. Its overall picture performance is fantastic, with a true 4K resolution and full coverage of the Rec.709 color spectrum. While the color wheel can trigger image issues in some sensitive viewers, most will find the clarity, detail, and realism of the image perfectly suited to their content.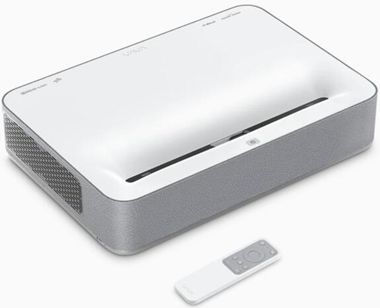 The VAVA 4K is one of the most versatile home theater projectors when it comes to your viewing area and entertainment system set-up. For wired connections, it has USB and RCA inputs along with multiple HDMI ports. It also has Bluetooth and Wi-Fi connectivity for both content and peripherals, and an Android operating system for direct streaming. The impressive built-in Harman Kardon soundbar has a solid output and a well-balanced, clear sound across the frequency range, so you can use it without an external sound system.
The VAVA 4K is equally flexible in terms of its installation. It has one of the shortest throw distances on the list, producing a 100" image with just 20" between the lens and wall. Along with that, it has 2D keystone correction for fixing issues with the geometry and supports both mounted and table-top installations, so it's easy to fit it into almost any space.
The image quality of the VAVA 4K is fairly high. The DLP display produces a true 4K resolution and the contrast and detail of the picture are phenomenal. Colors are vibrant and saturated with good accuracy and a fairly wide range of hues, though it does use a color wheel and may trigger flickering and rainbowing in some viewers.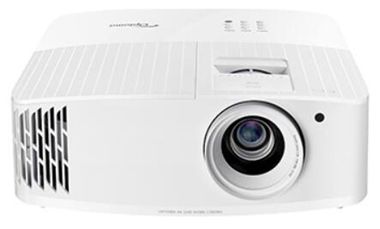 The Optoma UHD38 is another excellent choice if you want a home theater projector that can also handle gaming. Its Enhanced Gaming Mode drops the input lag as low as 4.2ms with a 240Hz frame refresh rate. You can even game in 4K without adding a significant amount of lag.
The Optoma UHD38 is just as exceptional for all types of home theater content, with full 3D support as well as a native 4K resolution. The Dynamic Black contrast and 8-segment color wheel combine for an immersive and realistic picture across content types. On-screen action is smooth, too, thanks to that high refresh rate, with a powerful lamp that keeps the picture saturated and vibrant no matter the room's ambient light level.
As far as the set-up, the Optoma UHD38 is relatively user-friendly. It does have a relatively long throw distance, meaning most will want to ceiling-mount it. The zoom and keystone correction functions are helpful for aligning the image to the screen, and once you have it set up it's easy to navigate with the included remote. It has a good array of wired inputs, too, though unfortunately no built-in wireless connectivity or smart features like voice control, something to keep in mind if you're buying a projector for a smart home entertainment system.