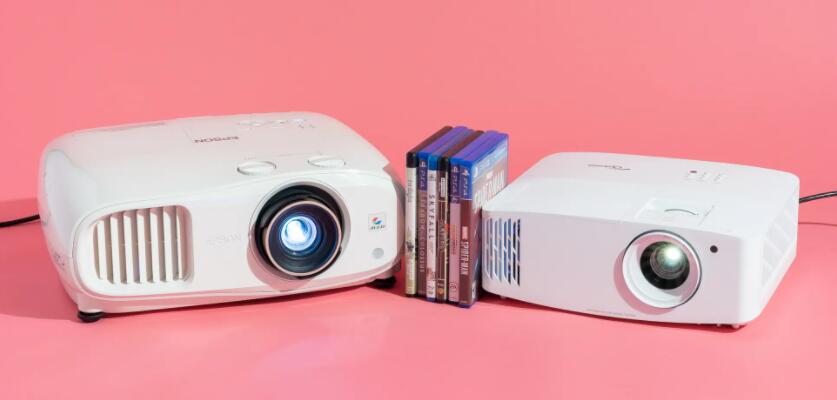 Epson's industry-leading wireless projectors bring accessibility, affordability and wireless freedom to the classroom, conference room and the comfort of your own home. With models especially designed for business, education and home entertainment, Epson wireless projectors quickly and easily share content wirelessly from your laptop and mobile devices whenever and wherever you want them to.
If you've ever dreamed of building your own home cinema, then at some point you're going to need to buy a projector. Nothing says home cinema like a massive 100-inch or larger picture, so the question is: which projector should you buy?
The answer will largely depend on two factors: space and budget. If you want the complete home cinema experience, you really need a dedicated room where you can fully control the ambient light. If you've got that, you're halfway there.
As for budget, the higher-end of the projector market is dominated by Sony and JVC, but when it comes to the more affordable models, one projector manufacturer sits above all the others – Epson.
Should I buy an Epson projector?
If you're planning a home cinema, Epson has you covered regardless of your requirements or budget. There are competitively-priced 1080p projectors for those with limited funds, and very bright models for rooms with white walls or ambient light.
The higher-end home cinema beamers add support for 4K and HDR, along with frame interpolation for improved motion, and a dynamic iris for better contrast ratios. As already mentioned, there are also extensive lens controls and memory features.
In terms of performance these projectors don't disappoint either, and while not native 4K they are still capable of big, bright and detailed images that are uncompromisingly cinematic. The use of the three LCD panels also allows Epson's projectors to reproduce 100% of the Rec.709 and DCI-P3 colour gamuts with impressive accuracy.
The build quality is often excellent, with the more expensive models including a backlit remote control and motorised lens cover to keep out dust. The flagship model even has a wireless option to avoid long HDMI cable runs.
What to Look for in a Projector for the Office?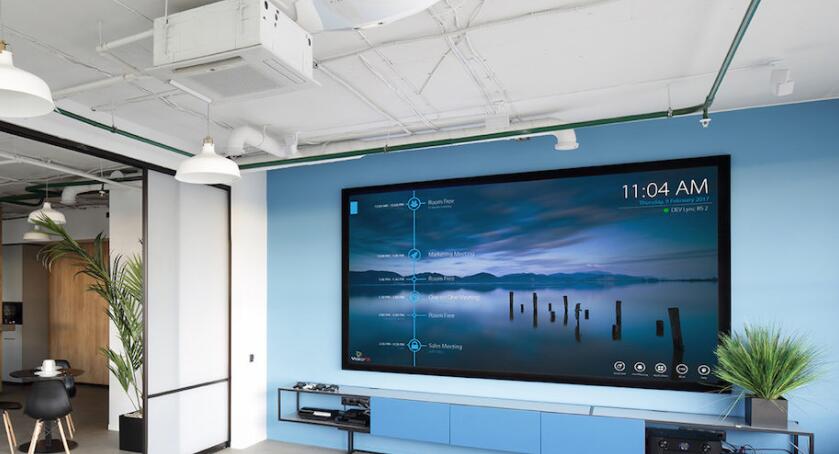 Getting a new projector for your office can be overwhelming with all these feature-packed models and updated capabilities. Brightness, resolution, Wi-Fi and Bluetooth connectivity, portability, vertical & horizontal keystone and throw ratio are among the most critical business projector features.
Brightness
The projector's brightness is by far the most important feature. You can't expect a projector to offer the brightness of a TV, but you should find one that's appropriate for the ambient light in your room.
Pay attention to the number of lumens listed in the projector's specs. If your room is low-light and small, you can get a projector with 3000 lumens or more. For bigger and brighter rooms, go for 3500-5000 lumens.
Remember, you can reduce the brightness of your projector if it's too bright, but not the other way round.
Resolution
Choosing the right resolution depends on your needs and budget. There's a wide range of resolutions for projectors, including SVGA (800 × 600), XGA (1024 × 768), WXGA (1280 × 800), HD (1080p), and 4K (4096 × 2160).
Higher resolutions give you a crispier image, but PowerPoint presentations won't need a higher resolution than SVGA.
Throw Ratio
The throw ratio determines where you should put your projector. You can obtain the throw ratio by dividing the distance from the screen by the screen width.
If you have a small room, put the distance from the screen in this equation and find a projector with the exact throw ratio you get. Otherwise, you're not likely to have a crisp image.
Connectivity
There's a wide range of connectivity modes allowing you to hook up the projector to any device. The most important port is the HDMI, which connects the video sources or computers to the projector.
Wi-Fi and Bluetooth connectivity are more convenient when connecting your mobile phone to the projector.
If you have multiple projectors in various conference rooms, projectors with LAN connectivity and remote control are the best options.
Portability
Bolted-in venue hall projectors aren't always the best option when it comes to business meetings. Sometimes, you need to carry the projector to different meeting rooms. So, make sure the projector is light enough to carry around with you.
Some projectors are so small that fit in your pocket. But make sure not to sacrifice resolution and image quality if they matter more to you. Some projectors work on batteries but have lower-quality images.
Installation Requirements
The size of the conference room determines where you can install the projector. You can put the projector in front of the screen in large rooms and have a better image.
A projector with vertical keystone correction is enough to give you the best image alignment in such cases.
But in small rooms, there's more limitation regarding the position of the projector. So, a projector with horizontal and vertical keystone correction can deliver the best aspect ratio and image quality.
Best Epson Projector Reviews 2021: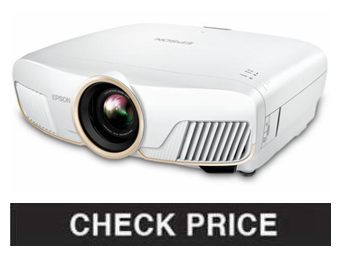 The Epson Home Cinema 5050UB is a serious home theater projector for serious home theater enthusiasts. It features a motorized lens with horizontal and vertical lens shift, plus ample zoom. Its 4K enhancement technology offers lots of detail. Its biggest benefit over less expensive 4K projectors, however, is an excellent contrast ratio for deep, dark shadows and bright, popping highlights.
There are only a few disappointments, and they're minor. It doesn't quite have the color or razor-sharp detail of its direct competitor, the LG HU810P. That's not to say the 5050 isn't sharp and colorful. It is, just a bit less so — although I liked the Epson's overall picture quality a lot more than that of the LG. The 5050UB is also an absolute unit, several times larger than any of the projectors I've reviewed in the last year (including the LG).
In sum, the Home Cinema 5050UB is an excellent all-around projector that looks fantastic with all content. It offers a significant step up in picture quality over less expensive projectors, like the Optoma UHD35, while offering anyone with a dedicated home theater a projector worthy of the space.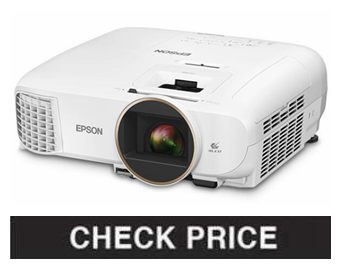 The best projector out of the models We tested — the one I'll be recommending to my friends — is the $899 Epson 2150. The image is great: it's big, it's bright, and the color reproduction is pretty. The 2150 is an LCD projector, which gives it a crisp image even when projecting a 130-inch image, and it can project up to 300 inches. It has 1080p resolution, but unless you're in a completely dark theater with a screen, it's not going to look noticeably different than 4K.
The brightness, which is rated at 2500 lumens, is lower than you'll see other projectors rated. But LCD makes a low lumen count seem brighter and more vibrant than a DLP projector with the same rating. You can watch this with some ambient daylight, but definitely not when there's unfiltered light pouring in through a window. Toggling to dynamic mode makes for the best daytime image, which is a great thing about Epson projectors: you can easily switch between viewing modes, and each one looks great. Use cinema mode, which has deep blacks, for watching a movie at night.
The 2150's built-in 10-watt speakers are loud. I didn't find the need for external speakers, but there is a 3.5mm audio output to hook them up if you want. The fans are also loud, though, and it gets hot. I would avoid putting this right next to your head. That's easier than it may seem because the Epson 2150 has automatic keystoning. Keystoning is important because it allows you to straighten out the image so the projector doesn't need to be perfectly parallel with the wall.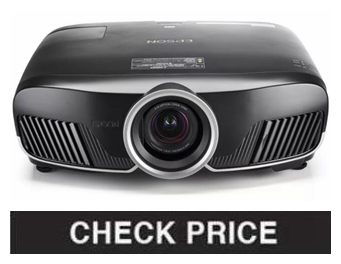 We gave this beamer five stars for its impressive color reproduction, HDR support, and 2,600 lumens brightness, making for bright and impactful images. While this isn't a native 4K projector (something you just don't get at this price), even upscaled images are detailed and come across well, with highly natural skin stones and an impressive amount of shadow detail.
Blacks could be deeper, and motion could be smoother, but there's really little to complain about here. The EH-TW9400 boasts advanced capability all around, from its 3D compatibility to motorized lens controls – the latter point allowing for real precision and an easy setup. There's even a lens cover to prevent dust from creeping in!
Having launched in 2019, the Epson EH-TW9400 is widely available in the UK, India and elsewhere – though it's called the Epson Pro Cinema 6050UB in the US. Just keep in mind that it doesn't come with built-in speakers, meaning you are reliant on connected audio equipment.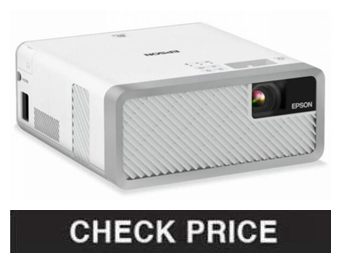 Projectors make outdoor movie nights easier than ever, but they need to be smaller and more portable than projectors meant for permanent home theater installations. The Epson EF-100 is a 720p laser projector, so you'll never need to replace any bulbs throughout its life, and it has full Wi-Fi support, giving you immediate access to Chromecast-enabled apps, as well as its own Netflix, HBO and Hulu apps, among others.
Despite its laser technology, the EF-100 is compact and weights just six pounds. It's an attractive device for sure, and its picture quality is more than sharp enough for outdoor movie nights. Its 2,000 nits brightness gives it plenty of pop—especially when it's dark—and the contrast is more than adequate, too. The Epson EF-100 would struggle to compete against heftier home theater projectors, but as an outdoor projector you carry with you and setup for the odd outdoor movie night, it's near perfect.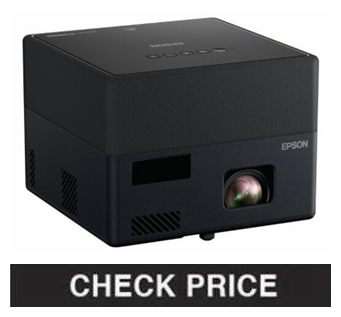 If you need a mini projector that looks good, gives a high-quality picture, and is extremely portable, the Epson EpiqVision EF12 is one of the best projectors around. It's a relatively short-throw projector, so you can get a huge picture without having to ceiling mount the projector far from the screen—although that can still deliver the better picture. It's plenty bright and colorful, and the laser system should have an extensive life that requires no bulb changes throughout its lifespan.
It works well in brightly lit rooms (though better in darkened ones with the curtains drawn) and has a crisp 1080p picture which looks good whether you're watching big movies or intimate TV shows. The sound is deceptively good for such a small unit, with the onboard Yamaha speaker system delivering punchy audio you'd expect out of a decent Bluetooth speaker.
At just a few pounds in weight and mere inches in each dimension, this is a small projector that's easy to carry with you to different settings, making sure that you always have a great-looking projector when needed.