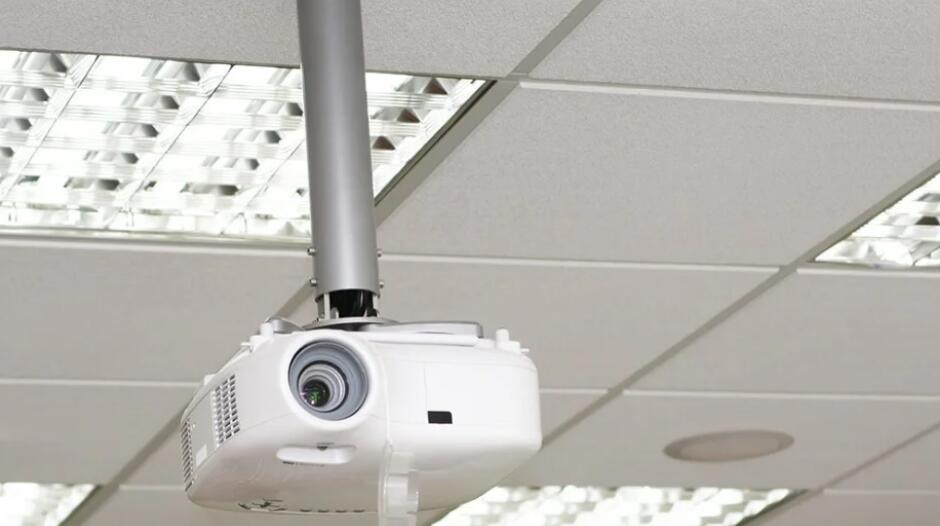 When it comes to projector mounting, there's a lot that can go wrong. The projector location ultimately sets the image quality that you can get to your screen, and so you shouldn't be going for just the cheapest option, or whatever comes up first on the search page.
The best projector mounts can enhance your home theater experience dramatically, letting you position your project precisely where you want it, out of the way and unobtrusive so you can get lost in your favorite movies. Top models allow you to pivot and adjust the angle of projector for perfect image quality and minute adjustments, and support multiple use cases, whether you have arching cathedral ceilings or a tiny den.
Why You Need a Good Projector Mount?
The projector mount is a simple and practical solution to ensure optimal placement of the projector towards the projection screen. It is ideal for use in a dedicated home-cinema room or in a conference room. It is also an interesting solution for a living room or bedroom for regular uses of the projector. No more endless minutes of waiting before each video projection session to adjust the zoom and sharpness!
However, because there are many types and designs, the purchase of mounting equipment must not be done haphazardly. It has to undergo some basic guidelines. Here, we tell you all the possible designs, features and criteria to watch out for before buying one.
What Are the Best Projector Mounts?
No matter the size or style of your projector, your mount should be easy to install, adjustable, attractive, strong enough to hold your equipment, and compatible with your ceiling materials. Here is what to look for.
Installation: Mounts that are more or less universal have drill holes and other attachment mechanisms in a variety of placements to suit a variety of projectors. They also come with all the hardware necessary for whatever attachment style you need. One installation and design feature we really love are those with easy attach and detach mechanisms so you can remove and reinstall your projector easily as needed. But before you do anything, make sure the mount you want is physically capable of attaching to your ceiling. In many cases, normal drywall is not strong enough to secure the mount.
Weight: Most mounts can hold up to around 30 pounds, but be sure to double check the weight of the projector.
Adjustable: We look for mounts that can be widely adjusted for angle and distance from the ceiling. Some include additional arms or mounts for a wider range of placement options.
Appearance: Assuming this is going inside your home, you don't want a big clunky piece of machinery that distracts from your otherwise primo home theater. We like clean white or black colors, mounts that lie flush to the ceiling, and minimalist design elements.
How We Decided
Finding the best projector for ceiling viewing was a matter of several different factors in our research and ranking. For starters, we only included projectors above if they were easy to install on your ceiling. Things that factored into this ranking included universal mount compatibility, clear instructions, and adjustability options. We preferred projectors that give you keystone correction, optical zoom, and lens shift.
Next, we considered each projector's picture quality in our rankings. The best projectors offer 4K resolution, but there are still plenty of excellent options with 1080p resolution. As a bare minimum, the projectors we picked for this buying guide offered a 1080p resolution. You won't find anything lower than that here. Next, we ranked the projectors based on their color accuracy and color reproduction. We awarded bonus points to products with additional color-boosting technology, including HDR10 support.
Finally, we preferred ceiling projectors with higher levels of brightness. The best options above feature brightness ratings of at least 3,000 ANSI lumens. However, we did give more points to options with higher light outputs since they perform better in a wider variety of circumstances.
Our Top Picks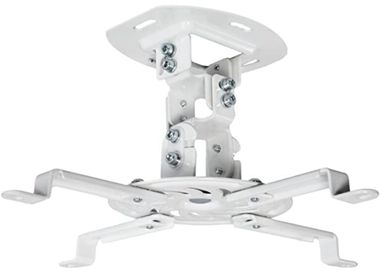 With the impeccable build quality and numerous positive rating, VIVO universal projector serve as a steal deal for users at an affordable range. This meticulously designed mount comes in glossy white color so it would perfectly blend with any decor. Most importantly with low-profile mounting, it serves as one of the best extendable mounts which indicates that your projector can comfortably hang six inches away for top-end projection.
It is perfect for bulky projectors, and its premium steel body material with solid hinges serve and 30lbs maximum capacity as the proof. Geared with standard mountain holes, it is compatible with almost every projector in the market, and it offers you all the hardware tools that you might need while mounting. Unlike others, it pampers you with varied adjustment options, and it includes 360-degree rotation, 15-degree swivel, and 15-degree tilt thus allowing you to get the perfect viewing angle. Drive away the thought of lengthy installation time as it takes few minutes to complete assembly.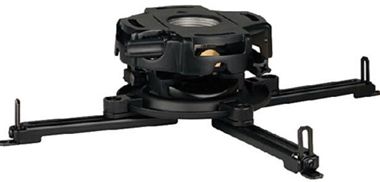 When you talk about one of the best wall mounts with large capacity, one model that comes as the unanimous choice is Peerless PRGS-UNV projector mount. It comes with the universal spider adapter which not only boasts an incredible build quality but allows it to hold heavy-projectors up to 50lbs. Molded with high-grade material and black body coating you can expect it last for many years and also hold the aesthetic of your ceiling.
Get the perfect image alignment without much effort as it bags the patent-pending precision gear with two adjustable knobs that are known for high accuracy placement. Don't like suspended wires from the ceiling?
Well, this equipment comes with integrated cable management that allows you to hide all the cables in plain sight. The flush mounting installation process is swift and quite easy because it is designed with pre-assembled structure and horizontal wrench access slot. What makes it more interesting? It's five-year warranty and availability of all installation hardware in the package.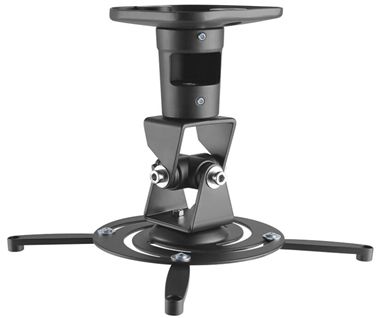 The drop in projector mount has been designed to replace the standard ceiling tile. It has been designed with a reinforced steel plate, making it stronger and the best to hold any projector. It can help to support a projector with a weight of up to 30lbs and still firm.
When you look at the projector mount, you will find it to be very light weighted with a heat-dissipating surface for the entire environment in the home. It has multiple mounting points for alignment to make it easy for you when setting up the mount in the ceiling. The plate sports have been designed as well to accommodate the cables and the electrical components for safety precautions and save space too.
The mount is able to flush with the ceiling surface thoroughly. What makes it even easier to install is the lightweight capability designed with it since the projector mount can provide perfect alignment and very convenient for multiple mounting points for you.
Just from all the other mounts for any home, your mount should be able to make it easier for you to rotate the projector to a perfect position for you to view the images in the right angle.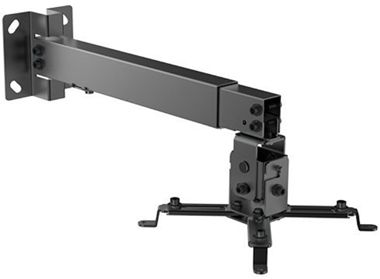 Mount it universal mount has been designed to make every customer work much more comfortable, especially with the four adjustable arms. Most of the projector in the market is an excellent fit for this mount since it fits them all. Also, the arms of the mount are able to be removed to accommodate the projectors that require less than four mounting points.
When you adjust each of the connection arms, you are able to do it from 8.86 to 12.44 inches. This is to give the mount its projector mount an excellent compatibility capability with different users.
The projector has been made from a cold-rolled steel material that is very durable and able to carry projectors that weigh up to 44 lbs. This way, you will not risk your projector falling from the ceiling due to heavyweight. You can as well tilt the projector mount 15 degrees and 8 degrees of roll adjustment.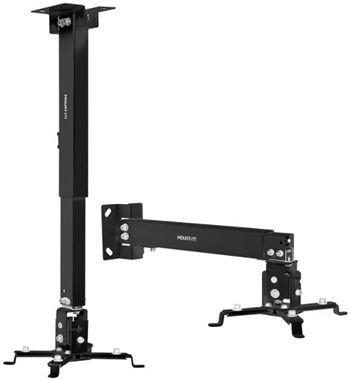 High ceilings require sturdy ceiling mounts that offer lower clearance while handling bulky projectors. The Monoprice 106529 is our best pick for high ceilings because of its budget-friendly price. It has an excellent extension pole that can support projectors up to 50 pounds.
The minimum length for the extension pole is 6.7 inches, and it can extend up to 12.59 inches. Other projector mounts can offer the same feature, but none of the mounts we researched can handle the same weight and be offered at the same price.
The Monoprice 106529 has a 30-degree tilt range and rotation range of up to 360 degrees. This adjustability gives the perfect projection angle wherever you install it. The projector bracket can be removed from the pole, making it one of the most versatile projector mounts.
If you are looking for a projector mount designed for high ceilings, this mount is an excellent choice. It offers exceptional versatility, and its weight capacity makes it perfect for office use.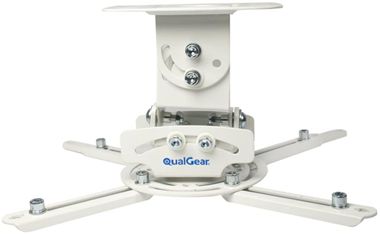 QualGear comes in with an equally sturdy solution. Made of cold-rolled steel, their PRB mounting kit is extremely adjustable and can hold up to thirty pounds with ease. Mounting is simple, and so is dismounting; pop it off in one easy motion to move to other bracket systems if you need a better or different angle for presentations.
The adjustment range allows you to shift 20 degrees for roll, and 30 for pitch. QualGear PRB Universal Ceiling Mount Projector Accessory is simply better for close quarters where the projector isn't traveling far to meet the wall. Rotate the entire thing 360 degrees, and tilt it up and down by a total of 60 degrees. This is the most technical, yet simple to operate projector mount you can buy. While it holds the projector in place properly, it doesn't take much pressure to adjust it to your liking. With a two-minute setup, it's the quickest out-of-the-box solution for your projector.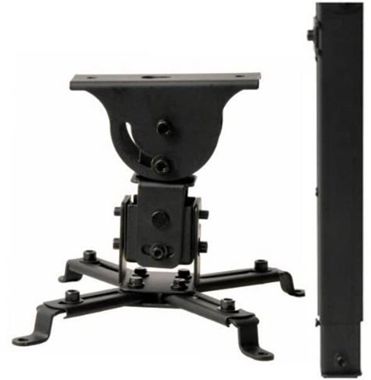 Simply put, VideoSecu LCD DLP Ceiling Mount Projector is the most power you can get for a low price. VideoSecu put the pedal to the metal with this one, crafting it out of an all-steel design that can hold up to a whopping 44 lbs. For a projector mount, that's pretty impressive.
You can choose to use the extension pole, or simply mount it as is. Unextended, there's a short 5.9" length, but with the pole it can go up to 26.7" for taller ceilings. Furthermore, you get everything you need for mounting in this kit including the hardware. Your range is limited, but enough to slightly adjust the projector if needed. Left to right, you have a five-degree range. The longer the distance between the mount and the wall, the more a single degree of difference will impact the picture placement. Quality build, vastly inexpensive, and a long-term solution for your projector needs.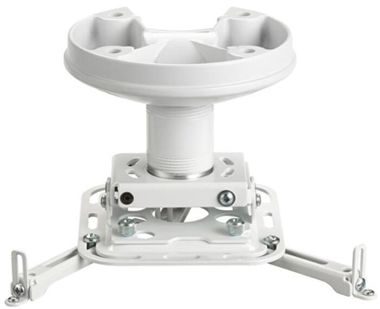 With dimensions of 4.41 x 4.41 x 4.02 inches, this Epson Universal Projection Mount is small but sturdy. Its low-profile design and small size make it a great choice for smaller rooms and the universal interface fits most projectors on the market. Choose from multiple installation options, including flush mount to the ceiling, to best meet the needs of your space. Customers say it is easy to install, gives a clear, crisp picture and provides convenient lamp and filter access for most projectors. The mount allows you to control the roll, pitch and yaw of the mount independently for maximum projector adjustment options.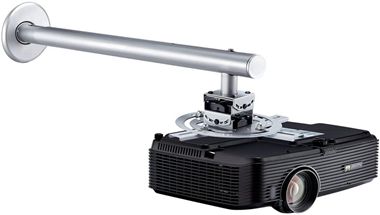 Perhaps you have a vaulted or decorative ceiling, or maybe you have a big ceiling fan that gets in the way. Whatever the reason, if you would rather mount your projector from a wall instead of a ceiling, the Elitech Projector Wall Mount is a great choice. The solid steel mount holds projectors weighing up to 25 pounds and is compatible with most projectors on the market. The wall mount provides a lot of versatility in positioning; the mount's telescoping arm can be extended from the wall from 40.8 inches up to 56.5 inches, and the projector can be tilted up or down 30 degrees or swiveled 360 degrees.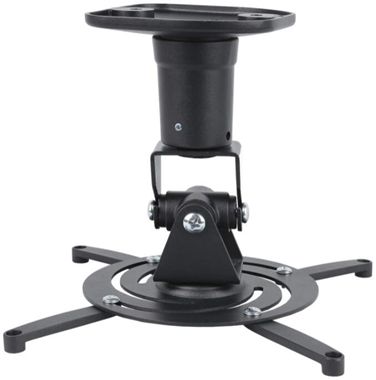 The Dynavista Full Motion Universal Projector Mount is the ideal choice if you want a full range of motion for your projector. It has full 360° rotation, along with wide swivel and tilt options and a collapsible extension arm, so you can install the projector anywhere from 8.9 inches to 43.6 inches from the ceiling.
This is an easy mount to install, too. It comes fully assembled with all the needed hardware included. Just mount the plate, attach the projector, and screw everything together. The high-quality materials and construction ensure a stable and secure mount, with quick release hooks so you can remove the projector easily when you need to.
The Dynavista Universal mount works with most home theater projectors from brands like BenQ, Optoma, Epson, and Sony that weigh 30 pounds or less. It does need a flat surface to mount to, however, so it's not the best option for those with textured or sloped ceilings.
TIPS
Ask facilities management to install the mount. If your office or classroom is being outfitted with a new projector, including a mount, contact facilities management or the building supervisor to assist with installation.
Check the hardware prior to installation. Make sure you have all the pieces you need before you climb up the ladder.
Don't forget to dust the mount. Keep dust at bay on your projector mount by regularly dusting it with a telescopic cleaning wand.
Add a projector mount to your home theater setup. Instead of propping up your mini projector on a table (where it can be knocked over by kids or pets), invest in a projector mount.
Find a helper for installation. Whenever you're working from a ladder, it's a good idea to have a helper or spotter. They can safely pass hardware and tools to you, plus they'll be able to see if the mount is level or off-center.