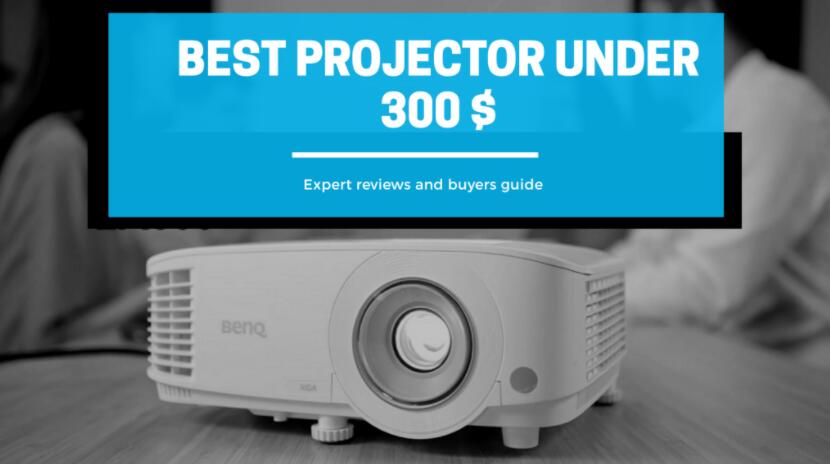 Do you have a limited budget but want the best for yourself? When you go out to research, you will find a variety of projectors, ranging from a hundred to thousands of dollars. Then which one should you get? The best choice would be to search for a projector with all the essential features and then choose one according to your budget. After all, there is no use in spending your limited money on a projector that does not provide quality results or has to be replaced after sometime.
To start, we decided to draw a line at $300 for this guide on budget projectors. We believe this is a fair price range at which you can find great value without sacrificing too much. As the price increases, the line between budget and mid-range devices becomes very murky, and this is one of the main reasons we settled on this price range.
We tested a large number of projectors from reputable manufacturers and came up with a list of devices we believe fit the budget consumers the best. On top of that, we included a buyer's guide along with the reviews, so you can understand the process better and make informed decisions.
What to expect from a $300 projector
There are two major factors that make up the bulk of the difference between a $300 projector and a $1,000+ projector: the brightness of the lamp and the native resolution. Together, these are also the factors that determine the visible quality of the picture. The higher the brightness and resolution, the sharper the picture will be and the better the projected image will cope with ambient light.
Brightness is typically measured in lumens. The projectors on this list range from around 1,000 to 4,000 lumens. To give you some context, a standard 60-watt incandescent bulb produces 800-900 lumens. You may also see projector lamps measured in ANSI lumens, a common unit of measurement for the brightness of business projectors. In a small, dimly-lit room, a projector with 200-300 ANSI lumens should suffice; for a larger or better-lit room, you'll want a projector more on the order of 500-600 ANSI lumens.
Things get a bit more complicated when it comes to the resolution. There is a difference between a projector's native resolution and its supported resolution. If a projector supports 1080p, this means it can play content that's put out in a 1080p format, but it doesn't necessarily mean it will project the video using a 1080p image. The resolution the projector can actually achieve is its native resolution, which may or may not be the same.
Considers Before Buying
Each feature of your projector is going to be very important to your purchase because these features are what make up your display – the picture quality (resolution), the quality of sound (speakers), the adjustability (size of screen on a wall or other surface), and the technology (the way you control your projector as well as the devices which are compatible with it). Below we've listed these features and given them explanations as well as many prime examples to help you make the best purchase.
Display technology
Currently, there are five kinds of display technologies for video projectors: DLP, LCD, LCOS, D-ILA, and SXRD. LCD displays are now the most common and involve utilizing a light source which passes through three LCD chips with assigned primary colors (usually red, green, and blue) to create and project images. Whereas LCOS/D-ILA, and SXRD projectors, use light sources which are reflected off of the three LCD chips (instead of passing through them). These days you tend to find the combination of LED lights and LCD displays because in combination, they tend to make the brightest and most resolute picture.
Image Quality
Projectors are designed to enhance your images, so image quality should be a top priority. Resolution is the primary concern when it comes to determining how clear an image will appear on screen. We have several great options for 1080p projectors that provide just as good of picture clarity and detail as 4K models do – without breaking the bank!
Lumens
Projectors with higher lumen rates provide better image quality. I recommend having at least 1,500 lumens to ensure this high-quality imagery in your space. However, you need to make sure that the room is dark—otherwise it will be difficult for people watching the presentation or movie to see what's on screen!
Brightness
If your projector is not good at displaying a bright image, it means your projector is weak in terms of lumens. Somewhat you might see a bright and crisp image in dark rooms, but when it comes to daylight, things become terrible.
So how will you find out that your projector is bright enough? When it comes to determining the brightness of a projector, you have to check its ANSI lumens rating. Lumens is nothing, just a way to know how much light your projector can put out. If your projector comes with more than 1000 ANSI lumens, meaning it has sufficient brightness for your home use. You can choose any projector with enough lumens, as per your requirement, will be a smart deal.
Price
Your budget is one of the chief determining factors for choosing the best projector for outdoor movies. If you want to invest in a good one, you cannot go for the cheap projectors available. In case you want to use it for business purposes, make sure to check the quality and the gadget's price. In any case, the price plays a significant role in determining the right model for you.
Screen Size and Throw Ratio
When you are going for a projector under a 300 dollar range, you shouldn't take screen size and throw ratio lightly. If you don't need an extensive screen-size range and you are ready to arrange a large space for setup, then a 40-150inch screen-size with a 1.5:1 throw ratio would be sufficient. However, if you don't have much space in your room for the setup, then opt for a short-throw projector with a throw ratio below 1:1. For an outdoor setup, you should look for a projector with a 30-300inch screen and a decent throw ratio around 1.3:1.
Our Top Picks:
In this article, I have selected top projectors under 300 dollars to help you make an informed decision.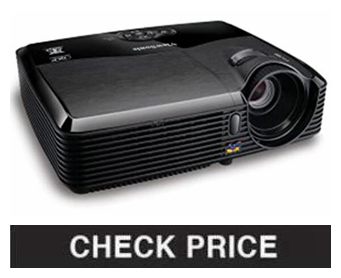 If you are looking for the best cheap outdoor projector, equipped with expensive features, look no further than ViewSonic SVGA Projector. This advanced projector is an ideal device, packed with many productive details. It has a 3800-lumen brightness, with 1080p resolution, giving exotic picture quality.
The ultra-long lamp life of 15000 hours means that it goes a long time before needing maintenance. It is easy to set up, with a plug and you are good to go. You can connect it to your monitor, PC's, mobile phones, or any other device through the connectivity options provided. From HDMI to VGA you get multiple choices.
ViewSonic SVGA Projector comes with a six-colour wheel, giving high-quality results. You can use it both indoors and outdoors, but it works well in dim rooms. All these features combined with an affordable price point make it rank the list.
Amazing brightness
Good input options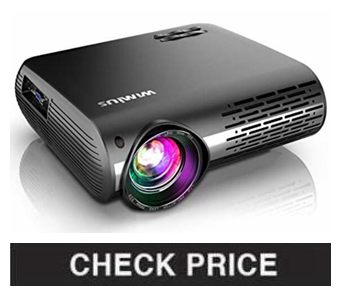 WiMiUS New P20 Projector provides unbelievable specs under 300. It would be hard to find all these features under 1000 dollars, let alone 300. The 10000:1 contrast ratio, 1080p resolution, and 7200 lumens combine together to give exceptional color grading. You get a sharp, crisp image, with bright, vivid colors.
The additional keystone correction and zoom display provide convenience and ease. You can easily zoom in and out without moving the projector. Unlike usual budget projectors providing 2W speakers, this one has unbeatable stereo speakers of 10W. You can enjoy high bass giving you an actual theatrical experience.
It is important that your projector remains cool, but without any unwanted fan noise. WiMiUS has an efficient heat dissipation system, reducing fan noise by 50%. It has USB / HDMI / AV / VGA inputs that help in connectivity. You can also use the wifi dongle to connect it with your smartphones.
Crisp and clear images
10W speakers
Does not have a lens shift feature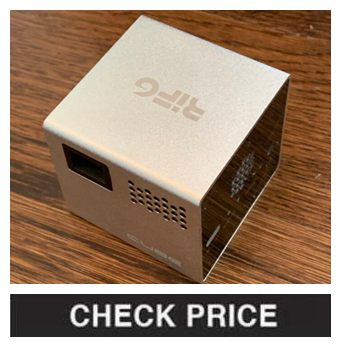 This RIF6 Cube mini projector is a great accessory when you expect to be moving around a lot because it was made to be travel-compatible; with a tripod stand, small size, and lightweight it will be very little trouble trying to carry it around.
This mini projector, however, will perform better when used for solo viewing rather than for group viewing because of its speaker quality.
This projector is not going to give bright pictures nor loud sounds enough to use in a bright place or to enjoy as a group, therefore it is better used alone and in a dark room for better performance.
The projector is cheap and well within the $300 budget
It is great for traveling with the weight and the tripod
The battery runtime is average, good enough for short presentations and/or movie
The aluminum material used for the outer covering makes it durable
Low volume speakers
It doesn't offer so many options for connectivity
VANKYO Performance V630W is a device that stood out among other choices with one unique feature. It offers screen mirroring options for both Android and iOS smartphones.
Although this might not be a feature that most consumers will take advantage of, it certainly gives the V630W a unique advantage over the competition.
The rest of the hardware and features are up to par as well. Native 1920 x 1080 Full HD resolution is sharp and crip, while the lens configuration allows projections of up to 300 inches. VANKYO Performance V630W also offers plenty of connectivity options, including WiFi 5G and Bluetooth.
Sharp and clear image at FullHD
Superior connectivity options
Screen mirroring for both Android and iOS
Supports projections from 46 inches to 300 inches
Not the brightest image we tested
A bit noisy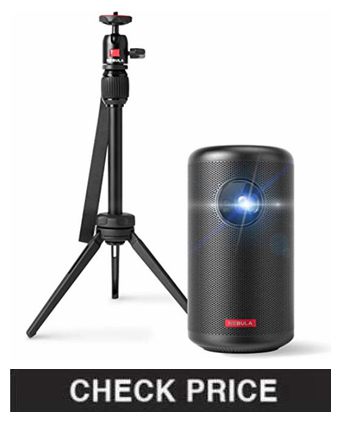 Anker has a long tradition of producing high quality peripherals and their series of Nebula projectors is a highly successful one, covering everything from ultra-portables to full-size home entertainment centers.
The Nebula Capsule is a portable mini-projector that shines on-the-go and in situations where a regular projector could not.
With a power autonomy of around 4 hours, Nebula Capsule provides plenty of entertainment anywhere you go. It is a mini projector that will easily fit into any bag if you want to carry it with you. It does come with some limitations due to its size, but the image quality and brightness, along with excellent noise levels make it a fantastic choice.
The retail price might catch some off-guard, but Anker often discounts its products and the Nebula Capsule is no different. If you are looking for a high-quality mini projector that gets all of the essentials right, the Nebula Capsule is the right choice.
Well built
Compact and sturdy
Wireless streaming
Upwards projection requires a tripod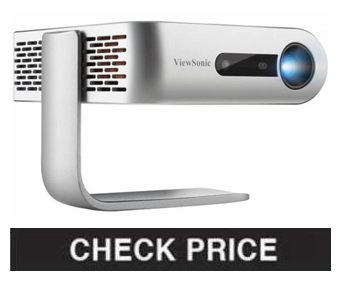 ViewSonic M1 is an ultra-mobile LED projector which guarantees comfortable rest and entertainment in almost any room. The projector has a built-in battery and its LED light source designed for more than 30,000 hours of operational life which means you will get years of multimedia entertainment in any place you choose.
The contrast ratio of the projector is 120000:1 and the lamp life is up to 30,000 hours. The native resolution is 854*480 pixels.
ViewSonic M1 achieves true-to-life color of images via SuperColor ™ technology which delivers authentic, superior colors without any distortion. Dual speakers deliver stunning high frequencies, balanced mid-range and brilliance bass providing the perfect sound.
When designing the M1, ViewSonic also paid special attention to user safety issues — eye protection function automatically shuts off power from the projector's beam if it detects any objects that come too close to the lenses.
ViewSonic M1 offers universal connectivity options, including HDMI and USB Type-C interfaces for connecting to a laptop, smartphone or tablet, as well as to USB drives and MicroSD cards. With the built-in 16 GB memory, you can store the files directly in the internal storage. The projector instantly delivers multimedia content to the screen directly from a phone or tablet.
Compact and lightweight
16 GB of internal memory
Built-in battery provides up to 6 hours of work
3 year warranty
Although it has two speakers, they are not too powerful – only 3W each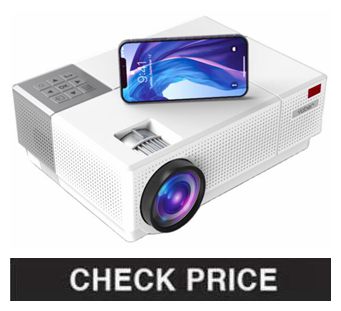 Yaber Y31 is a compact projector that comes with a brightness of 8,500 lumens and a high contrast ratio, you can achieve clear images, and the projection size can be freely adjusted from 50 inches to a large screen of up to 300 inches.
You can easily adjust the trapezoidal shape by ± 50 ° (vertical/horizontal) with the remote control, and it also has a zoom function, so you can make precise settings according to the projection range of the screen.
It supports major input methods such as AV, VGA, USB, HDMI, and connects to various devices such as Fire TV Stick, Roku Streaming Stick, PC, Blu-Ray DVD player, PS3, PS4, Xbox, TV box, etc. You can enjoy movies and LIVE videos.
In addition, the unique cooling system allows three fans to operate at the same time to cool the main unit, which has a better heat dissipation effect than other small projectors with only one fan, and the service life of the main unit is extended.
4D keystone correction
Good user interface
Impeccable image quality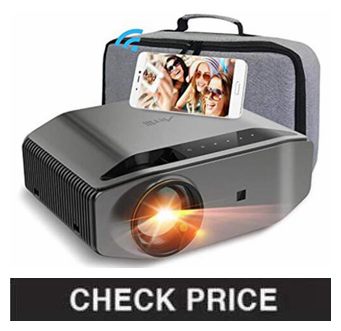 The Artlii Energon 2 is a small and simple design projector that comes with Native 1080P and supports 4k. The picture quality it delivers is super clear and bright but it does not perform well outdoor especially in daylight. In a dark room, the quality is very amazing.
Overall sound quality is good at this price range and but in addition, we can also use an external soundbar to increase the overall watching experience.
Talking about connectivity it comes with 2.4G/5G Wi-Fi, Bluetooth Connection, HDMI, USB, VGA, AV, SD card, and audio output of 3.5 mm. The Bluetooth connection helps us to set up an external soundbar without the wire mesh.
In addition to this, it comes with a nice carrying bag which is very helpful while traveling, and a remote which is pretty good.
Light weight
Great ease of use
Good picture quality
Not perfect in a day light
This miniature projector not only takes up less room in your house and office, but it performs exceptionally better than all other mini's on the market. It's designed for remarkable clarity and contrast with a rate of 2,800 lumens and a contrast ratio of 1000:1 (meaning picture will be clear and colorful every time). As well, it utilizes the newest released LED light sources for an 80% brighter picture than other machines with a resolution of 1080 pixels.
With an updated fan and noise suppression system, the video projector can cool its entire structure without detracting from the crisp sound of the built-in Hi-Fi dual stereo speakers. This miniature projector is compatible with all kinds of devices including Amazon Fire TV stick, laptop, Chromebook, Tablets, DVD-players, a USB flash drive, and other media players including gaming systems. It comes with jacks for headphones, HDMI cables, VGA/SD, and AV.
Additionally, for a miniature projector, it has an unbelievable ultra-big screen from 30–185 inches with settings to focus the picture and keep the distance from distorting your viewing experience.
Compatible with all devices
Ultra-big screen for a miniature projector
Amazing 3-year warranty
Not recommended for PPT or business presentations
HDMI dongle not included
Not Bluetooth compatible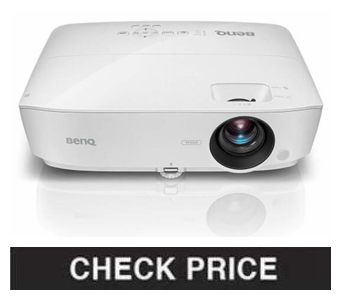 Searching for the best projector below 300$ with 1080P resolution? The BenQ MS535A is that projector that comes with the SVGA 3600 lumens for the brighter screen flash. Here we can find the Brilliant image quality with the super-fast transmission.
In terms of its connectivity, we can find the latest HDMI port for the data transmission. The Dual HDMI makes it possible to get better connectivity for the output either in input or output.
With the 800 x 600 Pixel resolution it's possible to get a detailed infographic. Yes, the exclusive infographic mode makes it possible to get the detailed output for the images and content on the screen.
Getting with a setup is also easy for this projector. In fact, this projector features the SmartEco mode for making the life span more of your lamp power by 70%.
Higher SVGA Resolution
SmatEco Mode for Lamp Power Saving
Better image production
Detailed infographic
3D Compatible
Lacks HD Resolution
Only for minors
Conclusion
At $300, I'm assuming that you'll need a projector for casual and occasional use. However, there are multitudes of cheaper projector options available. However, under $300, you get the right balance between display technology, features, and better image quality.
Finally, if you like this article, please don't forget to share it on social media sites like Facebook and Twitter. If you have any questions, then please don't hesitate to leave them in the comment section below.