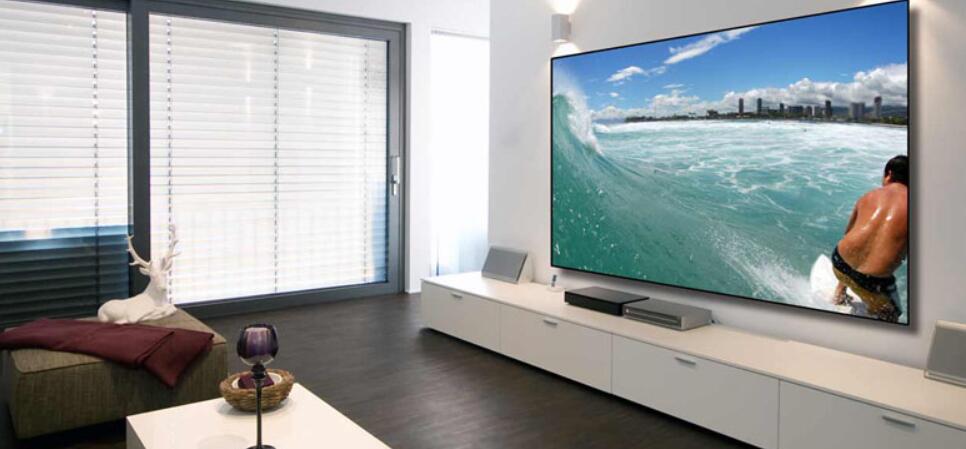 You can take your entertainment room to the next level with a home theater projector, even if you have a good TV or two. These days, you can find a model with good picture quality, high brightness in ambient light, excellent color and a top-notch contrast ratio for $1,000 or less. With a home theater projector, you can get a huge screen size for a fraction of the price of a big TV , which may be the best part. And when you want to take movie night outside, there are portable and outdoor projector options to consider.
Whether you're looking to buy a 4K projector, want something that'll make HD sources look great or need something you can use on the go, you're going to find the best home theater projector on this list.
WHAT KIND OF PROJECTOR SHOULD YOU GET?
DLP, or digital light processing, and LCD projectors are lamp-based, so the bulb will eventually degrade, but they're much more affordable than laser projectors. DLPs tend to be smaller and more portable, and they offer more contrast and blacker blacks. LCDs tend to have a sharper, crisper image and appear brighter than DLPs even at a lower lumen count. Projectors with a laser source are not lamp-based, so they require less maintenance; on average, the laser lasts 5x longer than a bulb would. And unlike a lamp-based projector, where a bulb emits light through a color wheel to produce the image, laser projectors generate only the exact colors needed for an image. This efficiency makes for a much brighter image and very accurate colors and deep black levels and contrast. All of this comes at a much higher cost, however. Low-end laser projectors are typically around $2,000, although you can find some smaller ones for less.
Then there's the throw ratio, which is how big the image is in relation to how far it is from the surface. Traditional projectors sit behind the viewer, ideally 10 to 20 feet away from the surface they project onto. Meanwhile, short-throw projectors can project a large image with only a few feet between them and the wall, and ultra-short-throw projectors are basically right up against the wall.
SCREEN OR NO SCREEN?
The surface you project on is important — you can use a wall; white is best — but it won't show off the projector's best self. Every tiny bump refracts light and creates small shadows, so the image ultimately loses quality and brightness. You'll benefit a lot from getting a projector screen, especially if you'll be watching with a little daylight. Projector screens brighten the image noticeably depending on what they're coated in. I used an inexpensive 80-inch Panoview pop-up screen — you can find a similar one for around $100 — but it still made for a better experience than just pointing the projector at my wall.
4K OR 1080?
4K projectors are a lot more expensive and not as common as 4K TVs because the pixels on projector chips are incredibly small. But unless you're really investing in a proper home theater, most living room setups won't allow an average viewer to spot the difference between a good 1080p projector and a reasonably priced 4K projector.
And as for content, every projector I tested has an HDMI input, internal speakers, and also an audio output, so I was easily able to stream things by plugging in my Roku stick. You can also use a laptop, Apple TV, or whatever device you use to stream video.
Home Theater or Home Entertainment?
Home theater projectors are designed to be used under theater-dark conditions in a movie room. This can be anything from an elaborate, professionally designed home theater to a mixed-use room that can be set up for viewing movies. Such projectors usually eschew built-in speakers, as their owners prefer to yoke them to high-fidelity audio systems. Image quality, features, and resolution are important—most are 1080p or 4K, and many include 3D capabilities. Because you'll be viewing the content in a dark room free of ambient light, a home theater projector needn't be especially bright; you won't want to go much above 2,000 lumens.
Home entertainment projectors, on the other hand, are more versatile than home theater models, and are generally used in places such as family rooms, where there may be considerable ambient light. They've become viable substitutes for TVs, and can project fairly large images without degradation. Thus, they tend to be brighter than home theater models. They also have built-in sound systems. As home entertainment projectors are geared to casual viewing, their image quality—though generally good—is seldom a match for that of home theater models.
What to Know Before Buying a Projector
Projectors offer larger screen sizes and a more cinematic viewing experience than their TV counterparts, but that doesn't mean they're easier to set up.
Unless you're going for a portable option, you'll want to make sure you have a projector mount ($20) and audio cables properly routed to the location of your projector. This is because setting up full-size projectors to fit your screen, be in focus, etc, can be a pain, so once you get everything dialed in, you'll want to leave it as-is.
Another thing to bear in mind before you get a projector is just how much space you'll need to properly set it up. In most cases, you'll need 10-15 feet of space between the screen and the projector (be sure to check the "throw distance" listed by the manufacturer in the manual) to achieve screen sizes over 100 inches.
Be sure your room is dark. Without a completely dark room, projectors can look washed out and be hard to see; if you're considering a projector, be sure you have blackout curtains or a room with no windows.
The New Projectors of 2022: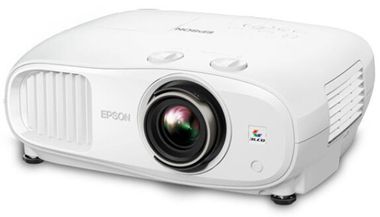 It's a shade pricey for an entry-level device but, make no mistake, this is the king of affordable 4K projectors. It's easy to set up and install, and produces a picture that's reminiscent of what you'll get at the cinema.
You'll get a great image right out of the box without needing to be any kind of expert at tinkering with the settings. All the preset modes are very well judged and it gives an excellent level of black depth and dark detail for a projector at this price. Colours are balanced and motion is naturally smooth.
That said, it's as much the convenience of this machine that makes it so good. Bluetooth allows for direct connection with a wireless speaker or soundbar, and the high luminance means that it's usable in moderately lit rooms. In other words, an AVR, speaker package and home cinema room are not entirely necessary. How's that for a superb family projector?
Excellent contrast handling
Balanced, nuanced colour palette
Good connectivity options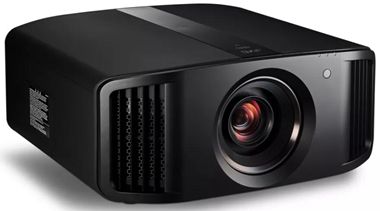 JVC's D-ILA devices are some of the best projectors in the business. They offer exceptionally good contrast handling, effortless smooth colour blending and the best black levels around. The N5 may be the baby of this famed native 4K family but it's still an absolute belter.
Its bigger, pricier siblings are better and blacker but there's easily enough shading skill and depth of darkness even here to produce an incredibly involving and three-dimensional feel whether at 4K or Full HD. What's more, JVCs ongoing upgrades to its HDR capabilities just make that picture better and better as time goes on.
The motorised lens, simple menu system and excellent choice of usable preset picture modes make it surprisingly easy to set up. It might not compete with the others here for value but it's the best performing projector on this list.
Deep blacks
Excellent HDR handling
Brilliant colour control
Add-on required for 3D
No full-screen SD upscaling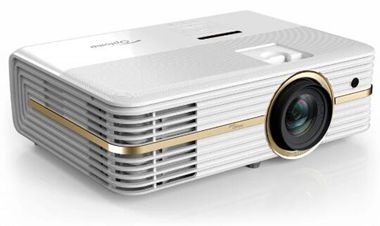 Sometimes with the best 4K projectors, you can end up paying for the label. However, if you stray from the traditional household names in home entertainment then you can find a real bargain, and Optoma is one of the brands that consistently deliver great value projectors which can go toe-to-toe with the big boys. The UHD51 has been out for a couple of years now, which means you can find some great deals on it, although 'budget' 4K still means four figures.
It offers fantastic colour, with good black depths, and smooths out fast motion to keep up with the quickest of action scenes. It also upscales non-4K images beautifully and even has 3D capability (which requires the purchase of DLP link active shutter glasses) should you want to re-watch Avatar ahead of the sequels. However, despite its good light rating, this unit may need the curtains drawn to get the most out of it as it struggles slightly with a lot of ambient light.
You would need to keep this hooked up to a video source to run video as it doesn't have an onboard operating system that would allow you to stream direct, but that's a small quibble when you're getting such a great picture for the price, especially given that it also boasts Optoma's usual short input lag – making it great for gaming, too.
Fantastic entry level 4K projector
Great black levels
Vertical lens shift
Can struggle with ambient light
Lack of onboard apps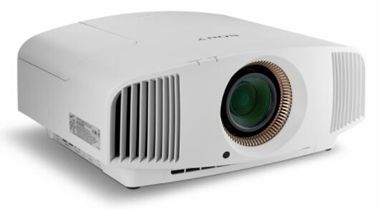 A step up on its much-loved predecessor the VW570, mostly thanks to the incredible X1 chip which has been based on Sony's Bravia TV technology. The X1 is an incredibly fast processor which is constantly working to give you incredible picture quality – analysing frame by frame to ensure everything looks sharp and smooth. Bright enough to be great quality picture even with significant levels of ambient light, and with astonishing depth of colour and contrast.
It's large and heavy, but so are most 4K native projectors. A slight quibble is the lack of connectivity beyond HDMI and USB, but if you're shelling out this much for a projector you're likely to have an amp ready to go for this already. It's great for gaming with no notable input lag, and the expansive landscapes of open-world games look astonishing in a 4K image of over 100 inches – but so do the bright colours of a platformer. It gives incredible detail even in the darkest shadow, a feat few projectors manage. Yes, it's pricy, but it's a cutting-edge projector which truly brings the cinema home and worth the money if you have it.
Astonishing 4K picture
Excellent upscaling
Incredibly bright
Large size
Lack of connectivity
Very, very expensive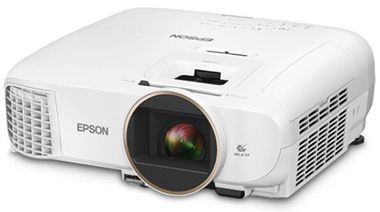 When it comes to home electronics, our experts are especially looking for the sweet spot between value and performance. The Home Cinema 2150 nails it, delivering big, bold LCD picture quality and ample (if not quite cinema-grade) sound through its 10-watt speakers, all at a reasonable price.
Our experts found the Home Cinema 2150 especially easy to setup. The flexible lens shift makes it simple to adjust image size, which can get up to 11-feet wide, several times that of a typical flat-screen TV. The only problem is you might have to rearrange the family room to come up with enough wall space. But from then on, movie night will never be the same.
Easy set up
Solid picture quality
Good value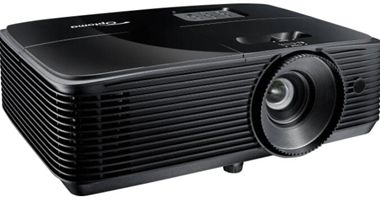 Though the top-rated Epson is well-priced, you can spend even less on a capable home projector. Enter the Optoma HD146X. It's a DLP (digital light processing) projector, which means the picture isn't quite as bright as what you get with an LCD, but with its full HD 1080p resolution, no one is going to have to squint to read the score of the ball game or subtitles of foreign-language films. If there's a gamer in the house, they'll appreciate the fast response times of the device's enhanced gaming mode. But spending less than $500 does come with some tradeoffs.
The Optoma is a bit noisier than comparable home projectors, so you might need to invest in auxiliary speakers, and you can't cast as large a picture on the wall. But if you're doing most of your watching and playing in a small-ish, quiet, easily darkened space, the HD146X is sure to satisfy.
Great picture quality for the price
Fast image response time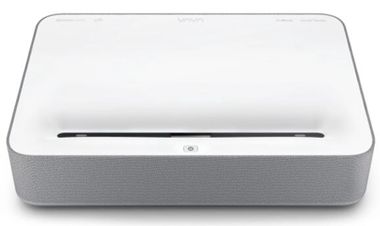 As the name implies, this top-performing home projector uses laser technology, instead of the standard lamp. The result is exceptionally crisp, bright picture quality, so much so that you can easily watch during the day. The VAVA also differs from a lot of the competition in that it's a short-throw laser projector, so it sits close up against the wall, instead of across the room.
The built-in Harmon Kardon speaker adds impressive sound quality. Our pros found the initial setup to be more complex than competitors and weren't thrilled with the limited selection of apps. But you'll likely look past those flaws if sleek design and a dazzling picture are your top concerns.
Solid picture quality
Exceptional sound
Streamlined design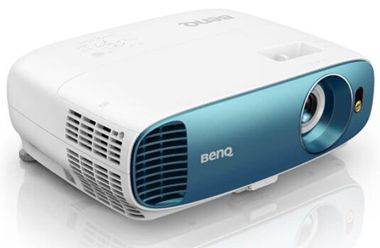 BenQ is one of the names which always come up for affordable projectors with great pictures and the TK800M is yet another unit which gives more than enough bang for your buck in your search for the best 4K projector for you. The colour tech is great for ensuring reds and greens don't oversaturate while giving excellent colour depth even for darker shades. The Ultra HD4K resolution gives amazingly sharp picture at most light levels, although you might struggle if there's bright direct sunlight in the room.
The 'football mod' is a slightly odd gimmick with specific sound settings and colour palette which enhances greens, but it does hint at one of the projector's best qualities: low input lag modes which make it outstanding gaming and watching sport. It's been tested at just 48ms, meaning you won't get out of sync when doing delicately timed stealth kills in Assassins Creed Valhalla or jumps in the frantic chaos of Fall Guys.
There are even optional wireless kits to enable you to connect to an input source without cables or stream content from a mobile device. You can also get optional 3D glasses, and it's always a slight quirk that the cheaper projectors seem to offer this more often than more expensive rivals.
Low input lag
Optional 3D and wireless connectivity
No lens shift
Quiet, mono audio (but good sound quality)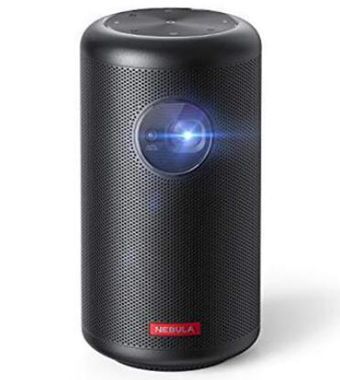 Some projector were meant to be portable – and few do it better than the Anker Nebula Capsule II Mini Projector.
About the size and shape of a can of Coca Cola, the tiny projector looks more like a battery pack for a piece of AV equipment than an all-out projector, but those looks are deceiving. The Capsule II is very capable for its size, offering a 720p (HD) resolution and strong audio output – and a noticeable improvement on 2018's Anker Nebula Mars II – even if it can't compete with the more premium 4K HDR models listed in this guide.
Given its size, we were pleasantly surprised to find a fully-sized HMDI port, too, rather than the mini-HDMI alternative – as well as a USB port and USB-C charging port, allowing you to power the projector while connecting to a streaming stick like the Roku Express or Amazon Fire TV Stick.
Android TV built-in for plenty of apps
Full-size HDMI port, despite its size
Dim output ruins dark scenes
Netflix must be sideloaded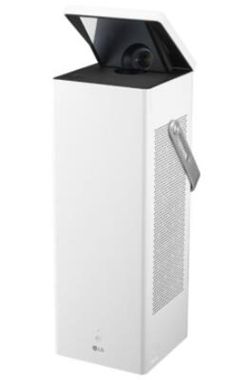 One of the most feature-complete projectors you'll ever find, the LG CineBeam is a really fascinating box of tricks. It may not be the finest on this list in terms of pure picture quality, but it presents a very decent 4K HDR image from a larger array of sources – both smart and local – than any other here. And for that, we commend it.
It's blessed with LG's excellent webOS platform, which means direct access to all your video apps over Wi-Fi, and its Miracasting and Bluetooth abilities make for easy and intuitive ad-hoc connections to whatever mobile device you'd like to play back from. These can provide external sound, too.
So is it expensive? Maybe. But for those who want the flexibility to throw a movie up on their wall whenever and however they choose, it's just the ticket, with decent sound and a very solid picture as well. One of the best outdoor projectors you can buy.
One-box, truly portable system
Impressive 4K HDR picture
Easy to build a system around
Lacks a little detail
Motion could be better
Built-in speakers only adequate