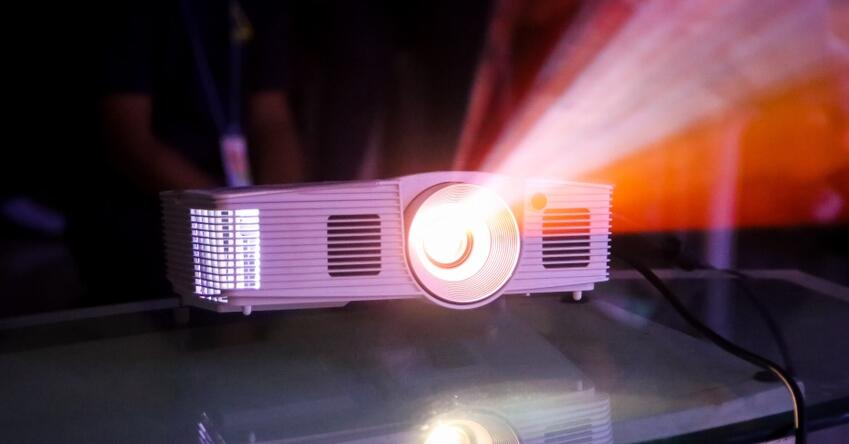 Are you looking for a cinematic viewing experience, but don't have the space for a traditional home theater projector? Maybe you live in a studio apartment or a dorm, and you don't have the range necessary for a long-throw projector. Or maybe you need to do a presentation in class or at work and there are no projectors provided. In any of these circumstances, a short-throw projector is ideal. Short-throw projectors provide a clearer and larger image in smaller spaces compared to those with long throws.
Short throw projectors are much smaller than conventional projectors, with a shorter distance required to project a large, clear picture onto a wall. They're also perfect for conference rooms and classrooms since they need to be only a couple of feet away from the screen. For the purpose of this guide, we considered several important factors, including throw distance, display technology, contrast ratio, brightness, and resolution.
If you're serious about movies, or just want to watch your favorite show or the big game on a huge screen, it's time to invest in a short throw projector. Here are some of the best currently available on Amazon.
What is an ultra-short-throw projector?
Through the use of special lenses and mirrors, an ultra-short-throw projector can create a very large image on a screen or wall from a very short distance. Unlike most projectors, which need to be about an inch away from the wall for every inch of diagonal screen size they project, a UST projector can sit up against (or within 3 to 4 inches of) the wall and still project a large image. This lets you enjoy a bigger image in a smaller space, and because a UST projector works well on a tabletop or shelf, you don't have to mount it on the ceiling to keep people from walking in between the projector and the screen. The downside is that UST projectors cost more than projectors with a conventional lens and can also sacrifice some image quality.
Ultra Short Throw vs. Short Throw
The throw ratio of a Short Throw projector ranges from 0.4 to 1. This translates to a throw distance of 3 to 8 feet. An Ultra Short throw projector, in contrast, is any Short Throw projector with a throw ratio of below 0.4 or below 3 feet.
It can even be as close as 6 inches or half a foot away from the screen (usually the pico projector variety). Make sure to get a UST projector instead of just an ST one to minimize the throw distance for presentations and home cinema applications.
What to Look for in a Short Throw Projector
When selecting a short-throw projector, first figure out how much space you'll have between the projector itself and the screen. Standard short-throw devices require about three to eight feet of space to produce a 100-inch or larger image, while UST projectors need anywhere from inches to three or four feet.
Resolution

: While 4K can provide noticeably more detail than 1080p, the difference between a good 1080p projector and an entry-level 4K projector is a little less noticeable, especially if you're not in a pitch-black room.

Throw ratio

: Most short-throw projectors have a resolution between 0.38:1 and 1.4:1. An ultra-short throw often has a throw ratio around 0.37:1 or less. Look for a lower throw ratio if you need to place your projector closer to the screen.

Brightness

: Projector brightness is measured in ANSI lumens with higher meaning brighter. 3000 ANSI lumens is typically fine for lights-on viewing, although 2000 ANSI lumens and up will still look watchable albeit somewhat washed out with ambient lighting.

Frame rate/Refresh rate

: If you plan to do any gaming, frame rate and refresh rate are important. Frame rate is measured in frames per second (FPS) while refresh rate is measured in hertz (Hz), though both are effectively the same. A 120Hz projector can display 120 FPS for example. You'll also want to look for low input lag in addition to a high refresh rate or frame rate.

HDR Support

: This is less important in a sub-$1000 projector since most of them don't get bright enough to take advantage of HDR's benefits. But if you're eyeing a more premium projector, HDR is a "nice to have" feature.

Smart features

: You can use a streaming box or game console for streaming from the likes of Netflix, Disney+, and Hulu. However, you may also want a projector with built-in smart features.

Audio

: Though a dedicated external surround sound system or a soundbar is recommended for audio as large as the accompanying picture, a good set of onboard speakers allows for portability.

Price

: Projectors can range from budget-priced options to bank-breaking high-end units. Ultimately, your budget will determine which projector is right for you.
Our Top Picks:
Following extensive research, I have covered only the top UST projectors in this article, and show you exactly why each one deserves its place in your home theater. There is also a full guide as to what makes the best 4K ultra short throw projector, so you can follow this up with your own research.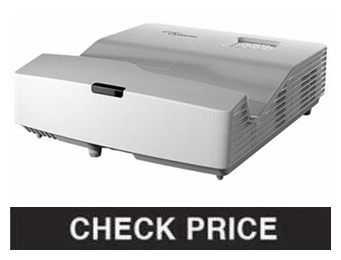 If you are looking for projectors, then it is highly likely that you have heard about Optoma in the past since it is quite a popular brand of projectors and makes all sorts of models.
Optoma's GT5600 ultra short throw projector comes at the 1st position of this listicle as this can be a great pick for all those who are on a tight budget. Being an affordable option, its given screen size of 100 inches is quite decent especially when you also consider its 10.3-inch throw distance rating.
Another great thing about this ultra short throw projector is that it offers a highly bright 3600 lumens projection lamp inside. However, to keep its price tag low, Optoma offers only 1920 x 1080 FHD resolution with this projector. That being said, you still get various connectivity options similar to a much more premium option. You will find ports like HDMI, VGA, Ethernet, USB, and audio ports with this projector which is backed by a 1-year long warranty.
Offers a 100-inch screen size
Works at a throw distance of 10.3 inch
Image resolution of 1920 x 1080 FHD
Affordable ultra short throw projector
Highly bright projection lamp
Fairly compact form factor
Projection resolution could have been higher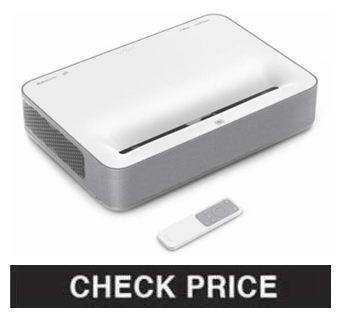 The VAVA UST projector scores high points with us because even though it's pricey it's worth every cent. This Ultra Short Throw projector allows you to set it up without necessarily needing to mount it on your ceiling.
It works without the assistance of professional installers and whatnot. We had ours sit next to the wall next to our game console and Blu-Ray Player. Furthermore, the projector projects a huge 100-inch image on a 100-inch screen perfectly and squarely.
You can always adjust the image using keystone correction and lens shift. Its largeness and image clarity make even a 65-inch HDTV look like an old-timey CRT TV. The image quality of this UST projector definitely makes it a worthwhile purchase in our books. You can maximize its potential by using Chromecast with it.
The futuristic design is reminiscent of Apple
It can double as an affordable HDTV alternative
Get Chromecast to unlock more features and apps
Brighter compared to projectors of its class and price point
It's a simple box without too much unnecessary ornamentation
The minimalist software features match the minimalist design
It produces a high-pitched sound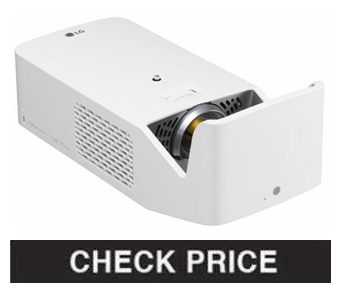 The LG HF65LA Projector is an Ultra Short Throw home theater projector with LED lamp tech. LG is a world-renowned corporation and the LG HF65LA Projector reflects its world-class quality. It also has a Bluetooth sound output, thus you can install or connect Bluetooth speakers, headsets, or EarPods to it.
This Full HD UST projector doesn't only offer quality imagery at an Ultra Short Throw distance. Its 1080p resolution (not as impressive as 4K HDR but more than serviceable) fills up the screen with many pixels that can be as clean and clear as the best UST projectors out there.
It just falls short in terms of its 1,000 ANSI lumens that work okay but can't deal with ambient light as much as a 2,500 ANSI lumens or 3,600 ANSI lumens projector could. It does check the rest of the boxes like up to 100 inches of screen size and 30,000 battery life. It's even LG Smart TV compatible.
UST projector
Bluetooth sound out
30,000-hour battery life
Full HD resolution of 1080p
It has a wattage of 6 watts
It's lightweight at 4.2 pounds
It's rather dim compared to many of the UST projectors on this list
It lacks a remote so you have to control it using the unit's control panel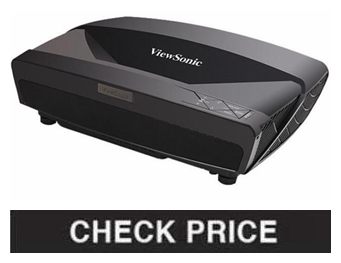 The ViewSonic 1080p Projector PX800HD is known for its razor-sharp imagery and stunning color. It separates itself from the rest by having a little extra on many departments. For one thing, its screen size isn't limited to 100 inches and it and go all the way to 150 inches.
For another thing, its 709 color accuracy features might involve many technical processes to make it all possible, but in the end, even casual viewers can see the difference in color vibrancy. It also helps that this UST projector offers a 0.23 Ultra Short Throw lens and 2,000 lumens of brightness in Full HD.
Sure, it's outdone by both Optoma projectors on this list so far and the VAVA 4K projector in terms of brightness and/or resolution. However, its maximum screen size really allows you to see the full resolution and crisp quality of Full HD and its millions of pixels. It even comes with its own speaker for good measure.
2,000 lumens of brightness
UST projector with a 0.23 throw ratio lens
It's pretty big for a UST projector. Not portable
It works fine in ambient lighting or daylight setting
Low latency makes it the average gamer's choice for projectors
It offers good screen adjustment for keystone correction from corner to corner
The focus control is hard to fine-tune and clunky
The speaker isn't high quality and the fan is loud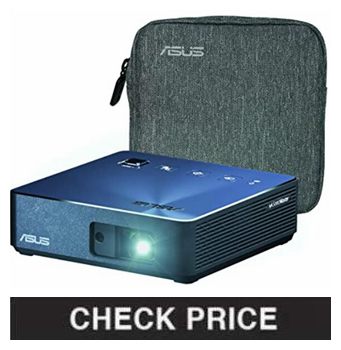 If you're on the road a lot for business trips, you will benefit from a portable projector. Whether it's a sales pitch or a board meeting, images are key to getting a good message across. The ASUS ZenBeam S2 is an ideal portable projector, because it can cast a 40-inch image from just over 3 feet away (1 meter).
The ASUS ZenBeam S2 isn't super bright, but at 500 lumens it's significantly brighter than other portable projectors, and it also has a solid 720p resolution.
The real selling point of the ZenBeam S2 is the battery. In most portable projectors, you can expect an internal battery to last around 2 hours. The Asus ZenBeam S2 lasts up to 3.5 hours — appealing if you have long meetings or want to watch a long movie while traveling.
The connectivity is also nice as well. The Asus ZenBeam S2 supports USB-C, which is largely unseen in the portable projector space. It also supports wireless streaming, so you can cast videos and images from a phone to the projector.
All of this combines to make a robust portable projector that will serve just about anyone well.
Native 4K – no pixel shifting – which is rare at this price point
Excellent image quality, with bright, vivid colors
Relatively small & excellent value for money
Only 40ms lag, which is better suited to gaming than other projectors
Poor OS that cannot handle Netflix streaming in 4K – use a separate streaming stick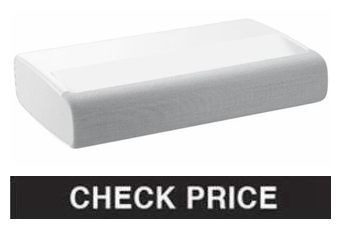 The Samsung LSP9T suits those who want a truly massive 130 inch picture in a very easy to use package. If you can make do with a 120 inch image, then the LSP7T is essentially the same projector, but at a much lower price.
You can get a 130 inch image with the projector only 9.4 inches from the screen, or an incredible 100 inch image at 4.45 inches distance, thanks to the 0.189 throw ratio.
The color and clarity is almost unbelievable for a home device, with a variety of modes including dynamic mode and filmmaker mode for watching regular TV in daylight, or films as the director truly intended, respectively.
Brightness is very good, at 2800 lumens, making this much more well suited to brightly lit rooms than the LSP7T, although given the large price disparity between the two models, I don't feel that this justifies the extra price of the LSP9T.
With such an easy installation, one of the shortest throw distances around and a 130 inch image, the Samsung LSP9T would be top of the list if it was a more competitive price.
Generally, I would recommend the LSP7T over this for most people, but this stands out if you need a very bright image, or would benefit from an really ultra short throw ratio and are not budget limited.
Incredible color and clarity with a dynamic mode for using with regular lighting and HDR10+
Very short throw ratio allowing a 130 inch image at 9.4 inches from the screen
Very easy-to-use menus with Alexa, Bixby & Google Assistant supporting Netflix streaming directly
In-built 4.2 channel sound system
10 – 15 second start up time and easy install
Menus can be too bright as they don't respect movie modes and the custom screen settings you choose for watching video
As with other projectors, blacks are not as good as OLED TVs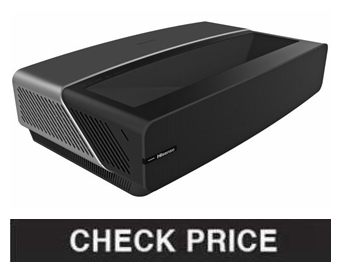 If you are looking for an all-in-one package of projector and screen, then the Hisense 120L5F is the perfect choice.
Despite not being native 4K, with pixel shifting employed to bring out that resolution, the Hisense actually offers excellent picture quality, with HDR10 support keeping colors vibrant and contrast sharp.
Brightness is sufficient for use in daylight when using the included ALR screen, and you can project a 120 inch image onto it from 13.8 inches away.
Surprisingly, the 30W integrated sound bar gives very high quality sound. It's not on the same level as a dedicated system, but it does mean that you can have a fully working setup with just this one package, without needing any accessories.
There might be better 4K short throw projectors on the market, but as an all-in-one package of projector, screen, and very good integrated sound, the Hisense is ideal for those looking for an easy (and relatively cheap) way into the world of 4K UST home theater projectors.
All in one package with 120″ ALR screen is very good value for moneu
120″ 4K projection at 13.8 inches
Integrated 30W sound bar delivers surprisingly high quality sound
The ALR screen helps create fantastic image quality once calibrated
Very complicated setup screen – not a projector to move once setup
Pixel shifting to create 4K – but still excellent picture quality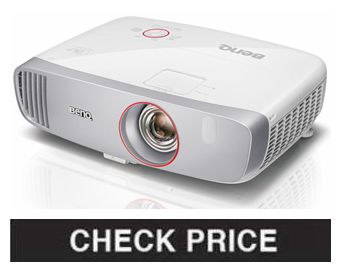 The BenQ HT 2150ST is going to give you an opportunity to watch presentations up close and personal. What makes this product great for a home theater system. It has a short throw lens, which throws the image from only 10cm away from the screen. Everything else about this projector is what you would expect from a typical projector: lightweight, 50000h lifespan, and strong brightness. Best of all the price of BenQ HT 2150ST is just right under $1000.
BenQ HT 2150ST Short-throw Enjoy entertainment in the comfort of your living room with BenQ's HT2150ST stereoscopic 3D LED projector, featuring HDMI 1.4a connectivity with MHL, VGA, and dual USB ports so you can connect all your media devices in a snap. 2200 ANSI Lumens bright picture quality and 8500:1 contrast ratio bring you vibrant colors for a dynamic viewing experience that is sure to bring excitement and entertainment to your home.
The BenQ HT2150ST is a High Definition projector that delivers amazing 3D imagery up to 195 inches (4.98m) diagonally from just 2.23m/7.2 feet away! This short-throw projector uses the latest DLP® technology and 25000:1 high contrast ratio to display bright and stunning images on a wide range of projection surfaces.
This short-throw model enables you to bring your big-screen viewing experience closer than ever thanks to its compact size, and it's a great choice for both in-classroom learning and home entertainment. Short-Throw Display Technology makes it possible to project images up to 100-inch displays without the need for inconvenient seating or floor space.
No wait time with the auto-on feature
Auto vertical keystone
Longer lamp life
SmartEco mode
Saves energy and has a longer lamp life
Low volume
No horizontal keystone correction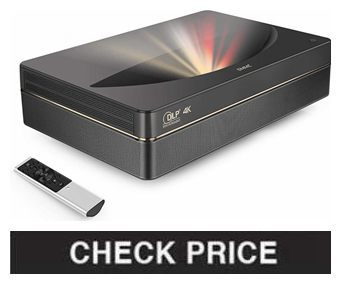 OMMC is another premium brand of ultra short throw projectors that offers various handy features to the user that can be quite handy to have in a projector.
The OMMC ultra short throw projector offers a screen size similar to most other projectors as it is rated at 100 inches. Although, it is able to offer this while having a fairly low throw distance of just 7.7 inch. As per the name, this is a smart ultra short throw projector that offers inbuilt Android.
To make sure that you get the most out of this smart projector, OMMC offers 4K UHD resolution with it. As for its projection lamp, it is rated for an average 2500 lumens brightness rating which is to be expected at the given price tag. For making your smart projector experience seamless, OMMC has also included multiple ports like HDMI, USB, ethernet, aux, and more on the back. Being a premium option, you also get a 2-year long warranty with it.
Fairly short throw distance rating
High 4K resolution for high sharpness in movies
Great build quality and long warranty
Image resolution of 3840 x 2160 4K UHD
Uses a 2500 lumens projection lamp
Not a budget-friendly option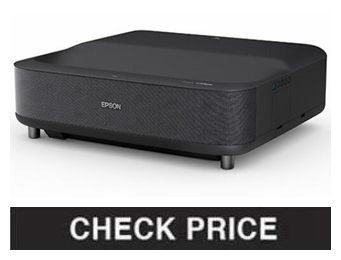 While Epson is primarily known for making printers, you can also find a few printers from them which are generally used in office spaces for conferences and presentations.
Epson's LS300 ultra short throw projector can be a great option for those who just want a projector for their offices. And if you are in a conference room, its 15.2-inch throw distance rating should not be an issue especially when you consider the given screen size of 120 inches.
Even though this projector is made for office use, you can still use it for watching movies at home thanks to its 4K UHD resolution and inbuilt Yamaha speakers. Another great thing about this projector is that it offers up to 3600 lumens of brightness which is on the higher side. Because Epson is a popular brand of printers, you get a decent 2-year long warranty with its projector for peace of mind.
Great for office as well as home use
Offers inbuilt Yamaha speakers
Pretty bright projection lamp
Not the most ideal throw distance for home usage
FAQs
Can I use a short throw projector for video games?
Of course, a short throw projector can be used for video games. Nowadays, short throw projectors are an appealing alternative to televisions, and gamers, who like playing on a larger screen, can expect full HD technology with opulent contrast, the ideal formula for an immersive gaming experience.
Where does an ultra-short-throw 4K projector excel?
There are two types of video that every manufacturer uses when showing off its ultra-short-throw projectors: sports and video games. These projectors usually put out a lot of light, so they can produce a big, bright, colorful image even in a room with some ambient light—as a result, brighter content, as in sports and video games, really pops.
Watching a sporting event on a 100- or 120-inch screen makes for a highly immersive experience, and these projectors can deliver that. Even better, with hardware like a Dish Hopper DVR, or even with ESPN's streaming app, you can watch four games at once. With four 50- or 60-inch screens, each delivering HD resolution, you get that sports-bar feeling at home, and it makes for a fun Saturday or Sunday football-viewing experience in the fall.
Where does an ultra-short-throw 4K projector fall short?
The main performance areas where these projectors fall short is in their contrast ratios and dark-scene performance. While sports may look great, a dark film such as the final Harry Potter movie can turn into a murky, dark mess where you can't make out the fine black details at all. The complex lens systems that allow for close wall placement can hurt the contrast ratio, so a UST projector can't produce an image with the same pop in a dim or dark room that a traditional projector can create. UST projectors work well with bright, colorful content but not with lots of movies.
Conclusion
In comparison to a standard projector, an ultra-short throw projector allows you to project on a large screen without needing to have a large space between the projector and the projection screen. Since these types of projectors are highly versatile and practical, some of the best ultra short throw projectors have been stated up above in this article.