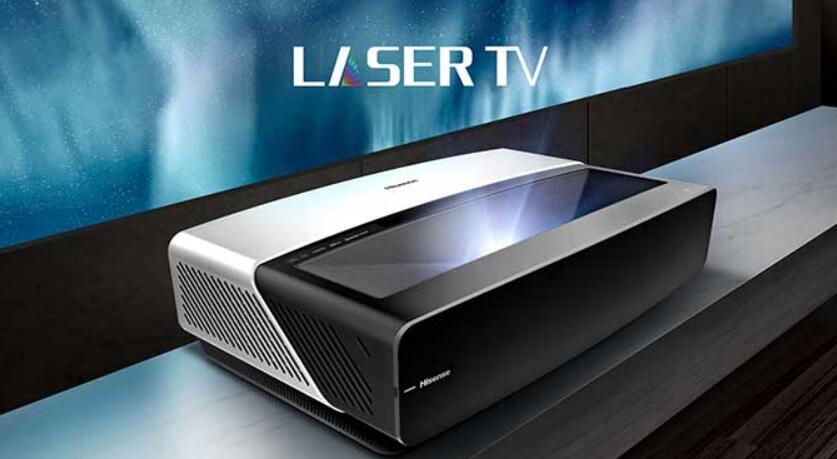 Hisense is redefining the future of TV. As the leader and innovator of Laser TV technology we are pleased to be working with Next Projection as one of our expert resources to consumers. Their team can be trusted to educate and advise customers looking for an affordable Laser TV solution with technologies ranging from a single laser source to dual-color lasers, and in the future Tri-Chroma technologies with screen sizes 100" and up."
What Is a Laser Projector?
A laser projector is a device that projects changing laser beams on a screen to create a moving image for entertainment or professional use. It consists of a housing that contains lasers, mirrors, galvanometer scanners, and other optical components. A laser projector can contain one laser light source for single-color projection or three sources for RGB (red, green, and blue) full color projection.
Why Laser?
Put simply, laser-based projection offers longer lasting brightness, lower maintenance and improved color and contrast over similar lamp-based models.
The solid state lasers used in projectors today are very bright, have wider color spaces, deep black levels and never require lamp replacement! Yes, replacement lamps have gotten less expensive but there's also the labor involved to replace these lamps. If the projector is installed high up in a sanctuary for example, you might need to rent a lift. Do this 3 or 4 times and you're really not coming out ahead on savings.
Additionally, these new laser light source projectors are a particularly good choice for heavy use and 'all day' applications, because they don't overheat like traditional bulb projectors. And unlike lamp based projection, their color and white brightness is maintained over a much longer period. They also offer some greater installation flexibility – some can be mounted at any point of a 360-degree radius.
Laser Projectors vs. Lamp Projectors
When you hear the term 'laser' projection you might think of that scene from Star Wars where the giant Death Star shoots lasers to blow up unruly planets. Fortunately, that level of high-powered laser technology isn't widely available yet. But as it turns out, lasers are a great alternative to traditional lamps in a projector.
There are plenty of tips and tricks about how to get the best out of your projector, most of which have related to maintenance of the lamp. To help extend lamp life of the projector, there were some simple, but slightly annoying rules to follow, like 'Be sure to cool your projector down before packing it up!' or 'Keep your projector in a cool location to reduce lamp temperature!'…this new laser technology makes all those old tips crazy AV old-timer talk.
Best Hisense Projector Reviews of 2022: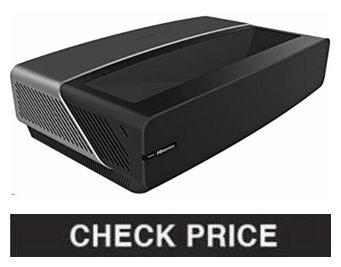 With cinemas closed, many of us are looking for ways to create a big-screen cinema experience at home. Step forward the Hisense L5F Laser Cinema, a new ultra-short throw projector that can throw a 120-inch 4K image when placed just 14-inches from a vertical surface.
The H5F – the latest addition to the Chinese tech firm's L5 series of 4K projectors – launched in the US this week and carries an MSRP of $5000 (around £3700, AU$6600). Built-in Android TV brings support for a plethora of popular streaming apps such as Netflix and Hulu, and there's a voice remote for using Google Assistant.
The DLP projector uses a single X-Fusion blue laser light source and phosphor colour filter for a claimed brightness of almost 2700 lumens and more than a billion colours. Indeed, Hisense claims the the L5F "delivers up to 83% of the DCI-P3 color gamut" – not bad for a projector that can be stowed away neatly between uses.
According to Hisense, the L5F delivers "true-to-life picture quality" with HDR support coming in the form of HDR10 and HLG. The company's MEMC smooth motion technology should help deliver on the promise of crisp images during fast-moving scenes.
HDR10 / HLG Compatible
Built-in HD Tuner – for over the air reception
Wired and Wireless Networking
18Gbps HDMI/HDCP 2.2 Compatible Inputs
Android TV with Google Assistant
Alexa Voice Compatible
Only average black levels
Picture presets need work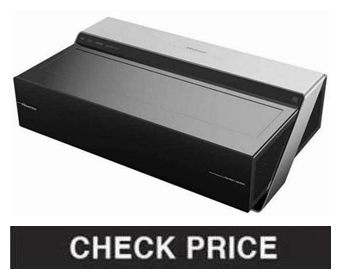 The last two years have seen an explosion of new product releases among laser-driven ultra short throw living room projectors. The entry of no fewer than a half dozen new players, some now on their second generation product, has helped to both popularize and legitimize the category. But overlooked among new consumers considering a UST purchase is the role that Hisense has played in creating the market that has spawned a slew of competitors. Sony can claim the first laser-driven 4K UST living room projector promoted here in the states—at a then cost of $50,000.
But it was Hisense that migrated its more approachable "Laser TV" line to the U.S. shortly after in 2016, and remained essentially alone in attempting to introduce the concept to general consumers. The "laser TV" moniker is now becoming generic to describe the category, and other brands may use variations on the theme, but Hisense is likely the only company that has built legitimate trademark rights to use that name in its products and marketing.
The L10E projector is a beast by today's UST standards, measuring 27.5 x 8.1 x 16.4 (WHD) and weighing in at 50 pounds—a chassis that accommodates a rather hefty sound system I'll say more about later. The current $6,999 list price for the 100L10E package reflects the cost of a bundled 100-inch UST ALR screen; the 120L10E with a 120-inch screen goes for $7,999. But along with the premium audio system the primary draw here is some advanced display technology.
This includes the larger 0.66-inch 4K DLP chip and separate blue and red lasers with a phosphor wheel. If the projector's big footprint is a deterrent, Salamander Designs, a well-regarded manufacturer of A/V furniture, sells a credenza for this projector with a recessed cavity that hides the projector out of sight below the top surface and allows sound to emerge from a grille in front.
Dual-laser system for wide gamut and good out of box color
Comes bundled with ALR screen
Robust sound system with separate, powered subwoofer
Well integrated smart TV platform
Large and heavy chassis
No EOTF/Brightness control for HDR
Limited smart TV apps
No 3D
Mediocre input lag for gaming