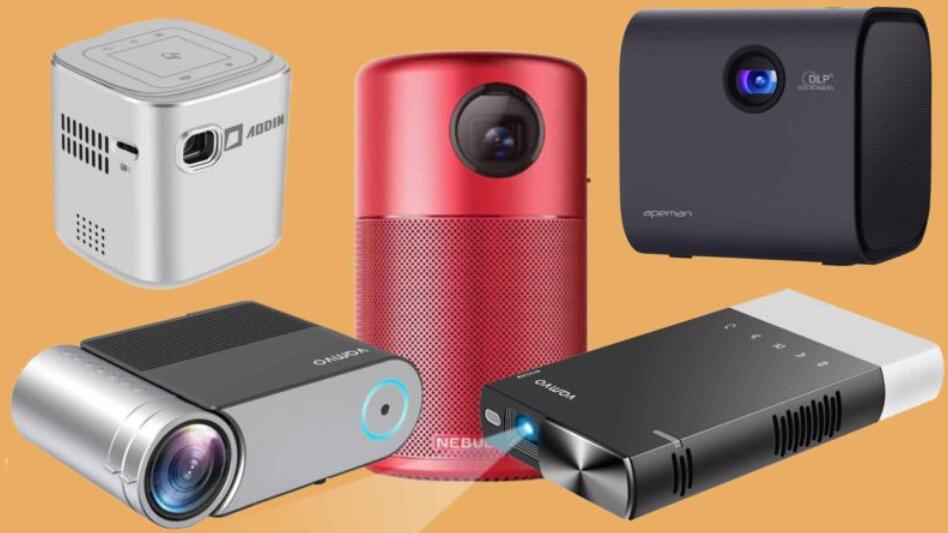 The best mini projector for iPhone with Bluetooth allows you to project movies or presentations at high quality onto any surface. Portable Bluetooth mini iPhone projectors are ideal for projecting Netflix onto your bedroom wall, or for presenting your slides at your next business meeting or sales pitch – whatever your reason for a portable iPhone projector – we've found one to suit your needs! In this article you will find the best mini projector for iPhones from ELPHAS, TOPVISION, APEMAN and more.
To help you find the best iPhone projector, we spent hours researching the top features and considerations you should make during your buying process. As you look at the different projectors available to you, we recommend only considering options with seamless iPhone connectivity, whether it's through a direct-wired connection or through wireless options like Bluetooth. Make sure to also consider options with enough brightness and resolution for your own personal needs; we recommend at least 480p resolution and 300-500 lumens of brightness. Finally, look for user-friendly controls that can be operated with a single hand or finger.
What To Look For in an iPhone Projector
If you've scored the new iPhone 13, you can use that ultra-fast bionic A15 chip to be the brain for your new iPhone projector. But as you're looking, you should consider the following:
Connection – How will you connect your iPhone or other devices to the projector? The most convenient options provide WiFi connection, but not all do.
Resolution – Many iPhone projectors provide 1080p quality, but there are some below that are 720p.
Price – You can find most iPhone projectors for under or around $100, but our best overall pick is more expensive, but has the best features we've found. If you're looking for a quick and budget iPhone projecting solution, there are options out there for you.
Whether you want to cozy up inside and watch a movie or you want to enjoy your favorite picture and video memories with friends, an iPhone projector is a great addition to your arsenal of devices.
How to Connect an iPhone to a Mini Projector
Your iPhone can output video to any device with HDMI or VGA input, but it isn't ready to do so right out of the box. If you want to connect your iPhone to a mini projector via HDMI or VGA, you need an adapter.
Here are the video output adapters you can get for an iPhone:
Lightning Digital AV Adapter: This adapter works with all iPhones which have a Lightning connector. With this adapter, you can connect your iPhone to any device with an HDMI input, and you can output high-definition video.
Lightning to VGA Adapter: This adapter works with iPhones with a Lightning connector. It allows you to output standard definition video to any device with a VGA input.
Here's how to connect an iPhone to a mini projector using a wired connection:
Step 1: Turn on your mini projector.
Step 2: Plug the appropriate adapter into your iPhone.
Step 3: Plug an HDMI cable into your adapter.
Step 4: Plug the other end of the cable into your projector.
Step 5: Wake up the iPhone.
Step 6: Switch the HDMI input on your projector if it doesn't do so automatically.
Step 7: Your iPhone screen will be mirrored by the projector.
How to Connect Your iPhone or iPad to a Projector Wirelessly?
There are two ways to connect your iPhone or iPad to your projector wirelessly. You can broadcast it through your Wi-Fi connection or through the help of a wireless dongle. It either uses the Internet or it uses its own wireless waves transmitted by dongle or transceiver to a receiver on the HDMI end of your projector. As for Internet connections, you can link up your projector through devices like Chromecast or Apple Fire TV Stick in order to also link up to:
Depends on Projector-to-Projector: Wirelessly linking your iPad or iPhone to your projector varies from a projector to a projector. In the case of the TOPVISION, wireless connection via a dongle, an Internet streaming device, or by Apple TV can work as well as a simple cable that comes with the device. Other projectors include instructions for connecting when you turn them on. They can link to any device that also connects with your Wi-Fi Internet connection.
In Most Cases It's Through Wi-Fi: In most cases, a projector uses your Wi-Fi and Internet to network with your phone to establish a connection. Just follow the instructions on the screen or given to you by instruction booklet. From there, you can use or mirror the display on your iPhone screen to your projector. You can even orient the screen from portrait to landscape as easily as you would with your iPhone (by moving the phone sideways).
Apple TV: Connect your projector to your Apple TV by wire. The iPad and iPhone can mirror its display wireless to Apple TV using Airplay. From there, connect your iPhone or iPad to the same Wi-Fi network as the Apple TV and projector. Open the Control Center on the TV and tap on the screen mirroring button. Tap the name of the Apple TV you wish to connect to. In newer iOS versions, the iPhone screen will appear to the projector linked to the Apple TV. Move the mirroring slider from on/green then tap done in order to begin your presentation.
The Best Projector for iPhone 2022: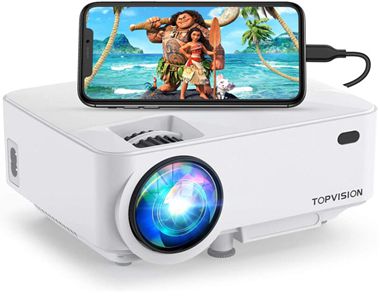 The TopVision Mini iPhone projector offers a more streamlined approach to iPhone connectivity. Where many other projectors require some kind of adapter to connect to your smartphone, the TopVision only needs the lighting charging cable your iPhone came with. You can also attach other multimedia devices like Amazon Fire TV sticks, Google Chromecasts, and DVD or Blu-ray media players using the included HDMI input. The TopVision also features an SD card slot and dual USB flash drive slots for more versatility.
When it comes to image quality, the TopVision mini projector features a solid 480p resolution, plus an impressive 3,000:1 dynamic contrast ratio, which is higher than many other iPhone projectors. It even features 2,200 lumens of brightness. With all of these image quality features combined, you get a bright and colorful display that's perfect for watching movies either by yourself or with friends. The TopVision is also incredibly adjustable with its included focus and keystone correction dials. This way, you can create a precise picture without much effort at all. And we also recommend the best 4k projector that features an awesome 1000,000:1 contrast ratio which keeps bright screens clear and dark screens detailed.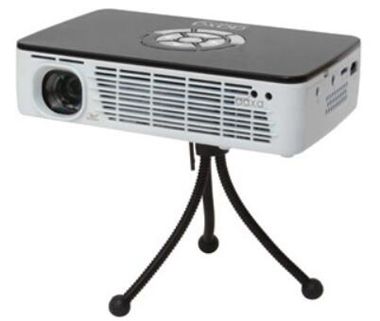 AAXA Technologies P300 is one of the best portable movie projectors for iPhone for many reasons. This includes its excellent picture quality with a default 1280×800 HD resolution, an aspect ratio control of 16:10, a contrast ratio of 2000:1, and a 1080p max input.
Aside from those things, this portable movie projector for iPhone also supports a lot of input options, including a micro SD reader, a USB port, HDMI, and mini VGA. It also comes with a 60+ minute lithium battery, which is really impressive.
AAXA Technologies P300 also comes with built-in speakers and features a keystone correction. This is very useful when you can't directly mount the projector in front of the screen.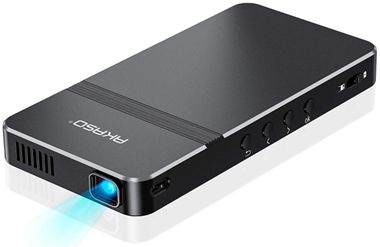 It is compact, lightweight, and portable, perfect for people who are always on the go. You can conveniently carry this mini iPhone projector wherever you go. Also, it features multiple connectivities, including HDMI port, USB, AV, and micro SD card; connecting your game console and mobile device with this movie projector is fast and easy.
This projector for iPhone sports a vibrant display, which makes it a perfect addition to your home theater. AKASO mini iPhone projector has a rechargeable battery. But worry not, the battery life is long enough to entertain you with a 2-hour movie. You do not need to plug this mini projector into a power source.
Take note, AKASO mini iPhone projector has 50 ANSI lumens and supports 1080p Full HD resolution. It comes with a built-in speaker and remote control. This iPhone projector has a contrast ratio of 1000:1.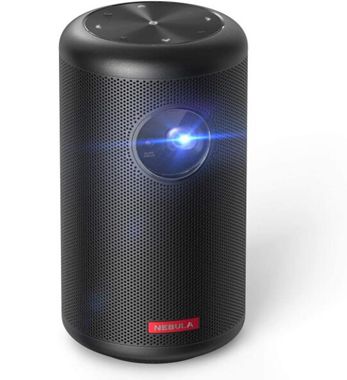 The mini projectors compatible with an iPhone that we have reviewed thus far are square or rectangular. Do you want to own something that is a complete standout? Then consider opting for the Anker Nebula Capsule Mini Projector. That's because it's cylindrical in shape. And it's about the size of a soda can only.
Other than its body, a few other things about this mini projector are scene-stealers, too. For instance, the majority of its body consists of an omni-directional speaker. Yes, it can throw sound from all angles. This means that everyone in the room, no matter where seated, will experience HD audio delight.
And here's what I really like about the Anker Nebula Capsule Mini Projector: it has a bevy of connectivity options, wired and wireless alike. HDMI, USB, Wi-Fi, bluetooth, infrared — you name it, the device has it!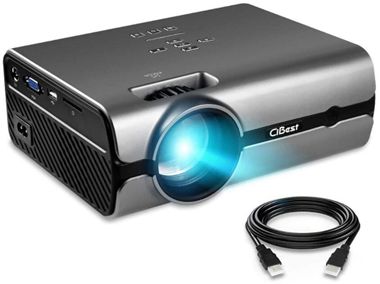 If you are looking for an affordable user friendly mini projector with high resolution, then CiBest is the best option for you. CiBest W13 can easily be mounted on a well to facilitate better viewing of images and videos. The mini projector is easily controlled by a remote so that you can easily navigate across videos and images from the comfort of your position without moving to the projector.
The CiBest min video projector is considered 80 percent brighter than other similar mini projectors going at the same price. The mini projector is designed with diffuse reflection technology that will soften the projected images to protect your eyes.
This W13 projector supports a resolution of 1080P, with an impressive 2000:1 contrast ratio. The images produced by this CiBest mini projector are lifelike and appear incredibly real.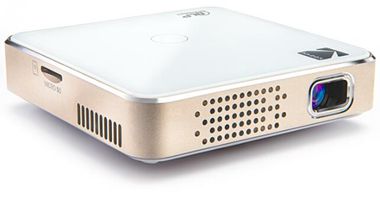 KODAK Luma 150 ultra projector produces images with stunning color and clarity. This projector is most suitable for gamers because it is compatible to most gaming consoles. Looking for a projector that you can fit easily in any bad or suitcase? You can take the KODAK Luma 150 projector with you to class, office, board room, hospital, or anywhere else effortlessly.
The KODAK Luma pocket projector has a resolution of 1080 pixels, that is, 854 x 480 pixels. This pocket projector has 16.7 million display colors that will provide crystal clear high quality images that will stand out in any presentation. KODAK Luma mini projector also supports a 4K resolution with a contrast ratio of 1000:1.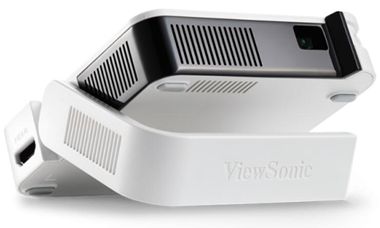 Like other mini projectors in this guide, ViewSonic projector is lightweight and has a compact size; you can easily carry it around. But don't get fooled. While this mini projector may be small, it can display your content at high resolution. It supports WVGA (854 x 480p), with a native resolution of 640 x 480p (VGA).
When it comes to brightness, it features 120 LED lumens (50 ANSI lumens) and a 120,000:1 contrast ratio. This iPhone projector also offers several connectivity options, including an HDMI port, USB port, and Micro USB. You can easily connect your game consoles and other media players with this projector using an HDMI cable.
ViewSonic mini projector is perfect not only for movie watching but also for business presentations. It has a built-in JBL speaker that delivers well-balanced sound.
This iPhone projector comes with a rechargeable battery, meaning you don't have to get stuck near a power source to enjoy using this mini projector. It has an impressive battery life that lasts about a couple of hours at full charge.
FAQs
Is there a projector that works with the iPhone?
Yes, there are tons of projectors that are compatible with iPhones. We've dedicated our efforts to researching and ranking those options in this buyer's guide.
How do I play Netflix on a projector from my iPhone?
Connect your iPhone to your projector, then use the Netflix app for iPhone. Alternatively, you can connect a streaming device like a Roku and cast Netflix from your iPhone to your projector. Some projectors even come with Netflix built-in.
How do I connect my iPad to a projector?
If the iPad has a USB-C port, use a USB-C to HDMI/VGA adapter. If it has a Lightning connector, use a Lightning to HDMI/VGA adapter. You can also use AirPlay to connect your iPad to a projector wirelessly.
How do I make a slideshow on iPhone?
In the Photos app, select your photos and tap the Action icon (the box with an arrow at the bottom of the screen). On the Action screen, tap Slideshow to start the show.
Is it better to get a projector or TV?
Projectors and TVs each have their pros and cons. Projectors are good for large projection screen sizes and are much more portable than the standard television. On the other hand, TVs often offer a lot more functionality at more affordable prices. If you're looking for portable use with your iPhone, we recommend going the projector route.