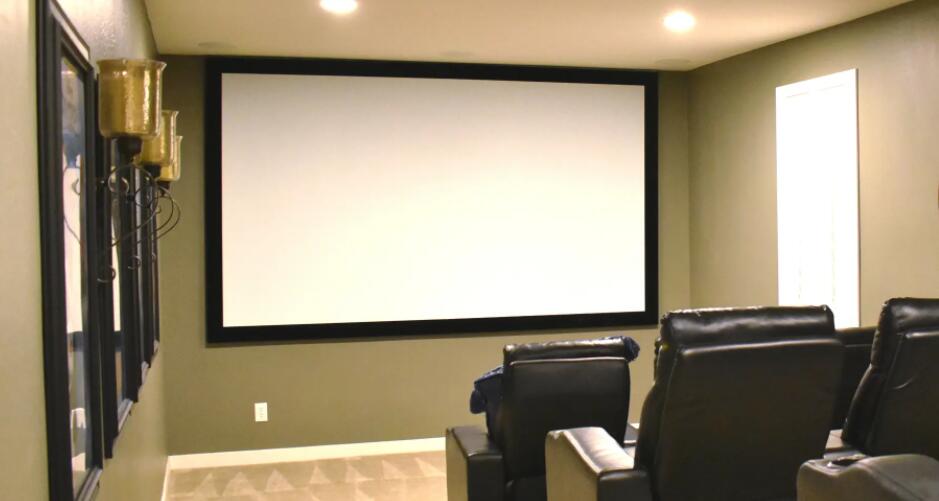 Ceiling projector screen is mostly Electric projector screens, where the casing is mounted within the ceiling structure, creating a flush surface. A ceiling recessed screen is almost completely hidden from view and ideal for Boardrooms, Lecture Halls and Home Theaters, where a non-permanently visible solution is preferred. This type of installation generally requires the assistance of a contractor or an electrician.
Why Buy a Ceiling Projector Screen?
A ceiling projector screen refers to one that is either mounted on the ceiling or recessed inside (which usually requires the help of a contactor to achieve). There are sleek, functional options for any projection setup and can be found in home theater rooms, conference rooms, schools and houses of worship.
One of the benefits of a ceiling projector screen is that it saves space. You can easily retract the screen when not in use and it stores neatly in its casing bolted to or inside the ceiling. It's a more elegant and modern way to design your projection system than a cumbersome tripod setup. You can get a ceiling projector screen in most any size and that support a picture resolution from 1080p to 4K and beyond.
Screen Material
Screen materials need to meet certain mechanical standards. The elements usually considered are Gain, Texture, and Color.
Gain
This is the amount of light that is reflected back to the audience. Gain affects brightness. The higher the gain, the brighter the picture. This can be controlled by coatings on the vinyl screen. There's a significant trade-off here though.
The optimal viewing angle of the screen decreases as the gain increases. You may have noticed this effect if you have ever walked into a room and looked at a projector screen from its side view.
The screen looked dull but the clarity increased as you shifted your viewing angle closer to the middle of the screen.
You'll also need to look out for overall lower color contrast with a higher gain. Also watching for super bright spots on the screen. This is known as hot spotting and can be annoying.
Texture
Higher definitions of the projector require a screen material woven with a finer texture. If you have a 1080p HD projector or a 4K projector will determine how fine your screen texture needs to be. A 4K projector screen can have up to nine times finer weave or grit than a 1080p HD projector.
Color
Usually either Gray or White. While white might seem to be the obvious choice, some gray screens actually provide a boost to black pixels and higher contrast all around and are a good choice if you have a lot of ambient light in the room.
A couple of other types of screens you'll want to consider are Ambient Light Rejecting Screens and Acoustically Transparent Screens.
Choosing the right-sized screen
It's important to make sure your projector will fill the screen from its intended position. You can use the unit's throw ratio information to discern this. Just divide the distance between the projector and screen by the throw ratio and you'll get the image width. It's important to note that it's image width not the diagonal.
So, if you have a screen that is 2.6m wide and a projector with a throw ratio of 1.3 you'll need to put the projector 3.38m away from the screen.
How much gain do I need?
There are other things to consider about projector screens. While most options will be white, you'll also find grey and even black variants. These darker choices are intended for use in more brightly–lit rooms.
Another factor is screen gain. Look at the specifications of any screen and there will be a gain figure. A gain of 1.0 means that the screen reflects all the light that shines on it, while higher numbers means that the image on the screen is brighter when viewed from straight ahead but its image suffers when looked at from wider viewing angles.
Higher gain screens make sense in brighter rooms but can also suffer problems with 'hot spotting' where the middle of the screen will appear brighter than the edges or suffers from glare. If you have a projector that doesn't render blacks very well or a darker room, it's well worth considering a screen with a gain below 1.0. This will help to make things darker and optimize the results you get. If your projector has enough light output, the loss of reflected light my not be an issue, so the gains will be worth it.
Best Ceiling Projector Screens of 2022: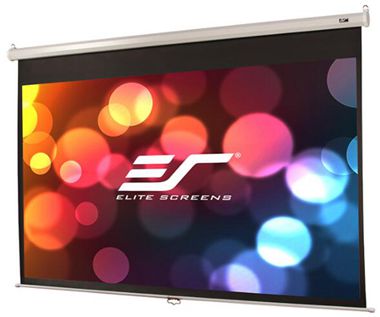 One of Elite Screens biggest sellers is their Manual Series of projector screens. These retractable projection screens are so convenient because they can be mounted on a wall or a ceiling and take up very little space. The screens are stored in the mounted base and can be opened by just pulling down on the lever or lanyard. These manual pull-down projector screens come in a variety of diagonal sizes (71″-170″) and aspect ratios to fit everyone's needs.
These Elite Screens projection screens are made with MaxWhite material with a 1.1 gain and a 160 degree wide viewing angle. These versatile screens are multi-layered and woven and coated with a matte white reflective finish. These screens are easy to clean. Most of the time, a duster or a damp cloth will suffice.
However, mild soap and water is also completely safe to use. We recommend that you keep the screen retracted in the base while not in use to keep the screen cleaner and safer. The screens comes with a 3″ 4-sided black border to enhance the brightness of the projected image. They also come with a black backing to eliminate any light penetration for superior picture quality.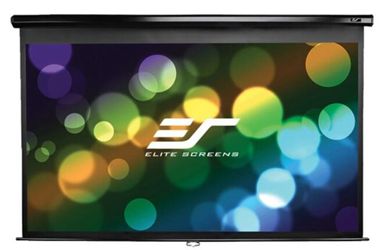 Elite Screens Manual Series projector screens have a durable metal casing that can conveniently be installed as either a wall- or a ceiling-mounted projector screen. They are available with 6″, 12″ or 18″ brackets if you need more flexibility to install. To install your manual projector screen on a wall, you simply have to drill 2 holes in the wall, insert your screws and hang the screen. To install from a ceiling, you would just need to get two chains to to hold up your Elite Screens projector screen, and hang the projector screen base to the chains using the two loops attached to the end caps of the case. It's that simple!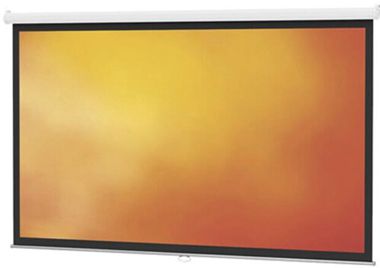 The Dalite 43 x 57″ Model B Manual Projection Screen is an example of design excellence wrapped in a simple package. This wonderfully functional and affordable screen is just the solution for a schoolroom, office seminar room, library or university setting. With a gentle pull on the enclosed cord, the screen rolls down smoothly – and retracts with the same ease.
Much like the school screens of years ago, this model is for those who need a strong and rugged "pull-down" type surface with none of the bells and whistles of more sophisticated, electronic models.
Dalite, a more-than-known name in the audio-visual field, has screens for every projection environment and office need. Their long-standing reputation for form, function and price make them a leader when you are shopping for audio-visual equipment.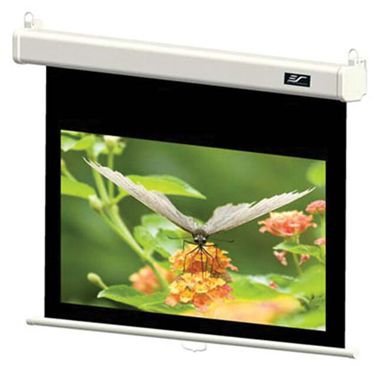 The Elite 50.4 x 67″ PRO SRM Manual Projection Screen is a new twist on an old theme. The "SRM" mechanism is unique in that when engaged via the included lanyard, the screen retracts into its case without any user assistance. This system both protects the screen from any incidental damage and allows you to maintain hands-free control over your presentation. The black borders help focus your audience's attention on the screen while offering a nice finishing touch to a simple and functional screen.
The MaxWhite FG screen surface is bright and produces a vibrant, clear and crisp image. The viewing angle of 160° gives your audience a chance to see the presentation from just about anywhere in the room – a bonus for large groups. The black-backed surface prevents "bleed" and makes sure the image is as saturated as possible while also preventing unwanted light from spilling through. It's also easy to clean.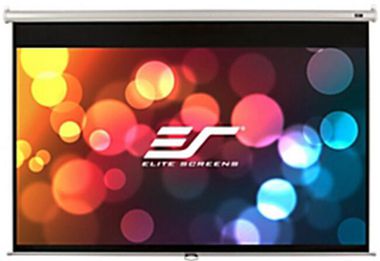 The Elite 80 x 80″ Manual Series Front Projection Screen is a rugged screen for home, office, education, or business use. Whether wall or ceiling mounted, this screen will lock in any position by using the included pull cord. The viewing angle of 180° makes it viewable from just about anywhere in the room.
The surface generates a bright, clear, and vivid image with it's 1.1 gain. Behind the surface is a solid black backing material that prevents unwanted light bleed from contaminating the projected image. In addition, you can easily clean the screen with a mild soap and water solution.
The SRM system retracts slowly back into housing after releasing handle without the need to hold on to the handle.