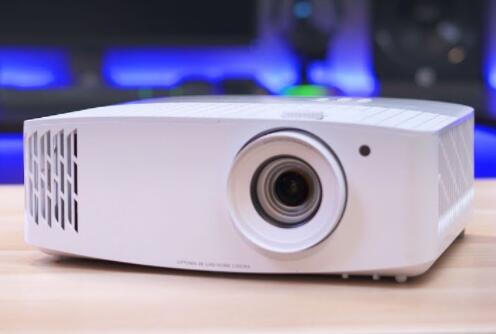 Optoma Technology is a world-leading designer and manufacturer of award-winning projection solutions for home entertainment and business. With a focus on premium quality and functional style, Optoma projectors deliver outstanding brightness and unsurpassed image quality in every application. Featuring projectors available in a variety of sizes to match any venue and budget, Optoma projectors are ideal for education, corporate meeting spaces, houses of worship, digital signage, museums, rental and staging, outdoor venues, home theaters and beyond.
Types and Technology of Optoma Projectors
Laser Projector
Optoma champions a wide range of professional laser projectors which offer key advantages over conventional lamp based models.
As a result, laser projectors are increasingly becoming the light source of choice for professional applications. The long-life and low maintenance of laser phosphor projectors make them ideal in high-use settings like boardrooms, classrooms, retail environments, museums and entertainment venues as well as restrictive installation locations.
What is laser phosphor?
Laser phosphor is a lamp-less illumination technology that uses blue laser diodes as the light source instead of a lamp to illuminate the DLP chip.
The laser diodes shine blue laser light onto a phosphor wheel to create yellow light, while the blue laser light passes directly through an opening in the phosphor wheel and then through a diffusion window on the filter wheel. Red and green colors are created when the yellow light passes through the corresponding.
Optoma uses DLP technology for its highly acclaimed image quality and unmatched reliability. The DLP chip can vary in resolution and size and can contain a rectangular array of over eight million micromirrors. Each of these micromirrors reflect light through the projector lens and onto the projection surface, creating an image.
Key advantages of laser projectors:
Minimal maintenance
No lamp replacements
Instant power on/off
Versatile installation
High brightness and contrast
Superior color reproduction
Consistent brightness
4K UHD Projector
Indulge in your own cinematic world of movies with Optoma fully-featured, easy to install home cinema projectors.
Bringing ultimate clarity to home users
4K UHD brings content to life with thrilling detail, color and contrast for a stunningly immersive experience. This guarantees razor sharp, vivid images capable of showing more details than standard HD – replicating the unforgettable experience of attending a digital cinema.
Optoma 4K Ultra HD provides four times as many pixels as Full HD 1080p. That's 8.3 million on screen pixels (3840 x 2160) bringing greater realism to every scene with increased depth and light and shadow detail. This allows you to sit closer to the screen for a truly immersive experience.
3D Projector
It is widely accepted that a larger screen creates a greater 3D effect. Making even the largest 3D TVs seem tiny, why not captivate your audience with a huge (greater than 100") 3D projection?
The inherent speed of DLP® works in perfect harmony to create the most exciting and immersive 3D experience available anywhere.
Step into the future with 3D projection technology from Optoma.
What can 3D be used for?
Home

: Feel like you are part of the action! Watch zombies reach out of the screen, exploding barrels fly past you and racing cars zoom off into the distance; and with all the latest 3D movies now available on Blu-ray 3D™ you can enjoy the same jaw-dropping 3D cinema experience in the comfort of your own home, in fantastic High definition.

Education

: Engage and inspire your students – explore the world, travel through space, see inside the body… bring ideas to life! With the advent of low-cost single projector solutions, viewable by a large audience, 3D tuition is the latest innovation in education technology, opening up new avenues of learning for both educators and students alike.

Business

: Architects, Designers and Engineers the world over, can now create and develop ideas like never before. With a wide range of 3D solutions from Optoma, costly prototypes and modelling stages can easily be realised using exciting, immersive 3D simulations. For pubs, clubs, bars and commercial venues with larger public audiences, a robust solution for showing life-size 3D Sports without a huge investment in specialized eye-wear is essential. Optoma 3D solutions propel professional design & Public entertainment to a whole new level of immersion and excitement; broadening horizons for everyone.
DLP Projector
Optoma projectors incorporate DLP® technology from Texas Instruments, which creates razor sharp pictures and amazing videos with incredible colours and brightness, while providing world class reliability and longevity.
How does DLP® work?
When combined with a light source and a projection lens, each mirror on a DLP® chip can tilt either toward the light source or away from it, making the pixel become white or black.
The image processing circuits in the projector can tell each mirror to switch on and off several thousand times a second. This allows us to display 1024 different shades of grey for an incredibly smooth image, by varying how often the mirror is displaying white.
What about displaying color?
On lamp-based models, alternating red, green and blue filters are placed between the light source and the DLP® chip.
On LED-based models, separate red, green and blue LED arrays illuminate the DLP® chip one after the other.
The mirrors are then turned on and off perfectly in time with the right color – this allows us to display a total of 16.7 million different colors creating a fantastically vibrant, life-like picture.
Best Optoma Projectors 2021:
1. Optoma UHD35 (Fabulous 4K picture for the price)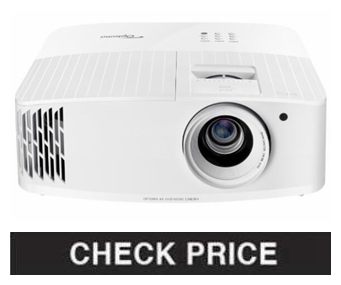 If you want the extra detail of 4K, without sacrificing color, brightness or a huge chunk of your wallet, the UHD35 is an excellent choice.
The UHD35 is a 4K projector that costs only a few hundred dollars more than many 1080p projectors. It's bright, has fairly accurate colors and looks far better than you might expect of a "budget 4K projector." And it serves up eye-watering detail on a gigantic screen, the kind of sharpness that no 1080p projector can match.
While overall the image on the UHD35 looks good, it still has the same issues common among projectors similar in price. There's no lens shift, the zoom is minimal and the contrast ratio — an aspect of image quality even more important than detail and resolution — is fairly average. It's also noisy, which is true of all small projectors, but the sound from the UHD35 is more wheeze than whirr. And then there's the HDR picture quality, which is improved over the earlier UHD30 but still not great.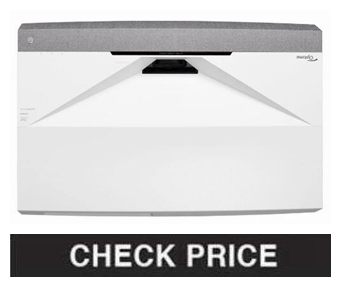 The Optoma CinemaX P2 is clearly a cool looking piece of kit, and it's not often you can say that about a projector. Stylishly finished in matte white, with complementary grey fabric grille and peekaboo lens up top, it looks suitably trendy.
It's built around a single chip DLP 4K device allied to a laser light engine, which translates to pin-sharp pictures (no chance of any panel alignment issues here) and excellent color vibrancy – though it is a bit less vibrant than its predecessor.
The tradeoff there is the the P2's audio performance is top notch. Each driver has its own 10W digital amp module, so that's a cumulative output of 40W. With the sonic chops of a large Bluetooth speaker, it's more than loud enough to disguise its operating noise, which is a low 26dB.
This isn't quite a cinephile grade projector, but for most of us the convenient form factor and fantastic audio performance should be ample compensation.
3. Optoma HD146X (The best budget projector)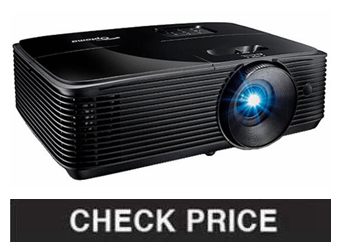 A less expensive but still excellent projector is the Optoma HD146X. It costs $549 and shares many of the same specs as the Epson 2150.
The biggest difference is that it's a DLP projector, so its rated 3600 lumens of brightness don't make it brighter than the 2150. It actually appears darker and less vibrant. It's not as crisp as the 2150 either, again, due to it being DLP instead of LCD.
The Optoma's image modes are also less flexible, and the "bright" mode produces an unusably green image. The "vivid" or "cinema" modes are much nicer. But if you're viewing in the middle of the day, you'll likely need to put your shades down, especially if you don't have a screen. In addition, the HD146X offers nice contrast, which produces a punchy image.
Lastly, the HD146X's built-in 3W speaker is not loud, but the fan is loud. At maximum volume, you can still hear the fan if the projector is near your head. It's manageable, though: if this projector is for your bedroom, the speaker will be fine. But if you're trying to do a movie night with friends or you have loud street noise, I'd recommend speakers, which you can hook up through a 3.5mm audio output. The 1.1x zoom lens has a shorter range than the 2150, so it's hard to make the image really big in my apartment. At 11 feet away, the image is about 100 inches, which is big, but I wish it could get even bigger.