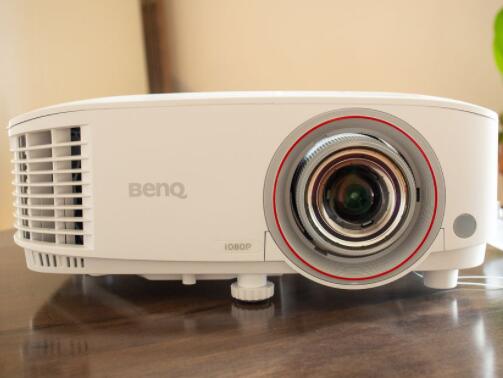 When you decide to buy a projector, you will always look for the finest models pertaining to your requirement. However, a question often arises in the mind of users what are the best brands for projectors? The answer to this question is not known to everyone.
So to answer that query and put an end to all the speculation, we have come up with the list of names of the top ten brands that we think deserve the top tier position. We have listed them depending on their success, quality, customer service, and after-sales service. However, there are some big names we didn't include on this list, maybe our experts rank them out of these 5.
What Kind of Projector Should You Get?
DLP, or digital light processing, and LCD projectors are lamp-based, so the bulb will eventually degrade, but they're much more affordable than laser projectors. DLPs tend to be smaller and more portable, and they offer more contrast and blacker blacks. LCDs tend to have a sharper, crisper image and appear brighter than DLPs even at a lower lumen count. Projectors with a laser source are not lamp-based, so they require less maintenance; on average, the laser lasts 5x longer than a bulb would.
And unlike a lamp-based projector, where a bulb emits light through a color wheel to produce the image, laser projectors generate only the exact colors needed for an image. This efficiency makes for a much brighter image and very accurate colors and deep black levels and contrast. All of this comes at a much higher cost, however. Low-end laser projectors are typically around $2,000, although you can find some smaller ones for less.
Then there's the throw ratio, which is how big the image is in relation to how far it is from the surface. Traditional projectors sit behind the viewer, ideally 10 to 20 feet away from the surface they project onto. Meanwhile, short-throw projectors can project a large image with only a few feet between them and the wall, and ultra-short-throw projectors are basically right up against the wall.
4K Or 1080?
4K projectors are a lot more expensive and not as common as 4K TVs because the pixels on projector chips are incredibly small. But unless you're really investing in a proper home theater, most living room setups won't allow an average viewer to spot the difference between a good 1080p projector and a reasonably priced 4K projector.
And as for content, every projector I tested has an HDMI input, internal speakers, and also an audio output, so I was easily able to stream things by plugging in my Roku stick. You can also use a laptop, Apple TV, or whatever device you use to stream video.
Best Projector Brands That You Should Know 2021
So what are the top projector brands on the market? Well, the question is entirely subjective, and it varies from people. But we did a thorough research where evaluated customer satisfaction and expert reviews. Finally we after hours of research we have come up with the name of the top five brands which we think has never dissatisfied its customer in quality or service.
1. Optoma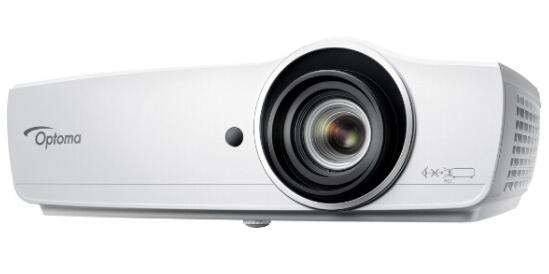 Optoma is a world-renowned Taiwanese electronics brand which has made huge in the United States market with their large fleet of successful projectors. They are present in almost in every segment whether it is home theater, gaming, classroom or business projector. They have been producing quality projector for the US market since the early 2000s, and within a few years of starting, they grabbed a commanding position in the market.
They mostly sell projectors coupled with DLP and LED projection system, and their range covers most of the section from SVGA to 4K UHD models. According to market research, Optoma is also one of the highest sellers of DLP models in the US.
Why Is Optoma Projector So Good?
Every expert praises Optoma for their unique way of creating an amalgamation of technology and hardware which give rise to top-notch visual performance. Depending upon the type of projector, they configure their models with a varied kind of attribute list like high lumens, modern color technology, wide projection range, etc.
Despite offering a massive set of attributes, they never mark their models with the expensive model rather they try to make it affordable to everyone without compromising on quality. Their UHD60 is probably their highest selling 4K model that has outclassed many other 4K models in selling figures and performance.
2. BenQ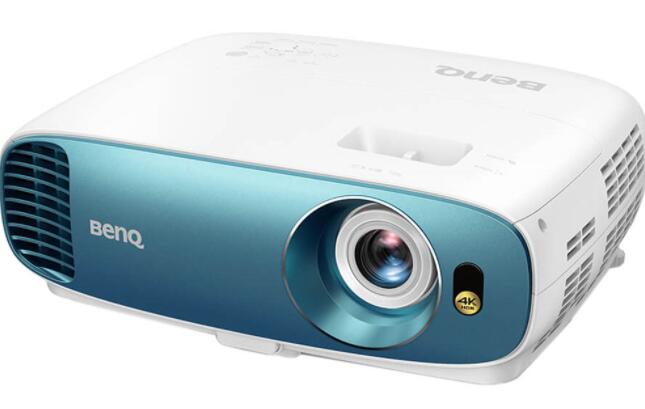 Another Taiwanese that is rocking the United States projector market is BenQ, and everyone has a blind faith towards their product. They are like a giant octopus who has wings spread in every segment of the projector market and interestingly they are at the top tier position in all those segments.
However, they are most famous for their home theater models, and they were first one to offer DLP with lens shift. Since their arrival, they have produced numerous projectors with different attributes, but one thing that has been constant in most of their models is DLP technology.
Why is BenQ projector so good?
The main reason behind the top of the line performance of most of the BenQ projectors is their prolific hardware configuration. They have a skilled R&D team who are continually evaluating today's technology so that they can create excellent for their customers. Most of their products come with huge lumens number, decent contrast ratio and maximum color accuracy which ultimately help the device to achieve the desired performance. It is a trait of BenQ to maintain strong built quality in most of their products even if the projector cost around $200.
3. Sony Projector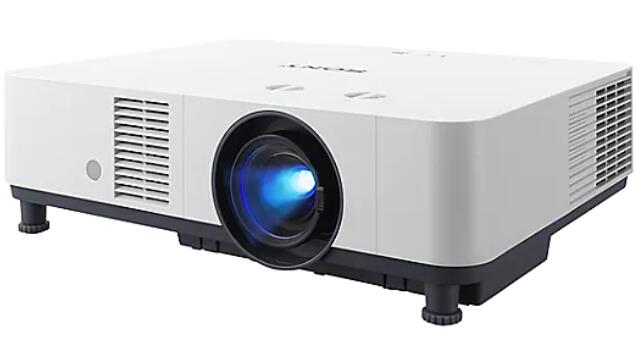 Sony is one of the largest and the best projector brands in the projector market, and they have been dominating the US market since their arrival. It is a giant Japanese multinational company that also deals with various other electronic devices apart from the projector.
They mostly manufacture home theater projectors (Click here to get the list of cheap home projectors) with their patented SXRD projection system, and all these models range from 1080p, 3D to 2D, 4K models. They also excel well in business and the educational section which is due to their 3LCD projectors. Despite this success, they only have few models in the Pico section. Most of their models cost above $1000, and it is mainly because of the incorporation of high-end hardware.
How Good Is Sony Projector?
Sony projectors serve as the quintessential of the top-of-the-line well-configured projector carrying an exceptional list of specifications. Almost every projector from them houses SXRD technology that produces a marvelous visual output that is at par with cinema theater visuals. The lens used in all their projectors is professional-grade, and this type of lens is mostly used in professional projectors.
Similarly, the black depth, clarity, color accuracy, and vividness in images is mindboggling, and it holds the prowess to topple any topmost models in the market. The models for educational and business purpose also follow the same gene and Sony haven't compromised a bit on the output quality as well as clarity. Nowadays, their top-quality 4K projectors are the main attraction of the market.
4. Epson Projector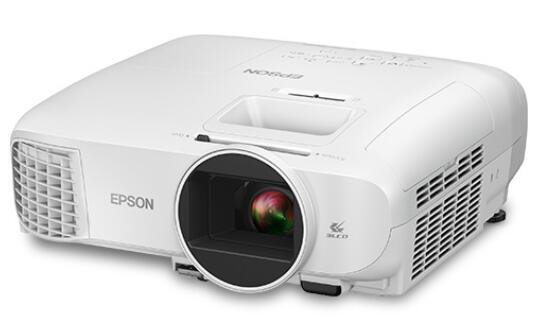 Epson is one of the oldest and largest producers of projectors in the US market, and they have always stayed at the top tier position. Epson is dominant in every sector whether it is a home theater, business, or education projector and it is mainly due to their premium quality models.
According to reports, they are the largest supplier of education projectors in US schools. They have more than 100 models in the US market, and it is increasing day by day. The price range of their models starts around $300 and goes way beyond $10000 thus availing their product to everyone.
How Good Is Epson Projector?
All the projectors from Epson are a sheer outcome of excellent craftsmanship, and when its product is compared with other models, it almost outmatches everyone. Epson commonly utilizes 3LCD projection technology in its projector along with the help of high lumens number and a decent contrast ratio that ultimately produces a true-to-life output. The color depth, as well as the accuracy of most of their models, is praiseworthy and they never compromised on the color output of any of their models despite its price tag.
Many experts hail their projectors due to their extended longevity and inexpensive price point. They also serve as a premium seller of various all-in-one models that comprises a MovieMate line, home theater package, Ensemble HD. The lamps used by their models not only offer good performance but also last a minimum of two years on average. Most of the models carry some exceptional attributes list like smooth motion, built-in media player, color filter, etc.
5. Viewsonic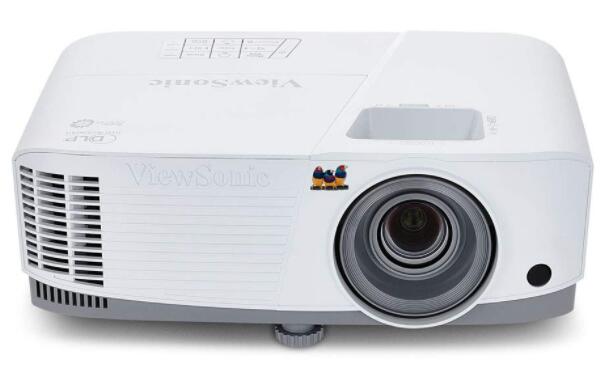 Viewsonic is a top tier multinational brand who currently holds the title of fastest growing projector brand in the US market. It is the United States based brand who has revolutionized the market with top-notch models at a marginal price.
They made their debut in the early years of the 2000s, and they didn't take much time to gain a respectable position in the market. In this time they have covered all the segments, but their sales figure were only high in home theater and business segment. Many consumers adore their product because they have mastered the art of bringing a blend of high visual quality and longevity.
Why is Viewsonic projector so good?
A specialty of Viewsonic projectors is that they don't come with high-end configurations, but they are mixed together in such a way that they offer impressive visual output. DLP projection technology is prevalent in almost every model of this manufacturer which assist the models to provide top-notch performance. Many people prefer their home theater models because they come optimum brightness level along with high black depth and color accuracy.
The data projectors are also quite popular in the business sector due to high clarity and black level. They are also well known for including immense lamp hour, quality hardware, fast response time and three years warranty coverage.
How To Choose The Right Projector For You
Projectors have come a long way from the days when the most useful way to categorize them was by their weight class. Today, you can break them down by any number of more meaningful categories, including their intended use (business presentations and education, home theater, or gaming), their imaging technology (LCD, DLP, LCOS, and even laser raster), light source (lamp, LED, laser, or hybrid), and more. Here are the key considerations that will help you find a projector with the right features and performance for your needs.
What Kind of Images Do You Plan to Show?
There are two basic kinds of images you can show on a projector: data (meaning text and graphics) and photorealistic (photos, video, and film). Games generally have some aspects of both. Any projector can show any kind of image, of course, but a projector may handle one kind of image well without necessarily doing a good job with the other. You'll want a projector that's optimized for the kind of images you plan to show.
Data projectors are designed to show images such as business graphics, line drawings, presentations, spreadsheets, and PDF files. They're optimized for conference rooms, throwing a bright enough image to stand up to ambient light on a large screen. Many can handle photorealistic images well enough to project short video clips in a presentation, but they aren't good for full-length movies. They tend to favor brightness over contrast, which is an important factor for producing realistic-looking images, and in many models, colors can look obviously off, with few or no options for correcting them.
Does Portability Matter to You?
Consider how portable the projector needs to be. You can find portable projectors with sizes and weights ranging from small and light enough to fit in a shirt pocket to large and massive enough to be suitable only for a permanent, usually mounted, installation.
If you want a data projector to carry to business meetings for presentations, or a home entertainment or gaming projector to take to a friend's house or set up in your backyard for a movie night, be sure to pick an appropriate size and weight. If you'll be away from power outlets, check that the projector's battery life is long enough for your needs.
How Bright Should the Projector Be?
There is no single best level for projector brightness, and brighter isn't always better. For a home theater projector you plan to use in a dark room, for example, 1,000 lumens or even less can easily give you a large, bright image, while 2,000 lumens may be so bright that it's hard on the eyes. On the other hand, for a portable data projector you expect to use in well-lit locations, 2,000 to 3,000 lumens is the right range in most cases. For large rooms, you'll want something even brighter.
For any situation, the ideal projector brightness depends on the ambient light level, the size of the image, and the material in the screen you're using. If you're setting up a projector for permanent installation, whether at home or in your office, your best bet is to buy from a knowledgeable seller who can help you pick a projector and screen material that will give you the right image brightness for the lighting conditions in the room at the screen size you want.
If you're trying to choose between two models, keep in mind that a small percentage difference in lumens—2,000 versus 2,200, for example—isn't terribly significant. The perception of brightness is nonlinear, which means a 10% difference is hardly noticeable, and you need far more than twice as many lumens for a projector to appear twice as bright. Also, keep in mind that a projector's true brightness is often a little less than its rated brightness, and image quality is generally best at brightness levels in the middle of the projector's range.
How Much Does It Matter?
Contrast ratio—the ratio between the brightness of the brightest white a projector can produce and the brightness of the darkest black—always matters, but the rating for the projector usually won't. All other things being equal, a higher contrast ratio produces more vibrant, eye-catching color, more shadow detail in dark areas on the screen (most important for video and film), and a more dramatic sense of three-dimensionality in two-dimensional photorealistic images.
However, contrast ratings are based on measurements in a dark room, so they don't tell you much about viewing in ambient light. A projector that delivers a high contrast ratio in a dark room because of unusually dark blacks will deliver much lower contrast in ambient light, and a brighter projector with a higher white level will do poorly in a home theater but well in a living room or office.