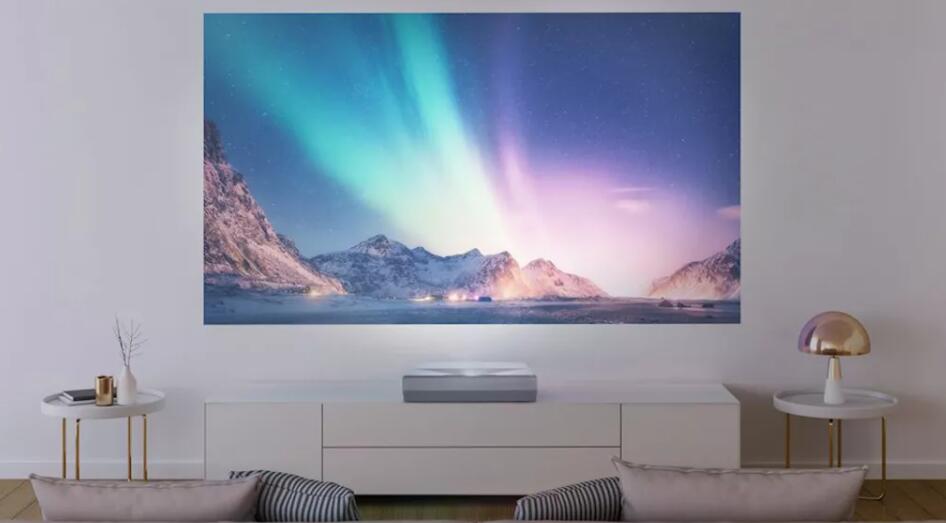 Choosing what type of long-throw projector will be best for your situation can be a difficult job. There are lots to choose from and not all of them are measured in the same way. You also need to make sure long throw is what you need to best fit you and your setting.
However, learning and understanding more about long throw and how you can use it to your advantage can help you make a more educated decision on what type of projector is best for you! Therefore we are going to go over some of the important factors you need to consider and what our favorite long throw projectors are!
How We Tested
When it came to finding the best the market has to offer in long throw projectors, we first looked at options that fit the category's title. This is why you won't find any short-throw or ultra-short throw projectors on the list. However, you also won't find ultra long throw projectors here, as they tend to be more specialized than long throw options. The options we included above all feature standard throw lengths between six and 15 feet.
Next, we considered the overall picture quality. We preferred projectors with at least 1080p resolution, also known as full HD. However, we did also include some options that dipped below this specification. We only did so if they still created a high-quality image with excellent color accuracy and brightness. In general, we gave bonus points to projectors that included additional software and functionality to increase picture quality, such as frame interpolation, high refresh rates, and HDR support.
Finally, we rated the long throw projectors above based on their build quality and ease of installation. We gave more points to projectors that provided adjustable installation settings like keystone correction, optical zoom, and lens shift. In this section of our ranking, we also preferred projectors with multiple connection options to include HDMI ports, USB ports, VGA ports, and more.
What's the difference between short throw and long throw projectors?
The difference between the projector's throw distance is also dependent on the lens that it uses. Long throw projectors are generally cheaper to build. Long throw projectors also require at least six feet in distance from where the projector is located to the projector screen. This factor limits (or benefits, depending on their intended usage) them to large rooms, such as large halls and for business presentations.
Short throw can create far greater images at much shorter distances, making them ideally suited to those who only have a small area in which to house their projector, so schools and bedrooms are ideal for these type of projectors. However, the cost of short throw, due to the quality of the picture, is often reflected in the price.
If you are looking for a home theatre experience but have rather cramped accommodation, a short throw would be the best bet. If you are giving a presentation or have the luxury of a large living space, a long throw would be better. Long throw projectors are also cheaper than short throw models.
However, they need to have a lot of distance to be able to offer the same comparative quality as a short throw, so are not ideal for apartments and flats. Short throws are perfect for apartment watching and home theatre experiences. However, these come at an additional cost and would not be particularly cost-effective for presentations.
How to Choose the Long Throw Projector?
Ease of Use
A good long-throw projector should be simple to set up and use. Its ease of use depends on several things. Its interface should be easy to navigate. Besides, it should be easy to turn a projector on and off.
Resolution
A resolution indicates a number of pixels, or dots, that collectively compose a projected image. Long-throw projectors with a higher resolution have more pixels, which allows them to project sharp and clear images.
Before purchasing a projector, you need to think about what media files you are going to project. For texts, charts, diagrams and HD videos, you need to purchase a projector that supports a high resolution.
Wired And Wireless Projection
When making your choice, pay attention to the connectivity options supported by a projector. It will allow you to understand which types of devices you will be able to connect it to. Most modern long-throw projectors support both a wired and wireless projection.
A wireless connection allows you to connect your projector to a variety of devices, including smartphones, tablets, PCs and digital cameras. It makes these universal projectors easy to use.
While a wired connection is considered to be the most reliable one, it makes it more difficult to connect your projector to a PC or TV. To be able to connect a projector to a variety of devices, you need to select a hybrid model.
Contrast
Every image is a blend of dark and light areas. The contrast ratio indicates the difference between the brightest white and the darkest black measurements.
For instance, a contrast ratio of 1: 4000 means that the brightest part of an image is 4000 times brighter than the darkest part. A higher contrast ratio allows a projector to produce a saturated, detailed and clear image.
Long-throw projectors are designed for big rooms and large audiences. This is why it's better to purchase a high-contrast projector that delivers clear images.
Our Top Picks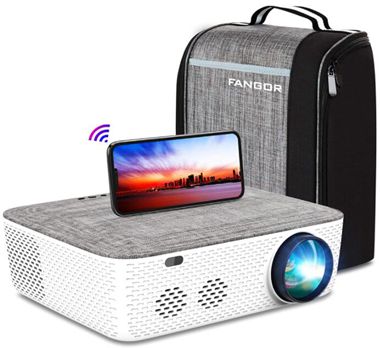 One of the most popularly used long-throw or movie projectors available in the market is the FAN GOR 701 Native Prjector. It is the best suitable for home entertainment purposes or for playing games. It comes in a fully sealed design, which further prevents the accumulation of dust on the LCD screen of the device.
The FAN GOR Native Projector comes with a vertical keystone correction that enhances the cinematic or the gaming experience on the device. Moreover, it has a 1920*1080p native resolution with 8500 Lumens of brightness, which produces high definition picture with improved sharpness.
One of the notable features of the device is that it comes with in-built 2*5W stereo speakers that result in an amazing audio experience. Furthermore, you can have a mega 300 inches screen with this long-distance projector. Therefore, do not be worried about calling your friends or family over for the movie night or similar occasions. The huge screen will be enough for everyone.
Moreover, with 100000 hours of lamp life, you can watch your favorite television shows all through the night on the projector. With a price point that the FAN GOR long distance projector comes available in, it is one of the best options that you can go for.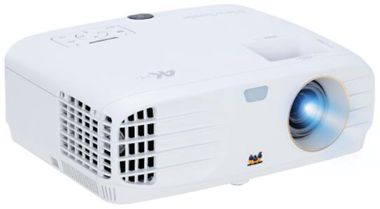 The View Sonic PX747-4K projector offers a premium experience across a wide variety of different entertainment options, including movies, TV shows, and video games. One of the projector's best features is its 4K native resolution, which offers a grand total of 3840 x 2160 pixels for an incredibly detailed and sharp picture. However, the ViewSonic also takes it to the next level with support for HDR content and improved color accuracy with Super Color tech. You'll also get a bulb that outputs an impressive 3,500 ANSI lumens for good performance in large rooms with ambient light.
The design of the ViewSonic PX747-4K is also something to be applauded. It's a little bulkier than other projectors, but it's sturdy and durable. It features a long-lasting bulb that can keep running for a total of up to 15,000 hours, meaning you won't need to purchase costly replacement bulbs as often. Installation is made easy with the PX747-4K, whether installed on your ceiling or on a tabletop. Adjustability features include vertical keystone correction and 1.3x optical zoom. If there were one area that we could improve with the ViewSonic, it would be in overall operating noise. On the highest brightness setting, the fan can get loud. Fortunately, with the integrated 10W speaker or with the help of an external speaker system, this can easily be overlooked.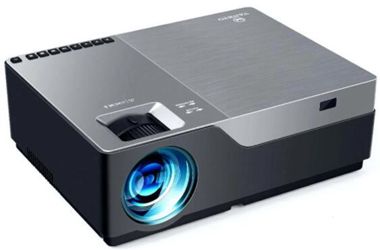 The Vankyo Performance V600 is an affordable long throw projector that offers a high level of performance. It's the best option for creating large displays since it can project images up to 300 inches in total size, corner to corner. Fortunately, you'll also get full HD, 1080p resolution even at these larger screen sizes, although you may experience some fuzziness around the corners. The Vankyo also provides a rated measurement of 4,000 ANSI lumens, but the projector isn't quite as bright. We recommend it for use mainly in darker rooms with minimal ambient light.
You'll also get great color accuracy here, with bright and vivid colors that will wow you whenever you're watching movies. And with a 5,000:1 dynamic contrast ratio, the Vankyo Performance V600 also performs well with black levels and dark scenes. Vankyo's overall build quality and usability are highly rated, as well. It is larger than other projectors in this category, but it's also more durable and more stable when installed on a tabletop. The projector features plenty of connectivity options so you'll always be able to connect to your video game consoles, laptops, and Blu-Ray players. The only limitation here is the stereo-out-only audio connection.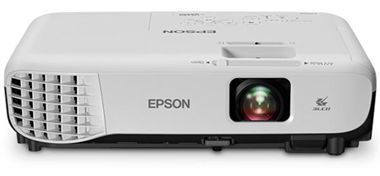 Another high quality projector for people is the Epson VS250 SVGA projector. It helps to provide high quality presentations. It is very suitable for users who like to watch movies or do online gaming with their friends or family. This high quality projector is the perfect choice for business purposes.
This projector helps to deliver a high quality image in the room with lights on. If you are someone who has to give a presentation in a room with no lights on then you should not be using this projector as it only works the best with lights on.
Since this projector is majorly used for presentations you will get a resolution of 800*600. This resolution is sufficient for the user to deliver their presentations perfectly apart from that this projector also comes with a contrast ratio of 15000:1 that is enlightening Fri projecting various colors on the screen to help you in your presentation. Apple users, as well as Android users, can also use the wireless service with their devices.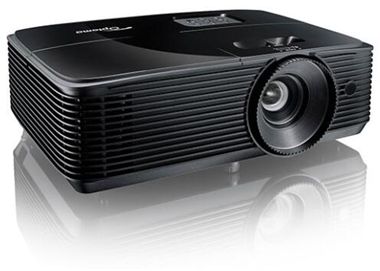 The best long range projector that is available in the market is the Optoma HD143X. This projector is the perfect choice for gamers as well as people who like to watch movies with their families. This will help you set up a home cinema pretty easily. You can view your movies in HD quality using this projector.
With the help of this projector, the user will get a resolution of 1920*1080. If a projector comes with a lesser resolution then it will not provide a high quality image. If you are someone who likes realistic colors then a resolution is very important.
The Optoma HD143X comes with a contrast ratio of 23000:1. Hence this projector is the perfect choice for home cinemas as it comes with a brightness of 3000 lumens. This will help you get a clear image in the low light setting as well.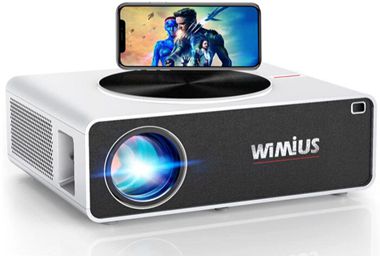 WiMiUS is in the field of projectors for about ten years now and devotedly produce of its kind projectors for consumers. The WiMiUS P28 was released after immense hard work for several months. P28 is a brilliant projector with numerous impressive features that you must be looking for. So, without any further ado, let's see what this projector has for you. To start with, the WiMiUS P28 is a full high-definition projector that supports 4K videos. Yes, you heard it right; it supports 4K videos even if you connect the projector to your mobile phone or computer.
This projector also has a native resolution of 1920*1080 and plays videos with 1080p without a single lag – Moreover, the brightness of the output is improved by a significant 20 percent. One of the features that stands this product out from any other projector is its one-key image brightening feature. This little function helps to improve the brightness of WiMiUS P28 by 500 lumens.
Its incredible 10000:1 contrast ratio is something that cannot be left unappreciated since it brings a vast colour gamut and displays more vivid images. By now, you must be concerned about this product's lamp life, well, it is something that will amaze you as well. The average lamp life of P28 is unbelievable 100,000 hours that accounts for a minimum of 10 years.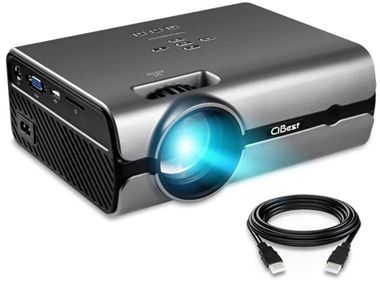 The CiBest Video Projector is a mini projector that guarantees a better experience than your ordinary mini projector albeit being moderately priced. It guarantees a perfectly lifelike experience for movies and videos. Besides, apart from providing a real movie experience, it is also ideal for making business presentations.
The primary reason why people prefer projectors over TV screens is the super-large viewing screen, cost, high-quality images, and their friendliness to the eye. The CiBest Video Projector ensures protection to your eyes, thanks to the diffuse reflection technology which enables the production of softer images.
The CiBest projector features unbeatable versatility. That comes with the convenience of being able to connect it to multiple ranges of devices. It can, therefore, work with a TV stick, laptop, PC, USB drive, memory card, SD Card, and PS4/WII/XBOX.
It is also important that the connectivity options that come with the device go beyond the versatile wired options to a limitless range of wireless options. It will easily connect to iPhone, iPad, and android tablets and smartphones.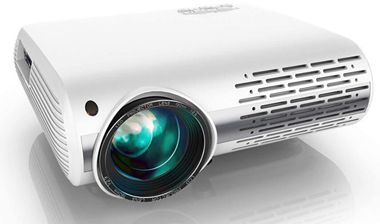 The Yaber Y30 Native 1080p Projector is one of the best available long throw projectors in the market. There are several unique features of the product. One of the features that sets the product apart from the other long-distance projectors is the 4D Vertical and Horizontal Keystone correction function. This function enables the projector screen to be a standard rectangle at all times.
Moreover, with the Yaber Y30 Projector, you do not need to change the distance between the projector and the surface to alter the screen size. You can do it easily with the remote by making use of the X/Y Zoom function.
Another distinct feature of the projector is the picture quality with 1920*1080 native resolution, 8500 Lumens of brightness, and a high-end contrast ratio of 10000:1, which leads to dynamic detailed picture quality without being compressed. It is four times better than the 720p resolution.
The projector also has built-in audio speakers. The 3W stereo speakers result in a remarkable audio experience. Furthermore, the optimum usage of the lamp with the help of the Smart Eco technology can make the lamp last for around 100000 hours.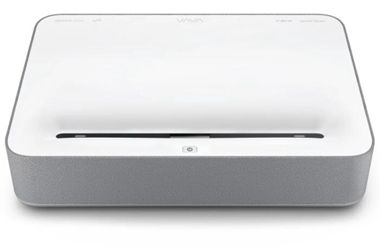 VAVA's is one such long-throw projector that brings you some epic visuals just a few inches from your mounted wall. At a 16.7″ distance will eventually display a huge 150″ image. Get ready to have a home theater experience of your favorite games, outdoor movies, and shows.
This amazing 4K projector has an excellent source of 6000 lumens for producing brighter image results. This best long throw projector for outdoor movies has a three-segment color wheel to add the whole display with accurate colors for vivid and vibrant image detailing. Get brightest whites and deepest blacks with the 3000:1 vivid contrast ratio ensure the deepest blacks and brightest whites.
It won't only give your viewing experience a better approach, but it is quite easy in installation as well. As we talk about the connectivity options, the projector has HDMI, USB, or S/PDIF support for the easiest coverage of connection scenarios with different devices.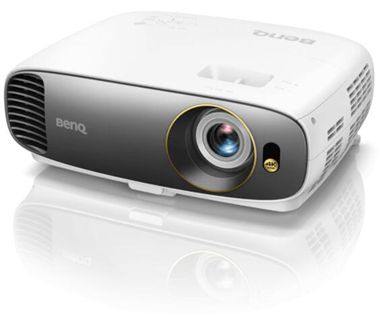 You will find this projector available with the true 4K UHD resolution with the 3840 × 2160 or 8.3 million Individual Pixels to have brilliant clarity. Defined crisp details will make you fall in love with this projector for sure.
It is HDR-PRO as supercharged by the Dynamic Iris being exclusive, where it improves contrast and even HDR brightness for realistic and detailed images. Trust me, using this best long-throw gaming projector will take you into the immersive sport and gaming experience. It is having dedicated sports modes of CinemaMaster Audio+2.
The availability of a 1.3X big zoom with the lens shift somehow increases the installation ease and upgrades flexibility from W1070, HT2050, HT2050A, and HT3050.
FAQs
What is a Long Throw Distance?
Throw distance is the distance from your projector to the projector screen. This is usually provided by the manufacturer, or wherever you buy your projector from, so a long throw distance means that the projector is further.
A long throw distance is classified as the projector being further than 16.4 feet away from the screen or having a throw ratio of 2.5:1. So, if you are looking for a long throw projector look for a projector with this throw ratio or more!
Are Long Throw Projectors More Expensive?
No, a matter of fact is that long throw projectors are often quite considerably cheaper than traditional standard throw or short throw projectors.
How far can a long throw projector go?
The long-throw projector is for longer distances. It's ideal for distances of six feet and longer. If you place the projector in less than six feet away, what you'll get is a smaller image which is definitely not helpful if you're projecting in a large room.