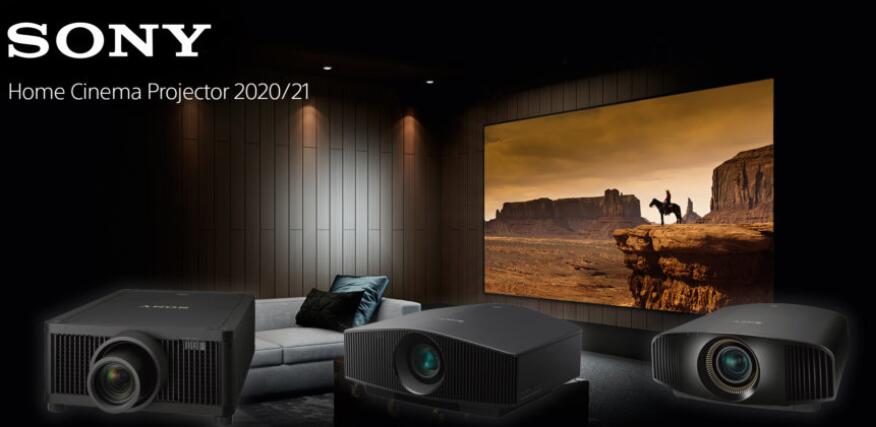 If you are indeed ready to take the plunge, or are looking to upgrade, there are a few considerations to take into account. Projectors require a little more planning and setting up when compared with televisions.
To get the best out of one, you'll need to attach it to the ceiling, as – unlike TVs – you'll need distance between the lens and the screen to project. (Unless of course, you go for a short throw model, but we'll talk a little more on this later.)
A ceiling-mounted beamer also eliminates the possibility of shadows cast by passing people or pets. Not all need to be ceiling mounted as smaller projectors can be moved in and out of a room as needed, but Sony's range mostly concentrates on larger 4K models so they'll best be kept out of the way.
The distance between the screen and lens matters too: too close and the screen is as small as a television losing the all-important wow factor, too far away and the screen will be overly dim. Balance is key, as is a measuring tape.
You might also want to consider a pull down or permanent screen, particularly if you're a stickler for color accuracy, a cream-coloured wall could throw off the white balance. Projectors work best in dark rooms, too, with minimal daylight to contend with.
Sony SXRD projectors
All Sony projectors, be they Full HD, 4K, short throw or commercial cinema, use Sony's own SXRD technology. SXRD stands for Silicon X-tal Reflective Display, and it's the company's version of liquid crystal on silicon.
Sony projectors use a separate LCOS chip for each primary colour of light: green, red and blue. This allows a marked reduction in the rainbow effect and keeps the contrast high particularly when compared with single chip DLP projectors. And that high contrast, those brilliant whites and deep, dark blacks, is why cinephiles flock to Sony. SXRD also ensures that there are smaller gaps between the pixels than an standard LCD projector, meaning that you can project a larger image before seeing individual pixels. Another plus for the cinephiles.
Not only that, but this technology is one of the few on the market that displays 4K natively. That's unlike Samsung's DLP projectors, which must double flash the mirrors to get more than one pixel per frame and therefore 4K.
The downside to this is that it makes Sony's projectors, particularly their 4K range, rather big and heavy. You should always take that into consideration when looking at projectors: is your ceiling strong enough to take around 20kg in weight?
Sony HD projectors
Sony's 4K range is expansive and impressive, but this isn't all that they do. Sony's smaller HD range uses that same SXRD technology, so no more rainbow effect. Sony offer two HD models, the VPL-HW45ES and the VPL-HW65ES. Both are 3D compatible and feature 1,800 lumens lamps.
The more expensive of the two, the VPL-HW65ES features a Dynamic Contrast of 120,000:1 and an RJ45 LAN port which can be used for home automation. So with this projector it's possible to have a setup that activates a motorised screen when the projector is switched on, which is very handy. Sony's HD models are also its lightest, with both models coming in at around 9kg.
Sony 4K projectors
If you want to take the next step, Sony has an impressive range of consumer 4K projectors including one ultra short throw model. Again, all of these use Sony's SXRD technology and vary from 1,500 lumens to a squint-inducing 10,000 lumens.
Sony's three entry-level 4K models are all lamp-powered, with only one of their current range, the VPL-VW590ES, making use of their adapted X1 chip for projectors. All three can create 3D images and range from 1,500 to 1,800 lumens. The non-X1 models, the VPL-VW570ES and the VW270ES, only differ slightly in brightness.
This kind of projector, unlike most TVs, can suffer from lamp burnout. In low light mode, these projectors are projected to last for 6,000 hours. But in order to get the best picture, you'll probably be using a higher light setting to get the full amount of lumens promised in the spec sheet. Replacement lamps are available from Sony and cost around £200-£250 / $278-$347. Lamps generally last for a number of years, but do check with your specific retailer if you have questions.
How much does a Sony Projector cost?
Sony currently features 11 projectors in its consumer range, two of which are Full HD, with the rest being 4K. Prices range from around £1800-£2000 / $2500-$2780 for the Full HD range. The three lamp 4K models start at £5,000 / $6950, with the X1-chipped VPL-VW590ES coming in around £6,900 / $9,580.
Sony's laser projector range starts at £9,000 / $12,500 and tops out at £20,000 / $27,775. Only the middle projector of this range, the VPLVW0790ES, features an X1 Projector chip.
Then there's the two very expensive 4K laser models, including the VPL-VW5000ES, which is around £47,000 / $65,270. Their flagship consumer model is the VPL-GTZ380, which at £80,000 / $112,000 is about the price of a flashy car.
Best Sony Projector Reviews 2021: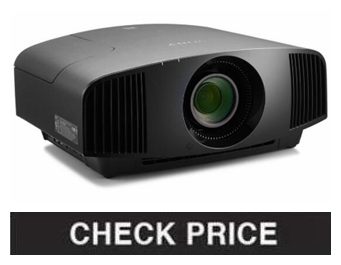 If you want one of the best 4K projectors available and a truly immersive picture, then it's hard to look past the Sony VPL-VW270ES.
Like many Sony 4K projectors, it uses the brand's proprietary 4K SXRD panels to achieve its true DCI 4K 4096 x 2160 resolution. It includes support for 60fps 4K playback and beefed-up processing power, with faster response speeds and reduced input lag, which will no doubt have gamers interested.
Its amazing sense of insight and fantastically solid and smooth picture raises its calibre above that of cheaper rivals. The picture is wonderfully sharp and inviting and can be as large as 120in at distances between 3.67m to 7.55m. If you want 'true' 4K and have a hefty budget at your disposal, then this is the projector to go for.
Sensational sharpness
Stunning contrast
HDR10 and HLG support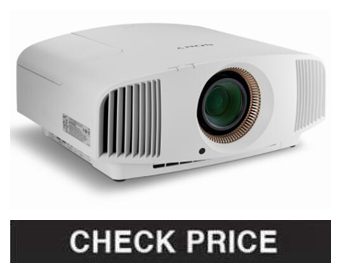 Sony has supplied the market with a fair few native 4K projectors over the last few years – all high-end, all highly commendable.
In many ways this particular Sony is an irrefutable showboat. Its colour palette is more focused on vibrancy and eye-catching saturation, and it's shading favours the dramatic to the subtle, but there's a definite appeal in that approach too.
Detail at 4K is outstanding and there's a very good texture and realism to every part of the on-screen image. Tonal detail in light and dark areas is excellent, even in scenes of mixed lighting, thanks to some pinpoint contrast control with help from the Dynamic Iris. There's also the very hard to beat bonus of Sony's superb motion processing.
Set up is relatively straightforward, and once you have it up and running you'll be rewarded with pictures that will keep your eyes glued to the screen.
Fantastic 4K detail
Excellent motion processing
Solid contrast control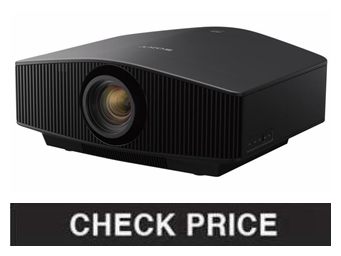 If you're looking for a true, native 4K projector, Sony's $5,000 VPL-VW295ES is the least costly option out there. It's by far the sharpest 4K projector in this roundup, thanks to Sony's proprietary 4K SXRD native DCI 4K (4,096 x 2,160) panels.
It also delivers extremely accurate colors, with 100 percent DCI-P3 coverage and HDR10/HLG support. You also get niceties like a 2.06 zoom lens with powered zoom, lens shift and focus. The main drawback is a relatively dim 1,500 lumen brightness, but it's a top pick if picture quality is paramount above all.
What's more, its sound system is streets ahead of almost all others on this list. It's a 2 x 5W set-up that's been tuned by Yamaha. It's remarkably expressive with just enough precision to hold its own even in scenes with heavy action.
There's no iPlayer, Netflix or All 4 apps on the smart platform and we'd like Epson to have fitted an internal battery too but these are relatively minor gripes and nothing that neither a media streamer nor an extension cable can't solve. Definitely one for your portable projector shortlist.
Tidy build
Strong black depth and dark detail
Decent sound system
Colours lack complexity
Mains power only
Some key missing apps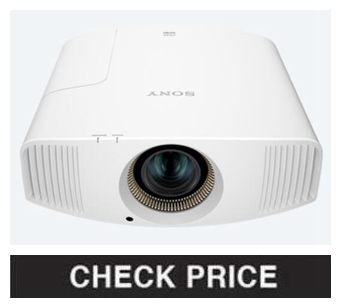 Once again, we would like to thank Sony for allowing Projector Leader to be one of the first sites to provide an in-depth review of both the VPL-VW715ES and its big brother, the VPL-VW915ES. The two units are very similar in terms of features, except the VW915ES features a Z Phosphor laser light source while the less expensive VW715ES is lamp-based.
The VW715ES is the successor of the highly rated VW695ES we reviewed a few years ago. The VW715ES retails for $9,999.99, and it's the top end Sony 4K SXRD bulb-based projector. Sony claims the VW715ES can produce 1,800 lumens of brightness and the unit's lamp has a rated life of 6,000 hours in low power mode.
Sony was the first company to introduce a 4K projector, and they still have the widest model assortment. Like all Sony 4K HDR home theater projectors, the VW715ES utilizes three SXRD panels to deliver true 4K resolution (4096 x 2160).
The most significant VW715ES upgrade is new video processing powered by a version of Sony's X1 processor that has been optimized specifically for projector applications. This processor is what gives the projector the ability to do frame-by-frame HDR tone mapping. The VW715ES supports both the HDR10 standard as well as HLG (Hybrid Log-Gamma).
Impressive level of detail
Good range of colours
Upscales HD and SD films well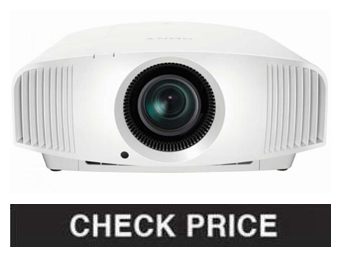 While there are many reasons the VPL-VW325ES performs as well as it does, the main one comes down to two simple words: contrast ratio. Using a trio of 4K SXRD liquid crystal on silicon chips, the VPL-VW325ES puts out a contrast ratio that's 60 percent better than the next-best projector I've measured recently, and more than 10x better than most of the other projectors I've reviewed. That contrast allows the Sony to create an image that looks significantly more realistic, with more apparent depth, than anything that costs less.
And a lot of projectors cost less. You could buy a good used car for less than this projector. I know, I have. And despite the high price, this Sony is not particularly bright. A few years ago its 1,500 lumens would have been fine, but these days 2,500 is common and over 3,000 isn't unheard of. Because of its excellent contrast ratio, however, the VPL-VW325ES still blows away brighter PJs like the Epson 5050UB, but you need total light control in your room. Otherwise its remarkable black level is wasted.
You can think of the VPL-VW325ES is the OLED TV of projectors. It looks stunning in every way, but it's also very expensive and absolutely needs heavy curtains at least, blackout curtains ideally. For the select few who can afford it, and have a room that suits it, it's fantastic.
Fantastic 4K detail
Deep blacks
Excellent HDR handling
Brilliant colour control
What to look for in a projector
Ultra-short-throw
Since our last guide, ultra-short-throw projectors have become the hot new category, offering several benefits. You can mount them close to the wall like a TV, with no need to run wires through the ceiling, but still get an immersive image as large as 120 inches — something that's impossible with a TV unless you're very rich. They use brighter lasers that never need to be replaced — and because laser light is collimated, focusing is eliminated.
They're also physically less awkward to install than a ceiling-mounted projector, though that doesn't mean installation is super easy. To get the perfect screen fit and alignment, you must place them an exact height and distance from your wall or screen. This can be quite a pain, as I've discovered.
You also need a perfectly flat wall or screen, because ultra-short-throw projectors beam up at an acute angle, so any imperfections will show as shadows. For that reason, you can't use a roll-down screen because they have slight ripples.
Brightness and contrast
Home theater projectors generally range in brightness between 2,000 to 4,000 lumens, but you'll need to take those figures with a grain of salt. Some models might actually hit 3,000 lumens or more, but cranking the lamp to that level will hurt the image quality and lifespan of your bulb. Also, some manufacturers tend to exaggerate maximum brightness.
As a point of reference, many 4K flat panel TVs nowadays can hit 1,000 nits of brightness, but the brightest consumer projectors only display between 100 and 150 nits from the screen. That's not as big a deal as it might seem, because projector images are much larger and meant to be used in dark rooms, where your eyes will automatically adjust to the light and "brighten" the image.
Contrast is also substantially different on projectors. Unlike OLED TVs, projectors don't allow for zero black levels because of ambient light, reflections and other reasons. You also can't have local dimming zones found on LED TVs for true blacks. Some projectors do have a dynamic iris to improve the contrast scene-by-scene, but those can often produce a "pumping" effect, with the image dimming or brightening in mid-scene.
Mounting and fan noise
A big advantage of regular long throw projectors is that you can mount the projector and screen on the ceiling, using zero space in your room. If you plan to do that, don't forget to budget for a mounting bracket and any necessary long cables, including extra power for Google's finicky Chromecast. Also, keep in mind that it's easier to mount a lightweight projector, and DLP models are usually lighter than those with LCD tech.
Some projectors are noisier than others, and usually the more you spend, the less noise you get. Many of the new 4K DLP projectors, when operating in 4K mode, are particularly noisy. There's one other (cool) thing: if your projector is easy to take down and put up, you can take it outside for magical night screenings under the stars.
HDR and resolution
As related to projectors, these things could each take up an entire article. In fact, they have — for a deeper dive, take a look at Projector Central's excellent takes on HDR and resolution.
On the resolution front, only expensive projectors have native 4K resolution; indeed, most movie theaters still use 2K projectors for various reasons. However, there are many relatively inexpensive DLP projectors that use pixel-shifting to attain 4K resolution. That system emits each pixel four times while moving it to the correct position for a 4K image, all in less than 1/60th of a second. As such, it puts as many pixels on the screen in the same amount of time as a 4K native projector — and visually, it performs nearly as well.
On the other hand, Epson's LCD "4K enhanced" projectors also have 1080p native resolution, but the image is just shifted twice, not four times. So, those projectors are not 4K natively or otherwise, but do produce double the pixel count of a 1080p projector.