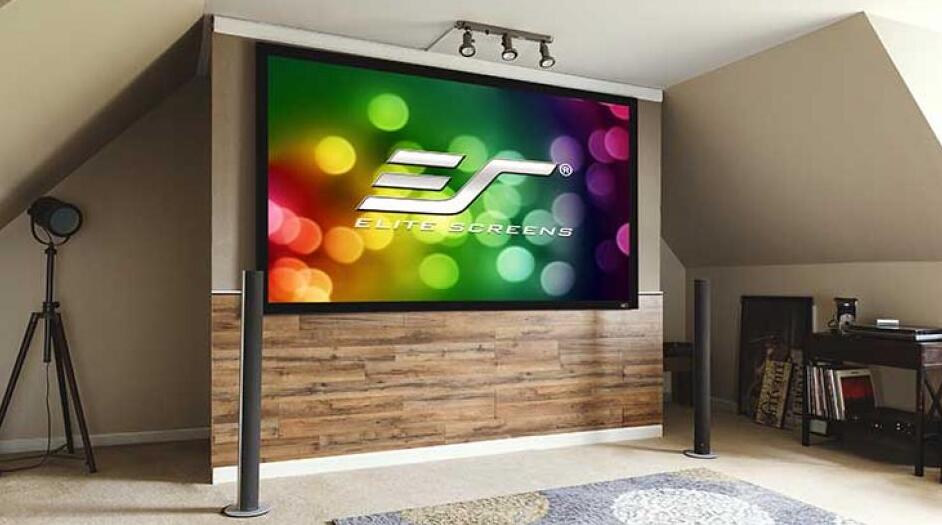 Looking for the best projection screen to use with your video projector? In this guide we will help you to choose the best one, suggest some of the best available, and guide you to the best current prices.
The best projector screen can make an amazing difference to enhance your home cinema. If you're using a wall or even a hung up sheet, then they are a must buy – they really will improve the picture quality that much, making it similar to a TV screen in quality in some cases. There are a huge range of options, and don't just buy the biggest – it really depends on your projector and the space.
What Are the Best Projector Screens?
To help find the right projector screen for your needs, we've rounded up a few of our favorites. We've also compiled some key features that separate the best projector screens from the good.
Brightness: A projector screen's ability to reflect light is measured in gain. For most purposes, a gain of about 1.1 is optimal, as this maintains dark blacks while providing a bright image. Some high-end projectors boast higher gain (maybe 1.5) while maintaining correct colors, but this higher gain can lessen the screen's viewing angle (see below).
Viewing Angle: If you want a large audience to enjoy your projector screen, you'll need one with a wide viewing angle (perhaps around 160 to 180 degrees). However, if the audience in your home theater is usually small and/or your room is deep and narrow, a narrower viewing angle is fine and usually accompanies better image quality.
Size: Part of the fun with projectors is the massive viewing size. Projector screens typically range from about 100 inches to 150 inches, with most users going for 100-inch or 120-inch screens. Check your projector's maximum projection size, and measure your room to figure out what's best.
Setup: Unlike TVs, projector screens can be rolled up or folded and tucked away when not in use. Once you're ready to watch, setup should be as easy as possible. Some projector screens require a frame assembly, but others can be attached to the ceiling and quickly lowered for use.
How we tested
To test the contenders, every screen was built and tested in my home theater room. I used an Epson 5020UBe projector combined with a Lumagen Radiance 2021 video processor to make the projected image as close to reference accurate as possible. Using a spectrometer and a colorimeter I measured the images off the lens, then off the screen, to see how much of a color shift each screen introduced, and to calculate the gain. (Most of the screens we found had claimed a 1.1 gain, but these numbers are often embellished by the manufacturer, hence the testing.) A variety of content was viewed on each screen to look for sparkles, hot spots, texture, or other issues.
Our Top Picks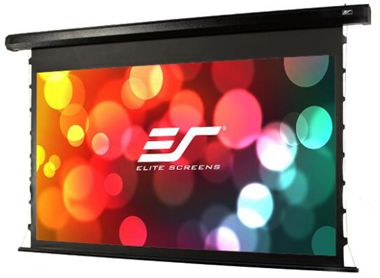 It's one of the best overall choices, for good reason—the Elite Screens 135-Inch ezFrame has a huge screen and a 16:9 widescreen ratio for that full move experience. The ezFrame is easy to set up in minutes, with a toolkit conveniently included. When watching films, the color reproduction is accurate and vibrant, thanks to the white matte surface of the screen. When it comes to design, a black velvet frame around the mount gives it an upscale and glamorous look.
Of course, a good movie is about visuals as well as audio, and the ezFrame delivers when it comes to sound as well. The ezFrame has a transparent screen, designed for use with a hidden speaker or a rear-speaker, as the screen's fabric allows for more sound to come through, creating a more realistic theater experience.
It's hard to fault this projector screen, other than the high price tag. If your budget allows, it's one of the best permanent mount screens for any home. However, if you're not a perfectionist with an unlimited bank balance, we think the Silver Ticket is a better buy.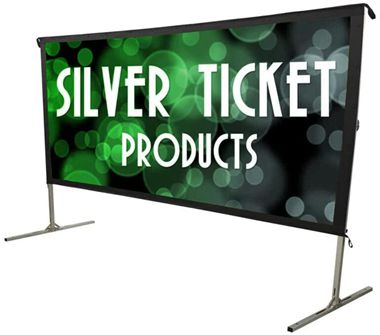 This 100 inch projector screen from Silver Ticket offers picture quality comparable to substantially more expensive models at a budget-friendly price. The screen is quick and easy to assemble, and comes in multiple sizes; most are native 16:9, but some larger sizes are also available in 2.35:1 aspect ratios. With a good projector, the image quality is excellent before even considering price.
The screen has an even texture and excellent color accuracy with only a slight blue tint. It's claimed 1.1 gain puts it in the ideal range for typical viewing conditions with a modern projector while the wide viewing angle makes for easy setup. Although this fixed frame projector screen might not seem fancy, it proves there's no need to spend thousands of dollars for good performance.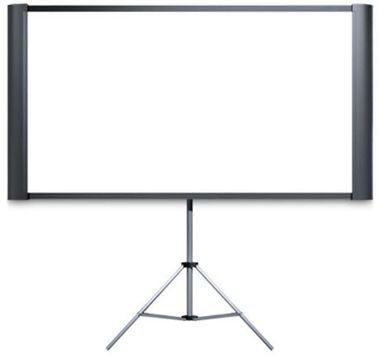 The Epson Duet Ultra Portable is a true multipurpose projector screen, with the ability to serve as a business presentation tool or as an affordable entertainment screen. This screen is unique in that it deploys side-to-side rather than the standard top-to-bottom so you can choose between two aspect ratios – 4.3 for a 65-inch size, and 16:9 for an 80-inch viewing area. Although picture quality will not stack up to that of dedicated home theater screens, it is solid overall, and usable for a wide variety of purposes.
There is a slight blue tint, but paired with a good projector the image is bright and detailed with a very wide viewing angle. This portable screen is easy to set up, with the option of hanging it on the included floor stand or mounting it on the wall. When not in use, it folds up and can be stored in a protective carrying case; although at nearly 27 pounds, it's not exactly lightweight.
A common problem with the Epson Duet Ultra Portable is the tendency for the screen to curl in at the top and the bottom since there's no support; this is a relatively minor issue but it can be an annoyance for perfectionists. However, this projection screen offers excellent overall value with a compelling combination of solid performance, portability, and affordability.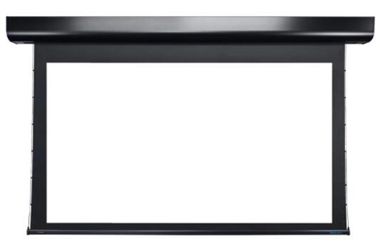 The StudioTek 130 G3 is Stewart's best-selling screen material despite the high price, and one of the most popular home theater screen materials ever made. This white screen was originally for use with CRT projectors, but was found to work well with modern digital projectors as well. Gain is rated at 1.3, producing a bright image with minimal center hot-spotting.
There are minimal reflections back from the projected image, and with an adequate viewing environment there won't be color issues; however, this screen does require a dark room to perform at its best. While this is a pricey screen, it offers good construction and an outstanding image; not surprising considering Stewart makes screens for theaters and other commercial applications. This has made them the go-to brand for custom installers, with their screens having been used for decades.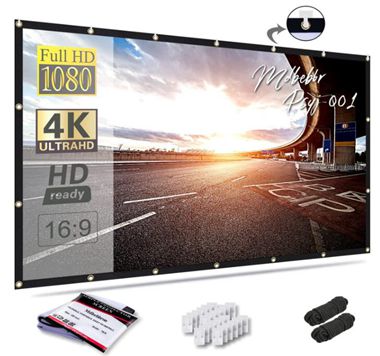 Mdbebbron is a highly popular brand of projectors and related accessories which also includes its highly versatile projector screen.
The Mdbebbron Projector Screen is the 1st product in this list and it is a highly versatile option for a lot of buyers. Starting with its size, this is a pretty large 120″ projector screen. Despite its given size, it offers a foldable design for easily allowing you to take the projector screen with your if needed.
Apart from having a large size, this screen also uses a standard 16:9 aspect ratio for watching movies and sports. Since it is made for portable usage, you also get all of the needed accessories for the same.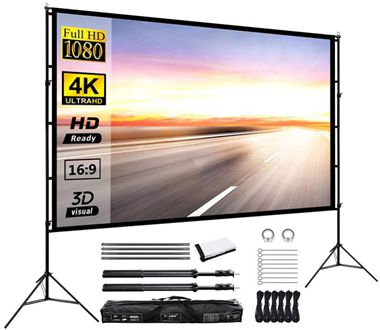 In comparison with other brands of projector screens out there, P-Jing is fairly new because of which they offer significantly affordable options.
The P-Jing Projector Screen is the 2nd product in this list and you can go with this if you are looking for an affordable option. Despite being an affordable pick, this projector screen offers a decent screen size of 120″.
Unlike other budget options, this one uses an aspect ratio of 16:9 making it more ideal for watching movies and sports. However, being a small brand of a budget projector screens does mean that you do not get any warranty with it.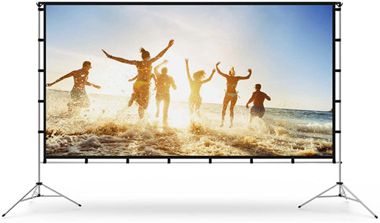 Vamvo is a high-end brand of projectors that also makes a few projector screens for its own projector models that offer great image quality.
The Vamvo Projector Screen is the 3rd product in this article and it can be a great option if you are looking for a portable usage. You get a stand with this projector screen and all of the required accessories for using this projector screen outdoors. And it is able to offer this while having a screen size of 120″.
Thanks to the given aspect ratio of 16:9, you can enjoy all of your favorite movies on a very large screen even when you are traveling. Because Vamvo is quite a premium brand, they included a 2-year warranty with this screen, which is to be expected.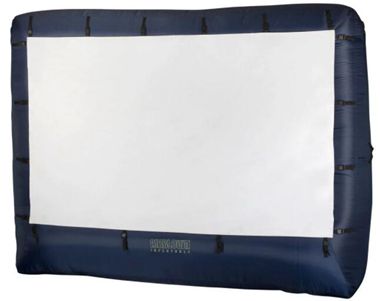 With a built-in mechanism that fills in seconds, the Gemmy Airblown Movie Screen stands 12 feet wide and 11.5 feet tall, boasting a 144-inch screen with a 16:9 aspect ratio. Weighing 24 pounds, the inflatable screen also packs up into a carry case, making it as portable as an air mattress. Meanwhile, yard stakes, tethers, and two fans help keep the vinyl-based, weather-resistant projector stable––or at least as stable as an outdoor movie screen can be.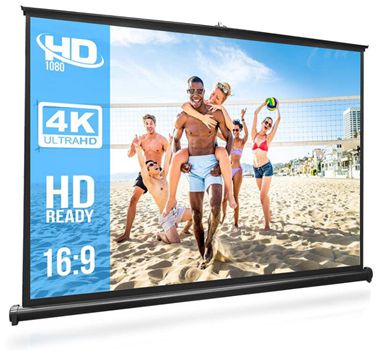 Given that most modern TV screens are 40-inches or larger in size, this portable screen of those exact dimensions from the Pyle brand is aimed at the holiday, travel or school markets.
With a simple pull up and pull outwards set up, whereby it locks into position thanks to retractable framework at the rear, the screen is described as heavy duty. This translates as it being stain and mildew resistant and being constructed of an anti flame 'premium' fabric.
The shape of the screen is 4:3, although a 16:9 image can be still be projected across it. And since it's designed to stand on any flat surface or table, it's ideal as a quick and easy to set up desktop option that won't break the bank.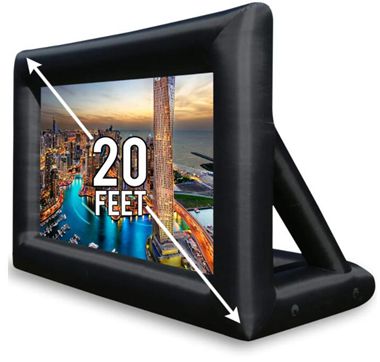 If your movie choices have been derided by the rest of the family as a load of hot air, or you're a fan of the film 'Blow Up', then this inflatable 20ft wonder with the desired 16:9 widescreen aspect ratio could have your home audience going wild in the aisles.
Allowing for either front or rear projection, the full jumbo-sized kit includes not just the screen but also an electric blower to inflate it, plus six 30cm ropes and plastic stakes, with a storage bag to keep it all in. Though it looks like something of a monster, its manufacturer suggests that you can have it all set up to watch the latest Godzilla movie in around five minutes. To deflate it, just open the provided zipper.
FAQs
Does Best Buy carry projector screens in-store?
Best Buy does carry projector screens, including many of the choices on our list like the Elite Screens brand, along with Spon, and their in-house Insignia. Take a look at the various projector screens you can get from Best Buy, and you're sure to find plenty of options for your size and budget.
What size screen should I buy?
The temptation is always to go big, but this often ends up with a screen that really overwhelms the room (and viewer). Instead, measure the space where you intend to put it. You want around a foot of space between the top of the wall and the screen so you're not looking up, and a few feet below, again for comfort. You don't want the screen to overwhelm the room, but you also want to maximize your screen size to recreate the cinema experience at home.
What makes a good projector screen?
A "good" projector screen may be different for each user. The right projector screen for you will be appropriately sized for the space, offer the right amount of gain for your seating arrangement, and have a color that works with the lighting characteristics of the space. Whether you prefer a fixed frame screen or one that is retractable also will affect which screen is best.
Is black or white better for a projector screen?
Black and white screens each have different applications. White screens are ideal for rooms with little to no ambient light. Since white screens are brighter, they are better able to display more vivid colors. Black screens are an optimal choice for rooms where there is more ambient light and individuals can't create a true theater room. Since they don't reflect as much light as a white screen, images are easier to view with more background light. However, in some cases, a more powerful projector may be necessary with a black screen.