Dell carries a wide selection of projectors that meet the needs of any business from classrooms to managed environments. Meet the needs of your audience with Dell's Interactive, Professional, or Network projectors.
Very few technologies have had as much long-term relevance in the workplace and classroom as the overhead projector. As workplace and classroom display technology has evolved, bigger and brighter is not only better, but expected, while also needing to be simple to connect to.
While the fundamental idea remains the same, we've come a long way since the days of transparencies and dry erase markers. Modern projectors allow presenters to project directly from their laptops and mobile devices, and in many cases, audience members can even connect their own devices to take over presentation duties.
Dell Web Management for Projectors
To access the Dell web management tool you need to set the IP addresses for your computer and the projector.
Step 1: Press the Info key on the remote control to display the IP address of the projector, or by navigating to OSD Menu > Advanced
Settings > Information. By default, the IP address is 10.0.50.100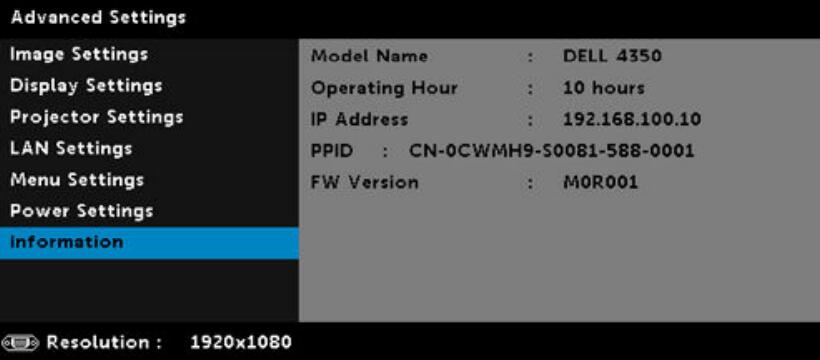 Step 2: In the computer's IP Properties tab, specify an IP address by selecting Use the following IP address and enter the following values:
For IP address: 10.0.50.101 and for Subnet Mask: 255.0.0.0 (leave all other entries as blanks).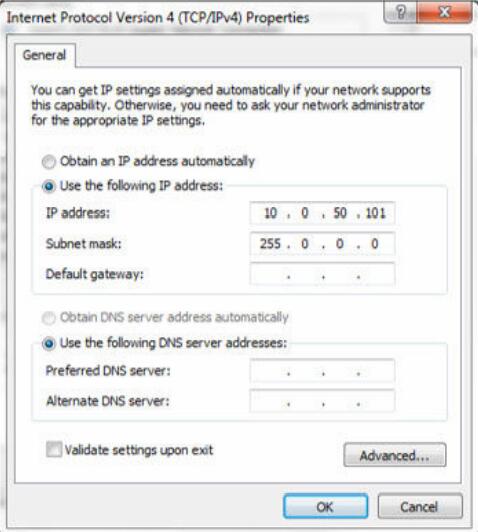 Step 3: The IP address configuration would now look like this:

To access and use the web management tool, follow these steps:
Step 1: Open a web browser and type the projector's IP address in the address bar.
Step 2: The log-in page opens. Enter the Administrator Password to continue.
Step 3: The Home page opens.
Step 4: To change language, select from the drop-down list and click Submit.
Step 5: Click Network Settings tab to see the network settings.
Step 6: Click Projector Status and Control to see the projector's status.
Step 7: Select Power Saving frequency from the drop-down list.
Step 8: Select Projector Mode.
Step 9: Select Source.
Step 10: Select Video Mode.
Step 11: Select Audio input.
Step 12: Set E-mail Alert.
Step 13: Set a Password.
Step 14: Update Firmware. You can download the latest drivers from the Dell Support website at www.dell.com/support.
Step 15: Access the Crestron RoomView application.
Contacting Dell
Dell provides several online and telephone based support and service options. If you do not have an active internet connection, you can
find contact information about your purchase invoice, packing slip, bill, or Dell product catalog. Availability varies by country and product,
and some services may not be available in your area. To contact Dell for sales, technical assistance, or customer service issues:
1 Go to Dell.com/support.
2 Select your country from the drop-down menu on the lower right corner of the page.
3 For customized support:
a Enter your system Service Tag in the Enter your Service Tag field.
b Click Submit.
c The support page that lists the various support categories is displayed.
4 For general support:
a Select your product category.
b Select your product segment.
c Select your product
5 For contact details of Dell Global Technical Support:
a Click Global Technical Support.
b The Contact Technical Support page is displayed with details to call, chat, or e-mail the Dell Global Technical Support team.
Best Dell Projectors Reviews: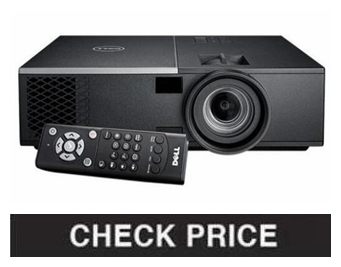 The Dell Projector 4350 isn't cheap, but if you need a bright, high-resolution projector, it's a reasonable pick. Built around a 1,920-by-1,080 DLP engine with a 4,000-lumen rating, it can show images with fine detail or lots of information at a size that's both large enough for a midsize room and bright enough to stand up to ambient light. It's also light enough to carry with you.
But the 4350 costs more than most of its competition without offering enough to fully justify the price. In particular, compared with the much less expensive Epson EX9200 Pro Wireless WUXGA 3LCD Projecto —our Editors' Choice moderately priced, high-resolution data projector—the 4350 delivers only a few extras, most notably a higher zoom level and somewhat higher brightness rating.
If you need these extras, that may be enough to tip the scales in favor of the 4350, but you'll be paying a big premium for them. You'll also have to do without the Epson EX9200's higher 1,920-by-1,200 resolution and 16:10 aspect ratio, which gives it a 10 percent larger image area than the 4350's 16:9 ratio offers for an image that's the same width.
High 1,920-by-1,080 resolution is suitable for detailed images
Bright enough for a midsize room
Light enough to carry easily
Very few rainbow artifacts for data images
Pricey for what it delivers
Frequent rainbow artifacts in full-motion video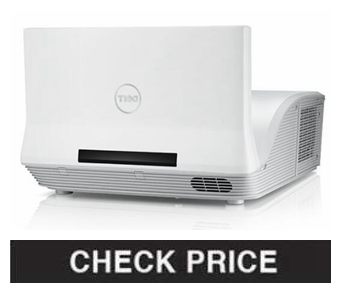 In many ways, the Dell S510n Projector is one of the more capable WXGA (1,280-by-800), ultra-short-throw projectors for the price, with a bright image, generally high quality for data images, and far more watchable video than most DLP business models can manage. It's also limited by some image-quality issues—including a notably low contrast ratio with video.
Dell rates the S510n at 3,100 lumens, putting it in the same brightness class as the 3,200-lumen BenQ MW853UST+ and the 3,300-lumen Epson PowerLite 585W WXGA 3LCD Projector, which is our Editors' Choice WXGA ultra-short-throw model. As always, when talking about projectors, however, brightness comparisons are complicated by differences in technologies.
The Epson 585W is built around a three-chip LCD engine, which ensures that it has the same color brightness as white brightness. Both the Dell and BenQ models, in contrast, are built around single-chip DLP engines. That gives them a lower color brightness than white brightness, so full color images won't be as bright as you would expect based on the white brightness. The moral here is that being in the same brightness class doesn't necessarily mean that the S510n is as bright as the Epson 585W in real-world use.
Ultra-short throw
Bright
High quality for data images
Very few rainbow artifacts
Two HDMI ports
Miracast and WiDi
Full 3D support
Visible lack of uniform brightness across the screen
Low contrast ratio with video
Could not establish a Miracast connection in my tests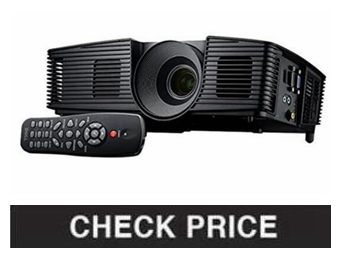 The Dell 1450 Projector is a fairly typical example of a low-cost XGA (1,024-by-768) projector that's light enough to be portable and bright enough for a small-to-midsize conference room or classroom. It has a 3,000-lumen rating, delivers high quality for data images, and even supports 3D with video sources like Blu-ray players. It doesn't offer anything to make it stand out from the crowd, but it delivers enough to make it a reasonable choice.
3D, Rainbows, and Brightness
The key advantage for DLP projectors is that almost all current models, including the 1450 and the BenQ MX522, feature 3D support, which almost no LCD data models offer. A key disadvantage is that DLP-based models can show rainbow artifacts (flashes of red, green, and blue) which some people see easily and find annoying. For the 1450, as with most DLP projectors, this isn't a significant issue for static data images, but makes video less watchable.
Another issue with DLP data projectors is that, unlike their LCD-based counterparts, they typically have significantly lower color-brightness than white-brightness levels. The difference can affect color quality, as well as the brightness of color images, which complicates brightness comparisons. The 1450 has the same rating as the Epson 98, but even if you take both ratings at face value, it doesn't mean that both offer the same brightness for all images.
High quality for data images
Rated at 3,000 lumens
Lightweight
Supports 3D with Blu-ray and other video sources
Shows rainbow artifacts with full-motion video
Zoom is only 1.1X
Sound system is sufficient for only a small room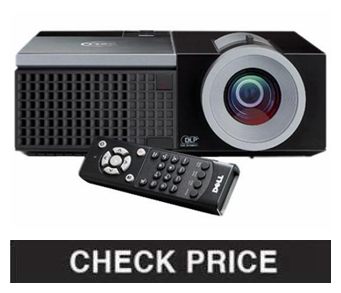 Similar to the Dell 4320( at Amazon) projector that I recently reviewed, the Dell 4220 shares the same general description of being light enough to carry with you and bright enough to throw an image suitable for a mid- to large-size room. The difference between the two is primarily their resolutions: The Dell 4320 is WXGA (1,280 by 1,024), and the 4220 ( at Amazon) is XGA (1,024 by 768).
Like the Dell 4320, the 4220 weighs 6 pounds 6 ounces, making it a little heavier than you might like for a portable projector. In fact, most models in this weight class wind up permanently installed or mounted on a cart. That said, however, it's light enough to carry if you need to, and Dell ships it with a soft carrying case to make that easier.
Another thing that the 4220 has going for it is that it's unusually bright for its weight. As one point of comparison, the Epson PowerLite 93+ is a half-pound heavier and rated at only 2,600 lumens. Similarly, the more directly competitive Epson PowerLite 1835 XGA 3LCD Projector, which is Editors' Choice for XGA projectors meant for permanent installation in a mid-size conference room, is about a pound heavier, and rated at 3,500 lumens.
Note that these brightness ratings aren't entirely comparable, because the 4220 is DLP-based, while the Epson projectors are LCD based (more on that later). But to the extent that that they are comparable, the 4220 obviously delivers more lumens per ounce.
High brightness, at 4,100 lumens
Surprisingly light for the brightness
Comes with soft carrying case
3D support is limited PCs equipped with quad-buffered, OpenGL, 3D-compatible graphics cards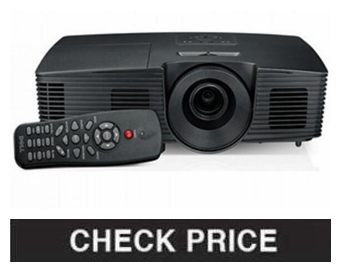 Although SVGA (800-by-600) data projectors such as the Dell 1220 Projector are considered low resolution by today's standards, they provide an economical alternative to XGA, WXGA, and 1080p models. Thanks to relatively crisp text, the Dell 1220's image quality is fine for typical data presentations. It's a good, low-price choice as a basic data projector for a business or a school, though its video is suitable only for very short clips.
Design and Features
This DLP-based projector has a rated brightness of 2,700 lumens, which should be more than adequate for a small room. Its native SVGA resolution translates to a 4:3 aspect ratio, which is the traditional format for data presentations. The Dell 1220 has an attractive, black chassis that measures 3.5 by 12.4 by 8.8 inches (HWD) and weighs 5.4 pounds. It's of a similar weight and brightness to the Epson EX3212 SVGA 3LCD Projector, our Editors' Choice SVGA data projector. The focus wheel is large and responsive, and its 1.1X zoom at least offers a little bit of flexibility in projector placement relative to the screen.
All the ports are on the side of the projector, which offers easier access than the more typical port placement in back. The somewhat sparse set includes one VGA-in port, which doubles as component video, a VGA monitor-out port, an HDMI port, an RCA jack plus audio-in port for composite audio/video, a stereo audio-out port for connecting to headphones or external speakers, and a USB Type B port for connecting with a PC for remote mouse support and firmware updates. The Dell 1220 has a more limited port selection than the Epson EX3212, which adds an S-Video port and a USB Type A port that fits a USB thumb drive.
Inexpensive
Easy setup and operation
Good text quality
Subpar video, with rainbow artifacts
Limited connection choices
Feeble audio