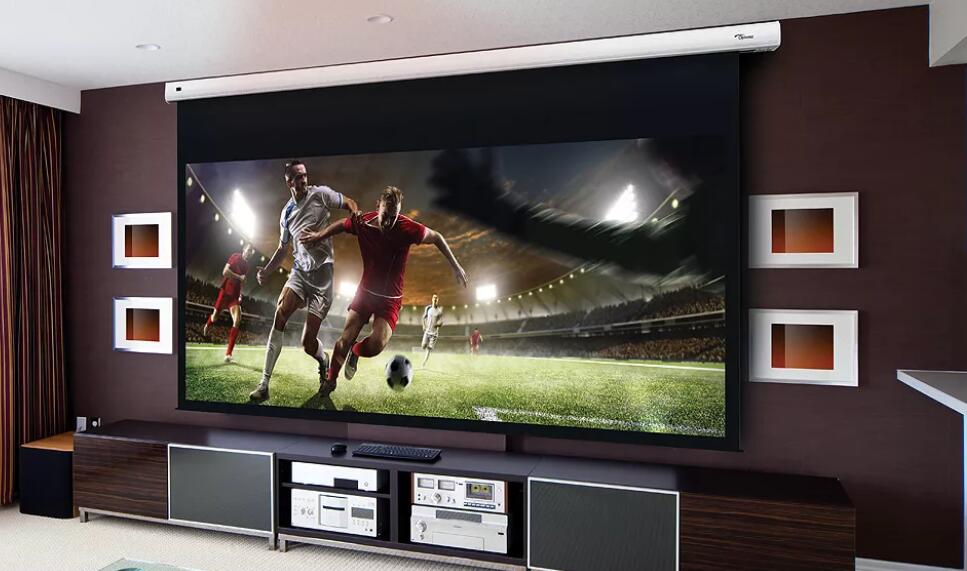 This year's Black Friday deals have started early this year. Shoppers who are planning to upgrade their home theater setup will save big with today's Black Friday projector deals. Projector Black Friday deals come in all shapes and sizes and cater to different budget ranges — you just need to know where to look and discover those sweet Black Friday projector deals.
To help you prepare for your Black Friday shopping, we've rounded up everything that you need to know about the shopping holiday, as well as catch you up on the deals that we saw last year. While we have our eyes on certain products for this year's Black Friday projector deals, we don't know if retailers will surprise us with unexpected discounts that you wouldn't want to miss. If you want a new projector that doesn't break the bank, you'll want to wait and see what Black Friday will offer.


When will the Black Friday projector deals start?
Mark Friday, November 26 in your calendar as that's when this year's biggest and best Black Friday projector deals are going to happen. But, as always, some retailers will fire out the deals and price cuts earlier and earlier, meaning that we should all be on the lookout from mid-to-late October onwards. We always reckon the best deals won't appear until the big day itself, but this isn't an air-tight fact, so it always pays to be in deals hunting mode from October to capitalise on any deals that do come about.
How can you spot the best possible deals?
Well, with so many retailers participating, and so many products at reduced prices, the task of finding the best possible deal seems daunting at first. Indeed, you can find your favorite product with a 15% price discount, but how can be sure that it really is a bargain you're getting?
An excellent idea would be to start thinking about exactly what you might want to buy, check the current price and you'll surely recognize a genuinely good deal when you see one. Also, you can also start checking which stores stock the products you're after, which makes it easier to know exactly where to check when the sales start rolling.


Best projector brands in the World
There are many projector manufacturers in the world but who makes the best home theater projectors in the world? The following are the top 10 best Projector brands in the world:
BenQ Projectors
BenQ Corporation is a multi-national company out of Taipei in Taiwan. The name 'BenQ' is a short form of their Company slogan 'Bringing Enjoyment N Quality to life'. BenQ was originally a part of Acer Computers but was branched off in 2001 and later sold off as an independent entity. BenQ is now a true Multinational Company with operations in more than a 100 countries and employs about 1500 people worldwide. BenQ products include digital cameras, digital projectors, LCD monitors, etc.
Epson Projectors
Epson is part of the famous Japanese Company Sieko Epson. Seiko is world famous for making the first digital watches in the world. Epson is famous world over for its printers, in fact in 1998 NASA selected an Epson color inkjet printer: Stylus Color 800, for one of its space missions and thus become one of the first printers ever to go into space.
JVC Projectors
JVC is the abbreviation for Japan Victor Company and is a very famous Japanese Electronics Company with many innovations in its name, including making the first TVs in Japan and pioneering the first VCR (Video Cassette Recorder) in the famous VHS format (Video Home System). For some time during its history JVC used to be a part of Panasonic. JVC and Kenwood Corporation merged with each other in 2008 to form JVC Kenwood Holdings under which name it operates now.
LG Projectors
LG Projectors are made by LG Electronics Company from South Korea. LG Electronics is one of the top 5 manufacturers in the world of consumer electronics like TVs, Projectors, Mobile Phones, etc. The original name of the company was 'GoldStar' and was founded in 1958 as a producer of radios, TVs, refrigerators, washing machines, and air conditioners. LG came to be when 'GoldStar' and another Korean Company 'Lucky' were merged in 1995, LG is the initials of the combined Company 'Lucky Goldstar'.
Optoma Projectors
Optoma is a Taiwanese company founded in 2002. It is now a multinational company with offices and operations in many countries including Asia, Europe and USA. the name 'Optoma' is a combination of the Greek word 'Opto' as in 'optics' and 'oma' which means 'beautiful' or 'perfect'.
Sony Projectors
Sony is a world leader in electronics and their products are held in high esteem by almost everyone. Sony has pioneered some of the world's most outstanding innovations in home entertainment products. Sony makes all type of projectors, but Sony LCoS projector range 'SXRD', which stands for 'Silicon X-tal Reflective Display', are considered one of the best home theater projectors in the world.
ViewSonic Projectors
ViewSonic Corporation has its headquarters in California,USA and its research and factory in Taiwan. They make consumer electronic products like Computer monitors, TVs, projectors, etc.
Black Friday Projector Deals 2021
1. Best portable projector: XGIMI Halo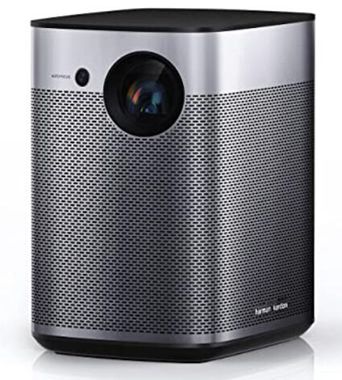 The XGIMI Halo is a great shout for anyone after a portable projector that doesn't give up on quality pictures entirely. This stylish, compact, and capable projector is easy to take with you on the go, with built-in 5W speakers and 1080p / Full HD resolution to offer both sight and sound.
You're getting 800 lumens max brightness while plugged in, though this does drop to 600 lumens when running on battery – fine for dark, outdoor settings, though you'll undoubtedly fare better with the former setting. Regardless, the battery life is long enough to watch an average-length movie.
There's no native Netflix support, sadly – something that also plagues the XGIMI Horizon Pro – but complaints are few and far between for the Halo. It's worth noting that theater enthusiasts may not be satisfied with the brightness and picture of the Halo, especially because of somewhat distracting video noise in dark scenes – but for anyone who needs flexibility and wants the best projector that can fit that need, the XGIMI Halo will prove a worthy choice.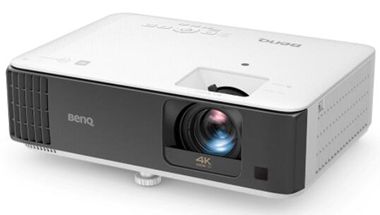 If you're looking to lay a big load of cash on a projector, you can't go wrong with the BenQ TK700STi. If you're buying it for gaming, then that endorsement is even stronger.
This unit supports 4K at 60Hz with an unsurpassed 16ms response time at that resolution, which is as low as response times get in a native 4K projector. If you want up to 120 inches of bright, crystal-clear game on your wall or screen, this sets a new benchmark. You can also push to 120Hz if you're happy settling for HD output.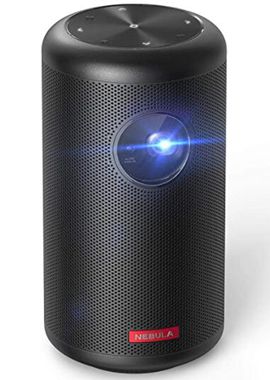 Some projector were meant to be portable – and few do it better than the Anker Nebula Capsule II Mini Projector.
About the size and shape of a can of Coca Cola, the tiny projector looks more like a battery pack for a piece of AV equipment than an all-out projector, but those looks are deceiving. The Capsule II is very capable for its size, offering a 720p (HD) resolution and strong audio output – and a noticeable improvement on 2018's Anker Nebula Mars II – even if it can't compete with the more premium 4K HDR models listed in this guide.
Given its size, we were pleasantly surprised to find a fully-sized HMDI port, too, rather than the mini-HDMI alternative – as well as a USB port and USB-C charging port, allowing you to power the projector while connecting to a streaming stick like the Roku Express or Amazon Fire TV Stick.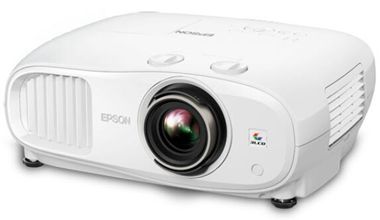 It's a shade pricey for an entry-level device but, make no mistake, this is the king of affordable 4K projectors. It's easy to set up and install, and produces a picture that's reminiscent of what you'll get at the cinema.
You'll get a great image right out of the box without needing to be any kind of expert at tinkering with the settings. All the preset modes are very well judged and it gives an excellent level of black depth and dark detail for a projector at this price. Colours are balanced and motion is naturally smooth.
That said, it's as much the convenience of this machine that makes it so good. Bluetooth allows for direct connection with a wireless speaker or soundbar, and the high luminance means that it's usable in moderately lit rooms. In other words, an AVR, speaker package and home cinema room are not entirely necessary. How's that for a superb family projector?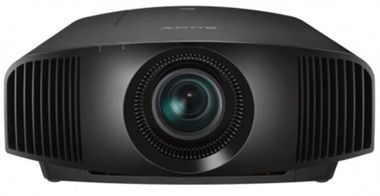 This is Sony's replacement for the excellent VW295ES. Now armed with the X1 for Projector picture processor, and features like Super Resolution Reality Creation and Dynamic HDR Enhancer, it resets the standard for the entry-level native 4K projector.
Like the rest of the native 4K Sony series, the 395ES uses Sony's SXRD, 4096 x 2160 resolution, D-ILA panels which combine the best of LCD and DLP technology. The results in this case are sharp picture which draws an excellent balance between HDR punch and tonal details.
As with most native 4K machines, there's no Dolby Vision support, but Sony's own dynamic HDR technology can still provide a frame-by-frame HDR analysis for the best possible picture at all times.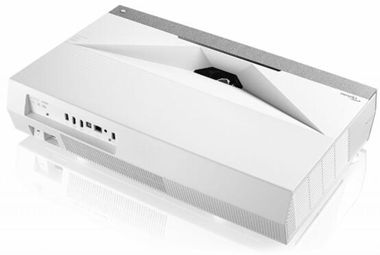 This second-gen ultra-short throw projector embraces the same easy to live with design as its predecessor, the Cinema X, aka the UHZ65UST, but trims back the spec to hit a cheaper price point.
Contrast is now 2,000,000:1 (down from 2,500,000:1), brightness dimmed from 3.500 lumens to 3,000, and the colour gamut reduced. On the plus side, the price is now much more affordable, and the model still delivers a fantastic viewing experience overall.
Image quality is superb. The CinemaX P2 is built around a single chip 4K DLP device and laser light engine. It's HDR compatible, but there is a caveat. While HDR is recognised from Blu-ray and streaming media players, the Optoma's HLG support is strangely limited to file playback via USB, so broadcast HDR from set-top boxes may not recognise it as an HDR-capable device.
You can get a picture upwards of 120-inches with the projector placed around a metre from the wall. Operating noise is relatively low and easily disguised by the sound system.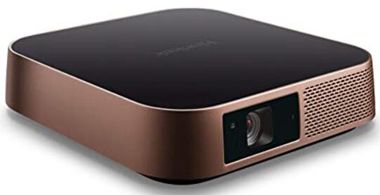 This compact, short-throw 1080p projector is the perfect option for big-screen fun and games. It uses an LED light source, which requires next to no warm up, runs cool and is maintenance free (lamp life is quoted at 30,000 hours).
It looks great too, with a metallic bronze wrap and offset lens, with an adjustable stand helps cast the image up from a low angle. It'll project an 80-inch picture from just over 2m.
Connections include a single HDMI v2.0, micro SD card and USB reader, plus 3.5mm audio output and Bluetooth pairing button, so you can partner your own wireless headphones.
The M2 is Wi-Fi enabled, via a USB dongle, supplied in the box. You'll need to pop this into a compartment on the underside of the projector. The M2 is built on the Aptoide Android-based smart platform, but this only offers limited app support.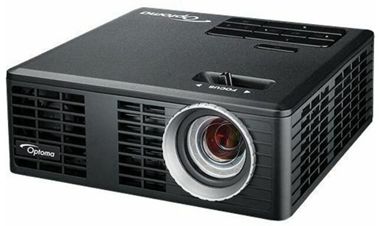 The ML750e by Optoma is a lot more powerful than the pocket-sized PicoPix from Phillips, but it's not quite as small. Still, it weighs just 380g with a small footprint that makes this easy to carry around. The differences in size between this and the PicoPix are negligible for the power you get in return: a 700 Lumens lamp that lets you present in rooms that aren't completely darkened.
The Optoma ML750e is one of the best portable projectors in the world thanks to its impressive range of ports. It comes with one MHL-ready HDMI input, a USB 2.0 slot for thumbdrives, a universal I/O slot, and a microSD card slot. The ML550 handled our 90-inch test screen with impressive results, and peaked at a 60-inch-or-so size. However, you need to buy a dongle for Wi-Fi access.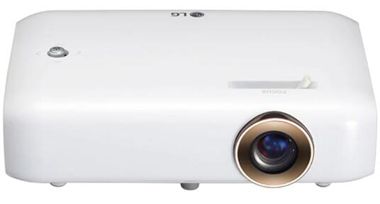 The LG Minibeam PH550G is a brilliant portable projector that's ideal people who often work on the road thanks to its compact size – more than justifying its place on our list of the best portable projectors. It's also wireless as well, allowing you to connect a smartphone or tablet to it, and showcase your presentations or media quickly and easily. This is great for impromptu meetings, and despite its small stature, it offers brilliant image and sound quality.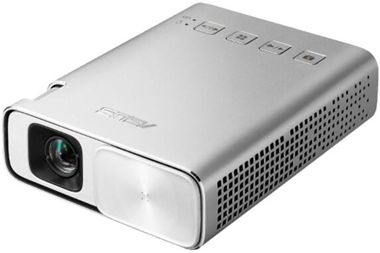 The Asus ZenBeam E1 is a beautifully designed pocket projector that's small and light enough to carry around with you if you often make presentations on the road – or if you like to watch movies while travelling. Despite its small size, it can project images up to 120 inches in size, and it has a built-in 6,000mAh battery that can power the projector for up to 5 hours, which makes it rather flexible, as you don't have to worry about finding a plug socket to power the device. In a rather nice touch, the projector can also double as a power bank for other mobile devices.