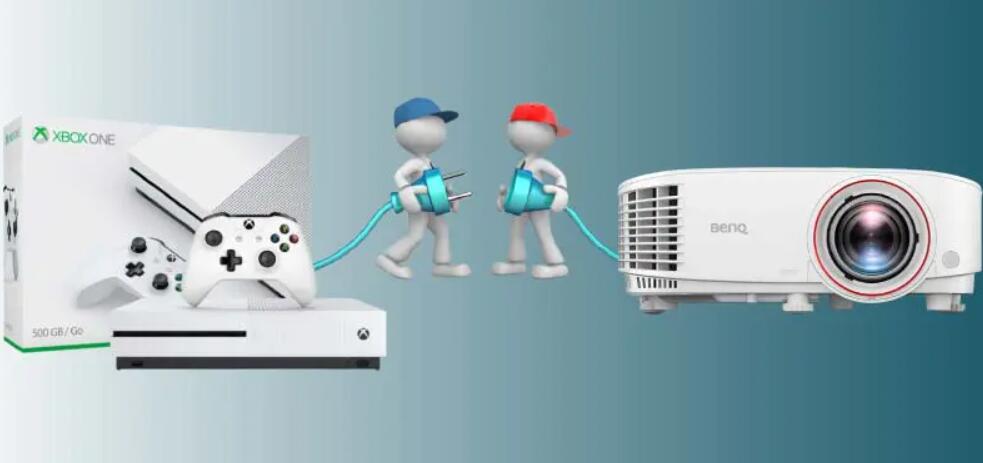 The combination of Xbox and projector can take your gaming experience to a whole new level. It will not only allow you to play games on the big screen but also have a seamless experience.
However, it boils down to the question "how to connect Xbox to projector," and there are numerous ways to solve it. Even though you will have different ways to connect Xbox to a projector, here we will put out a simple yet detailed process to establish the connection.
If you have also bought a new Xbox and want to create Xbox one projector setup, then you can go through the following steps.
How to Connect Xbox to Projector using HDMI?
The HDMI port's beauty is that it can transfer video and audio signals through a single cable. Thus, with a single connection, your projector will receive a video signal as well as an audio signal.
Making a connection using an HDMI cable is very simple and straightforward. Depending on the projector model you choose, both the projector and Xbox package will come bundled with an HDMI cable.
Here's a step-by-step tutorial on how to connect Xbox (One) to the projector using HDMI:
1. Power off both the devices, i.e., Xbox and projector
2. Connect one end of the HDMI cable into the 'HDMI out' port on the Xbox
3. XBOX HDMI port – how to connect xbox one to monitor with audio
4. Connect another end of the HDMI cable into the HDMI port on your projector
5. The projector will automatically recognize the Xbox connection and display it. If multiple devices are connected, you can toggle between the sources on your projector/Xbox and select the appropriate HDMI connection
Using the above method, your Xbox's video and audio will be played through the projector. However, suppose the audio quality (through the projector's built-in speakers) is not up to your liking. In that case, you can connect it to an external soundbar for better audio quality.
What if Your Projector Doesn't Have HDMI?
There are lots of different formats that projectors use including RCA, SCART, or VGA for video and audio input. If your projector is using any format other than HDMI, you will need to purchase a high-quality adapter that is appropriate for your connections. Once you connect the adapter to the Xbox, the other steps are the same.
Depending on the specifics, it may also be necessary to run an adapter cable from the optical audio output of the console to the projector to get audio.
How to Connect Xbox to Projector using VGA connection
If you're using an older projector, i.e., 1st and 2nd generation Xbox series, the VGA cable will be your savior.
While VGA connection is not as advanced as HDMI technology, it's robust even today for video connection.
To connect Xbox or Xbox 360 to a projector using a VGA connection, follow the below steps:
1. Find an audio cable that matches both your Xbox and your external speakers
2. Both devices come with an audio jack so a 3.5mm audio cable should work
3. Connect one end of the audio cable to the Xbox and the other end to the external speakers
Things to Take Care Of
There are certain things that might hinder your experience of gaming. We are mentioning them so that you can enjoy your fun time playing on Xbox One without any problem! Those certain things are:
First of all, make sure that both the projector and Xbox One are set up at the same resolution. If not, then there is a mismatch and the projector will be unable to handle high resolutions. Hence, always set Xbox One resolution to the minimum possible resolution by using an HD TV, then set projector's resolution equivalent or closer to the console's resolution. Remember, Xbox One's resolution must not be higher than the projector's resolution!
Secondly, a higher refresh rate of Xbox One may also cause some problems. Therefore, try to match the refresh rate of Xbox One with the refresh rate of the projector! The refresh rate of Xbox can be lowered by going to the display and sound menu of Xbox One, and lowering the refresh rate to match the refresh rate of the projector!
Thirdly, always take care of connections and cables and make sure those cables are not malfunctioning.
Best projector for PS5 and Xbox Series X
Big-screen gamers are searching for the best projectors for PS5 and Xbox Series X. Modern projectors now come with dedicated gaming modes that can decrease the input lag to under 40ms, some as low as 16ms. Many of them support 120Hz or even 240Hz refresh rates for increasing the smoothness. Also, the new consoles pack some serious processing hardware under the hood.
You can game at either 1080p 120Hz or 4K 60Hz resolution with the PS5 and Xbox Series X. These frame rates were not possible with the previous generation of consoles. The developments have collectively motivated console gamers to opt for projectors. Therefore, most owners are searching for the best projectors for PS5 and Xbox Series X.
If you're in search of the best 4K projector for the Xbox X then you've come to the right place. With next-gen consoles making their way into people's homes, there's no better time to upgrade your projector to a model that can keep up with the Xbox X's specs. We're talking about 4K 60hz or 1080p 120hz gameplay, which is still possible with an HDMI 2.0 port.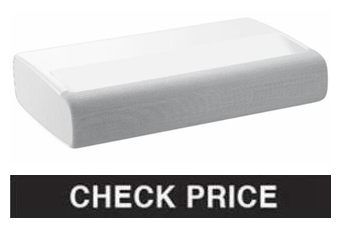 The is the best projector for PS5 and Xbox Series X, no doubt. While Cyberpunk 2077 taught us not to always believe the hype, sometimes, a truly exceptional product can not only live up to but actually exceed the pre-release expectations. Last year, Samsung surprisingly announced its first projectors in a decade, instantly becoming the most anticipated projectors for years, and they have been receiving rave reviews ever since. The LSP7T is the cheaper of the two, though is still a premium product.
The LSP7T is a fantastic unit the Premiere series is going to be the gold standard of projectors for some time to come. They run the same operating system as Samsung Smart TVs – so you don't have to fire up the console every time you want to watch Netflix. The input lag has been measured at a decent (if not exceptional) 53ms. Any of the huge open-world games of the latest consoles will look astonishing with this laser-sharp image.
For reference, the chief difference between the LSP7T and the LSP9T is in the light source. The bigger brother – the LSP9T – has an HDR image that comes from a triple laser system (one laser for each primary colour) while LSP7T has just one laser for the whole image and produces a slightly smaller picture. A 120-inch picture of this quality is incredible, especially when it can be generated at an astonishingly close distance of a foot and a half to the projection surface.
Exquisite picture quality at 4K
Incredibly short throw
Inbuilt apps
Samsung pedigree
Slightly slow operating system
The price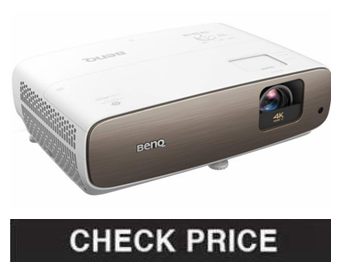 The BenQ HT3550i is a true 4K, home-theater projector with both HDR10 and HLG. To provide endless entertainment, it's Google-certified for Android TV and the Play Store. Though it might not look quite as slick or fancy as some of the other options, it punches well above its price.
Noticeably, the image coming out of this unit is exceptional. You get full 4K HD resolutions, perfect HDR, and some of the best projector color and contrast settings right out of the box. A lot of this is made possible thanks to the Rec.709 and DCI-P3 tone mapping.
Input lag is also reasonable, at about 63ms (on average). Throw it into "gaming mode" and you'll be able to drop the latency even more. Although casual gamers may find this projector sufficient for slower-paced games, unfortunately, it's not ideal for competitive titles.
Images are processed at between 120 Hz and 96 Hz, which means you're going to reach 60fps at all times. This will smooth out your gaming experience, help with immersion quite a bit, and generally make your games look more realistic.
Short input lag
Vertical lens shift
Great bang for your buck
Slightly limited range of vertical lens shift
'Only' HD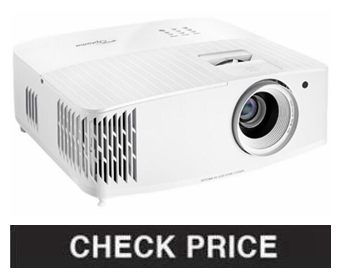 The Optoma UHD38 simply does it all when it comes time to game. This projector boasts a 4K native resolution to let you go ultra-sharp when you want the greatest fidelity in games with lush worlds and highly detailed textures. With a 4,000-Lumen output, it can also keep up even if your room doesn't have the ideal lighting condition.
Where the Optoma UHD38 really steps up is in its flexibility to support multiple ways of playing. 4K/60Hz is all well and good, but if you want to compete, you might be thinking about going for a faster refresh rate and lower resolution. The UHD38 is here for that as well as this projector can cruise at up to a 240Hz refresh rate for PC gaming or 120Hz for the latest consoles. It also has a particularly low input lag for a projector at just 4.2ms. So, when you want to game on a massive display that's either super sharp or super fast, the Optoma UHD38 is ready.
Ultra-short throw and laser sharp image
Top-tier 4K resolution
Puremotion mode for action reduces blur and artifacts
Less bright than some similar models
Poor range of available apps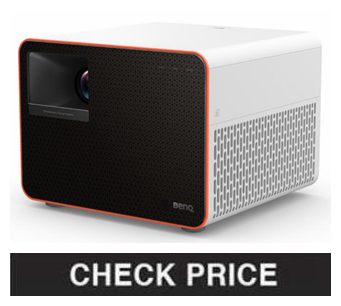 The X1300i Gaming Projector from BenQ is the latest addition to our list of the best gaming projectors for PS5 and Xbox Series X. It was just released by the company last month and targets gamers. Unlike other devices that use a lamp or laser, BenQ's X1300i Gaming Projector employs a 4LED light engine. Its 3,000 ANSI lumens brightness rating is quite high, considering its illumination source. The projector features DLP technology and has a native resolution of 1920×1080. Its 120Hz refresh rate lowers the latency to 8.3ms, which is ideal for fast-paced action shooters. Viewers will enjoy watching movies and playing games thanks to 98% coverage of the Rec. 709 standard.
BenQ X1300i Gaming Projector produces a 100-inch image at a distance of 2.87meters or 9.4feet from the screen. The auto vertical and manual horizontal (±30°) keystone correction improves installation flexibility. Its integrated Chamber Speakers by treVolo (5W x 2) are not bad either. A BenQ HDMI smart stick is bundled along with the device. It has the Android TV operating system and turns the gaming projector into a smart device. You can install apps by accessing the Play store. Overall, BenQ X1300i Gaming Projector is an excellent product for gamers and home theaters. With a price tag of $1,300, it is one of the best gaming projectors for PS5 and Xbox Series X.
8ms input lag, 120Hz refresh rate
Three gaming modes for different genres
Excellent image quality
1080p picture at a 4K price
Need to self install included Android dongle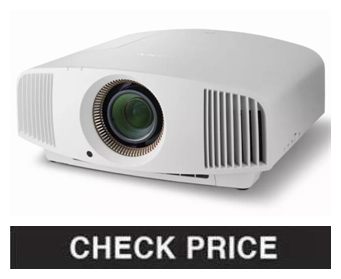 Building on its predecessor, the VW570 – in large part due to the incredible X1 chip that often features in Sony's Bravia TV technology – the Sony VPL-VW590ES is an unbelievable 4K lamp projector. If you can afford it.
That X1 processor is incredibly quick and constantly strives – successfully – to give you incredible picture quality by analysing games and pictures frame by frame to ensure everything looks sharp and smooth. This is bright enough to give you a great quality picture even with significant levels of ambient light, and with astonishing depth of colour and contrast.
It's large and heavy, which can be a slight inconvenience and one other slight quibble is the lack of connectivity beyond HDMI and USB, but if you're shelling out this much for a projector you're likely to have an amp ready to go for this already. It's great for gaming with no notable input lag, and the expansive landscapes of open-world games look astonishing in a 4K image of over 100 inches – but so do the bright colours of a platformer. It gives incredible detail even in the darkest shadow, a feat few projectors manage. Yes, it's pricy, but it's a cutting-edge projector that will truly elevate your big-picture gaming setup with a new-gen console to an unbelievable level.
Incredible 4K picture
Terrific upscaling
Brilliantly bright
It's a big boy
Lack of connectivity
Very, very expensive
Conclusion
Home theater equipment has been gradually shifting toward an HDMI standard. Even the Xbox One's connections are proof of that. The first generation Xbox used a composite video connection, as did the Xbox 360. This means projectors that worked well with older-generation systems might not be as easy to connect to an Xbox One.
The newer your projector is, the fewer problems you're likely to have. An A/V receiver can help alleviate compatibility issues, as well, since they'll give you a variety of inputs and outputs. In most cases, though, you'll be up and running once you follow the steps above.